Starting a WordPress site exclusively for sharing videos or integrating with your YouTube channel is an excellent idea to gain exposure. But the biggest and most common doubt is – is there a WordPress theme video pro that is lightweight and tackles the load? Well, not many would have come across a satisfactory theme. 
Thanks to our portfolio of sites, we have tried various video WordPress themes based on which we are drafting this article. Most of our handpicked themes are versatile and cross-compatible, with great options to scale as your site grows. Whether you are just starting your site or including a video element, you can still use my choice of themes.
11 Amazing Video WordPress Themes For Vlogging
Here are my handpicked video WordPress themes for dedicated Vloggers to establish a glorious web presence. All the following templates are highly responsive; hence, you may pick your favorite one after checking its incredible features. Let's get on the list!
1. Divi ($25 Discount)
Divi is the first on the list of best WordPress themes for video blogging. With millions of bloggers using this theme, it has a massive range of options to adjust to your video blog. Perhaps, there is a dedicated layout for video games. 
What inspired us the most is that the theme maintains excellent page load times despite uploading numerous videos. It also contains an excellent color palette to make the site look attractive after switching to a video theme. You may also make a YouTube background here.
When you think of WordPress video themes, you may worry about the UI and coding part. But Divi lets you sit at ease with its drag-and-drop features. So, what are you looking for? Choose the best right at the start of your digital journey.
Features
2. Astra
Astra is a personal favorite lightweight WordPress theme for many bloggers out there. Irrespective of how big your site will turn, you can still rely on this best WordPress theme for YouTube videos. Whether you prefer integrating your site with YouTube and other video platforms or directly posting videos, the theme stays flexible and maintains a consistent speed.
What we like more about Astra Pro theme is its outlook. All layouts look extremely professional and can catch the audience's attention if you take your blogging journey seriously. Just invest in quality videos; the Astra theme can do the magic for your UI! We also bet your user retention rate can increase with a lightweight, reliable theme like Astra!
Features
Professional video blogger theme
Maximum flexibility site layouts
Use any font for better typography
Customize any area with the help of the WP customizer
Variety of headers for business branding
3. Vlog
Are you a vlogger or an educator? You must use the best WordPress themes with video backgrounds to fit your niche. Vlog is a smart, advanced theme that helps you present videos neatly and includes automatic video import, saving you time. Perhaps, this is a boon for anyone looking for the best WordPress themes for a video production company.
One feature we love about this video blog WordPress theme is its "Watch later" option. We have seen it on YouTube but having this feature on your site increases the number of returning visitors and engagement levels. Despite flexible designs and multiple categories, the theme stands tall in terms of speed and overall performance.
Features
Import Youtube and Vimeo videos automatically
Group all your videos into a playlist
Auto-detect video thumbnails
Watch later, and cinema mode are available
200+ Post layouts to create brand awareness
4. Streamit
Instead of free WordPress video themes, we used Streamit for one of our sites, and the host of features instantly amazed us. How does it feel when you can own a Netflix-like site? There are many reasons to choose this theme – WooCommerce support, merchandise store, streaming options, memberships, and attractive home pages. The list is never-ending.
If you are building a personal brand, you should use this excellent video WordPress theme to import all your content from various platforms and sell merchandise. The UI is catchy and can let your audience stay glued for long hours. What more? You can also build a community and attract like-minded people to contribute to this portal.
Features
Best OTT WordPress Theme
Unlimited shopping with Woocommerce store
Creative inner pages
Membership and content restriction plugin
Actor profile and biodata preferences
Like and Unlike options for videos
5. VideoPro
Are you looking for video background theme WordPress suggestions? VideoPro is a dedicated video theme that fits various multimedia modes, including games, news, movies, and science. When you run a video-based site, this theme also allows you to include a membership feature to run a flourishing business from your blog.
If you are overwhelmed by other video-sharing platforms like YouTube, you will definitely like this WordPress theme Video Pro. It contains similar features like playlists, integration, series, live, PIP option, and multiple modes for better user experiences. Whether you want to support your existing YouTube channel with this theme or start a full-fledged video site, VideoPro is amazing and worth every penny spent.
Features
Build community and sell your premium content with membership features
WPMU Membership 2 integration
Front-end video and content submitted
Supports various video networks
Setup channel for your video like Youtube
6. Videotube
Are you looking for a free WordPress theme for YouTube videos? You should try Videotube, which isn't available for free but is worth it. Like YouTube, you can turn your site into a video streaming platform with as many options as responsive designs, like buttons, subscriptions, infinite page scrolling, and thumbnails.
The biggest advantage of this theme is that it lets you pool several creators simultaneously. As a result, it can turn into a great business in the future too. What makes Videotube the best video blog WordPress theme? The range of features is exemplary and never lets you short of what you need to accomplish as a video site owner.
Features
Embed or upload your videos easily
Users can submit the videos
Widget-based Home page builder
Automatic video thumbnails
Like button and visible view count
7. Newstube
If you need free WordPress themes with a video header, Newstube is the solution. When you can extend your blog and include videos, why miss it? Newstube has dedicated demos for video sites. Nevertheless, it has solutions for those, including different forms of media.
Sometimes, diversifying income sources for your blog is essential. Newstube lets you accomplish that with its features appropriate for magazines and videos. Download the theme and install it. It's easy to set up, and you don't need an expert to get it done.
In a few minutes, you can establish your site as a lucrative source of income.
Features
Powerful magazine, video, and blog theme
Unlimited layouts and colors
Seven Blog and four Navigation styles
Quick and easy import videos
9+ Header sliders
8. VidoRev
Are you looking for the best WordPress video themes like YouTube? VidoRev is a great theme that lets you explore multiple forms of multimedia. Whether you want to build a site like YouTube or Spotify or a combination of both, VidoRev fits the bill. The setup is quite similar to any other blog.
The theme comes in with multiple integrations. As soon as you log in with your credentials, you can begin your journey through podcasts, videos, and magazines. Worried about speed? This theme gets that addressed, too, and records a great page speed score in spite of heavy loads of data on the site.
Features
Easy-to-use theme with flexible settings
Membership and Woocommerce supported
Elementor page builder compatible
AMP for single video post
New style for video series
9. Betube
Betube video WordPress theme is one of the most popular themes in the blogging community. Known for its elegance and drag-and-drop builders, the theme has great options to monetize your videos. For instance, a pre-roll video ad option lets you earn the most with pre-roll ads from various platforms like DailyMotion, YouTube, Vimeo, and Facebook.
Have you ever thought that setting up a site like YouTube takes only a few minutes? BeTube makes it possible with features like an internal video player, video importer, and layer slider. Finding difficulties in making a decision? The theme also offers a demo account to try all functionalities before applying to your site. Doesn't that sound great?
Features
Author page and Video page layouts
Login and register page
Supports Pre-roll video ads
Compatible with all major video platforms
Has Built-in video widgets
10. Viseo
Podcast or video, or magazine, Viseo is a video WordPress theme that is overloaded with functionalities and integrations. It's okay to turn your magazine into a video site, podcast site, or a combination of all when you feel the need for it.
In any case, you need a theme that works for all and fits your bill. Viseo works like a charm in supporting your site, irrespective of the nature of its content in it. This is also great for video production companies as they can release episodes and build a dedicated audience base for their brand with just one investment.
Features
Boosted Elementor addons included
Design your layout with drag and drop page builder
Demo content included
Color customization available
Supports Google maps
Locally hosted video
11. Vlogger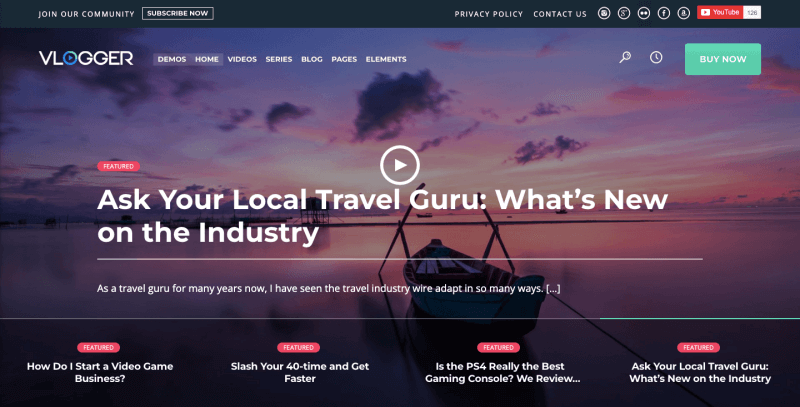 Thinking of the best WordPress themes for video blogging? Vlogger is the perfect answer. If you have a skill and want to make money, all you need is a domain, hosting, and a theme like Vlogger to start your business.
With one click, Vlogger lets you upload your video course (on almost anything) and gives you abundant options to make more income. It's compatible even if you upload videos on other platforms like Flickr, TED, Vimeo, Twitch, and Dailymotion. Start your series or tutorial today with Vlogger! You will not be disappointed.
Features
4 Types of demos included – main, food, travel, and DIY
Add video carousels, lists, slideshows, and playlists in a click
Monetize your videos
Import everything from youtube with a few clicks
Interactive playlist cards
wrapping Up
Maintaining a video site is not the same as a text-based site. The choice of the theme also matters when you establish a video site. This article has looked at various themes that work well for video-only, video-audio, and video-audio-text sites. You can also earn more when you diversify the type of content. However, it needs effort.
As soon as you plan the business model, it is high time you look into one of these themes and take your final call. These are reliable, lightweight, and easily customizable. Choose the right video WordPress theme in a way that you don't have to worry about it (on any aspect) anymore! Share your viewpoint in the comment section.