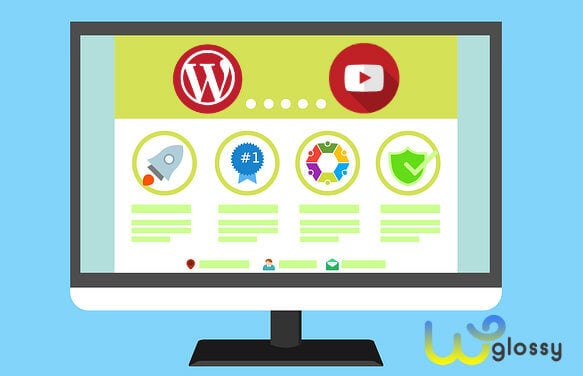 Are you looking for some WordPress themes with video header to buy the best one for your website?
If yes, you have arrived at the right place to glance at the WordPress template set that has a video display in the header. 
Designing a WordPress site is super easy! Yes, it is the most accessible platform where you can customize the websites by making use of different tools and features.
The WordPress tools come extremely handy to create an appealing website that easily attracts the visitor's attention.
Gone are those days where users prepared images and texts on the website, now they are searching for something attractive to offer a visual treat to their readers. 
It not only helps the audience to understand the information quickly but also is an excellent way to communicate information in a detailed way because actions are always better than words.
This is the reason many websites are including video headers which can showcase the information in a visually appealing way to the visitors.
The video headers can be easily customized and can be added to an existing WordPress website.
So, if you too want to highlight or promote your business video, then getting a best WordPress theme with video header is a clever move to grab more eyeballs. 
18 Great WordPress Themes That Has Video In The Header
Here is the list of exceptional WordPress themes with a video header that can instantly enhance the website attraction.
It will also help the visitors to spend more time on your page, which eventually has a positive effect on the page ranking.
1. Jannah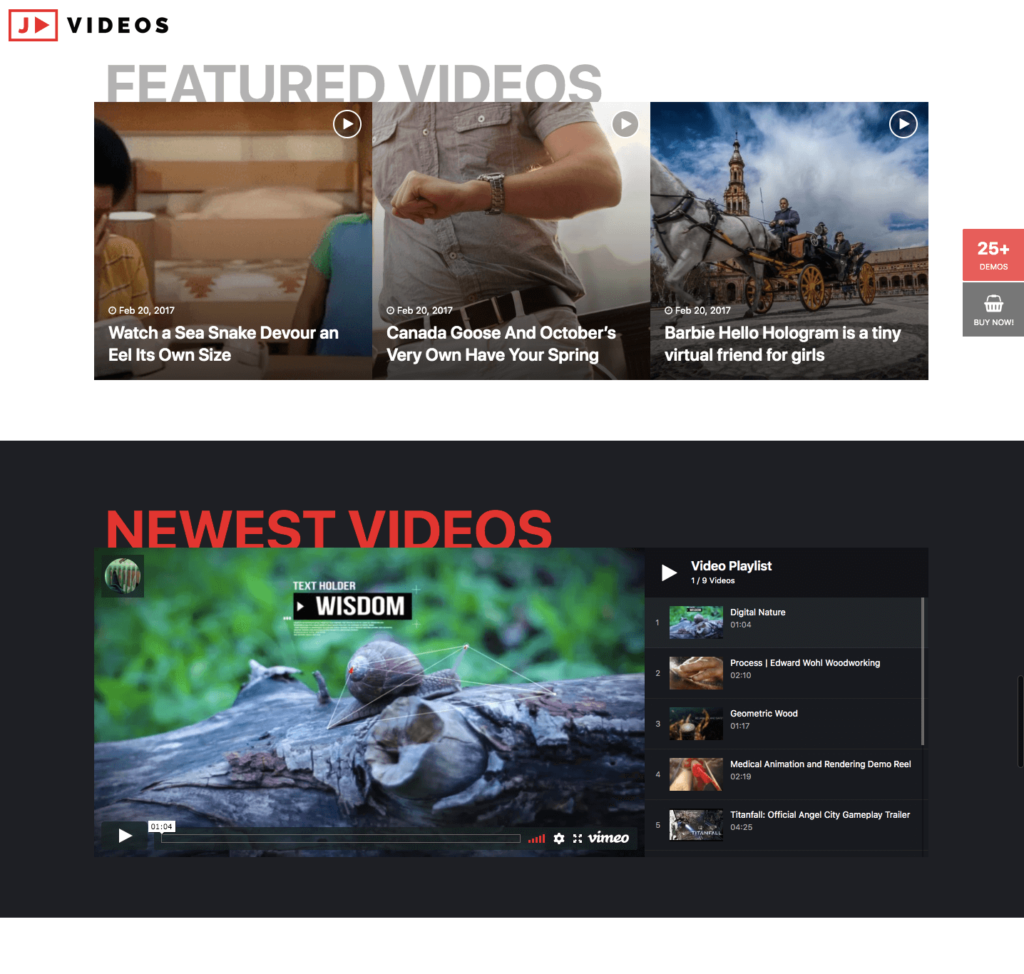 The overall design of the Jannah News WordPress theme is highly responsive and supports video headers. Get access to stunning designs, responsive layouts, sharing options by installing Jannah News WordPress theme.
It can be efficiently incorporated with the editing WordPress, and the design is fully responsive to all the smartphones as well as desktop users. It works well for swipeable content and video content.
The Jannah News theme is completely compatible with the Accelerated Mobile Pages and this makes page loading super fast. It also is SEO optimized and helps you to get more organic visitors from google search engine.
Top Features Of Jannah WordPress Theme
High-Quality Responsive Design

WooCommerce and bbPress Support

1-click website demos

Free Lifetime Updates

Translation to any language 
2. Overflow 
The Overflow WordPress theme has practical and simple designs, it works really well for magazine WordPress with a video header. The configuration is simple and the stunning design gives your website a professional look. The code can be edited as per the need, moreover, the support team is highly responsive.
The biggest highlight of the Overflow WordPress theme is the eye-catching video background, which can be included as featured posts, headers, and archives. In addition to it, Overflow provides access to stunning page headers which can be used for WordPress posts and pages. Display the page content in the image or stunning video form.
This video header WordPress template offers a smart multi-level menu and supports all trending social media channels. It works best for e-commerce website which wants to uses video content to promote their businesses.
Top Features Of Overflow WordPress Theme
Vector Scalability improves readability

Google Structured Data Support

Easy customization and live preview

Ultra-responsive design,  especially for video headers

CSS optimized 
3. Artmag
Artmag WordPress is a creative theme that works for business as well as personal websites. It has multiple features and unique layouts that encourage the audience to spend more time on the website. 
It has some remarkable features that include background video header, 5 pre-build page, unlimited page variations, 6 different post blocks and a lot more. This WordPress video theme is fully responsive and works best for magazine based business sites and agencies as well as for individuals.
If you are looking for a specific WordPress theme with video in the header, then Artmag is the best bet. It is fully SEO optimized that loads fast and includes visual composer & mega menu. 
Top Features Of Artmag WordPress Theme
Fully supports video header, video header, and sticky header

Responsive design suitable for personal blogs

Advanced admin panel

Translation & Retina ready

One-click import and WPML support
4. Waves 
The waves WordPress theme is designed especially for the video header. It the perfect choice if you want to add a creative element to your website. It works excellent for business and start-ups.
Get access to an array of unique layouts, filterable portfolio. This WordPress theme follows AJAX; hence the loading speed is super-fast. The fully responsive website works great for agencies and freelancers also.
The best part is Waves come with free visual composer and revolution slider. This WordPress video header theme offers loads of features and elements. 
Top Features Of Waves WordPress Theme
Easy 1 click Demo

Supports Video Header

CSS3 and Scrolling Animations

Excellent support team

Mobile device friendly
5. Inspiro Theme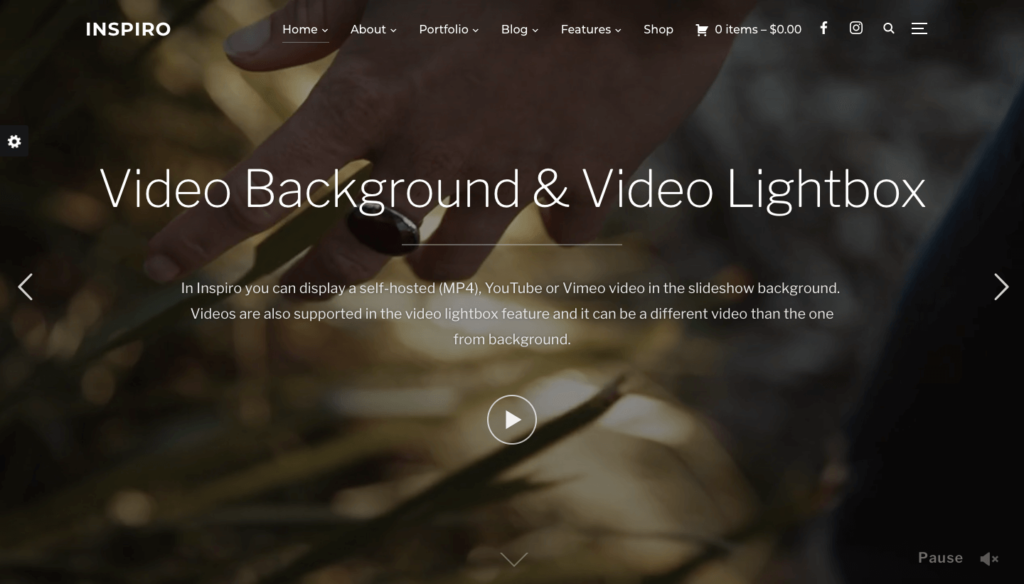 If you are searching for a WordPress theme with a video header exclusively to showcase your videos and high-quality photographs, then Inspiro is the best choice.
The Inspiro theme offers full support to YouTube, and videos, you can play those videos in the background and within the post. Uploading videos is easy and quick. This theme supports two gorgeous blog layouts, which are easily switchable too.
You can customize the theme as per your preferences and business needs, it can be transformed into a colorful website or you can keep it subtle and simple.  works well for filmmakers and photographers.
Top Features of Inspiro WordPress Theme
Comes with live customizer option

Robust Slideshow with Video Support

Quick and responsive layout

Can tweak the format and colors of the website

WooCommerce Support
6. Gauge Theme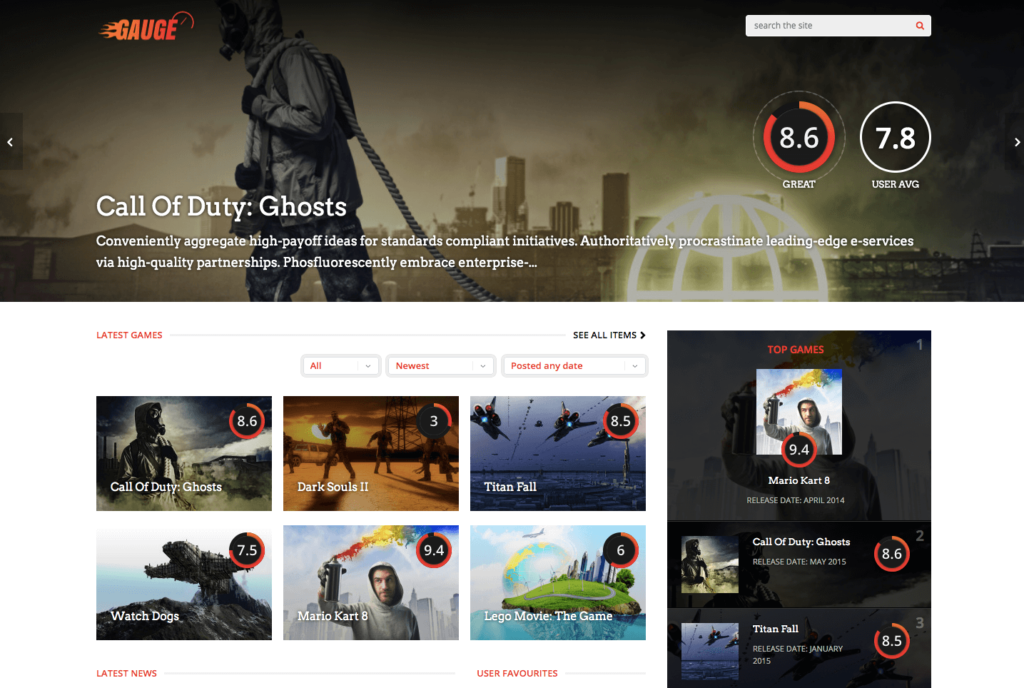 When it comes to the robust WordPress theme with a video header, Gauge is a reliable choice. It works excellent for the various type of contents that includes movies, filmmaking, photography, food, gaming, etc.
With Gauge, you get access to a centralized page with various navigation option, it can be used to showcase video and image content. The website is designed in such a way that both admins and users can review the item.
The website with Gauge WordPress fully responsive and comes with modern designs and layout.
Top Features Of Gauge WordPress Theme
Space for many advertisement areas

Complete SEO friendly

Option to add user's profile link to the menu

Supports multiple language translation

Simple, clean and easy codes 
7. Bento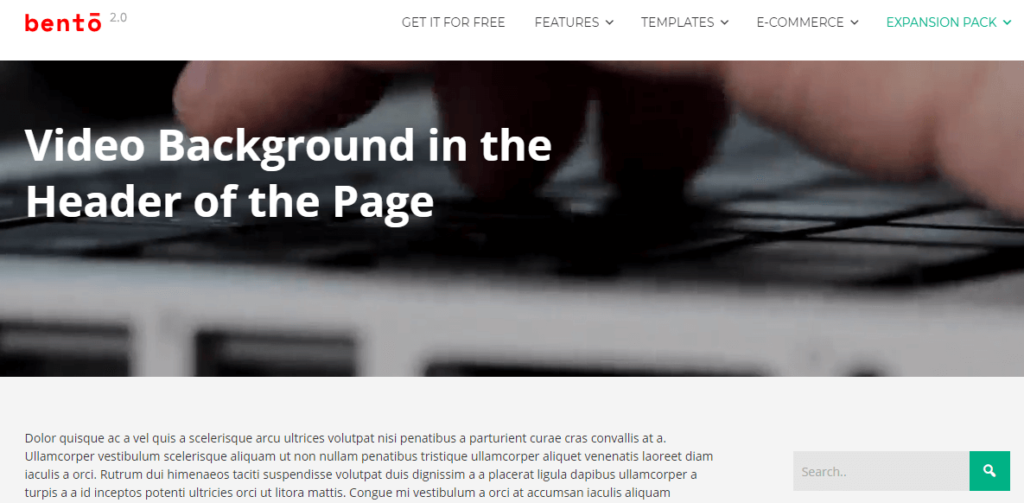 If you have a website and showcase your video content specifically, then Bento Universal Theme is a perfect choice. If you're specifically looking for the theme that has a video header on the post page, then it is the ideal one that would give an appealing look to your website.
This WordPress theme is highly mobile friendly and responsive. You can customize the website based on your industry and domain. The overall interface is easy to use, the built-in layout makes everything super quick. 
Get access to more than 500+ amazing icons and google fonts with Bento Universal Theme. The premium grade design with video header gives a modern look to your websites.
Visitors can enjoy the best user experience while they browse through web content. The retina tool gives an appealing look to the website on desktops as well as smartphones.
Top Features of Bento WordPress Theme
Fast Loading Time

Access to unlimited alluring color combinations

On page template option

Access to infinite scroll and menu options

Advanced WooCommerce integration 
8. Novalumen
If you are planning to give a modern and aesthetic look to your website supported by video header, Novalumen is a budget-friendly choice. It works really great for the blog, e-commerce websites, business and even for the portfolio.
The high-end responsive design and retina make this theme a modern looking website choice. The content of the website can be read in multiple languages, all thanks to the customized and flexible options provided by Novalumen theme.
The one click DEMO import feature makes everything hassle-free, you can include shortcodes and add video headers to your website. It also supports multiple formats of posts that contain a blog, pictures, and videos.
Top Features Of Novalumen WordPress Theme
Customization of header backgrounds

A fully responsive design which is versatile

Apt for business and e-commerce websites

One Click DEMO import option

Multiple effects for hovering on images 
9. Bow
This single page WordPress theme with video header suits very well for photography websites. It is a neatly designed layout with an aesthetic look to promote photo gallery and video portfolios. The right choice for those who want to develop a professional looking website.
The Bow WordPress theme is available in 3 variations i.e. image background, content slider, and video background. The video header quality is excellent and it instantly gives a professional look to your business website. The high-quality responsive outlook is the biggest merit of Bow theme. 
Top Features Of Bow WordPress Theme
Get access to live customizer

Robust admin panel

Use 600+ google fonts

Fully functional and response design

Completely SEO optimized theme 
10. Ensconce 
Ensconce is another excellent theme that supports video headers. It offers a unique full-screen HTML5 video header for your business and brand. Get access to distinct shortcodes and layouts with Ensconce.
You can customize the theme by check out the side to side preview; it is quick and hassle-free. The front page is versatile and you can use numerous features to customize it as per the business needs.
With Ensconce get access to 50+ theme HTML5 video header, filterable portfolio, videos, manages, external links and lot more.
Top Features Of Ensconce WordPress Theme
Single click demon data

Full-screen video header

9 color pickers provide access to unlimited color combinations

Cool tools and features offer easy customization

Integrated Mailchimp form 
11. Steez From Squaretype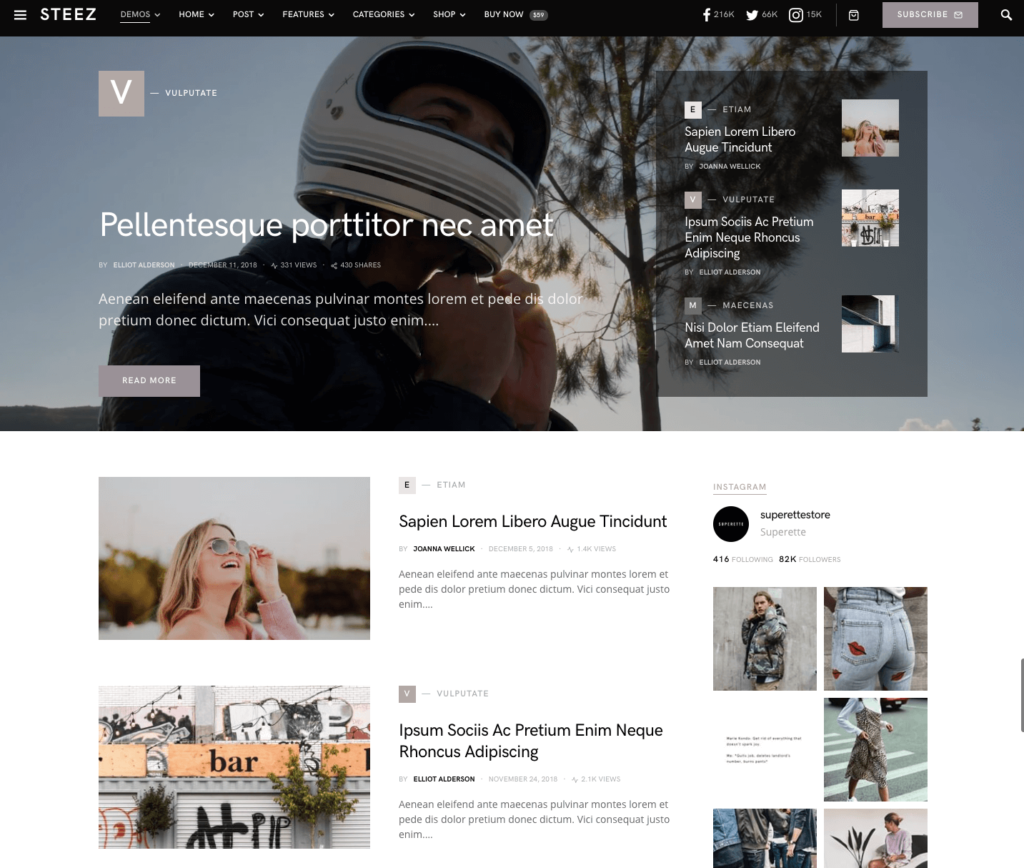 Even though the Squaretype is the content-based blog & magazine WordPress theme, it supports video header in one of its layouts. For SEO purposes, this design has Inline related posts to increase user engagement.
You can adore the super-fast browsing experience with performance optimization. To extend the features, this video header WordPress theme has Powerkit as its in-house plugin so that you will get a handful of exciting features like Optin-forms, Slider, Lightbox, Lazy Load Images and much more that make your website attractive. 
If you want to add the Numbered headings and table of content for easy readability, then this responsive WordPress template with video header is the right choice. AMP support, Mega menu, and Sticky sidebar are also available. 
Top Features Of Steez WordPress Theme
Post views counter support

GDPR Compliance 

several banner spots with in-built Adsense support

Attractive headers

Eye-catching video backgrounds

Basic shortcodes & customizable social share buttons 
12. Aoko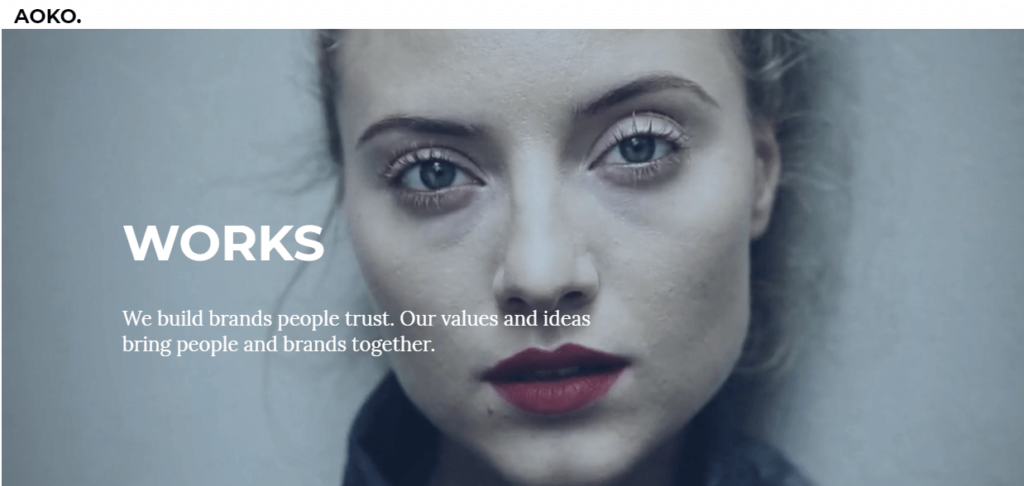 If you are looking for a super creative theme for your business, Aoko – Creative WordPress Theme is the best WordPress theme that works with video in the header. It is one of the best WordPress video themes which is popular among businesses, portfolio websites, designing studio as well as company which has high-quality video content.
The layout of Aoko – Creative WordPress Theme is highly responsive and it is totally compatible with almost all the browsers like Firefox, Safari, Edge, Chrome, and Opera. Just insert a video header and surprise your audience with awesome content. This WordPress theme with header video also allows video navigation.
CSS3 content animation is also possible with Aoko. Moreover, you can get access to the unique, beautiful icon and google fonts. The customization of a website is effortless with Aoko. In short, it is one among the best WordPress theme with the video header.
Top Features of Aoko WordPress Theme
Highlight responsive WordPress theme

Apt for creative portfolios, business, designer studios.

Easy customization with the help of customizer.

Regular updates and customer care support.

Neat and creative design 
13. Vlog 
The Vlog WordPress theme supports video header and all the leading video content sharing platforms that include YouTube, Dailymotion and more. It is a great WordPress theme if you have a lot of high-quality video content for your audience. It suits really well for the magazine type of websites; the overall layouts give the aesthetic feel.
Vlog is a brilliant choice if you want to present all your videos creatively with your visitors online. The first impression is undoubtedly going to turn out amazing. It is one of the most reliable WordPress themes that work with video in the header, an ideal choice for video blogging and creative tutorials.
Moreover, with Vlog, you can display video tutorials, share viral videos, Vlogs, video blog posts in an easy way. Get access to more than 200 layout combination to give an appealing look to your website. If you are planning to monetize your website, Vlog is a reliable choice. Click here to download
Top Features of Vlog WordPress Theme
Completely SEO optimized with a responsive design

Smart image sizes which are flexible

Specially designed header layouts

Important video from YouTube and Vimeo.

Access to watch later and cinema mode
14. VideoTouch 
The VideoTouch is the brainchild of TouchSize, it is a premium theme which allows you to add video header in your WordPress website. If you are looking for high quality and aesthetic looking website for your business them, VideoTouch is an ideal choice.
The support team of VideoTouch is highly responsive and offers quality support to their customers. This WordPress is a complete package, it is retina ready, clean and interactive. The most significant benefit of using VideoTouch is you can get access to TouchSize Layout Builder which can be used to create an appealing website.
If you search for a smart WordPress them with video header which can be customized effortlessly, VideoTouch is the ideal choice. It is loaded with the brilliant feature which looks appealing on all device. 
Top Features of VideoTouch WordPress Theme
Flexibility to use all leading video source like Youtube, and Vimeo

Compatible with a both desktop as well as smartphone

The theme offers high resolution; it is retina ready.

Free from added coding and unnecessary plugin

Comes with Google fonts integration
15. Alamak 
Alamak is one of the best WordPress themes that work with video in the header. This theme is clean, appealing and looks great on both smartphones as well as desktop. You can use this website theme to showcase portfolio to your target audience. It works great for selling websites as well.
With Alamak you can get access to 3 unique layouts for your homepage. The three homepage layouts are slider, video and YouTube background. You can use the appropriate one which can instantly grab audience attention. This WordPress video theme allows you to include, delete and reorder the sections seamlessly.
Moreover, with Alamak you can get access to 2 blog layout, one is the blog with full width whereas another one is with the sidebar. You can also use shortcode, post format, add filter and lot more. 
Top Features of Alamak WordPress Theme
Easy one click importer

Customization of homepage layout

Supports YouTube background

Responsive design

Looks elegant and neat
16. Magellan
If you want to create a visually appealing website and wish to accommodate video header, Magellan is an ideal choice. This WordPress theme with video header is entirely responsive, works seamlessly on both mobile as well as on a desktop.
The Magellan WordPress theme offers 6 unique demo that includes gaming, lifestyle, church, news, and technology. You can select the one which fits your needs well. The biggest benefit is, you can import the theme demo with just a single click. It also includes drag and drops page builder.
Another great feature of the Magellan theme is the unique and brilliant frosted glass image effect. Moreover, this WordPress template makes social media sharing super easy. The slide bar can also be customized and it provides customization of the built admin panel.
Top Features of Magellan WordPress Theme
The creative video header is super easy.

Alluring typography

Complete SEO optimized

Edit the look using live visual editor feature

Works well if you want to include video header
17. THE PASSION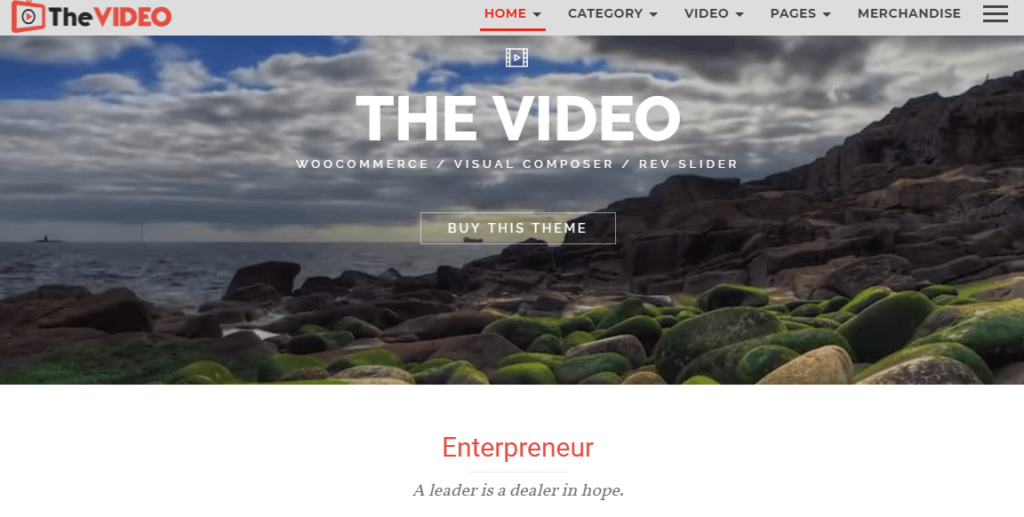 It is another best WordPress theme with the video header. The theme works well for folks in the entertainment industry. The overall look is mesmerizing, and this theme allows you to add a video header, it can also be a movie.
Everything can be done in just a single click, simply visit the theme and select the demo; everything will be done seamlessly. You don't need to work on any code to add a video header. The structure of this theme is SEO friendly.
This theme works well for e-commerce as well as entertainment niche website and allows complete access to unique listing styles and carousel styles. With the help of this template, you can publish video magazine, music album with video, video blogs, etc.
Top Features of The Passion WordPress Theme
Fully responsive and alluring design

Allows you to publish video magazines and video blogs.

Works excellent for entertainment niche website and is also compatible with WooCommerce.

High page loading speed

Positive effect on SEO
18. Maav
Maav WordPress theme works great for all kind of project and business, you can showcase your business and services via beautiful video headers. It creates a strong impression among your target audience. A high-quality video can instantly grab audience attention.
This impressive video header layout follows one-click setup, you can add a video header and get started in just a few minutes. You can choose from 3 eye-catching home layouts. In addition to it, with the help of Maav WordPress theme, you can insert a single image, add GIF and even embed Youtube or Vimeo videos.
It is one of the exciting WordPress themes that work with video in the header. Moreover, this layout is loaded with exciting features and hence you can build your stunning website in a few minutes.
Top Features of Maav WordPress Theme
Allows you to include eye-catching video header (that includes YouTube and Vimeo)

Boosts visibility and overall reach of the website.

Great for video content and for video blogging

Access to 3 unique home layouts

Modern and neat design
Final Words About Video Header WordPress Themes 
No doubt that the site design beginning with the videos can make a great impression and wins readers' heart. It's really good that you have decided to get a WordPress theme with header video. 
I'm sure that you can give your business, brand or personal video an appealing and modern look with these above-mentioned best WordPress themes video header.
Don't use the free themes as they will not help you in anyway. If you have excellent video content, these top 18 WordPress themes are the best choices. All the themes offer customization and loaded with exciting features.
So, which video header WordPress theme would you like to buy for your website? What type of video content do you have? Share your thoughts in the comment section.