WordPress has been launched in the year 2003 and now it is one of the top self-hosted blogging tools in the world.
It has become the best content management medium for non-blogging sites as well!
I have already explained the remarkable features of WordPress as I have been using this content publishing medium since 2013.
What about you? Are you new to WordPress or an existing user?
Anyway, if you are curious to know more about the hidden WordPress features, let me help you with this post.
TOP 10 UNKNOWN WORDPRESS FEATURES
Let's dive into the details of some unseen WordPress tips & tricks that you are probably not aware of!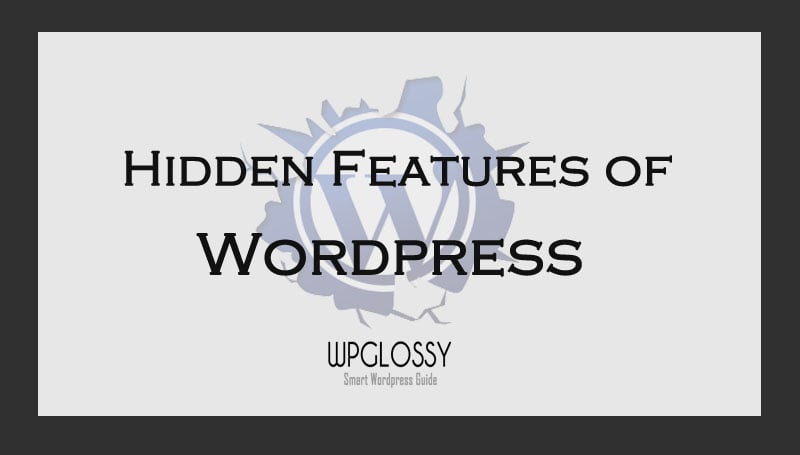 #1. CREATE ANY TYPE OF SITE YOU WANT
One of the biggest reasons for WordPress to become a massive hit among bloggers, webmasters, and marketers worldwide is its customization. You can create any website you want using WordPress.
Do you want to create an eCommerce site? Or, design a membership site with private content access? No problem.
Do you need to sell physical equipment or digital products? You can easily do that with WordPress.
There are a plethora of websites built on WordPress. It doesn't matter what your niche, field or industry is, you can easily create and customize it with WordPress content management system and the plugins available.
I would say that it is a good script to build a website from scratch.
#2. SEARCH ENGINE OPTIMIZED PLATFORM
Have you ever heard the term "WordPress is an out-of-the-box SEO solution"?
Indeed, it is. WordPress has thousands of developers who spend quality time in customizing the WordPress core and making it perfectly optimized for Google crawlers.
They use code elements and files that are more advanced yet take less time to load. And that's the reason why Google always loves WordPress sites.
In other words, by installing WordPress on your sites, you can increase your chances of getting more search engine traffic to your pages.
WordPress is an incredibly amazing platform when it comes to SEO, and it beats all its competitors such as Blogger, Typepad, Tumblr, etc.
#3. WORDPRESS CAN BE TRANSLATED INTO 70 OTHER LANGUAGES
WordPress is a multilingual blogging platform which helps you to blog in over 70 languages ranging from Afrikaans to Hindi to Turkish.
That means, if you are willing to translate your blog's content into any language or most of the regional languages, it's possible with WordPress content management system.
Blog translation to another language has two biggest advantages.
You can build targeted audience to grow your blogs.
You can give a better reading experience to your readers to easily digest what you are talking about.
#4. ACCESS TO THOUSANDS OF WORDPRESS PLUGINS
One of my favorite reasons to pick WordPress blogging platform over others is the access to plenty of WordPress plugins.
You can find a plugin related to your topic no matter what your industry is. Almost every topic has its own set of WordPress plugins to manage efficiently and run sites smoothly.
And the best part is, the majority of these plugins are free. Only a handful of plugins in the WordPress directory cost you few dollars, but most of them are either free or cost efficient.
To install a plugin, all you need to is to go to WordPress plugin directory, pick one that is related to your industry, simply install and activate it from your WordPress dashboard. It's as simple as that.
You may check some essential WordPress plugins that you would like to download.
#5. ABILITY TO ADD STICKY POSTS TO YOUR HOME PAGE
You can easily feature your important content on the Homepage of WordPress using sticky posts feature.
It is one of the hidden WordPress features and here's how to make sticky posts in your WordPress sites.
Whenever you are going to publish a new post, on the right-hand site, you will notice the "Visibility" feature. This is where you can make your posts "Stick" to the front page on your sites.
Have a look at the screenshot below!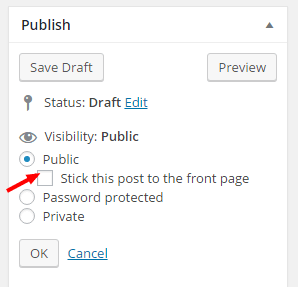 Not only that, you can also password protect your blog's content. This is extremely useful if you are creating membership sites with limited or private content access.
#6. WORDPRESS SUPPORTS TEAM MANAGEMENT
Are you running a membership site and want to give access to a team to edit, view or make changes to your blog?
Or do you have a team of people who are developers, coders or content writers and want to manage your sites effortlessly?
Then, don't think beyond using WordPress platform. It's undoubtedly the BEST team management supportive blogging platform.
You can easily create a custom group of members of your company to start using shortcodes on your sites, add or delete other members or frequently make changes (design or content related) to your sites.
You will also have access to various team management plugins such as Custom Team Manager, WordPress Team Manager, Contenido Team Manager, etc. to easily manage your sites with a team full of members.
#7. SCHEDULE YOUR CONTENT IN ADVANCE TO PUBLISH
You don't always have to hit the "Publish" button immediately after finish writing your blog posts or pages. You can also schedule with WordPress.
The ability to schedule your content in advance is an impressive feature in WordPress.
By scheduling your posts in advance, you can sit back and relax even if you are on a vacation. It can always help you keep your blog posting frequency consistent.
Just hit "Edit" button near "Publish Immediately" as shown below!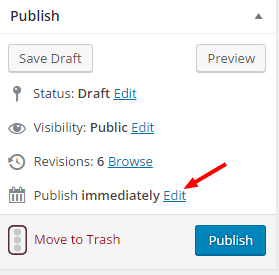 So not only you will be able to keep up with your current website traffic, but you can always write posts in advance, so your audience get content delivered at regular intervals.
#8. DISTRACTION FREE WRITING MODE
We all know how hard it is to create content.
It's even harder when you are creating content in a distracting environment. Constant distractions while writing new content can kill your precious time.
To give you a pleasant writing experience, WordPress offers you "distraction free writing" mode which lets you write blog posts with fewer distractions.
All you need to do is to click on the below-highlighted icon to start writing in WordPress distraction free writing mode.
#9. EASY INSTALLATION AND UPGRADES
Did you know that WordPress has undergone over 200 updates from its birth?
Yes, WordPress is known for its frequent upgrades. Latest WordPress version 4.5 has been released last month and I have explained the new features of WordPress.
Whether they are security or design related, WordPress frequently makes changes to its WordPress core to give you a better and optimized experience.
WordPress is also very easy to install, and it's famous for 5-minute installation.
All you need to do is to download the latest version of WordPress and install it on your hosting's control panel. And you are ready to roll!
#10. SHORTCUTS TO WRITE FAST & CLEAR FORMATS
If you wish to format the content without taking your fingers from the keyboard, you may use the WordPress shortcuts to write faster.
Just hit the "Question Mark" as shown in the above image, you will get a lot of shortcut WordPress options to save your valuable time.
Likewise, if you use any other writing editor to craft your content and copy to WordPress, you may use the option "Clear Formatting" to remove the unessential formats and styles. This feature is hidden here, have a look at the image

FINAL THOUGHTS ABOUT THE UNSEEN WORDPRESS FEATURES
If you are a long-term WordPress user, you might be aware of these hidden features, but the newbies should know these concealed WordPress preferences to use it in a better way.
You don't have to be a tech-savvy to play with WordPress. You can do pretty much anything you want with WordPress from customizations to creating blog posts to design landing pages.
It's the flexibility, frequent updates, and SEO features make WordPress a truly rocking platform. So what do you think about these out of sight WordPress preferences?
Do you aware of these helpful options? Did I miss to list any other hidden WordPress features? Share your thoughts in the comment section.