Are you looking for the cheap and best shared hosting plans to launch your blog or business site? You are in the correct place to choose a reliable web hosting provider. I have been in the online marketing field for more than 12 years, and hence, I can guide you properly.
Top 5 Best Web Hosting List
Free Site Builder, Domain, Migration, and Nightly Backups
30 days money-back Guarantee
60% OFF, Starting From $2.95/Mo
Swift page loading speed up to 288 ms
Reliable uptime with an average of 99.98%
60% OFF, Starting From $2.99/Mo

Good speed of 327 ms
Average uptime of 99.95%
60% OFF, Starting From $2.29/Mo

A reliable load time of 660 ms
Outstanding Uptime of 99.98%
60% OFF, Starting From $2.75/Mo

A speedy load time of 342 ms only
An excellent uptime of 99.97%
80% OFF, Starting From $1.99/Mo
When it comes to getting web hosting, a preferable option for beginners and business startups is shared web hosting. It is evident from the name that several websites share this type of web hosting. Multiple websites store their data on a single server in shared web hosting.
Shared web hosting has a lot of plus points for beginners compared to a virtual private server (VPS) or dedicated server hosting. This hosting is best for those looking for affordable and simple hosting. However, it has some restrictions, such as memory limits and file restrictions.
Many companies are offering the best cheap shared hosting services. But the issue that arises here is selecting the best provider so that your site will be 100% available without any downtime. Here I have compiled a list of the five best shared web hosting along with their features and pros and cons.
1. GreenGeeks Web Hosting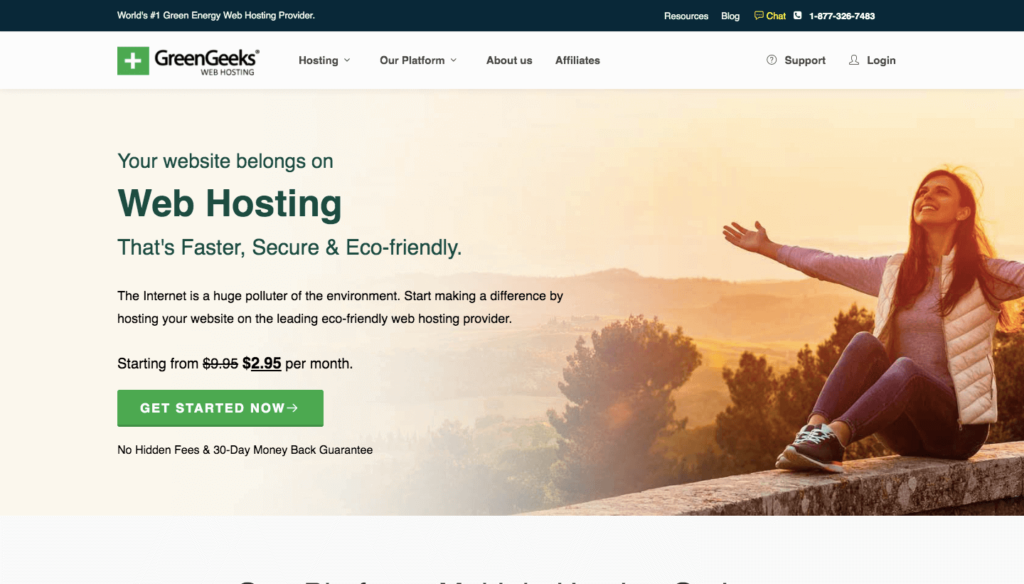 GreenGeeks is a green-loving web hosting company, as it says on the tin. To counter the increasing everyday pollution due to computers and servers, GreenGeeks are offering pollution-free web hosting services.
This is an eco-friendly cum best shared web hosting service provider which provides 300 percent of energy back into the grid as renewable energy. Since its launch in 2008, the company is now providing services in over 150 countries throughout the globe.
You can find multiple web hosting options under a single platform compared to its competitors. GreenGeeks offers services from WordPress Hosting to Virtual Private server hosting. However, its specialty is in shared web hosting services. Let's have a look at its features.
GreenGeeks Shared Hosting Features
Though GreenGeeks offer other services as well, we will focus only on the shared web hosting features. The shared hosting services are categorized as Ecosite Lite, Ecosite Pro, and Ecosite Premium.
A pro tip for selecting shared web hosting is to go for a long-term plan. It is because GreeGeeks offer a 70% discount for long-term plans!
Disk Space
The disk space is the storage or memory that a web host provides to a website. It is similar to the disk space of your personal computer. In shared web hosting, the total disk space of the server is used by all the websites associated with that server.
GreenGeeks offers a 50 Gb disk space for Ecosite Lite subscribers. However, for Ecosite Lite and Premium, it provides unlimited Disk Space.
Email Accounts
GreenGeeks offer different packages or email accounts that range from 50 to unlimited as you go premium. It allows you to create a hosting email with your custom name to receive and send emails professionally.
CPU Cores
GreenGeeks offer multiple cores to carry out the tasks efficiently. The ecosite Lite package provides 2 CPU cores. So if you have a simple website with no complex tasks, then two cores are enough for you.
However, it offers three CPU cores in the Ecosite Pro package for complex and heavy websites and four CPU cores in the Ecosite Premium package.
Physical Memory
The physical memory is the server's RAM providing you with the hosting services. In most shared web hosting servers, the physical memory ranges from 512 MB to 2 GB. However, the Lite Package of GreenGeeks offers a minimum of 1 GB of physical memory.
The Pro and Premium Packages offer 2 and 3 GB physical memory. The physical memory works just like the RAM of your computer. The more RAM, the faster and smoother it works.
Disk i/o
The disk i/o of a server defines the amount and speed of incoming requests and their outgoing responses. You need a high disk i/o (input/output) if you have a busy website such as e-commerce or other business websites.
GreenGeeks offers three packages, from Lite to premium, with Disk i/o of 10, 15, and 20 MBs per second. The higher the disk i/o, the better service you provide to your visitors.
Inodes
GreenGeeks offer a large number of inodes to increase your storage options. Inodes include all the files and folders where you save the data structures or information. The Ecosite Lite package offers 200,000 inodes, and Ecosite Pro and Ecosite Premium offer 400,000 and 600,000 inodes.
Emails Per Hour
The Ecosite Lite package offers 100 emails per hour. Similarly, Ecosite Pro and Ecosite Premium offer 300 and 500 emails per hour.
Other Features
GreenGeeks also offers many other facilities, such as several developer tools and unlimited MySQL Databases in all of its packages. It also offers unmetered bandwidth and Cloudflare CDN.
GreenGeeks Pros
Multiple hosting solutions for shared WordPress, VPS, and dedicated server packages
Data centers in cities like Chicago, Phoenix, Toronto, Montreal, and Amsterdam.
Several customer support channels
30 days money-back Guarantee
99.9% uptime guarantee
Free Site Builder, Domain, Migration, and Nightly Backups
GreenGeeks Cons
Phone support is not available round the clock
VPS and dedicated server hostings are pricier than other web hostings.
Why GreenGeeks Hosting?
GreenGeeks is on the top of our list of best shared website hosting because it is the most affordable with the best features. Its easy-to-use dashboard allows beginners to handle it effortlessly. Moreover, the 24/7 customer support of this web host is exceptional.
2. A2Hosting Web Hosting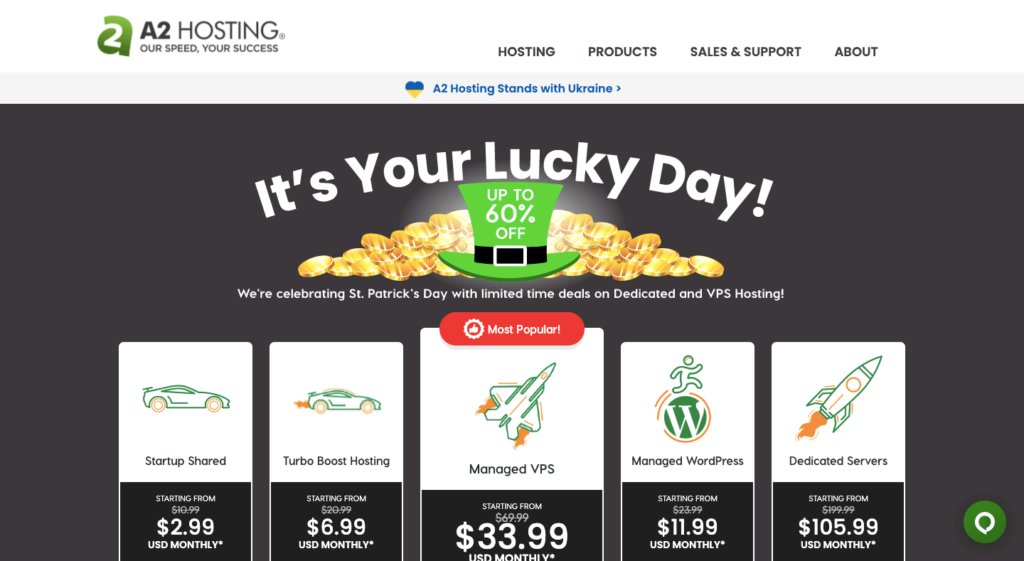 A2 Hosting is so common among website owners because of its fast speed. In fact, it is not fast; It's the fastest (at this price). This hosting has been providing web hosting services since 2001 and has earned a respectable reputation among its competitors.
Besides its fast speed, A2 hosting has a strong uptime, increasing its reliability. The company aims for 100% uptime. However, the recorded uptime is 99.99%. Moreover, the easy-to-use dashboard and admin panel supports beginners unfamiliar with web hosting.
A2 Hosting offers a variety of hosting plans that include Shared, WordPress, VPS, Reseller, and Dedicated Servers plans. It is the best option for those who are looking for cheap and easy-to-use web hosting.
A2Hosting Shared Hosting Features
Let's have a deeper look at its features and why we placed it second among the best shared hosting providers. A2 Hosting offers four packages that include startup, drive, turbo boost, and turbo max.
RAID-10 SSD Disk Space
A2 Hosting offers a 100 GB Disk Space for its start-up package subscribers. However, for other packages, the Disk Space is unlimited. The RAID-10 SSD storage provided by the A2 Hosting is faster and more efficient as compared to other storage of servers.
Turbo Servers
Do you want to boost your website traffic by increasing the SEO of your website and reducing the bounce rate? Well, A2 Hosting offers turbo servers for premium packages such as turbo boost and turbo mas, which offer such services.
The turbo servers can give you an increased conversion rate with an increase in your website's SEO rankings. Moreover, the turbo servers can handle up to 900 % more traffic than usual which supports the speed of your website during rush hours.
The turbo servers are based on 40 % faster AMD EPYC CPUs, which have a higher performance and are 2x faster to the first byte. Moreover, the NVME drives of turbo servers can offer your 3x faster read/write speeds.
Physical Memory
A2 Hosting is now offering 40 more physical memory on its start-up package. The physical memory for the start-up package has increased from 500 to 700 MBs while the memory increases gradually as you go premium.
The company offers 1 GB of physical memory for the Get drive package. Similarly, it offers 2 GB and 4 GB of physical memory for turbo boost and turbo max packages.
Databases
A2 Hosting offers five databases for the get drive package. However, other packages provide unlimited databases.
A2 Optimized Site Accelerator
A2 Hosting never stops facilitating its users with the latest technology facilities. The A2 optimized site accelerator is a Cpanel plugin that provides pre-configured caching. This plugin includes several options such as Turbo Cache, Meme Cache, and OP Cache.
Unluckily, this plugin is only available for turbo packages, including turbo boost and turbo max.
CPU Cores
A2 Hosting values the speed of the website very much. For this reason, it offers reasonable CPU cores to speed up any website's performance. The get drive package gets one core, while the following two packages have 2 CPU Cores. However, the Turbo Max package offers four cores.
Inode Limit
A2 Hosting offers an attractive inode limit for all packages that allows you to store data more eloquently. The get drive packages have a 300,000 inodes limit, while the other three packages have a limit of 600,000 inodes.
A2Hosting Pros
Swift page loading speed up to 288 ms
Reliable uptime with an average of 99.98 percent
Round the Clock server monitoring and scanning for any malware and bugs
CMS and several other developer tools are available for free.
Fast and quick customer support
A2Hosting Cons
The pricing plan suddenly rises after your initial discounted plan expires.
The domain name is not free.
Why A2 Hosting?
We prefer A2 Hosting for its fast speed and robust servers with reliable uptime. The two-factor authentication, dual firewall, and brute force defense protect the website from external attacks. Also, the pricing plans are affordable with several premium features. I would say it is the best web hosting for WordPress sites.
3. InMotion Web Hosting
Established in 2001, InMotion is now among the leading best shared server hosting providers. Its powerful servers and well-balanced packages earned it a respectable reputation among other web hosts.
InMotion is famous for its speed and excellent customer support. Moreover, its 90 days money-back guarantee proves the authenticity of its claims and shows how confident it is about its services.
InMotion Shared Hosting Features
InMotion offers four packages, namely Core, Launch, Power, and Pro, where the core is the basic package, and the Pro is the business package. Let's have a look at its features for shared hosting services.
Disk Space
The core package includes a disk space of 100 GB SSD Storage. However, all other packages give you unlimited access to disk space.
Bandwidth
Bandwidth is unlimited for all the packages. InMotion also offers many other features for free.
Speed and Performance
The core package offers a 2x speed to your website, while the launch package offers 6x ultra stack speed and performance. The best speed and performance is offered by the Pro Package, which boosts the speed of your website by 20x.
Email Storage
The basic package allows you to store 1 GB of emails in your inbox. However, you can store up to 20 GB of emails with the Pro Package.
Security
SSH access and free SSL are included in all the packages for the additional security of your website. Besides these, spam experts are also available to detect any threat to your website. Hack and malware protection are also available 24/7, along with customer support.
Other Features
Besides these, InMotion offers some additional features in all the packages for the convenience of its worthy users. One-Click Installs of 400+ Applications, Free Website Builder, and WP-CLI Enabled are some additional features that are included in every package.
Inmotion Pros
Good speed of 327 ms
Average uptime of 99.95 percent
24/7/365 customer support
InMotion special discount available
90 Days Money back guarantee
Inmotion Cons
A free domain name is not available
Why InMotion?
The 90 Days money-back guarantee proves that InMotion offers what it claims. Its speed and uptime are the best in collaboration with the premium features offered at the most affordable rates. Also, an easy-to-use interface and 24/7 customer support are good support for beginners in this best shared hosting.
4. HostGator Web Hosting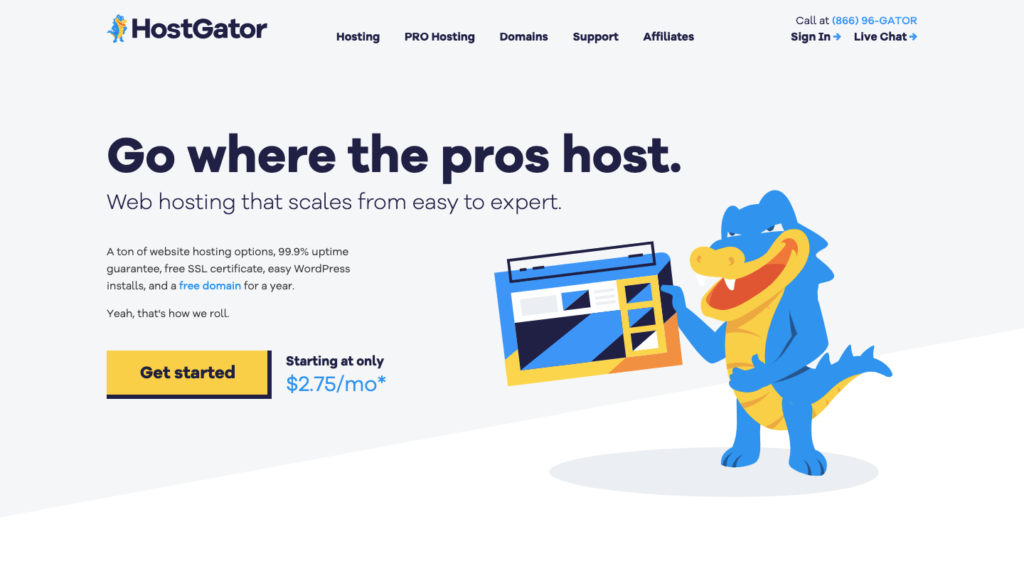 HostGator is among the few oldest web hosting companies. However, even after offering services for a long time, their uptime is quite exceptional, i.e., 99.98 percent on average. It provides excellent customer support through a live chat that supports beginners.
HostGator's basic plan covers premium features such as unlimited storage, bandwidth, free domain for the first, and a free SSL certificate. However, you have to buy many other features and services separately.
Moreover, HostGator is the best web hosting for small businesses. It has some strict policies regarding the usage of disk space or bandwidth usage, which a considerable business owner may violate unconsciously.
HostGator Shared Hosting Features
Here we will discuss some salient features of the HostGator shared web hosting services. Let's have a deeper look at what HostGator has for you.
Disk Space
This best cheap web hosting allows you to use the disk space without any charges till you remain in their limits. The policy for disk space usage is that a person can have 25% of the server's total disk space. You will receive an email notification to reduce your usage whenever you exceed the limit.
Uptime Guarantee
HostGator guarantees 99.90 percent uptime, meaning a 24/7 customer support service will be available. However, they have a record of maintaining the uptime to 99.98 percent last year. The uptime guarantee states that if it falls below 99.90%, you'll receive one month of a credit back.
Money-back Guarantee
Most web hosts offer a money-back guarantee of 30 days. However, HostGator is so confident about the quality of its services that it provides a money-back guarantee of 45 days.
Bandwidth
HostGator offers unmetered bandwidth, which means there is no restriction for bandwidth usage. An interesting fact is that it is the same for all the packages.
Advanced Email Tools
Hostgator also offers some latest email tools in all its packages, such as Unlimited Email Aliases, Autoresponders, Mail Forwards, and 25 Mailing Lists.
Hostgator Pros
Outstanding Uptime of 99.98 percent
A reliable load time of 660 ms
Excellent Customer Support
45 Days money-back guarantee
Offers site security features
Hostgator Cons
Extra fees for several features such as Tru backups, Gmail, and malware
The price rises aggressively after the first discounted plan
Why Choose HostGator?
Though HostGator cannot compete with A2 Hosting in speed, it has a decent load time of 660 ms. HostGator provides 24/7 customer support to help its users at any time. Moreover, it offers some premium features in its basic plan, making it a top choice for low-budget website owners.
5. Hostinger Web Hosting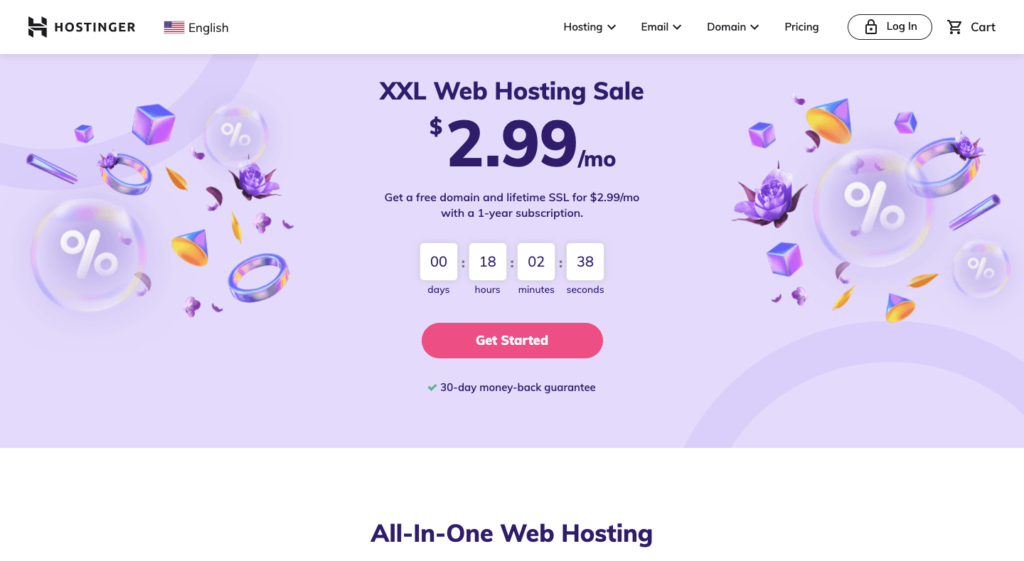 The Hostinger web hosting provider is not much older. In 2007 it was formed by the name 000webhost.com. At that time, it offered some free web hosting services with no advertising at all. In 2011, the name was changed to Hostinger, and a brand was born. After that, there was a steep rise in its growth, and by 2017, Hostinger had crossed 29 million users.
Still, Hostinger offers many web hosting tools and features for free (only for its users). The most attractive feature is its affordable pricing plan. Let's look at its features to see if its accessible tools and features are a reality or not.
Hostinger Shared Hosting Features
Hostinger offers three packages for shared hosting services. The basic package is called single, then comes the Premium, and the last one is the business package with the most available features.
SSD Storage
The single package offers 30 GB of SSD storage for your website. However, if you need more storage, you can subscribe to the premium plan, which offers 100 Gb SSD storage, or the business plan, which offers 200 GB SSD storage.
Bandwidth
Hostinger offers bandwidth usage of 100 GB in its single package. However, the premium and business packages include unlimited bandwidth usage.
Sub Domains and Parked Domains Per Account
The single package of this best shared hosting offers two subdomains and two parked domains per account. The premium and business packages include 100 subdomains and 100 parked domains.
Inodes Limit
The inodes limit for the single package is 2 million while for Premium Package it is 4 million. The limit increases by 2 million as you subscribe to the business package.
CPU Cores
Both single and premium packages include one CPU core. The business plan contains two CPU cores for large, complex websites.
Physical Memory
Hostinger offers 768 MB Ram in its single package. The RAM rises to 1024 MBs in the Premium plan and then rises to 1536 MBs in the business plan.
Hostinger Pros
A speedy load time of 342 ms only
An excellent uptime of 99.97 percent
Most affordable pricing plans
30 Days money-back guarantee
Multilingual Customer support
Easy to use dashboard
Hostinger Cons
Phone support is not available
Why Choose Hostinger?
Hostinger has the most helpful and premium features at the most affordable prices. It offers a load time of 342 ms, which is quite exceptional. The uptime of 99.97 percent and the 30 days money-back guarantee prove the authenticity of its claims.
Final Words
This was all about the five best shared hosting providers. Selecting the web hosting services is the turning point of your life. Either it would help you succeed or may result in a complete failure. So take your time and think multiple times before selecting any shared web hosting.
GreenGeeks is the best shared web hosting provider, offering exclusive features at the most affordable rates. Its several customer support channels provide 24/7 support. If you have a high budget, you should go for dedicated hosting or VPS hosting for speed, security, and results.