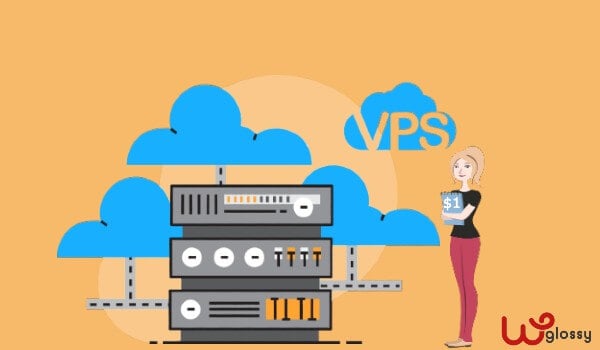 Are you working with a tight budget and looking to buy cheap VPS hosting for your business site? If yes, you have come to the right place to get a VPS server at a reasonable price. Let's get into the topic!
I assume that you are on the shared hosting and your business site needs more resources and control to improve its performance. You have taken the right decision in getting the superior hosting type for the site growth.
As you know, here are the benefits of VPS hosting
Your site will be given an own space! So, the other websites hosted on the VPS server will not affect the performance of our website like in the shared hosting.
You can configure the server as per your needs and get complete control to manage it. Yes, it is possible to choose the resources such as CPU, RAM, and Storage space limits in this hosting type.
Other users cannot access your allocated resources, and hence the security will be top-notch here.
Without interfering with the server functions, you can scale up the resources and never worry about the downtime issue.
Fully managed services are available, and that too with the cost-effective plans for digital marketing beginners and business startups.
Even though VPS hosting contains several advantages I mentioned above, you might think, 'Why is VPS hosting so expensive"?
Why is VPS Hosting expensive?
The VPS Hosting service provider gives you a separate space to launch and manage your website. It needs more SSD storage space and other high-quality hardware resources. These resources include dedicated firewalls for high security and reliability.
Therefore, we should understand that collecting and offering many resources needs a huge investment to set up the VPS hosting server with complex architecture. I hope now you understand why VPS hosting costs more than the shared hosting service.
As I have been in the internet marketing field for the past 12 years, I surely tell that we will not get a better hosting service by paying a low cost. However, fortunately, a handful of reputed hosting companies offer cost-effective VPS plans that are well suitable for your business.
Top 6 Cheap Hosting Services Worth Buying In 2021
Let's see the best and cheap VPS hosting deals with high safety and reliable features!
#1 Hostens VPS Hosting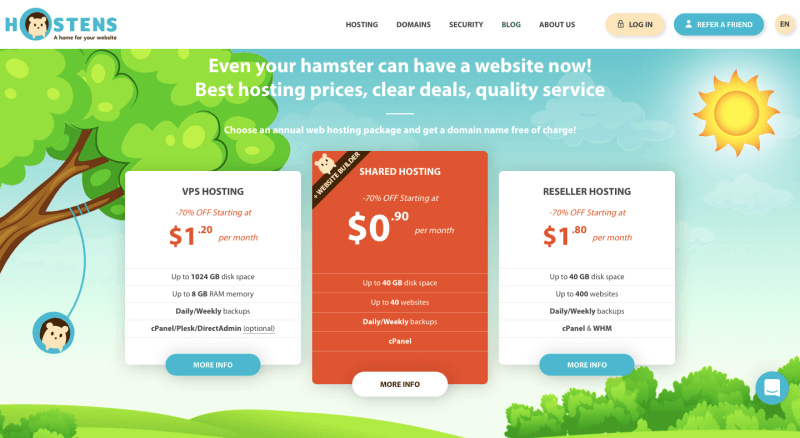 Hostens the cheapest VPS hosting with cloud infrastructure available at 3$ per month at one-year payment, and it has an even low price at 1.80 $/mo for a three-year payment available with 1 core CPU, 20GB storage, 2GB RAM, and 1TB bandwidth in its basic VPS services.
Apart from this, Hostens VPS hosting has some add-on services like automated backup and Fast SSD storage and port speed at 1Gbps for better performance in VPS hosting service. Moreover, its Managed services like cloud VPS, Cpanel & admin panel with countable account limit and additional IPs for internet connectivity make Hostens VPS hosting the best service for long run websites.
Hostens provides reliable, flexible VPS hosting and that too with a great support team. Here, we have four different VPS hosting services: Linux VPS, Windows VPS Hosting, Container VPS, and Storage VPS. For various business sizes and requirements, they are offering these VPS hosting types. You may pick the ideal one suitable for your business site.
Linux VPS uses kernel visualization. It is possible to modify the resources of the server at any time, whereas container VPS uses fixed resources for its service with SSH root access. This cheap windows VPS hosting includes high SSD data storage spaces for large data access and its manipulation.
Features
Manages VPS hosting contains different admin control panels
Choose the operating system for VPS with Ubuntu, CentOS, Fedora, Debian, VestaCP, own Cloud, etc.
Flexible to upgrade the resource of VPS server at any time
Stable and Great support system like chat, email ticket system
Cloud infrastructure for enterprise-level web architecture
VPN service for network connectivity
Optimized storage for a high amount of data access websites
Free domain with the Website builder and many one-click applications
#2 scalahosting VPS Server
Are you searching for a simple yet affordable VPS hosting service for your money-making site? Here I have a great choice for you! Get VPS service from the Scalahosting. It offers both managed cloud VPS and self-managed cloud VPS at reasonable pricing plans.
Here, you will get ultra-high performance and speed with the help of 100% SSD storage and premium networks. I'm happy to say that it is one of the top-rated cloud web hosting providers by Trustpilot.
Apart from the regular cheap VPS hosting plans, you have an option to choose the Digital Ocean server for a business website. As it gives you the flexibility to select your preferred cloud provider, you never need to bother about the speed, security, and reliability.
If you are the one who specifically looks for SPanel VPS control panel, then Scalahosting VPS is an ideal choice since it offers better security, faster servers, and 100% email deliverability for free. Hence it is considered as the excellent cheap VPS hosting with cPanel.
Features
Unmetered bandwidth with 50 GB SSD storage
Contains faster web server OpenLiteSpeed
Daily backups and SWordPress manager
Free advanced real-time security
10+ enterprise-grade data centers around the world
Free site migration without any downtime issues
Expert support team to set up, maintain and optimize the server
Dedicated IP address and Guaranteed resources
Daily disaster recovery backups.
HTTP/3 support
No server overloading
Cheap Cloud VPS hosting suitable for startups

#3 InMotion VPS Hosting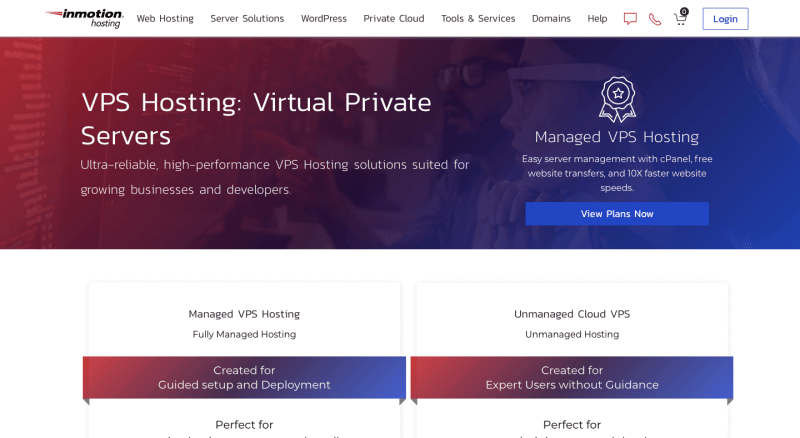 InMotion VPS hosting provides a well-managed control panel its server resources 2 core CPU, 2GB RAM, 45 GB SSD storage, and 4TB bandwidth at $31.99/mo. In addition, it offers free website transfer with a security monitoring dashboard for bandwidth and load usages to make websites' high availability.
The best eCommerce optimized VPS hosting available in InMotion VPS hosting is with PCI compliance and good speed. It offers high protection over DDoS attacks and SSH protection. Its Server resources can handle ten times traffic with 100% uptime commitment.
In InMotion VPS hosting, you can instantly scale the resources like RAM to speed up the server. Ultra stack with 200+ web application maintenance is present to handle high traffic websites and data-intensive workloads. The managed control panel with 24×7 supports makes worry-free website migration. 90 days money-back guarantee makes reliability towards the VPS service.
Features
Cheap managed VPS and Industry-leading Cpanel with Cloud support
Dedicated VPS resources with no upfront cost
Free server management and Monitoring by Patching
Unlimited Domain-based email and MySQL databases with root access available in WHM

Cheapest VPS plan for the agency, eCommerce, and Business application with 90 days money-back guarantee.

Instant web page load time with high capacity SSD storages
2 hours of launch assistance support for migration
Cheap VPS hosting with DDoS protection for greater uptime
#4 A2 Hosting Managed VPS
A2 hosting provides both managed and Unmanaged VPS hosting for all business startups and enterprise websites. The cheapest VPS hosting is available at 4.99$/mo and unmanaged VPS hosting with the self-configured custom server.
The command-line interface, choice of the operating system, and full root access are available in its account. We need to pay 39.99$ /mo for managed VPS with managed security and 24//365 guru crew support for worry-free resource management.
This green hosting has the best VPS management for eCommerce websites and software development business with high data-intensive VPS servers and high protection. It is one of the best cheap VPS hosting providers with excellent CRM management for web development and its applications.
Features
Managed server configuration with available root access
Free Cloudflare CDN with 99.9% uptime
Choice of operating systems with the one-click web application installer
Best reliable service for software development and eCommerce website
Free website migration with great support
Money-back guarantee
#5 HostWinds VPS Hosting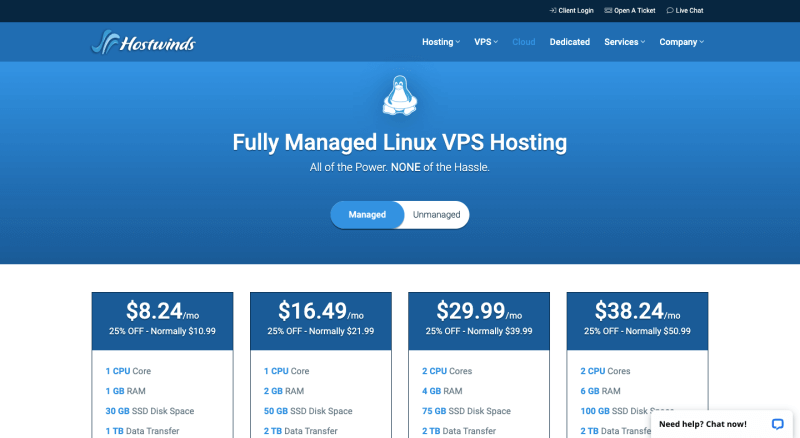 Hostwinds VPS hosting offers both managed and Unmanaged VPS hosting for Linux and Windows environments. It provides VPS hosting at high speed with 99.9999% uptime performance for business websites at low cost. In addition, it gives unmanaged Linux hosting at4.99$/mo and managed Linux hosting at 8.24$ per month with 1 core CPU, 1GB RAM, 30GB SSD storage, and 1TB bandwidth.
This cheap SSD VPS hosting provides instant scalability of server resources and enterprise hardware support with a 99.9999% uptime guarantee. Moreover, you may choose the Linux OS according to the business website and its analytics from Debian, Fedora, CentOS, and Ubuntu for the web applications like WordPress, Drupal, Joomla, LAMP stack, etc.
The cloud VPS portal can be useful for managing the VPS servers and its maintenance support with high protection using Firewalls.
Features
Free website transfer from any hosting provider with SSL
1 Gbps ports and SSD storage devices make the server faster respond to the user request.
Dedicated Firewalls for server protection
Server resources can be scaled at any time
Storages Volumes and Load balancer used for optimized server resources
Automated backup available in all hosting plans
#6 DreamHost VPS Hosting
DreamHost provides VPS hosting with cloud support at $10 /mo. In addition, it offers a free domain and website builder in its hosting account. With its managed VPS hosting control panel, it is more likely improve the website's speed by expandable RAM.
VPS control panel has high security, and you can easily do web application updates. Its Cloud hosting has root access, and SSDs are used in storage devices to ensure faster data processing.
Dream host has managed VPS hosting services for basic site management, business applications, and real-time web application development. Especially if you have a growing business website, then this cheap unlimited VPS hosting has scalable resources best suitable for beginners and startup websites.
Features
Each VPS plan has one-click SSL encryption, Unlimited emails for a free domain
SSD for storages for faster access and high capacity SSD storage for growing business
Unlimited Bandwidth with expandable RAM support
100% uptime with 24×7 support by experts
Unmanaged VPS has Dream Compute and OpenStack cloud Stack give control over the VPS server.
Dream Objects for cloud storage in VPS hosting
Automatic software updates, Advance caches like Nginx; IPv4, and IPv6 connectivity
Unlimited SFTP access for VPS hosting
Opcache for faster execution of PHP scripts
One-click app installer
Q&A Related to Cheap Web Hosting
Is managed VPS hosting cheaper than Unmanaged VPS hosting?
NO. The Managed VPS is expensive than unmanaged VPS hosting because of offering many one-click app installers and high server security.
Is scalable resource in managed hosting reducing the price?
Yes. The scalable resources like RAM and memory in managed hosting make it cheap when considering the business environment and human resources.
Is managed Hosting has Root access?
Not all service managed providers give root access. But the company may give this feature for expansion of resource when we needed.
Is VPS Hosting costlier than Dedicated Server?
No VPS server is available at a low price than a dedicated server. VPS hosting available even sometimes will be equal to shared hosting price by the proper selection of its resources according to the business needs.
Which Is the budget-Friendly VPS Hosting?
Nowadays, Virtual Private Server hosting becomes very popular for its reliability and ease of use control panel for the business startup with huge daily visitors. This hosting has separate server resources for each hosting account, and hence it cannot affect other websites hosted on the same server.
The resources used in the VPS servers are all scalable and hence can use them whenever we need a resource for our business growth. Managed VPS Hosting is more flexible and safe for businesses like a startup agency, eCommerce, business analytics, and large enterprises.
In this best cheap VPS hosting list, I would highly recommend the top 3 services – Hostens, Scala Hosting, and InMotion hosting companies as they really offer budget-friendly yet trustworthy VPS servers for all sized business sites and digital enthusiasts.