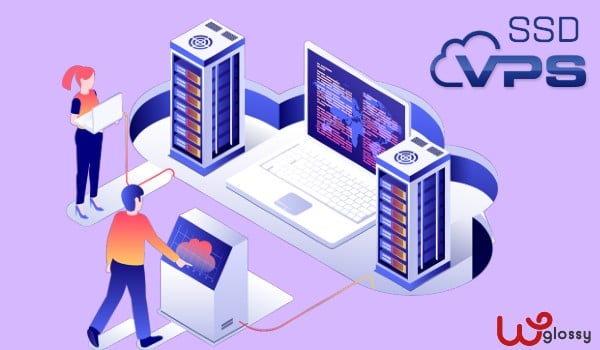 Are you looking for the best SSD VPS hosting server for your small business website? If yes, you are in the exact place to buy a reliable service that would take your site performance to the next level.
VPS hosting is the preferred hosting service for small to medium-sized business websites or blogs since this server is fast, flexible, and functionality-rich that offers the power to manage high traffic. When it is combined with SSD servers, then the performance would be awesome.
Yes, there are two types of VPS server hosting which are A Solid-State Drive (SSD) and a Hard Disk Drive (HDD). Nowadays, Solid-State Drive (SSD) is used in VPS hosting to work faster in day to day operations. Now, let's see the advantages of buying this type of sophisticated hosting server for your money-making website or blog!
Why SSD Hosting Of VPS Type For Small Business?
The significant SSD VPS Hosting Benefits are stated below:-
SSD storage mostly helps when there is more website traffic and speeds up the loading process, which could create a good impact on your website search engine optimization.
Cheap SSD VPS hosting options are available with pocket-friendly options for the users. These servers help to have better security and stability as compared to the other hosting types.
It is an affordable hosting type that consumes up to 80 % less energy than HDD per gigabyte which saves energy bills. This combination of high performance with low energy consumption helps the hosting type to be useful when it comes to environment-friendly.
3 High Performance VPS Hosting With SSD Server
If you are in a hurry and want to have my quick recommendation, here are my best VPS server picks!
| | | | |
| --- | --- | --- | --- |
| | | | |
| | | Lightning Fast Storage & Able To Handle Heavy Traffic | |
| | | Easy Scalable & High Security | |
| | | Resource Monitoring & 90 Days Money Back Policy | |
Top 6 Affordable SSD VPS Hosting For Blogs & Small Businesses
Here is the list of some reliable SSD VPS Hosting service providers, and their best features as follows!
1. GreenGeeks VPS Hosting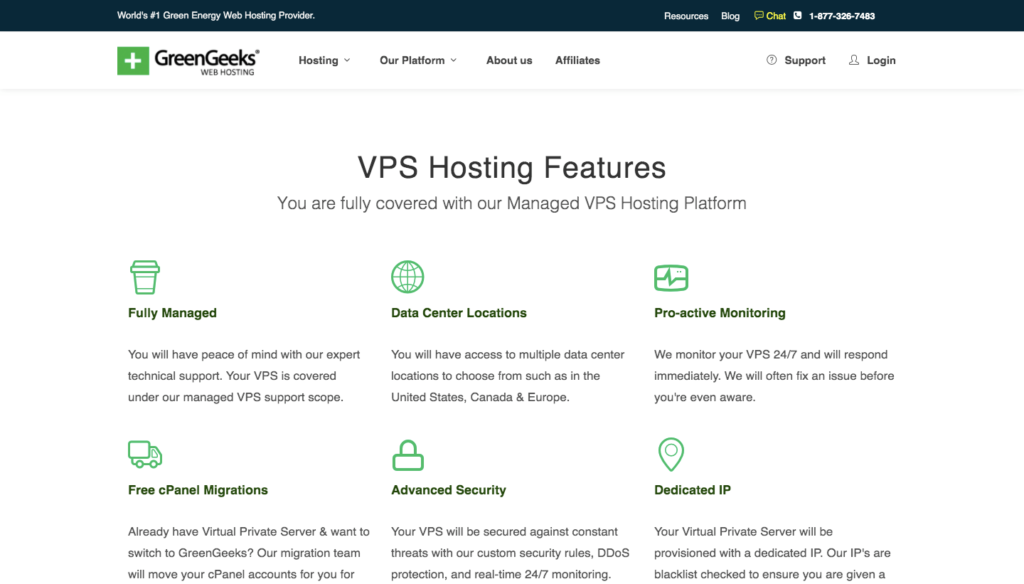 GreenGeeks is one of the top web hosting providers available out there. The company offers a wide range of hosting plans, including VPS hosting. The best part of GreenGeeks is that they offer you managed VPS hosting, which is highly fast, reliable, and easily scalable.
They come in three different plans which are 2GB, 4GB, and 8GB. And they cost you $39.95/m, $59.95/m, and $109.95/m respectively. Also, the best part is that their hosting comes with the Cpanel software. So you could easily manage your web hosting.
Features:
GreenGeeks offers fully managed VPS server Hosting.
It has multiple data center locations to choose from such as United States, Canada, and Europe.
You will grab a dedicated IP address.
GreenGeeks VPS Plans are backed by Intel Xenon Processors for ultimate performance.
It gives you 99.9% Service uptime.
2. Liquid Web VPS Hosting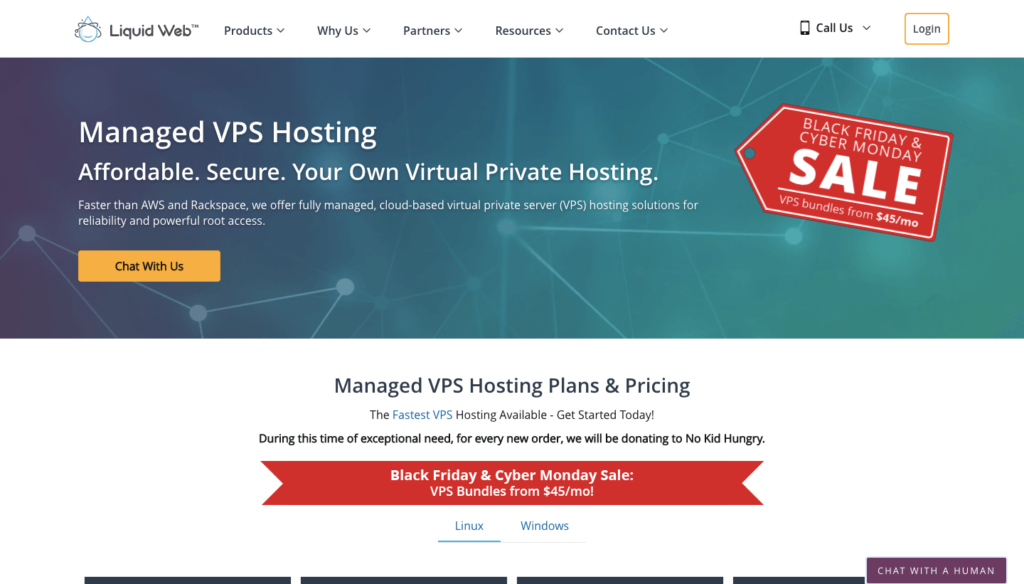 Liquid Web is another excellent SSD VPS hosting that you can try out. The best part is that it is highly managed and it provides fully managed VPS solutions. The VPS service is also highly reputable and offers you powerful root access.
Furthermore, both Linux and Windows VPS type hosting plans are available. And for each type of hosting, you will find multiple options. So, it's easy to choose a plan based on requirements.
Features:
Possible to host unlimited websites.
It gives you a dedicated IP address.
Receive powerful ROOT access.
It contains DDoS attack performance.
100% Network & Power Uptime.
3. Inmotion Hosting VPS Hosting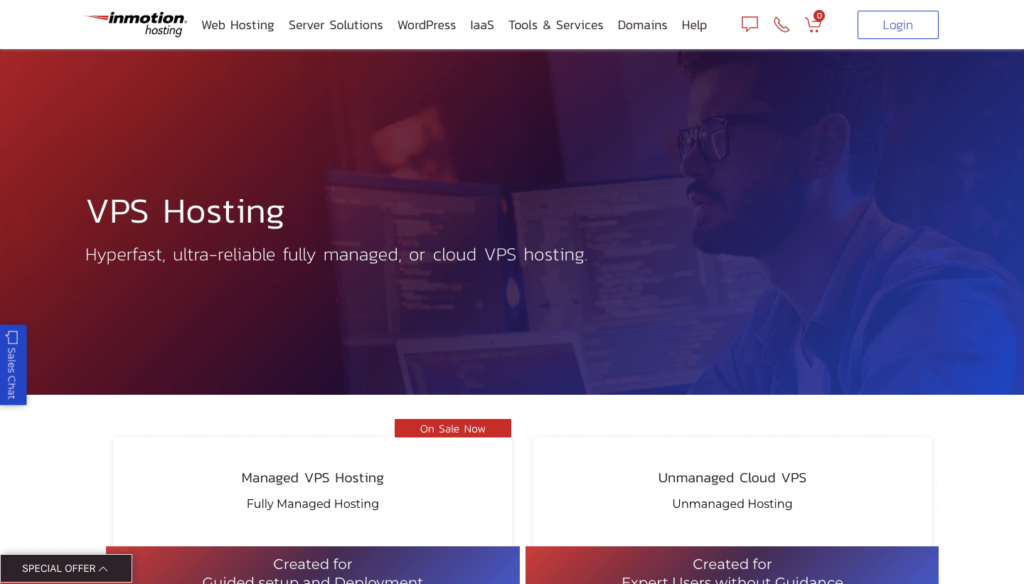 If you are looking for WordPress VPS Hosting, you must check out the VPS server Hosting plans offered by Inmotion Hosting. The best part of Inmotion hosting is that it presents you with solid performance. Along with that, it comes with a wide range of features.
It provides you optimized configurations that can handle 10x more traffic. Along with that, you will gain a faster processing speed with unlocked CPU cores and free SSD which are 20x faster than HDD.
Features:
You will be getting root access and unlimited professional email.
Feasible to install more than 400 apps with just one click.
It offers you a free dedicated IP.
It comes with a cPanel and WHM license.
4. Vultr VPS Hosting
In case, if you don't have a huge budget and looking for affordable SSD VPS hosting plans, then Vultr is a good choice. Vultr VPS hosting plans starts from as low as $5/month. Along with that, it supports different server locations located in different regions like America, Asia, Europe, and others.
However, you should know that Vultr has unmanaged VPS hosting. So it might be difficult for you to get started at first. But Vultr control panel makes server management extremely easy. Also, be ready to cherish reliable and secure performance.
Features:
It supplies you with 100% SSD servers backed by the latest generation of Intel CPUs.
It has 17 data center locations worldwide.
Upload your own ISO file and configure your server.
It also lets you choose from a different Linux distro for your server.
5. A2Hosting VPS Hosting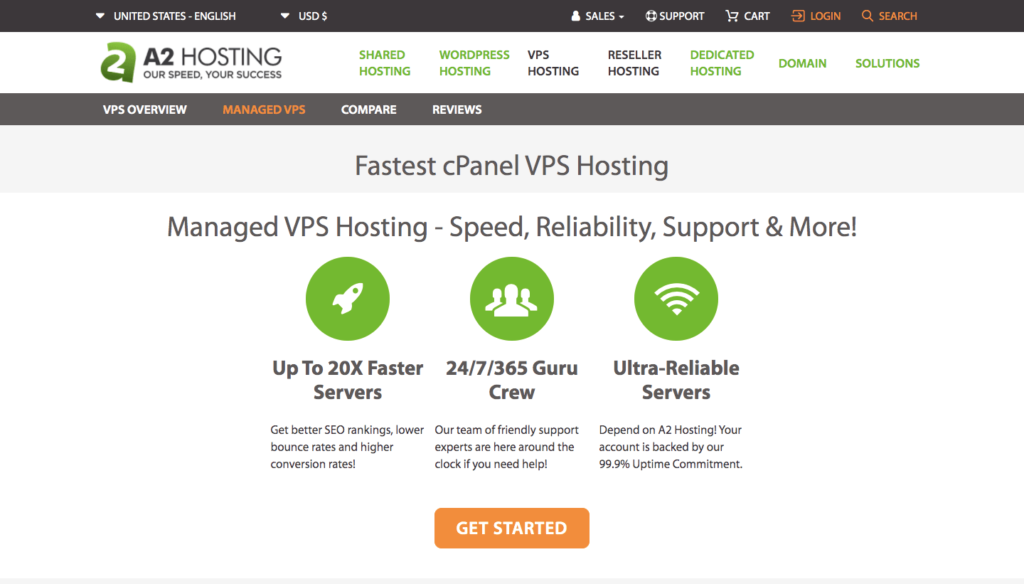 A2Hosting also presents the best SSD VPS hosting. It grants you both managed and unmanaged VPS hosting at the most affordable price. You can get this hosting type for as low as $5.00 a month. While managed VPS is available at $25.00 a month.
With both managed and unmanaged hosting, you would enjoy a 99.9% uptime. Along with that, it offers you up to 20X faster performance. Plus, there are some adoring features like free account migration, 24/7 support, and so on.
Features:
You will get CPanel VPS server Hosting.
Offers you a 20x faster server.
Free and easy website transfer.
Money-back guarantee.
6. VPSServer VPS Hosting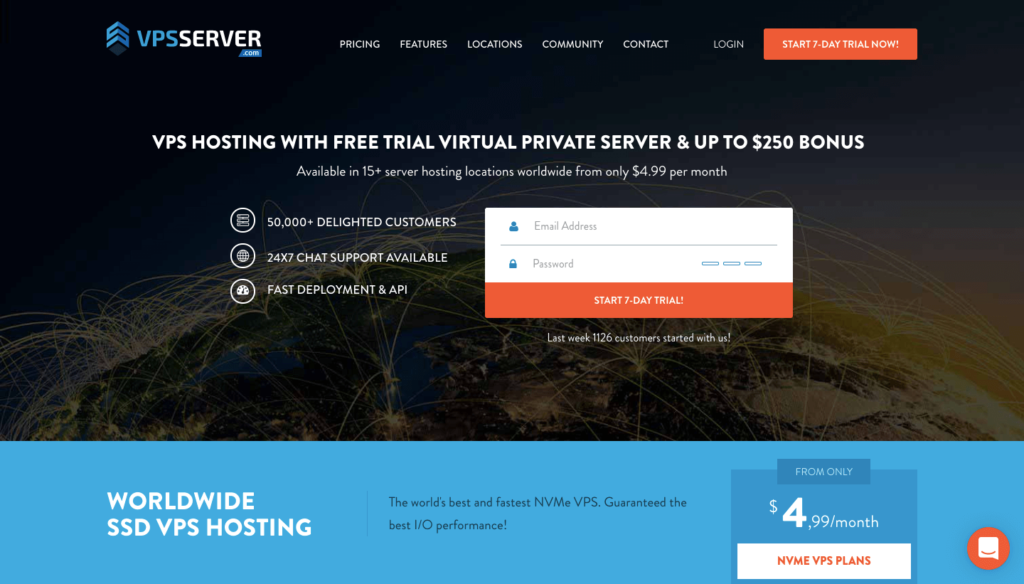 In the end, I have VPSServer VPS Hosting for you. This hosting service is also one of the super affordable SSD VPS hosting providers to try out. The pricing is starting from $4.99/m with some of the amazing features. Along with that, it contains three types of VPS server hosting which include Standard, CPU Optimized, and Memory-optimized.
All of the VPS plans come with powerful SSD's, and it lets you choose between Windows and Linux VPS servers. Also, it gives you flexible billing. So you can bill on an hourly, daily, or monthly basis. However, depending on your plan, you may not get managed VPS hosting. But it offers you an easy and fast setup.
Features:
It possesses 15+ server locations across the globe.
Option to pick between multiple Windows and Linux operating systems.
Acquire integrated root access.
The servers are extremely easy to scale up.
Which Is The Best SSD VPS Hosting For Small Business?
A significant spike in the number of visitors to your website leads to several glitches on your end. The best way to fix it could be by using SSD VPS hosting. It provides exceptional functionalities and great convenience for small business owners like you so that you can surpass your competitors easily.
Out of these six best SSD VPS hosting servers, I would highly recommend the green web hosting service, GreenGeeks since this company has the best fast managed VPS type hosting available with the managed support at an affordable cost. Moreover, the user-interface of the cPanel SSD VPS hosting is easy to use.
If you are still looking for some best options, you may check the SSD hosting companies that offer unparalleled performance to make your site more powerful and help you get better online visibility for your business brand. And now, without any second thought, just go with GreenGeeks VPS hosting to reach a new level in your business.