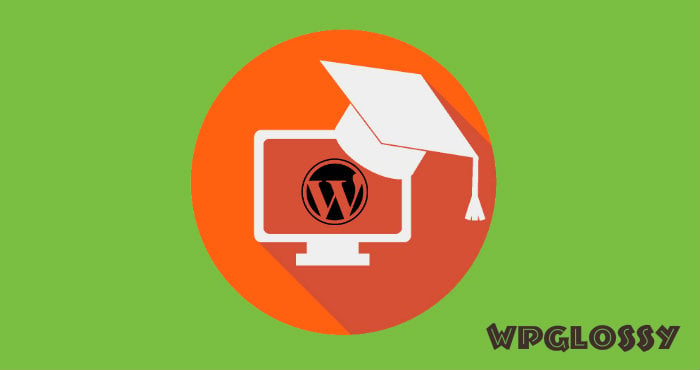 So, if you want to create an online course with WordPress, then I would say that you have made a wise decision. I have crafted this blog post to let you build an e-learning website using WordPress.
As we are in the Digital Era, most things are expected to be done with the help of online activities. When it comes to the internet and website part, WordPress plays a significant role in constructing a better platform.
WordPress.com is different, and I am only narrating WordPress.org/Self-Hosted WordPress here. It is a flexible and user-friendly CMS that helps people get their dream websites faster than they think.
Before looking at the details of making the online course with WordPress, you should know the valid reasons for using WordPress for learning management sites. 
How is WordPress Suitable To Create The Online Course? 
As we know that most websites and weblogs are made with the help of WordPress, it brings greater efficiency in a meaningful way abruptly. Also, the website for the online course can be developed quickly with this WordPress Content Management System.
The E-Learning concept made people obtain huge knowledge with the help of internet connectivity that effectively collaborates with the Students and the instructors. 
The student doesn't need to visit the institution or the destiny to grasp the knowledge after the evolution of this online course concept.
Thus, even the instructor gains credit and revenue by sharing his/her apt knowledge base with the world. So, it looks like a win-win situation for both the student and the teacher indulging in the E-Learning concept.
Some of the benefits of using WordPress to build online courses are,
1. Helpful for Non-Coders: I am damn sure that not all the instructors and teachers are good at coding and developers at web designing. Those who are best in the teaching sector can make use of these WordPress magical themes to outsource knowledge with ease of work.
2. Minimalistic and Familiar CMS: Planning to create a website for the online course using WordPress is a good idea as it is a simple, lightweight weblog platform to implement things in an effective way. It is easy to customize as well. 
3. Greater SEO benefits: When it comes to the Search Engine Visibility part, your website will perform well with the WP, and thus it remains a powerful SEO-based CMS for online course sites.
4. Achieve in a short period: WordPress supports huge themes and plugins to implement an easier life with minimal effort. The themes and plugins play a crucial role in the LMS (learning management system) WordPress-powered websites as it makes every action in a simple way.
5. Secured Payment Gateway: The actions such as collecting payments, video course sales insights, accounting, setting up course module coupons, and the shopping template would create a headache for the online course website owners. Thus, some simple WP plugins for WordPress would make robust work for you in a very quick time, and that keeps you calm forever.
If you still doubt the valor of WordPress, you may read my detailed post "Why E-learning For WordPress?"
Set Up Your E-Learning Site
Now, it's time to set up your website!
Get Started Building Online Course Website
To set up your online course site with WordPress, get the server service to host it on the web! 
There are tons of hosting services available. However, I would recommend you purchase any one of the hosting services
1. InMotion (Plan Starts @ $4.19/month)
2. GreenGeeks (Plan Starts @ $3.95/month)
As I'm using both green web hostings for my different blogs, I have done an in-depth comparison GreenGeeks Or InMotion, so that you can choose the exact one based on your requirements. 
Install WordPress
After purchasing the hosting service for your online course website, you have to install WordPress on your domain. I hope that you have registered a domain name in the hosting itself. 
Here I have two helpful guides for you!
Things You Should do After WordPress Install
How To Create A Winning Course Online?
The first impression that you make with the students is more important, and hence you should have a proper schedule and plan to launch & sell your online course.
So, don't forget to
1. Explain the technical resources that your students should have
2. Give an outline of your online course with graphs and images
3. Clarify the methods of interaction like assignments, quizzes etc.
4. Describe the ways of performance monitoring and certification.
5. Notify the payment method (If your course is paid).
6. Specify the enrolling policies. 
Best WordPress Themes To Create Online Course Site
Some of the handpicked fabulous WordPress Themes for the online course website are listed below after analyzing their features and flexibility. 
You may select the theme or plugin to create an online course with the WordPress platform! 
1. LMS – Learning Management System
This online course WordPress Theme has an awesome Page Builder option that helps to create a stunning Page. The compilation of quizzes, courses, lessons, and lectures are simple and effective. 
It supports BuddyPress for creating a community-based forum with WordPress, and tracking students' progress is available for analyzing each student.
2. WPLMS – Learning Management System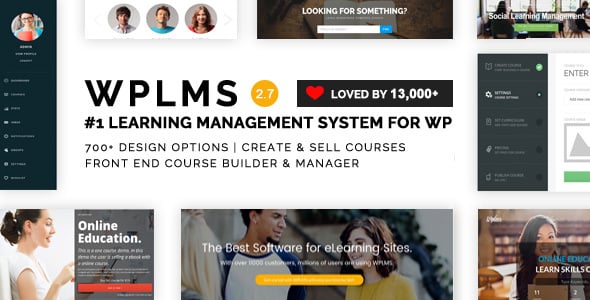 It is lightweight and looks like a clean WordPress theme with Mobile Friendly support. The loading speed and other caching processes seem to be the best in all cases. 
Student analytics, course analysis, quizzes, sell online courses are some of the great features that this E-Learning WordPress theme holds. 
Live Theme Customizer helps the website owner enjoy customizing his/her website for perfect online teaching purposes.
3. Education WordPress Theme – Education WP 
This WordPress online course theme is a suitable one for creating an online course platform as it records for more than 6000+ sales. 
The premium add-ons worth $500+, including LearnPress Premium, Co-Instructor, Random Quiz, Certificate, etc. would boost productivity to the maximum extent.
4. Derrick – WordPress LMS Theme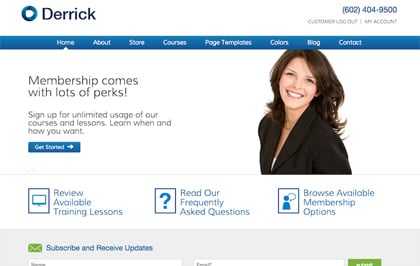 Web Savvy Marketing product Derrick is one of the best E-Learning WordPress themes that deserve the right place due to its flexibility. 
Online Programs, Membership Site Creation, and Digital Download section bring better fame and revenue through this E-Learning theme.
It is a Genesis Framework based Child Theme where the package only includes the Themes and not along with the Framework. 
The Soliloquy Premium Plugin comes free along with the Derrick WordPress Theme Purchase. It is a beautiful Slider Plugin for improving the user-friendly action of any website indeed.
5. Clever Course – Learning Management System Theme
It is the best WordPress theme for introducing Onsite courses such as setting up the Start and End date for purchasing the Courses/Lessons with a limited seat availability option. Once a seat gets sold out, the number of availability counts decreases. 
The courses and Digital product shopping could be effectively constructed quickly with the help of the Clever Course Theme. 
The PayPal payment gateway boosts the revenue model of your online course website very easier than before. 
The coupon section, course certificate part, Badge offerings are some of the essential features of the Clever Course WordPress theme.
6. Guru Learning Management WordPress Theme
Guru means Mastering/Teaching; thus, this word initiates the Learning Process.
The Guru Learning Management theme is one of the best E-Learning WordPress themes that suit the basic needs of every E-Learning, Website model. 
It is WooTheme Sensei Plugin-supported Theme and comes with a Shop Plugin from WooCommerce for more significant productivity goals.
The page builder is too attractive, and the Featured Course section brings targeted sales for a particular course. 
This WordPress theme for online courses is WPML supported theme which is a Multilingual plugin that delivers content to various language-based audiences without any issues.
7. Edu LMS – WP Learning Management System Theme
Edu LMS E-Learning WordPress theme sets a Passing Criteria Score to filter out the right audience and organize the visitors in a perfect manner. 
Users can upload their assignments and answers right from their dashboard, which is then manually verified by the admin/instructor.
It is SEO based user-friendly E-Learning WordPress theme that brings greater Search Engine Visibility for the massive traffic drive. It also supports RTL – Right To Left, Mega Menu, Smooth Scroll, and WPML features.
8. Education Press –Complete Education WordPress Theme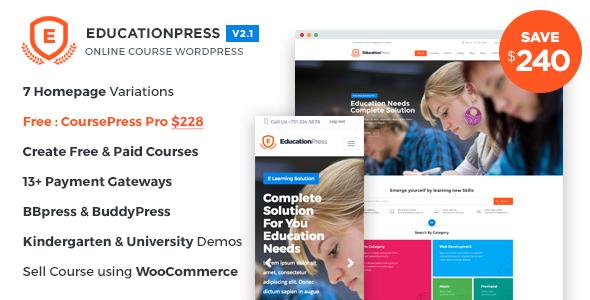 Education Press WordPress theme comes with CoursePress Pro worth $228 for free. It handles most of the E-Learning website needs in a single place. 
More than 13+ Payment Gateways are available for collecting and managing the payment. Inclusive of WooCommerce support, BuddyPress, BBPress, and lots more vital modules this theme package makes people smile for sure.
One-click demo Installation helps the owner to make a stunning E-Learning Website with a single click that looks the same as the Demo Pages.
Lifetime free updates and Support of this WordPress theme for online course keeps you supercharging the E-Learning Platform with no hassle.
9. Teachme – Responsive Learning Management System
6 Header Style option with the Teachme WordPress Theme makes the E-Learning Website more engaging and interesting. 
It is a highly responsive and user-friendly online course template for WordPress that helps the E-Learning Website looks trendy!
$14 worth Slider Revolution Plugin is free of cost for the users who buy Teachme WordPress theme. This WordPress Slider Plugin helps to craft better slider images and info to improve the Call To Action.
The Teachme responsive WordPress theme is excellent for beginners who need a simple Drag and Drop Website Customization.
The Retina Display Ready HD Image helps the users and visitors admire the website, and it would never make the potential viewers leave the website for sure.
10. Michigan Learning Suite: All-in-one Education WordPress Theme
Michigan Learning Suite is known for its wide helpful support section and the frequent lovely update. The advanced design gives a modern look and is a damn beautiful E-Learning WordPress Theme.
The online course website made with Michigan Learning Suite performs well in the case of user experience. The Course Membership, Vouchers, and WooCommerce integration are some pretty features the Michigan Theme holds for constructing a better E-Learning WordPress site.
It is the best WordPress theme for online courses that have 1 Click Demo installation for the Lazy minded people who need things done in a very quick time like the Demo Preview.
CSS Minifier enumerates the high-speed loading of the E-Learning website. It can also make an SEO-based e-Learning platform with minimum manual effort.
$79 worth of plugins, such as Visual Composer, Essential Grid, and Slider Revolution, are free to use with the purchase of Michigan Learning Suite.
Top WordPress Plugins For Online Courses 
The Plugin is crucial in constructing any successful online course platform WordPress site.
It is the best module for doing our job fast with minimum input.
Note: Some of the below-listed online course WordPress plugins may already be included with your purchased theme.
So, verify before trying or buying any of the below add-ons for WordPress! 
1. Sensei ($149)
The Sensei WooTheme based Plugin is the best WordPress plugin for online courses that saves time in making quizzes, Courses, Lessons, Questions, and more.
The overview Overall Progress of any Student and the deeper analytics are viewed instantly to check the meaningful, vital data of the E-Learning website with this awesome plugin.
2. LearnPress – WordPress LMS Plugin
The LearnPress is an easy user interface plugin that helps to supercharge the growth of any E-Learning WordPress project with structured Quiz, Questions, Lessons, Courses, and lots more fun customizing the events.
It supports the PayPal gateway, and the analytics over shopping are accumulated effectively with its kid interface. The Wishlist option helps the users/students save the courses/lectures for later action.
This online course plugin for WordPress also uses the multi-lingual module to deliver the website in multiple language sources.
3. LearnDash ($159)
The LearnDash Plugin has comprehensive features and works with a Drag-Drop interface for beginners. It also can Restrict some of the Content/Courses before completing the Basic Course.
Thus it keeps the users engage with the course properly with the expectations. Several free Payment Gateways in LearnDash Plugin relieve the payment-related issue instantly.
If you want to create an online course using the WordPress platform, then you may consider getting the LearnDash plugin. 
4. Lifter LMS
The Lifter LMS plugin boosts the concept of creating a Membership based E-Learning website faster than anything. It comes with Built-in shopping cart functions and Digital Goods shopping pages for easy implementation of selling the Courses/Materials ideally.
The Pro version of this LMS WordPress plugin costs $99 per year with advanced user functionality. However, you can try the "Free Download" option to test its features.
5. CoursePress
The pre-requisites function is the most notable feature of this online course WordPress plugin Plugin. CoursePress helps the users/students concentrate on the course and engage highly with the course through pre-requisite tactics.
It has an easy interface and supports BuddyPress for creating an amazing community-based membership section. Content Drip also adds value to the CoursePress to the next level in the E-Learning management system.
Bonus
After opting for any of the above extensions to build your online course with WordPress, you should learn how to market your online course to reach a vast target audience.
Read this helpful guide to Promote your Online courses 
Conclusion on making the online course with WordPress
The online education market is becoming more prominent in this digital age!
If you have a proper strategy to build your online courses WordPress website that has the potential to reach the target audience and will lead to their success, then you are on the right path. 
As the article mentioned above states that creating a web-based course can be made easy with WordPress Themes and Plugins.  
The above list has undergone several quality checks and analyses to ensure the best quality WordPress extensions for loyal readers like you.
Enjoy teaching and spreading knowledge to the world in an attractive way. Also, let me know about your e-teaching experience. 
I hope you liked this post and acquired a better idea of how to create an online course with WordPress content publishing medium.
Which WP theme or plugin would you like to get for your e-learning site? Share your valuable thoughts in the comment section.