Do you know why to opt WordPress for E-learning websites? Check the top reasons listed in this post!
The boom in the digital revolution has changed the way we learn!
Yup, the e-learning becomes a well-known method of learning as it is more flexible, global, and affordable as well. Besides, it cut downs the travel cost and provide the tailored content that can be preserved.
Nowadays, most of the universities, colleges and even the skilled individuals show the keen interest in offering the e-learning courses worldwide.
They believe that the online learning platform would create a dynamic interaction between the students and the mentor.
If you're the one who wish to start a learning management system to distribute your e-learning courses, you may build a lively website with WordPress.
Yes, it is a powerful and convenient content management system (CMS) that boasts amazing features.
You do not need to worry if you're new to WordPress!
I have consolidated its remarkable features in a blog post "Things that I amazed with WordPress."
Also, you should learn what to do after installing WordPress.
I am sure that you will like its quality and flexibility. Now, let me tell some specific reasons Why should choose WordPress for e-learning sites!
Top 5 Reasons To Choose WordPress For Learning Management System
Some of the best websites run on the WordPress platform, and the following are the reasons to have WordPress for e-learning!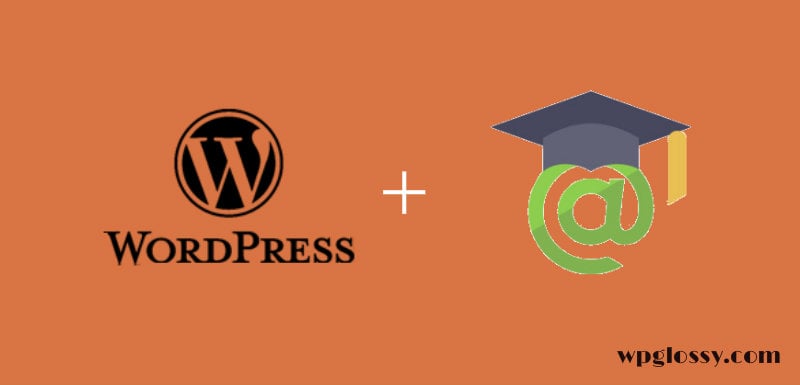 1. Easy to Use
WordPress has a user-friendly interface where you can publish the course in just a few clicks. Even the novice users could configure the settings and customize their e-learning site in a perfect manner.
You could create the innovative teaching techniques with the technology advancements and efficiently manage the courses and enrolments. It is more likely to pre-set and schedule your classes as well.
2. Attractive Themes
The WordPress themes play a vital role in user experience and search engine paybacks. There are excellent LMS WordPress themes available to offer courses and let your readers learn content online in a comfortable way.
Most of the WordPress themes that are specifically developed for e-learning has the feature to present your courses in a logical way and can be easily integrated with the third party plugins to build a complete learning website.
Having the responsive layout that supports Slider, Shortcodes, Testimonials and progress tracking features is the notable matter of elearning WordPress theme.
3. Awesome E-learning WordPress Plugins
There exist some awesome WordPress plugins for e-learning with which you could setup the best learning management system to offer your online courses.
Check the best LMS (Learning Management System) plugins for WordPress!
1. WP Courseware – You can create unlimited courses, modules, lessons, surveys and much more with this WordPress e-learning plugin. Moreover, you can embed media, send email notifications and congratulate the students with customizable certificates with it.
2. Sensei – Sensei is the famous elearning WordPress plugin from the brand wommerce.com. If you want to make the best learning management system on the web, you can opt this intuitive WordPress plugin to make lessons, quizzes, and certificates for your students.
3. LearnDash – Learndash is the powerful LMS plugin for WordPress. You can create multi-tier courses, sell courses, award custom-made certificates, and manage assignments with this WordPress e-learning extension for WordPress.
You may install any of these best WordPress plugins for elearning to incorporate the helpful features like digital downloads, membership signup, gravity forms (Registration forms with auto-enrolment), SCORM, TIN CAN API and much more. These extensions work well with any modern WordPress theme.
You may also provide the certificate, grades, quizzes, media attachments, forum discussion convenient payment system and option to rate your courses for your visitors.
4. SEO and Course Selling
Google and other search engines like WordPress sites as they can be perfectly optimized and load fast. You might be wondering why page loading speed matters and how can it be done?
You may check my post on basic WordPress speed optimization, and you would come to know the importance of preventing the slowing loading WordPress website.
Likewise, you can get high search engine rankings to your WordPress e-learning site by following straightforward strategies and market your site in a well-manner.
Also, if you would like to sell your courses online, it could be made easy by integrating the popular WordPress plugin like WooCommerce to your learning management site.
5. Affordable and Easy Maintenance
The cost setup for e-learning site with WordPress is relatively low as you could get the premium WP templates and plugins at a reasonable price.
Similarly, it would be good if you learn to implement some necessary WordPress maintenance strategies to have a better-optimized LMS site that can give you a huge profit.
Final Words
Educational organizations would like to offer the e-learning system to lessen their carbon footprint. They hire skilled staffs to work in a remote location and deliver the content in a consistent manner.
Since the online learning management can be an efficient means of imparting education, it has gained a lot of popularity among the students and the instructors.
If you're an expert who would like to bring your courses on the web, consider installing the WordPress platform as you can reduce the material cost and get the increased return on investment with it.
Moreover, it is an authoritative framework that allows the online course WordPress plugins to be incorporated for course enrolments and download the modules that you offer. You may also opt the best WordPress LMS theme.
I hope that you would like to go with WordPress for e-learning business as I have revealed some valid reasons in this blog post.
Yes, you can perfectly optimize the WordPress for e-Learning and make it more than just a teaching medium that the students love.
So, what is your opinion on building the web learning site with WordPress?
Do you want to recommend any other convenient CMS platform to create learning management system that is better than WordPress?
If yes, share the legitimate causes in the comment section that support your viewpoints.