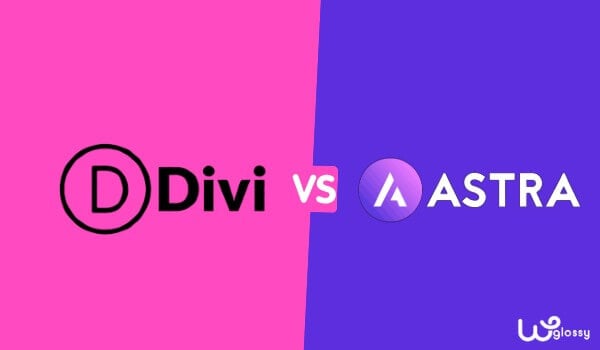 As a WordPress theme designer, I'm very much interested in comparing the best-selling themes to help the site owners get the suitable one to design a professional-looking website.
And in today's article, I will compare the two biggies rocking among the entrepreneurs and bloggers, and yes, this is a Divi Vs Astra Pro theme comparison post.
If you struggle to choose between these two WordPress themes, this blog post will let you make the right decision, as I will highlight the differences.
Before getting into the details, I want to convey that this evaluation is based on my personal experiences & views, and hence they may conflict with others' viewpoints.
Let's begin the Astra Vs Divi war through a quick comparison table.
If you feel lethargic about reading my detailed content, I hope it will assist you in finding the perfect WordPress theme for your business website.
Divi Vs Astra Pro – A Rapid-Fire Comparison
| | | |
| --- | --- | --- |
| | | |
| | | |
| | User-friendly Theme. But before start designing, make sure to read their documentation. Otherwise, you will get confused with too many options available. | Extreme User-friendly theme. However, you would feel little-bit difficult while using the Hook function. Use their document to avoid confusions. |
| | It comes with the world's best front end visual ultimate Page builder. So, you can build any website as per your preferences. | It doesn't have any page builder. However, it is highly compatible with elementor, beaver, and other page builders. |
| | It offers full design control through all types of Divi elements. You don't need to do any coding, because all options are available by default, just pick the desired elements and start customizing. | It provides full control with WordPress Front end customizer. Backend controls like custom page header, and hooks are available. |
| | Divi contains 800+ Pre-made templates. Just select the suitable layout and get that design in one click. | Astra offers 100+ Pre Made templates in various niches. Here too, you will get all the designs with a one-click export option. |
| Premium Modules & Elements | It gives you 40+ different elements to create personalized websites for your business brand. | No Elements or modules are available. You have to utilize the things available in WordPress front-end customizer. |
| | Divi is 100% compatible with the latest WordPress Gutenberg editor. But no Gutenberg blocks are available as it has everything in the form of Elements. | Astra is also compatible with the recent WordPress editor. It has Guterberg add-ons available with more blocks. |
| | Divi has Woo Builder to design your online stores with Woo Elements. Default store templates are also available. | Astra has all sections in front end customizer, so you can change all the things here. And also Astra has pre made store templates available. |
| | Divi has a separate plugin called bloom to build popup optin as per your choice and catch more subscribers | Astra has a popup optin called Convert Pro, but it is not for the theme buyers. You have to purchase it separately. It is the biggest downside of Astra. |
| | Divi has followed the coding standard and yes Optimized for Page Speed. | Lightweight theme! Fully optimized for page load speed. |
| | Divi presents Monarch Social Share Plugin To Boost Your Social Presence. | No such social media support here. You have to rely on the 3rd party plugins. |
| | Yes, available! Any type of header and footer can be built. | Multiple headers and footer designs are available. But no builder available like Divi. |
| | Fully SEO Optimized with SCHEMA | Schema Integrated, Superfast SEO-friendly theme. |
| | All designs are responsive and also you can edit your design in the responsive mode as well. | Like Divi, all the layouts are highly responsive and hence look great on different-sized gadgets. |
| | Live Chat Support is available. It has In-depth Documentation With Video tutorials for every setting. | Ticket support system available. Astra has detailed Documentation with video tutorials to setup everything. |
| | Translation support for 32 languages. Not only the front-end elements, but also the Divi Builder interface, including all form fields and descriptions can be translated. RTL is also present. | Yes, Translation and RTL available, but not in an in-depth manner like Divi theme. |
| | More Than 100+ Features Available Like Split Testing, Visualize Color Control, Shape Dividers, Etc. | Features Are Limited! However, Compatible With Page Builders Like Elementor & Beaver Builder |
| | | |
| | | |
| | | |
Why Choose Divi Over Astra?
Building a professional-looking website with a personalized touch for huge conversions is just a piece of cake.
You will take complete design control to customize your business site for branding, with which you can gain a loyal audience.
It's simple to remove the Divi sidebar, Change the Logo, Add Google Maps and edit its footer for personalization.
Easy to make your website more engaging with the help of social media tools, Monarch and Popup optin, Bloom.
You don't need to rely on heavy third-party plugins as it contains everything in their Divi builder.
It has a split test system to maximize the results, and this feature is not available in Astra.
You can grab the lifetime offer of the Divi theme with a special discount.
Check my in-depth Divi review so that you will come to know its priceless valor!
Why Go with Astra Than Divi?
Astra is a weightless and performance-optimized theme when compared to Divi.
You will acquire relaxing customization options and the freedom to pick your preferred page builder.
Even with the free version of Astra, it is more likely to build eye-catching websites (no free version for Divi)
This WP theme is best suitable for building distraction-free online course websites with integrations like LifterLMS or LearnDash plugins.
The blog layouts, custom layouts, site layouts, global design options, and Header & Footer designs are excellent sources for constructing fascinating sites to get a dedicated readership.
Please have a look at my Astra Theme Review before finalizing things!
Divi Vs Astra WordPress Theme – A Complete Comparison
Now, it's time to begin comprehensively comparing Astra Vs Divi to declare the theme winner under each category!
#1 Intuitive interface – Which theme is easy to work with?
'Which is the easiest WordPress theme to customize?' – A million-dollar question! You will surely give up if you choose a theme with confusing settings!
So, make sure that you pick the one with easy-to-use options to customize the design of your site. Let's see the user interface of Divi and Astra and check the best theme for ease of use.
Divi
The new visual interface of the Divi theme is easy to use since it is highly customizable and clutter-free. When you get into the intuitive builder interface for the first time, you may feel mystified because this theme differs from the default WordPress editor.
However, there is nothing to worry about! WordPress developer experts have developed it with comfortability in mind. Just be prepared to use the new website designing system and be ready to learn the essential matters through documentation and video tutorials.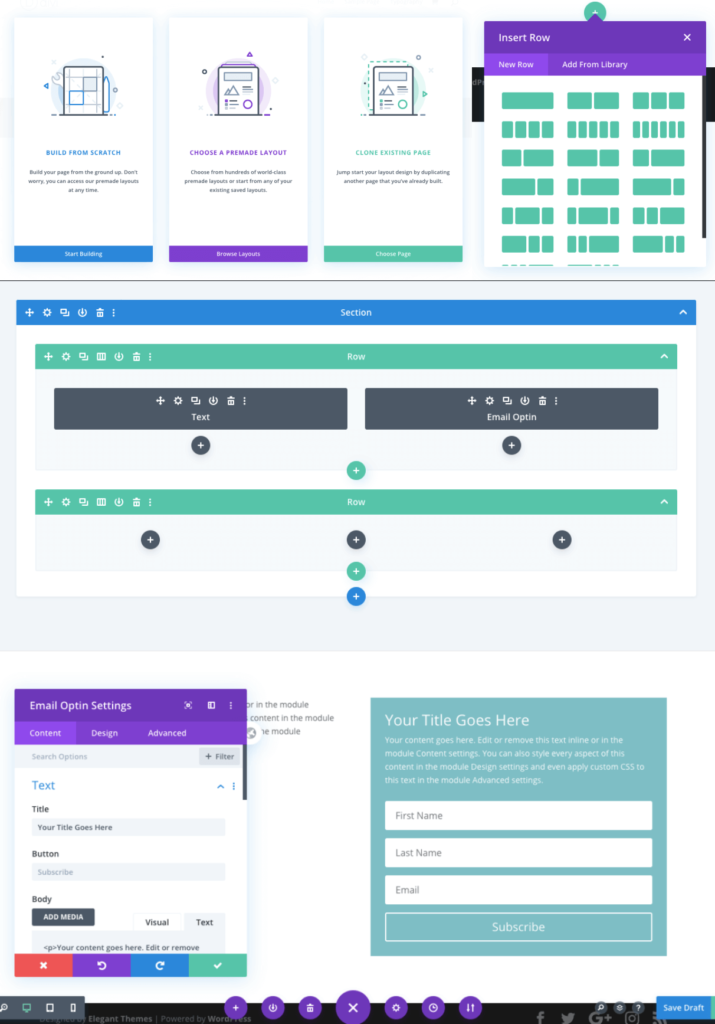 The updated version of the Divi builder has a new level of functionality to enhance your productivity and design speed. You will have access to all the features directly from the WordPress admin and switch back to the classic editor whenever you feel difficult.
If you ask about my experience with the Divi interface, I would say that I feel more relaxed within the post editor and on the front-end live customizer so that I can see what I am doing and undo the settings when I mess up things.
Astra
Earlier this year, Astra launched an ambitious update with a significant improvement in the user interface to offer a crystal clear feature set that makes the design process more accessible than ever.
Yes, the Astra theme has a clutter-free interface where you can find all the theme setting options within the customizer. Everything has merged in one place under organized categories to ease down the process and minimize the clicks.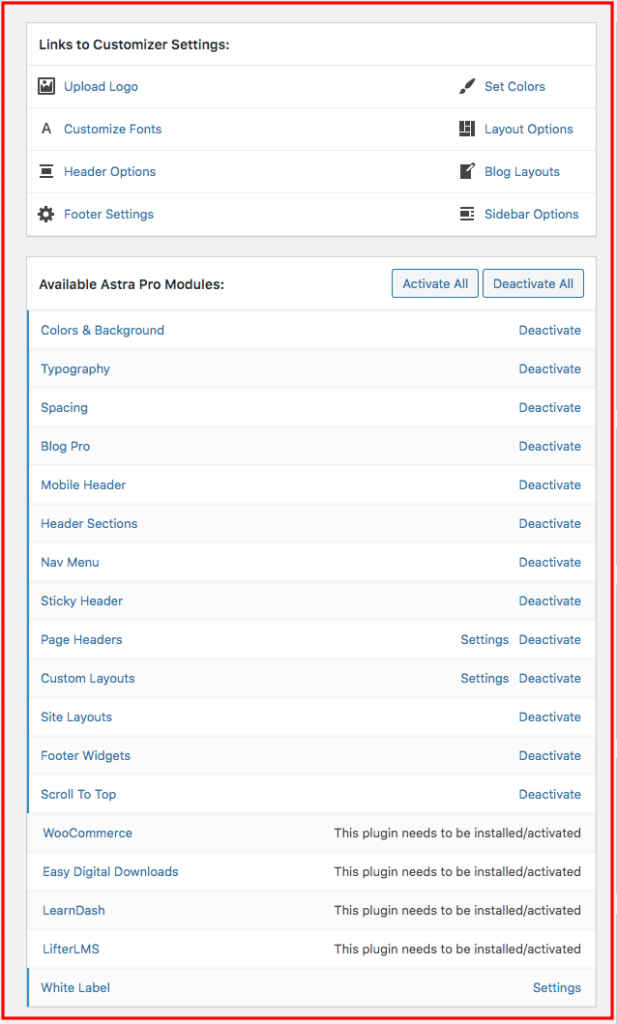 After activating the Astra Pro version, go to WordPress Dashboard > Appearance > Customize or Astra Options and start designing.
The entire section can be customized (Header, Footer, Sidebar & Content) along with color & typography in one place. The customizer option will load only when you click to edit it.
Winner – Astra
Reason – If you want a better theme interface with unconfused settings to create a dazzling website, your pick should be the Astra WP theme since it has an improved interface with crisp setting options under one hood.
#2 Design Options – Which theme has Valuable design controls?
When you buy any WordPress theme, you should look at their design choices which are imperative to design a website that would please the search engines and your audience.
Divi
The design elements of Divi are excellent, and you will get control over everything. There are 800+ pre-made designs, 40+ modules, and thousands of design options.
I love the accurate visual yet responsive editing in real-time, where I can see the results simultaneously.
You can touch almost every part of the website and get a preferred design that reflects your business brand. Some efficiency tweaks like filterable & searchable settings, keyboard shortcuts, quick actions, find & replace styles, color manager, and bulk editing will save us valuable time.
Of the vast design choices of Divi, few are the all-time favorites I mostly use. they are
Animations for high user engagement.
Text shadows for the eye-pleasing effect.
Filters and special effects of changing the elements' appearance.
CSS code editing to add my codes.
Transform controls & effects for graphic designing.
Border options to make the elements noticeable.
Shape dividers to create transitions between the content blocks.
As per my knowledge, no theme for WordPress in the market has this many design options, simply a fantastic job by Elegant Themes.
Astra
The design features of Astra are limited and not as vast as Divi. However, all the essential controls are present, and it works well for the page builders to get the desired output.
The site layouts, blog layouts, typography, header, and footer designs are fabulous since they come with maximum flexibility.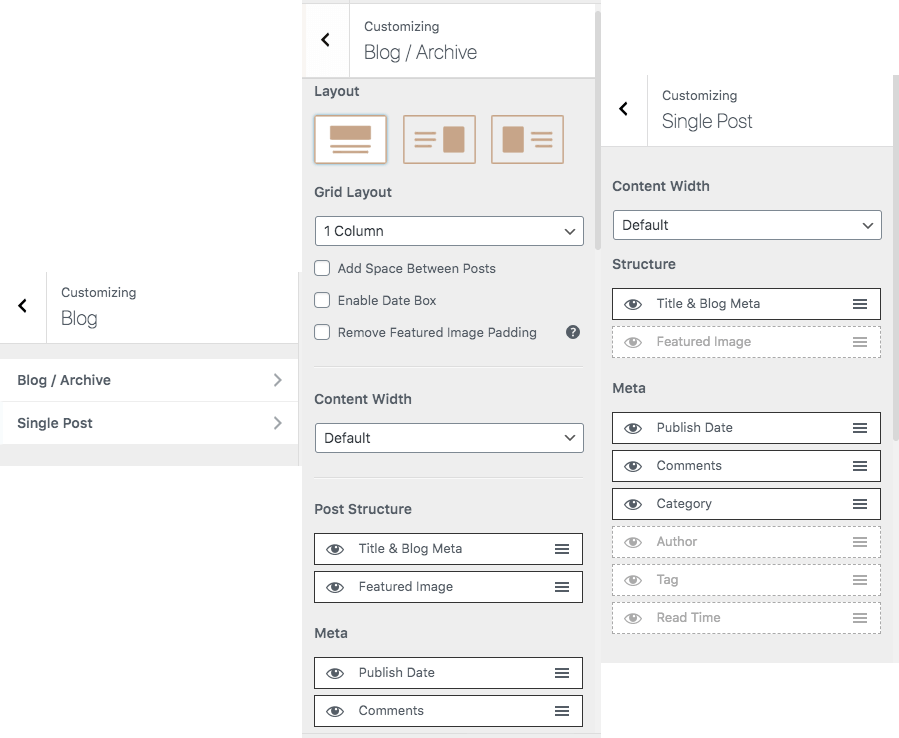 Apart from this, I like the notable design options like
Mega Menu
Spacing Control
Hooks & Filters
LMS integration
Sticky Header
Scroll to the top link
Winner – Divi
Reason – In the description, I have conveyed that the Divi is the best and the reason for winning! I have never seen such a wide range of design preferences and the complete control to do everything from scratch. When you start using the Divi theme, I'm sure that you will become a professional web designer and be able to make some elegant websites without any trouble.
#3 Fastest Theme – Divi Vs Astra Speed Comparison
The site loading speed is one of the technical SEO factors. Yes, the slow-loading site affects your organic rankings by increasing the bounce rate and decreasing the dwell time. Hence you should buy the fastest WordPress theme to stay respected in Google's eyes and offer your readers the best user experience.
Let's see which fast-loading theme is for WordPress, Divi, or Astra.
Divi
So, how fast is Divi? Well, let me share viewpoints through this Divi Vs Astra battle!
The Divi theme has in-built speed optimizations. Last year, it received a significant update to offer improved page load speed by optimizing the delivery of JavaScript, CSS, and Google Fonts. Yes, they have creative caching mechanisms to boost the Divi speed.
It would be best if you understood that the Divi is a complete web design system requiring more resources and containing heavy shortcodes that would ruin the site loading speed. Hence, performing enhancements to make the Divi faster would be better.
Ensure that you are doing the image & video optimization and integrating the CDN for your website. Moreover, you may use some helpful plugins like Autoptimize & W3 total cache and ensure that you use the top hosting (managed hosting is better) with the latest PHP version.
Check the speed score of my niche website designed with a Divi theme!
Astra
Astra is a speed-optimized WordPress theme that requires significantly lower resources when compared to other themes. It is carefully coded without using JQuery to avoid the render-blocking issue.
Having the ability to load in under half a second, the Astra can help you get top search engine ranking results. So, you don't need to worry about the site loading speed with this fastest theme for WordPress.
I'm very much satisfied with the speed score of my blog with Astra, and yes, it is awe-inspiring. I didn't work much on the speed optimization part. Using reliable top hosting and Astra can give you an excellent speed result.
Please have a look at our Astra theme speed achievement!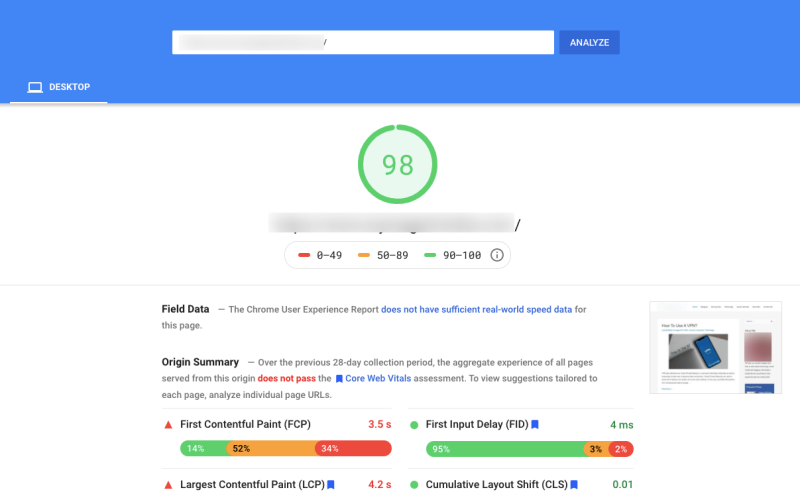 Winner – Astra
Reason – Astra is weightless and makes a massive difference in the speed score even without caching and removing render blocks. With minimal effort, I can build fast-loading websites with Astra, which is somewhat impracticable with Divi.
#4 SEO-Friendliness – Divi or Astra wins the SEO race?
Getting targeted visitors from the Google search engine is a blessing! Even though you are good at executing on-page SEO strategies, it's healthier to buy a theme that is perfectly optimized for SEO.
If it is bloated with unclean codes, getting high search engine rankings will be harder. Let's look at Divi's and Astra's SEO-friendliness, and I'll tell you which theme would help you get high SERPs.
Divi
Let me answer the question, How SEO-friendly is Divi? Divi contains SEO features like Schema Markup, proper site structure, excellent coding, and a breadcrumbs module to make your site accessible to search crawlers.
It has SEO settings for almost every page; however, you may use the best WordPress SEO plugin, like Yoast, to tweak your site's SEO compatibility. So, Divi is not bad for SEO when fixed, right? You need to take care of the site speed by doing some optimizations.
Astra
Adding Schema Markup to every page of your website, Astra makes your site search engine friendly. You may take it to the next level through their Schema Pro plugin. And it also offers breadcrumbs for easier site navigation for a great user experience.
Moreover, it uses the default WordPress data and follows the standard coding to load faster. Optimized header structure and AMP compatibility are its other SEO-friendly features.
My SEO results are always good with this performance focussed theme. After switching over to Astra from MyThemeShop for my blog, MyMagicFundas, the organic keywords are doubled, and my organic traffic as well 🙂
Winner – Astra
Reason – Regarding the SEO features like Schema Markup, Breadcrumbs, Quick Performance, Optimized Header Tags, Mobile Responsive, AMP & Page Builder compatibility, Astra is superior to Divi. You can see that my search engine traffic got tweaked after shifting over to the Astra WordPress theme.
#5 WooCommerce Compatible – Which Theme is apt to build online stores?
Creating an online store with WordPress is a wiser choice. However, picking an ideal theme with built-in WooCommerce support is hectic. You must look at its performance, mobile responsiveness, optimized cart, checkout pages, and conversion-friendly features. So, who is WooCommerce-friendly, Divi or Astra?
Divi
Divi is WooCommerce compatible, so you can sell the products anytime without additional cost. Not only the pre-made templates, but it also offers 15+ new eCommerce modules through which you can take complete control over the product pages.
The Woobuilder for Divi takes WooCommerce to the next level. You just need to insert the modules as Woo Add to cart, Woo Rating, Woo Meta, Woo Reviews, Woo Tables, Woo upsell, & Woo Gallery and customize them according to your needs.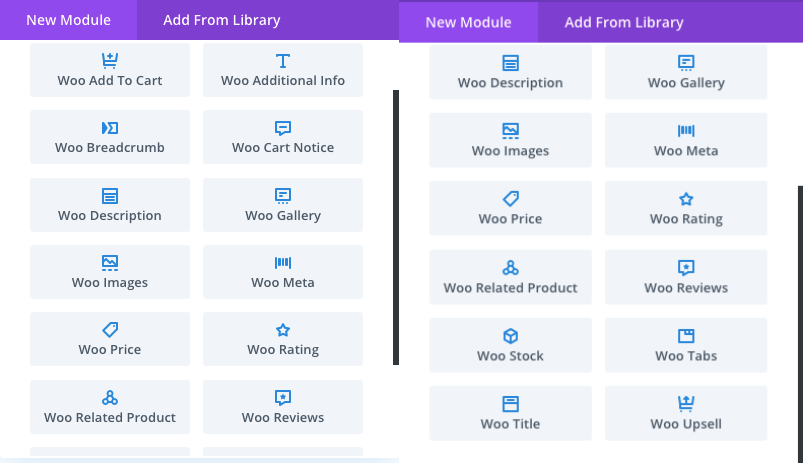 Astra
Astra is the best Woocommerce theme built to boost sales. Its incredible speed, code-free customizations, and secure platform make it the best fit to build an online store that sells more.
The pre-made eCommerce websites will help you set up the web stores in minutes, and its responsive design is optimized for mobile sales.
It has other exclusive features in its WooCommerce support like
1. Infinite Scroll – When the user scrolls down, your products will get loaded for a seamless experience.
2. Grid Settings – Completely controlling the borders and buttons makes showcasing the product in a Grid design feasible.
3. Off-Canvas Sidebar – Add helpful filters and widgets to the sidebar and improve user experience.
4. Dropdown Cart – It consolidates the summary of the items added to the cart without reloading the page.
5. Sales Bubble Style – To grab the user's attention and make the trades through the sales bubble.
6. Checkout Options – Instead of integrating the default traditional checkout, you may add an interactional one.
Winner – Both
#6 Customer Support – How Proficient & Active Are They?
The theme customer support team should be highly knowledgeable to solve your design troubles. Moreover, they should easily be reachable to fix things faster. In this Astra Vs Divi comparison, let me discuss their customer support.
Divi
Divi has premium support with a team of experienced professionals to assist the theme users. They are highly knowledgeable and easily reachable through the Live chat support system. You may also use their support forum to get help or watch instructional videos to overcome difficulties.
Until now, I had no bitter experiences with the customer team as they are always available to look into my concerns and deal with them through better solutions. Moreover, I never waited long to accept their assistance.
Astra
Like Divi, Astra also has a high-skilled team behind the scene. They are ready to help you through the ticket system. They have generated an in-depth document to set up everything. If you search for any doubts about fixing the elements, you can find helpful articles that could solve your difficulties.
The biggest roadblock of Astra is that there's no phone & chat support. However, communication with other users is possible through the FaceBook community, and you can get help to eliminate your puzzles.
Winner – Divi
Reason – Astra theme should have live support to get immediate help. The ticket system is helpful but not active like Divi. You need to have some patience to get assisted by the support team.
#7 Pricing – Astra or Divi, which is Affordable & Value for money?
The theme pricing package should be affordable and worth the money spent. Let's see which company offers the best package and a reasonable pricing plan.
Divi
The highlight of Divi is that you can use its single license on multiple websites, and its lifetime pricing plan with a special discount is highly appreciable.
In the theme package, you will obtain permission to handle the Extra theme, Bloom Email Optin, and Monarch social media plugin through which user interaction can be increased.
Divi has two different pricing plans – Yearly access & Lifetime access. Its lifetime pricing is a profitable deal as it is a one-time investment, and yes, you will receive updates and support forever. Don't miss out on grabbing the Divi Discount Code now!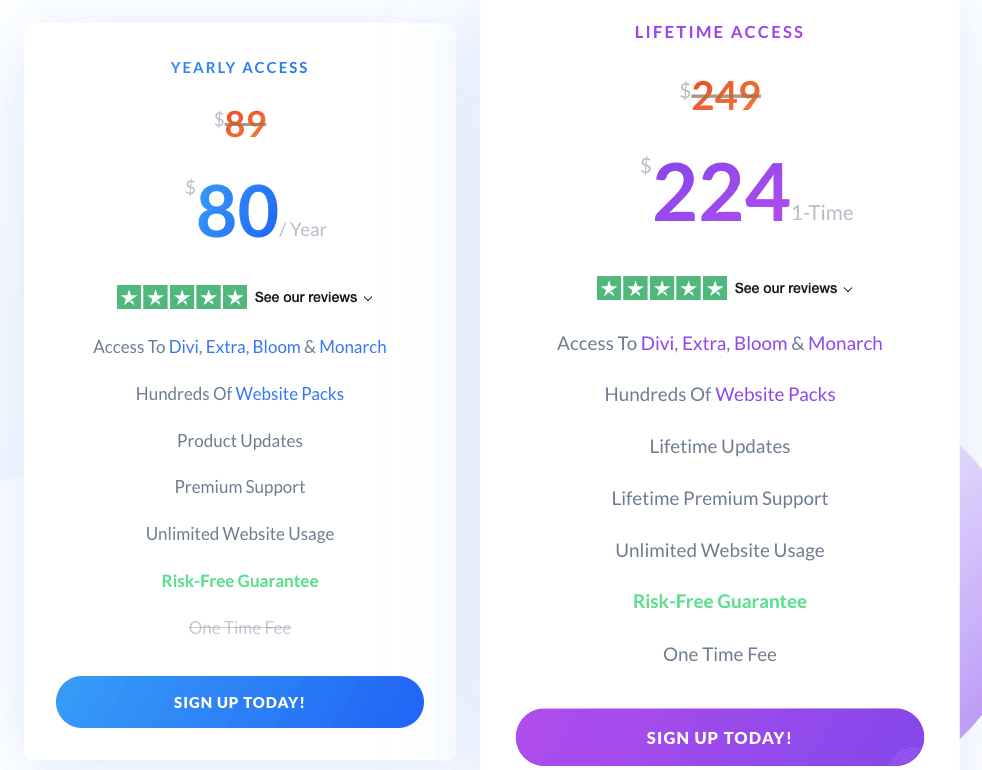 If you don't like Divi's performance, you may get your money back within 30 days!
Astra
Astra contains three different pricing plans,
Astra Pro – For individual bloggers (20 starter templates)
Mini Agency Bundle – For Small Businesses (55+ starter templates and add-ons for Elementor & Beaver Builder)
Agency Bundle – For Large Agencies (All the Pro plugins, 55+ templates, and Add-ons for page builder)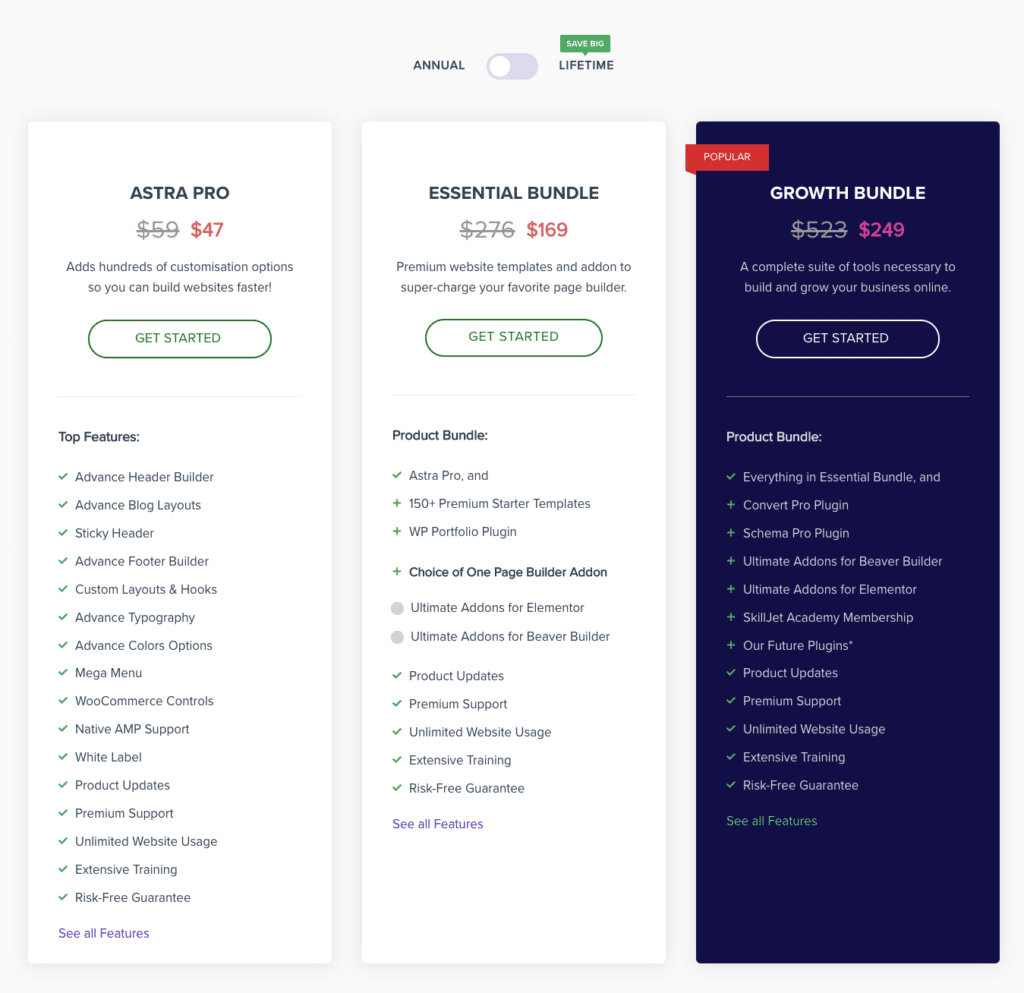 Its Lifetime deal is also available for those who don't want to renew their subscription yearly.
Winner – Divi
Reason – Divi is an all-in-one theme with the builder and other design, lead generation & marketing features. Its lifetime deal is the same as Astra, which has no page builder and other sophisticated features. Even though the annual pricing plan of Divi is a little bit costlier than Astra, Divi is highly affordable when we look deeply.
Unseen Features of Divi In Astra?
So, I have compared the common features available in both themes. Do you know that the Divi theme has some unseen features of Astra?
Yes! Divi contains exceptional qualities that you can never see in the Astra theme. They are,
1. Page Builder
Divi is not just a WordPress theme. It's an entire site-building platform that replaces the traditional WordPress editor with a sophisticated visual builder to make unique designs more efficient. When you don't want to apply the pre-made designs and want to start everything from scratch, the Divi builder comes in handy.
The Divi page builder has the following qualities,
Drag and drop builder
Inline text editing
Save & Manage your designs
Global elements & styles
Undo, redo, & revisions
Shape dividers
Border options
Advanced code editing
Filters & effects
Drop & text shadows
Animations
Background video, images & colors
Searchable & Filterable settings
Quick page creation
2. Social Media Plugin
Having the best social media sharing plugin for WordPress, Monarch, and Divi takes your social sharing to the next level by placing the sharing buttons in 5 locations.
This plugin has a clean yet customizable design where you can choose the buttons' shapes, colors, and hover effects. This is a distinctive quality of the Divi theme!
3. Marketing Tools
Divi theme offers many marketing tools to tweak your presence in front of your competitors.
Email Optin – You can easily build your email subscribers through its email opt-in module, Bloom. Just create custom fields to build segmented lists or use pre-made templates to collect information from your subscribers. This GDPR-compliant lead generation plugin for WordPress has six display types to convert visitors into loyal followers. Bloom can be integrated with 19 different email marketing software.
Pricing Tables – If you have a sales page for your business product, it is a useful element to make appealing pricing tables to boost product sales.
Contact Form – You have many design options to create the custom contact form and stay communicated with your audience.
A/B Split Testing – This unique feature of Divi boosts conversion by picking the best design that yields the results.
FAQ – Astra Vs Divi Theme
Is Divi better than the Astra theme?
Divi is the direct winner for complete design control and in-built page builder. However, if you are a beginner looking for a super-fast, SEO-optimized theme that can easily be customized with the WordPress editor, then your choice should be the Astra theme.
Who wins the battle – Divi Vs Astra Speed?
When we compare the swiftness, Astra is the champion because of its lightweight nature. Divi theme is somewhat bulk because of containing Divi builder and other plugins for the design control.
Does the Astra theme support Divi?
Yes, the Astra theme can be customized using the Divi builder.
Other Divi Comparisons
Divi Or Astra 2023 – My Final Words
Glad I used to get several opportunities to use the top WordPress themes like Divi and Astra for my clients. As I'm dealing with both the settings options and exploring their innovative features, I can convey my viewpoint about Divi and Astra.
When I design the site using the Divi theme, I spend more time seeing the final design that my clients look for. I need to utilize several customization choices and work on the speed optimization part to make the site attractive and faster.
On the other hand, Astra Pro is more comfortable for me to work with a page builder like Elementor Pro. Its settings options are straightforward, and there is no need to work for the site loading speed.
Simply put, Divi consumes my quality time but allows me to make a tailored site design that can win the readers' hearts. Designing the site with Astra is the cup of tea I have always liked.
So, here is my conclusion!
If you are looking for a proficient theme with detailed settings preferences, impressive ready-to-use layouts, and massive functionalities to build a noticeable business site for high user engagement, then go with Divi, as you will be able to move to the next level to achieve the dazzling site design.
Suppose you want to create an appealing site with lightning-fast loading capability. In that case, your pick should be the Astra theme, as it offers intelligent features, fantastic layouts, and affordable pricing plans, which are suitable even for the novice.
I hope this Divi Vs Astra comparison piece of content has helped you choose the right one. Which WordPress theme would you like to buy? Do you have any questions? If yes, please shoot them in the comment section, and I'll answer your queries.