Which theme provides the best design for business branding and marketing automation, Divi Vs Avada? As an experienced WordPress theme designer for over a decade, I can answer this question!
Generally, bloggers, marketers, and business people want uniqueness in their website designs for content visibility. Hence, they use page builders and plugins for website customization and page speed improvements.
They may also want content marketing features inside theme options before choosing it. Consider it; you should buy an SEO-friendly WordPress theme that loads lightning-fast. It should also possess social media features to improve its presence on social networks.
Apart from these features, pricing and support provided by the theme creator make it the best WordPress theme. Now, let's make the theme comparison, Divi Vs Avada, and see which theme has better flexibility, affordability, and capability.
Divi Vs Avada – Quick Comparison
If you are looking for a one-to-one comparison through the common theme features and quickly decide the better one, here is the rapid-fire war for you!
| | | |
| --- | --- | --- |
| | | |
| | | |
| | User Friendly theme, But You Need To Understand The Features | |
| | Advance Front End Visual Page Builder Technology | |
| | Full Design Control with Divi Visual Page Builder | Full Control With Avada Live Builder |
| | 800+ Ready Made Designs To Use Instantly! | 86 Pre Build Websites Available |
| Premium Modules & Elements | | |
| | Build Your Stunning Store With Woobuilder, Pre build layouts Available | Woocommerce Compatible, Add color, Typography and Layout options To Online store. Pre built layouts Available |
| | Completely Optimized for Page Speed. | Fully optimized for Page Speed |
| | Monarch Social Share Plugin To Boost Your Social Presence. | Social Media integration Available but not like Divi |
| | Bloom Popup Builder Available To Increase The Conversions | Form builder Available To Capture Leads |
| | Fully SEO Optimized With SCHEMA | |
| | | |
| | Live Chat Support Available. In-depth Documentation With Video For Every Setting Option | Support Forum Is Available. Documentation & Video Tutorials Are Good & Enough |
| | More Than 100+ Features Available Like Split Testing, Visualize Color Control, Shape Dividers, Etc. | |
| | | |
| | | |
| | | |
Why Should you prefer Divi Instead Of Avada?
Divi has through design control through Divi Builder and visual editor. Removing Sidebar, Editing Footer and Changing logo are the simplest process here!
Easy to get a unique design with good page speed performance by critical CCS removal and speed booster.
It gives A/B testing with leads insights in marketing automation. It also has Bloom optin for lead capture.
Online store websites are easy to create by WooBuilder with WooCommece modules available for users.
Divi provides different ad spots for Google Adsense codes to get widget-free ad script placement.
If you enable RTL in the dashboard, your site will automatically switch to RTL mode, as the theme supports 32 languages.
It provides a single license for an unlimited number of websites with 30 day risk-free opportunity.
Divi has 10% discount; If you get the lifetime plan, you can save some considerable money.
Why Prefer Avada to Divi Theme?
Avada theme uses dynamic content functionality to display featured images, tags, and post titles differently on a webpage.
120+ design elements are fully packed with many options to customize web pages.
Avada uses header, footer, and form builders to customize everything with drag-and-drop elements. 
20 layout elements to construct dynamic content displays in online stores and landing pages.
Avada theme has network options, page/post options, and elements options with global and individual settings.
It's simple to style post page headings, meta, author, and updated date details with a Gutenberg builder.
Front-loading scripts, lazy-loading images, and processing website apps are used to achieve speed and performance in Avada.
The above description concludes that both themes have different features for website creation. However, which WordPress theme is best for building attractive business websites, Divi or Avada? Let's get into the detailed comparison!
Divi Vs Avada – Detailed Comparison
We should look into dashboard options, design, and layout customization features for elegant website design to find the best WordPress theme. Also, check SEO-friendliness, speed improvement methods, social sharing, and form-building options for marketing automation.
Finally, theme compatibility with business tools integration, support, price, and licenses are other variables influencing people from different business categories to find the winner.
1. Ease of Use Dashboard – Which Theme has a Simple Interface?
The usability of features, either by integration or by add-ons, should be easy to navigate. The main dashboard should have icons, tabs, or links to its features. These icons should have better visibility. Also, the theme options should have simple steps for business tools integration securely.
Divi
The Divi dashboard has good navigation with integration and theme upgrades. General settings such as a logo, home page settings, social media, and Google API are available before SEO & marketing options. The simple on-off buttons in Divi are used to enable and select most of the features. 
We have file import and export options and scripts that can be added elsewhere. Google API is used for insights and Adsense integration. The layout customization is done using Divi builder. Plugins like Extra, Bloom, and Monarch are installed just like normal plugin installation in WordPress. The theme has a simple user interface.
Avada
Avada has a network of options in its dashboard with many tabs alongside the WP-admin menu. Global options and builder options for customization are available under the options menu. You may also access pre-built websites. Besides, it has several design sources with global and individual settings. The dynamic content design is done using a website builder.
It provides excellent options for the title bar and menu customization, but the problem lies in identifying the features. It is not easy for beginners. It needs many steps to adjust simple things because of multiple management options such as layouts and global management. However, this ThemeForest theme is suitable for freelancers and developers to set up business websites.
Winner- Divi
Reason: Divi navigation is simpler for customization using Divi builder and setup using theme options with updates. In contrast, Avada has multiple tabs in the navigation for theme setup with global and individual settings. It also uses various builders for website construction. 
2. Design Control and Layout Setup – Divi Or Avada?
The layout setup and design control features provide responsiveness to different gadgets and mobile devices. Sometimes, global settings can be overwritten by individual options and vice-versa. The layout options and custom template creation should be responsive to available modules and design elements.
Divi
Divi has attractive layout options for a single page, post, and index pages with custom templates. Through the visual editor, do inline editing in Divi builder. Divi builder is also open for custom template creation.
It uses 100+ full websites pack and 800+ pre-made designs for different niche websites.
40+ drag-and-drop modules are available for testimonials, blog pages, sliders, forms, and galleries.
It provides local design environment support with a docker setup and is also suitable for developers.
Avada
Avada uses global typography and a color palette for customization control. It uses 91+ design elements and 21 layout elements with unique design and style settings. Avada uses global design settings, header, form builder, and website builder. It uses Gutenberg or Avada editor for post page styles.
Individual element options would overwrite global element options such as typography settings.
Avada's image, content boxes, and nested column elements have individual design settings for dynamic content functionality.
A dashboard is used for layout management, such as portfolio, single page, and page title bar.
Winner- Avada
Reason: Avada uses global options and individual options for design elements. These are used to design dynamic content that matches the site's color scheme. Moreover, it has more design controls for each part of the layout compared to Divi.
3. Builder for Customization – Which Theme Builder Has Flexibility?
Every WordPress theme needs a page builder to customize the website to fit the business environment. Both themes have builders for custom website design. Divi has a builder with a visual editor, whereas Avada has a live website builder, layout builder, header builder, footer builder, and form builder. These builders use drag and drop modules and elements with several design settings.
Divi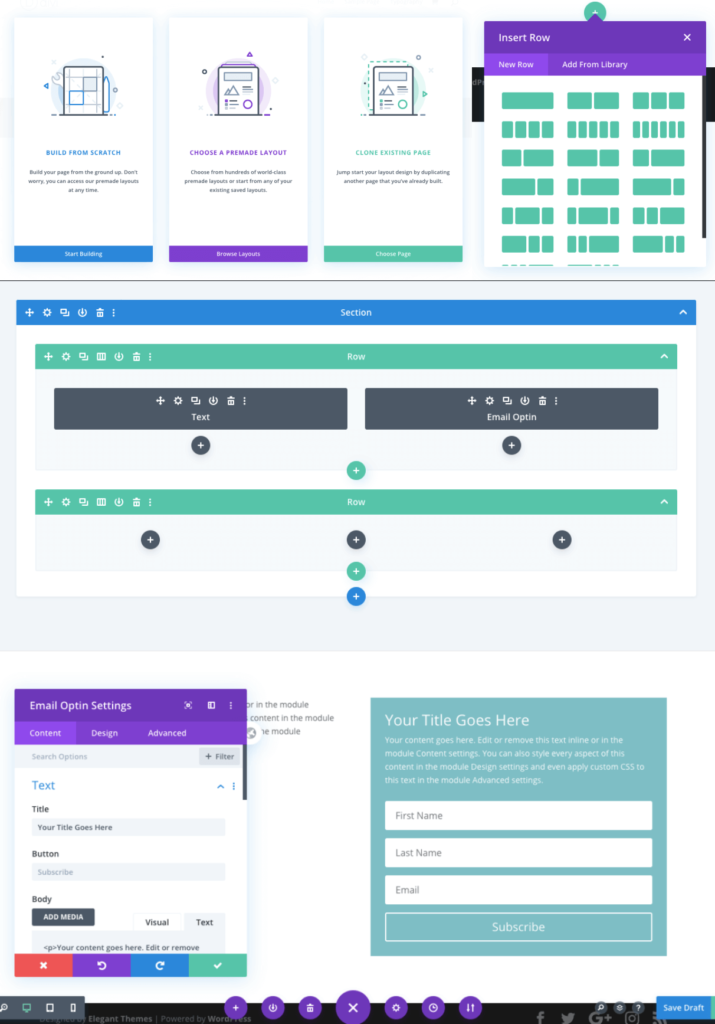 We can switch to the visual editor and Divi builder to see the live update during customization. Besides, do responsive designs using the live visual editor. The Divi library has pre-built websites and modules with simple import and export options. It uses drag-and-drop media uploads. 
Utilize shadows, animations, filters & effects, divider, and bulk editing for each module in Divi builder.
Simple cut, copy, paste and restore options are available for designing modules.
The design of the module can easily be transferred across the site.
Easy to export the custom-designed module to the library for future usage.
Avada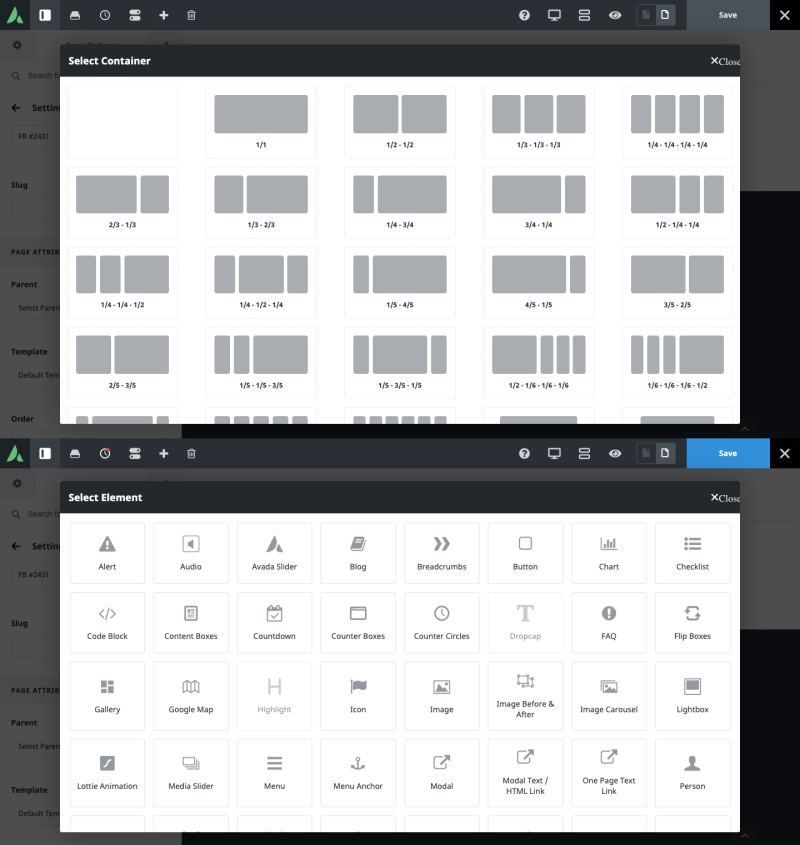 With many builders, Avada uses global design settings for every builder. Inside the live website builder, select any builder for customization at any place. The layout builder provides a responsive design for WordPress websites. The header builder uses the elements to create a custom header and menu. Footer builder manages different footer items with style and arrangement.
The form builder is used to create signup forms for lead capture. It can also be used to make a registration form, checkout form, and login form on WooCommerce websites. Every form is customized using design elements.
Winner- Divi
Reason: Divi has a live visual editor with inline editing and responsive update monitoring. You can create custom pages from scratch or edit them from the library. In addition, import any design to the library for feature usage. Bulk editing options are also available.
4. Avada Vs Divi Speed – Is Divi faster than Avada?
A rise in e-commerce websites with infographic images has appended the load and slowed down sites in many WordPress themes. As a result, page builders used for custom designs in both themes tend to slow down the page speed. In addition, the script used in the slider module can affect the speed and performance. As I'm using both themes for my niche blog, let's see which theme is faster!
Divi
Divi uses three methods for speed improvement, and these are as follows.
The first is No Bloat, which removes source code loading from unwanted modules. It only processes the PHP functions required for page rendering.
The Critical CSS option automatically detects the above-the-fold CSS, loads it first, and removes render-blocking CSS. 
Finally, the speed boost will work differently in cache requests, unnecessary resources, and render-blocking scripts for speed improvement.
Check the page speed performance of my niche blog designed with the Divi page builder. I'm delighted about the Google page speed score, and yes, it passes core web vital assessments.
Avada
Avada theme uses lazy loading for image processing during the first input delay. Image compression and conversion features are also available in this WordPress template. The front-loading of scripts and supporting files are used for faster page loading. Scripts from third-party websites, such as emojis, can be front loading with proper caching methods.
Processing website apps can increase web page speed by managing integrated apps used for website design and customization.
Look at the loading speed on my blog customized with Avada. The speed result is not bad; however, it is not fast as Divi. I have done several customizations, but I can't improve the score to 90%.
Winner – Divi
Reason: In the Divi Vs Avada speed comparison, Divi uses fewer CSS options for design and customization, whereas Avada uses global CSS and individual CSS for every builder and design element. It takes a back seat in page processing, especially when product pages are in online shops. So, Divi is faster than the Avada theme.
5. Divi or Avada – Which Theme Is SEO-Friendly?
SEO plays a significant role in content marketing; it begins with selecting themes. Therefore, the source code should have the proper architecture to deliver structured data from the website. Apart from on-page SEO, the snippets, breadcrumbs, menu, CSS usage, and image attributes can affect the SEO in both themes. 
Divi
Divi uses individual SEO settings for the home page, single page, and index pages with necessary Meta information. For example, the title tag from H1 to H6, updated date, author info, and no-follow links can be set up easily in Divi.
Divi uses breadcrumbs for the best user experience in content filtering and readability. Integrate Yoast SEO for better SEO performance.
Avada
Avda uses page title bars to heading styles with flexibility in element placement and control. The images, meta, tags, and author info, can be arranged by the drag-and-drop feature in posts and pages. So, the dynamic content is responsive on all devices. Content boxes, text blocks, and titles allow setting up the title tag.
Avda uses rich snippets to media files, and complete integration with Yoast provides focus keywords for rich snippets.
Winner- Both!
Reason: Divi has all the on-page SEO setup features, including the title tag and meta info. It also uses breadcrumb for content delivery. Avada uses snippets to structure content, and both have Yoast plugin integration options. I didn't experience any technical SEO issues with both theme. Moreover, the site crawling & indexing speed and search engine ranking results are satisfactory!
6. WooCommerce Support – Who Offers Best Features?
WooCommerce website needs different website designs based on the business environment. A pre-defined website template with mega menu options will be a better choice. Customizable layouts are necessary for product pages and online store home pages.
Divi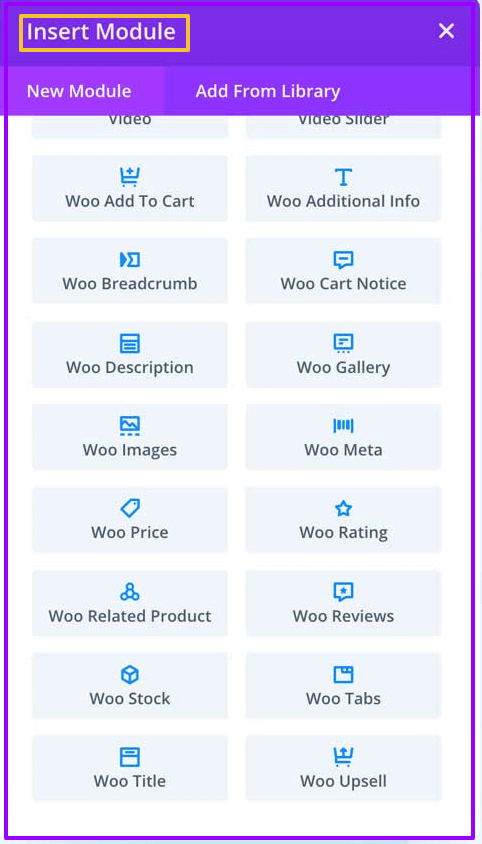 Divi has Woobuilder to create stunning websites for selling e-commerce products using 40+ modules. Woo breadcrumb, reviews, rating, add to cart, woo stock, and product tabs are the best modules available in Divi to create online shops.
The product page template customization uses Woobuilder with slider images and minified product images. Many pre-built websites are available in the marketplace with the one-click import option. Multi-step checkout forms are also available with shopping cart options.
Avada

Avada also uses third-party WooCommerce integration for classic, modern shop, and landing page products. Also, WooCommerce has a global options panel with individual product page settings. With widget arrangements, you can use a single or dual sidebar in online shop websites.
The easy checkout option in Avada is attractive as it is available with a quick product view. It also has an individual product page customization feature that can be done with Avada builder or WP editor.
Winner- Divi
Reason: Divi uses 40+ WooCommerce modules to create product and online store pages. The Woobuilder is used for store customization with a product gallery and sliders. Divi is an excellent option for designing an interactive, high-performance online store.
7. Marketing Features – Who Has Helpful Promotional Qualities?
Nowadays, WordPress themes have provided marketing automation features for business growth. The marketing options start from ad promotion to lead capturing. Moreover, the social sharing of web page content plays a vital role in both themes.
Divi
Divi page builder theme provides a plugin called Bloom with email optin form options. This form builder is helpful in lead generation to convert visitors into email subscribers. We have different templates for option form design and display them in six ways, including popup, inline, fly optins, etc.
It provides a follow-up email series with 19 email marketing programs for lead management and conversion marketing. You may also track the subscribers with the help of performance insights. In addition, Divi uses A/B testing for better conversions.
Avada
Avada uses a form builder to design signup forms for lead capture. This form builder has global options with 19 Avada design elements for customization. For example, we can create a contact form and a registration form for lead generation. The data in Avada are managed with Hubspot CRM.
We can customize the form of every form field with a drag-and-drop form builder. Moreover, 11 pre-built forms are available for marketing in Avada with a performance insights wizard.
Winner- Avada
Reason: Avada uses 19 design elements for lead form creation. It uses Hubspot CRM for marketing automation. We have data insights and excellent features for marketing campaigns targeting conversion with the CRM tool.
8. Social Media Features and Other Integrations
Social media and web application integration are essential for any online business growth. In addition, social follow-up, sharing, and community participation options make the theme more responsive to readers.
Divi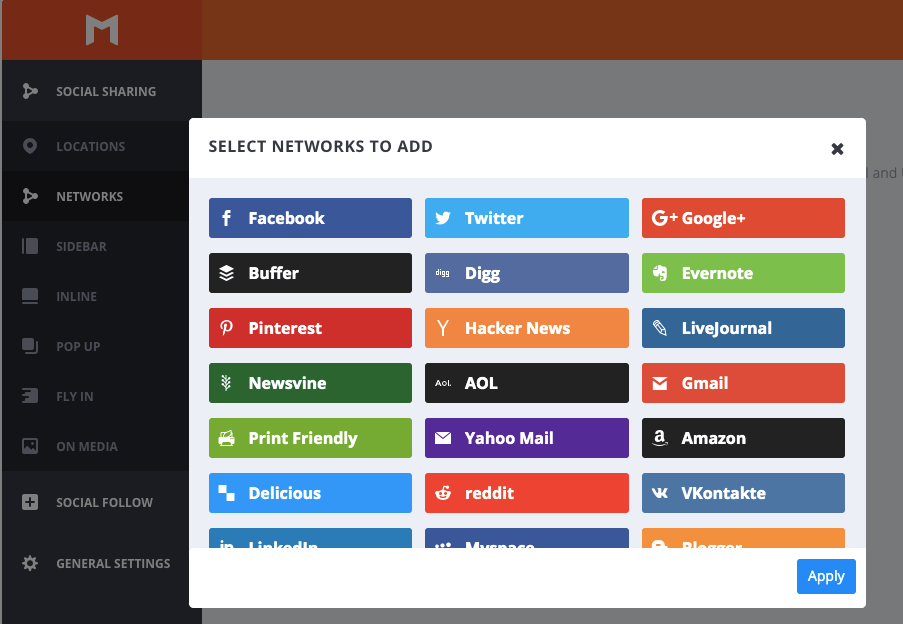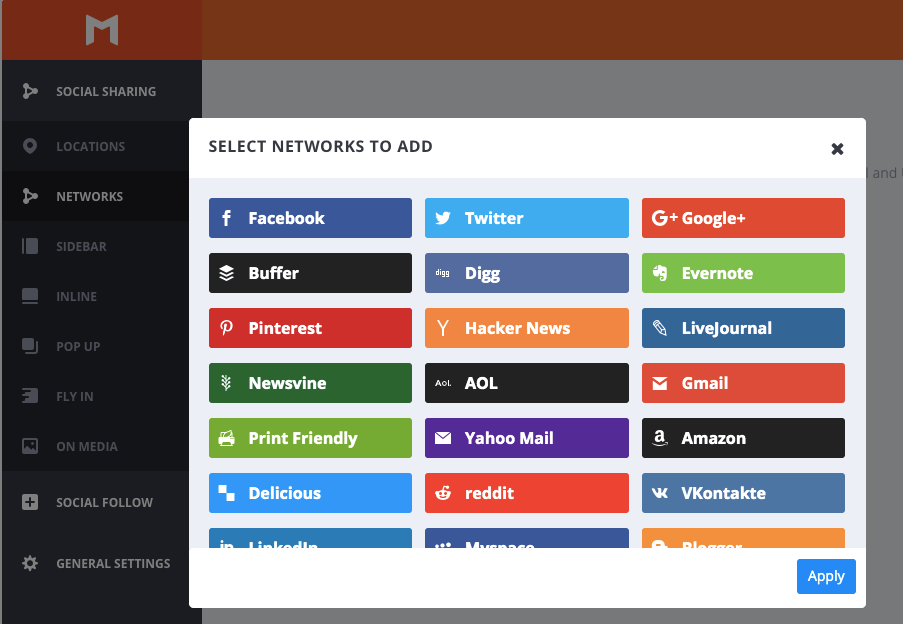 Divi uses a monarch plugin, a social sharing plugin that works in WordPress. It gives better-designed social icons with different placements. The integration scripts for follow-up and sharing tend to load the Divi faster. Here, you can choose social icons from 20 different social sharing websites.
Divi Monarch plugin helps place them in various locations, including the floating sidebar, above & below content, on the image, popup, and fly-in. In addition, social following icons are available in Divi for over 35 networks. You can add Google Maps to Divi site without any trouble. You may also upload custom fonts to establish your business branding.
Avada
Avada uses Convert plus integration, Contact Form, and bbPress forum integration for community interaction and follow-ups.
Place social icons in the header, footer, and sidebar with fonts and style options. Social links can be placed using widgets.
Built-in contact form is used with re-captcha in Avada. Google maps can also be added above or below contact forms.
Winner – Both Divi and Avada
Reason: The Divi Vs Avada battle for social media features ends in a tie. Divi uses the monarch plugin for social sharing, whereas Avada uses Contact form builder, convert plus, bbPress for community engagement with social icons. Both offer impressive features to enhance our social presence.
9. Customer Support – Which Theme Has Dedicated Support?
Customer support for a WordPress theme during sales and installation is essential. The technical support until the theme usage helps in finding the best theme. Apart from the live chat and telephonic support, we need an excellent professional support team to solve technical issues.
Divi
Top-notch documentation and tutorials are available for installing every Divi feature.
A 24/7 professional technical team is available with a help center and premium support option.
Divi offers remote access to tech support.
Free lifetime support is issued to Divi customers.
It has Divi community support for local development as well.
As a Divi theme user, I have been assisted well by the support team. They are highly helpful in solving troubles. I don't have any bitter experiences here!
Avada
Avada provides 24×7 expert team support to technical issues. It uses an email ticketing feature for technical support.
Documentation support is also available in Avada.
Six-month support is available free of cost. If you need support for a year, we need to pay $18 extra.
Avada support is good! But, it should be improved; they should react fast and offer better solutions for the customization difficulties.
Winner- Divi
Reason: Divi provides lifetime support after purchasing the license. Premium support is available, whereas Avada provides only six months of free support. I felt good about the help provided by the experts.
Pricing
Price and license are critical for a business to achieve a long-term association with its users. The pricing plans have both yearly and lifetime licenses. In addition, the support after the subscription period will make a significant impact while purchasing.
Divi
Divi has different pricing plans for developers and business people like bloggers and marketers. It uses yearly and lifetime plans in its pricing. Both support usage of licenses on unlimited websites. The annual plan is $89 (Special Discount – $80) with one year of support and updates. In addition, it has free access to plugins like Extra, Bloom, and Monarch with one year update.
The lifetime plan is available at $249 (Discount Price – $224) with unlimited websites and dedicated support. In addition, 30-day money-back guarantee is also available for all the plans.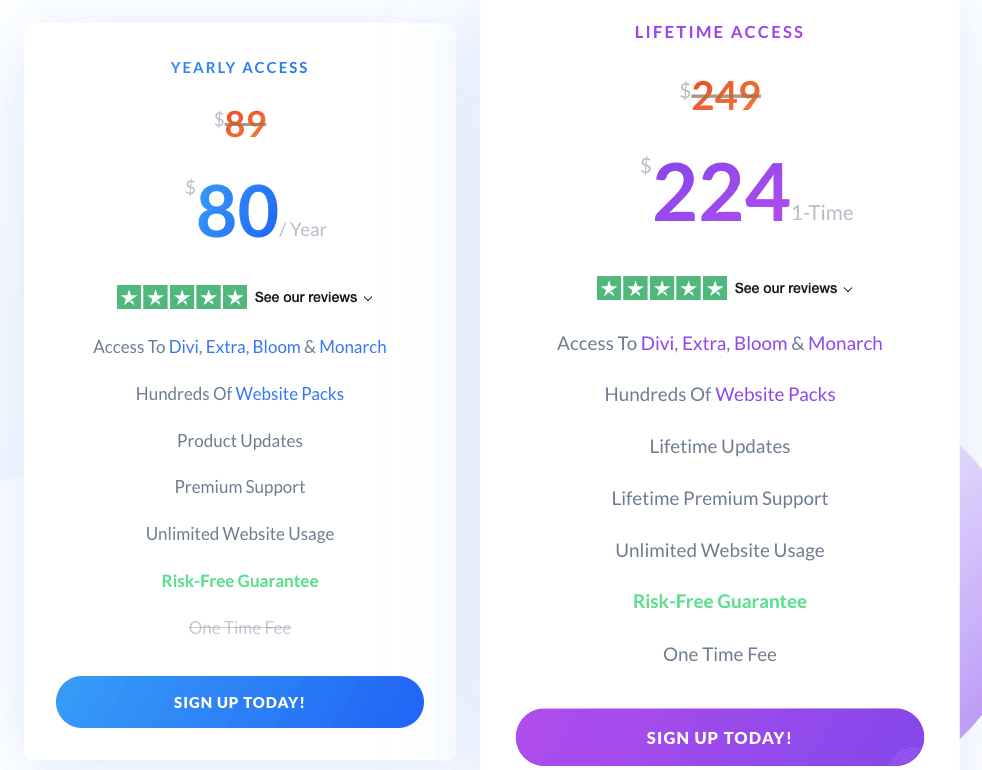 Avada
Avada has regular and extended licenses for its single-item access and full access. For example, Avada website builder's single site license is available at $60 for one year. On the other hand, theme fusion support is available for six months; after that, you have to pay $18 for one-year support. This implies that you should pay $78 yearly for the regular license.
The extended license costs $2950 for one client's usage and access to its complete materials.
Winner – Divi
Reason: Divi provides one year license with free plugin access. It also provides a lifetime license, and we can use both plans on unlimited websites. In the war, Divi Vs Avada Pricing, Divi wins as it is cheaper than Avada (comparing their life plans.
Frequently Asked Questions
How many modules do Divi and Avada use for Customization?
Divi builder uses 100+ modules for webpage customization with the drag-and-drop method. We create custom modules and export them into the Divi library. These imply that we can use it in the future, whereas Avada has 90 design elements.
Is there a free version in Divi and Avada?
Yes. Divi has a free version with risk-free usage, but Avada only has a licensed version.
Does Divi hold a developer license?
Divi provides the local environment for developers. It uses Docker for development. You can manage team members inside the development dashboard. With a lifetime license, use it on an unlimited number of websites.
Does Divi provide multilingual support?
Divi offers support for 32 different languages for its RTL. Just enable the RTL language within the WordPress dashboard. The builder and front end of our website settings will change to the corresponding language.
Other Divi Theme Comparisons
Divi Vs Avada 2023 – My Conclusion
By wrapping up the Divi Vs Avada theme comparison battle, I would like to highlight that both WordPress themes provide advanced features for bloggers, marketers, and freelancers.
At the same time, we should consider taking website creation, customization, content marketing with speed and performance features, and support to find the best among these two themes.
Avada ties with Divi in many battles, such as SEO options and social sharing features. It wins the design and layout options comparison. Avada provides excellent marketing features for conversion and wins that too.
But, Divi is outstanding in terms of its usability, and there is also Divi builder for customization. It is best for speed, performance, WooCommerce features, pricing, and support. Both have good SEO qualities.
So, I would like to conclude that the winner of the Divi Vs Avada comparison battle is Divi. Just give it a try and start designing your business website to get a brand identity!