As you are here, I understand that you are looking for some best Flatsome theme alternatives to build your eCommerce business site, Am I right? You are in the right place to pick the ideal WordPress theme for your online stores.
Flatsome is the most popular multi-purpose theme used to build a responsive e-commerce website using WordPress. This theme has a user base of over 150,000 customers and has a rating of 4.8 on ThemeForest (an online marketplace for WordPress themes).
With Flatsome's powerful page builder, it's easy to design your e-commerce site's interface using over 500 built-in templates. You will also get different styling options for different pages. It is popular among developers and business owners worldwide with innovative features.
Although Flatsome is a well-known WooCommerce theme, it has some drawbacks that can be problematic for users with specific needs. Let's see its limitations!
Flatsome theme drawbacks
The major drawback is that it offers too much customizability. The theme can be complicated for beginners to set up, and it takes more time to learn how to use it.
Once you have selected a theme, changing it is a pretty complicated process.
Only 6 months of support are included with the license. To extend it to 12 months, you need to pay a significant amount of money.
Flatsome isn't the best choice for beginners. Hence, I have decided to consolidate some best Flatsome theme alternatives for you! you may choose the suitable one for your eCommerce business site.
Top 9 WordPress Themes That I Recommend As Alternatives To Flatsome
1. Divi Theme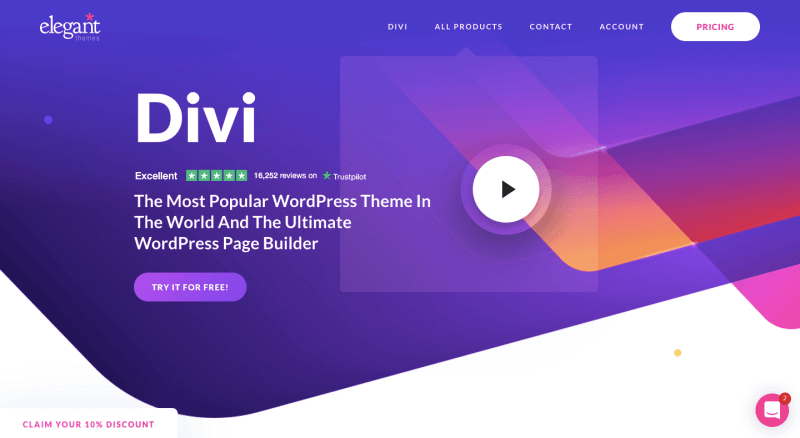 Divi is a multi-purpose website building platform that can be an excellent choice for you if you are a beginner. This theme comes with over 800 website templates and over 100 complete website packs customized for different businesses.
It has the best website builder tools for WordPress to design various elements of your website. Hence, it is more feasible to customize everything for your site the way you want. Look at the Divi Vs Flatsome comparison, and you will come to know the excellent theme for site designing.
Some of the fantastic features that Divi offers are:
Free drag-and-drop website builder to build a professional website without writing a single line of code.
Do the design process in real-time using advanced visual builder technology.
Developers can integrate their CSS code snippets.
Supports inline text editing to edit pages on the front end itself
Responsive pages and supports all major browsers
Add and manage your designs for future use.
Benefits of Divi over Flatsome:
Multi-purpose WordPress theme that can build any website, whereas Flatsome can build e-commerce websites only.
Divi is more beginner-friendly and simpler to use.
It is easy to edit the Divi theme footer and remove its sidebar.
Audio and video postings are supported by Divi, making it easy to describe products.
It supports Adsense and custom ads.
Divi discount – 10% is also available.
2. Astra theme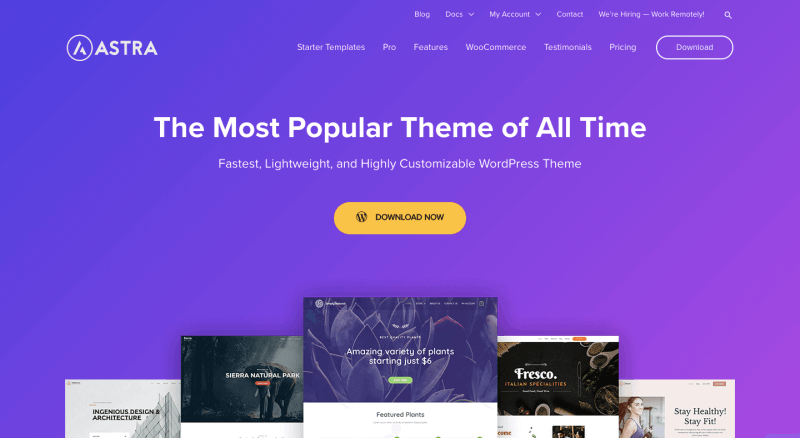 Over a million users have used the Astra theme, the most highly-rated WordPress theme. With Astra, you get customizability and high-speed loading time which is essential for online businesses. 
Astra also offers a freemium model to use the basic features for free before moving on to Astra Pro for more website templates and advanced features.
Astra supports Beaver Builder and Elementor, a top-of-the-line page builder. A beginner can quickly build their website without writing a single line of code thanks to these tools' integration.
Other unique features of Astra include:
Free in-built starter templates to get started with website building. Create and import templates according to your needs.
It offers features like infinite scrolling, off-canvas sidebar, dedicated sidebar, drop-down cart. 
Customizable check-out page with options for one-step/two-step/distraction-free check-out along with the opportunity to add coupon fields.
The websites are responsive and ideal for mobile viewing in portrait. 
Clean coding standards to make websites safer
Why Astra over Flatsome?
Astra is much easier to set up than Flatsome. The interface is beginner-friendly.
Astra supports Elementor, which is the best page builder for WordPress.
It is easier to add the "last updated date" features which is good for SEO.
Try Astra for free. However, Astra Pro is more valuable than the Flatsome theme.
Flatsome requires separate licenses for each website. There is no such case for Astra.
3. Storefront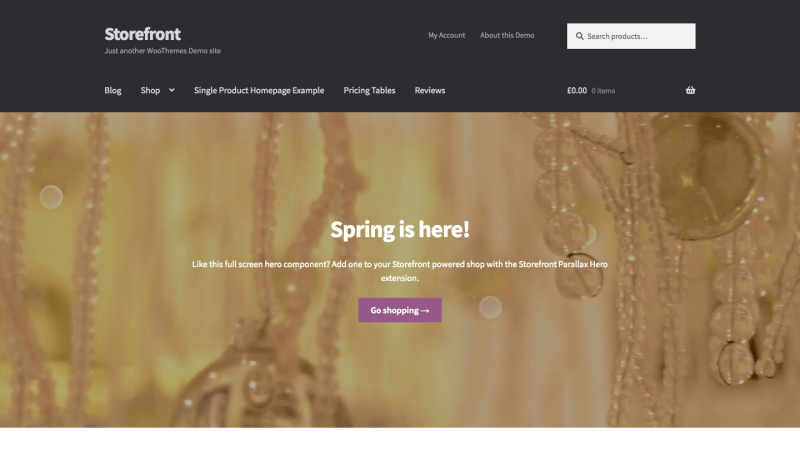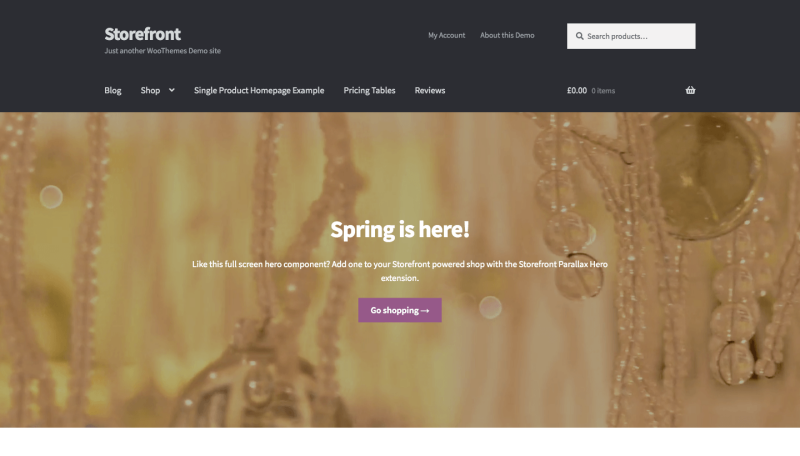 Storefront is the most flexible and lightweight WordPress e-commerce theme developed by numerous developers at WooCommerce and hence it is believed as official WooCommerce theme for e-commerce websites.
It is completely free, and as WooCommerce developers develop it, Storefront offers seamless integration with all WooCommerce extensions.
Let's take a brief look at some of the features of Storefront:
The storefront theme is extremely lightweight and fast.
Storefront supports all WooCommerce extensions seamlessly without any performance or design lapses.
The Storefront offers you all sorts of customization options like colors, footer elements, navigation, widgets, typography, etc.
Additional paid extensions like Storefront Parallax Hero, Storefront, Powerpack, etc., can be added.
Reasons for using Storefront over Flatsome:
Storefront is completely free to use. You need to pay monthly fees only if you need some extensions for some advanced functionality.
This free alternative to Flatsome is lightweight and superfast
4. WoodMart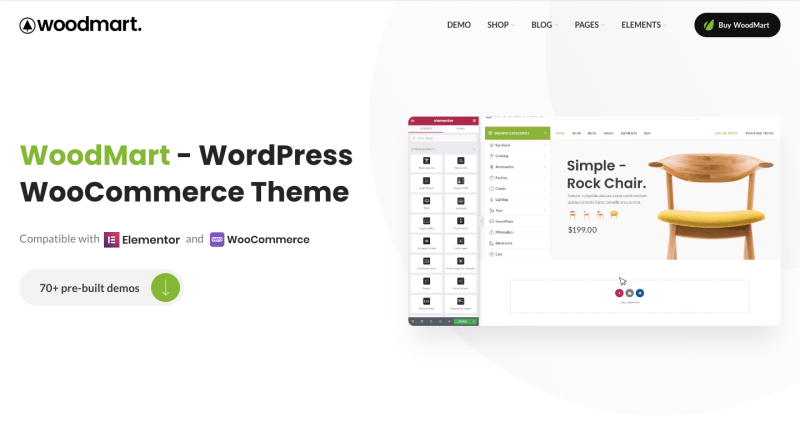 In the list of my fantastic Flatsome theme alternatives, the next one is WoodMart to create e-commerce websites that are fast, lightweight, and customizable to provide the best user experience possible.
WoodMart offers CSS and JS optimization where all the code files are divided and loaded separately so that your site will load fast.
This Wonderful theme also optimizes the web pages for mobile users by making the pages responsive and creating separate pages for mobiles without any heavy elements.
There are 70+ demo layouts, 300+ website templates, and a free drag-and-drop builder. With the help of these features, you could build your website without writing a single line of code.
Some of the features of WoodMart are:
Easily integrates Elementor and WPBakery page builders to design web pages
Optimized for Google page speed
Offers unlimited header layouts and appearances
Supports themes in 12 languages
Compatible with all popular WordPress plugins
Positives Of WoodMart over Flatsome:
WoodMart offers more demo website layouts than Flatsome, which is better for beginners
WoodMart supports Elementor, and hence it is more likely to design the attractive sites
The performance of the websites will be slightly better in the case of WoodMart.
5. Porto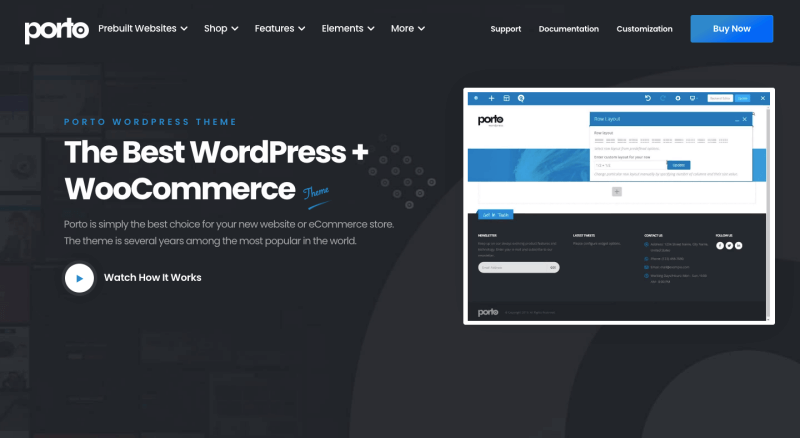 Porto is an excellent multi-purpose WordPress theme that offers impressive features in terms of performance and customizability. This theme was developed by P-themes and used on over 66,000 websites.
To build your web asset, you just need to choose from an array of 81 multi-purpose demo websites and 42 e-commerce demos. Not only that, but you can also customize them using the fantastic Porto studio, a collection of predefined layouts and elements.
Another great thing about Porto is that it supports 3 different page builders, Elementor, WPBakery, and Gutenberg. Very few themes have this many options.
Some amazing features of Porto include:
Offers one-click installation for all demo websites.
Amazing page loading speed
Drag-and-drop builder and responsive editing
A massive collection of predefined templates
Benefits of using Porto over Flatsome:
Porto can work with 3 of the best page builders available in the industry, i.e., Elementor, WPBakery, and Gutenberg, which is not possible in the case of Flatsome.
Porto offers a higher number of template websites to choose from.
6. Shopkeeper
Shopkeeper is a WooCommerce theme that gives your website a simple and minimalistic touch. This theme like Flatsome, is for you if you want a simple design with no unnecessary features.
The Shopkeeper theme offers more than 80 pre-built website templates, and you can use top-class page builders like Elementor or WPBakery with flexible customization settings.
The Shopkeeper offers features like:
Quick and hassle-free setup
Build responsive sliders using any type of media with the help of Hero sliders
Templates for blogging and portfolio sites
Support for multiple popular languages
Excellent customer support team
Advantages of using Shopkeeper over Flatsome:
Shopkeeper provides custom and Typekit fonts, which is not present in Flatsome.
Offers a larger variety of page templates as compared to Flatsome theme.
7. Xstore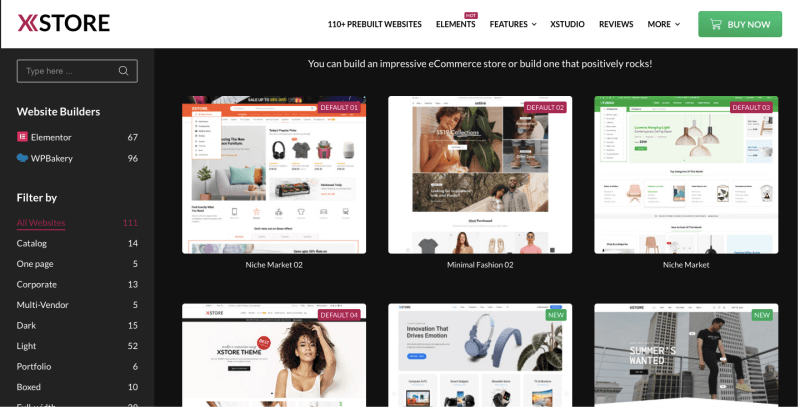 Xstore is a super-fast responsive WooCommerce theme that can be a great alternative to Flatsome. And Xstore is $10 cheaper than Flatsome.
The main positive point of Xstore is that the websites are much more optimized for mobile devices. Considering that over 50% of the traffic on e-commerce websites comes from cell phones, this point can be a game-changer.
AMP also comes built-in with Xstore, which gives users a better experience and faster performance across mobile platforms.
Let's take a look at some other unique features that Xstore offers:
Modularized CSS and JS snippets for faster reload
Offers lazy loading to consume lower bandwidth
Fully compatible with PHP 8.
Xstore Studio for over 500 predefined templates
Compatible with Elementor and WPBakery
Premium plugins worth $599 are included.
Top-notch customer support
Advantages of using Xstore over Flatsome:
Xstore offers better website performance than Flatsome, especially on mobile devices. For example, Xstore has a GTMetrix score of 99%, which is better than Flatsome.
Xstore has a huge array of premium plugins included with the plan, making it the most value-for-money theme.
8. Savoy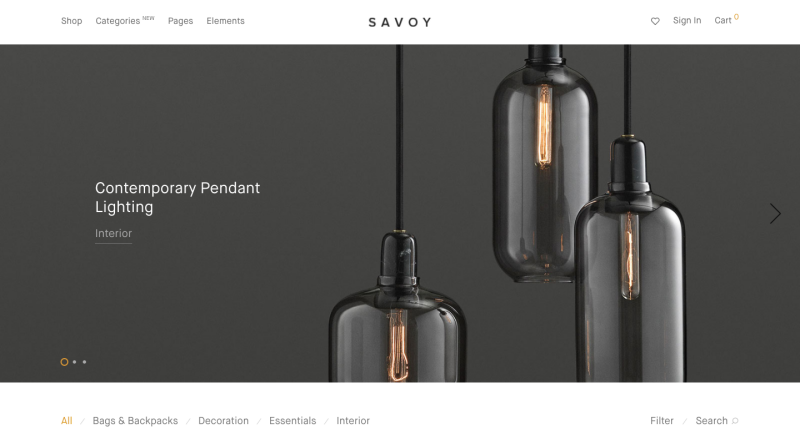 Savoy is a simple but elegant WordPress theme for e-commerce platforms that gives your website a modern and minimalistic look. This theme gives your users a seamless experience with the built-in AJAX functionality.
The theme is pretty easy to set up, even for complete beginners and offers pretty good loading time performance.
The Savoy theme is SEO optimized, which helps you stay tension-free as you don't need to think about your shop's ranking in the Google search rankings.
The Savoy theme has the following features you might find interesting:
Responsive design suitable for mobile platforms
Advanced header features
Simple one-click installation process
Support for Elementor page builder
Touch-enabled galleries and sliders
Why Use Savoy over Flatsome:
Savoy theme is easier to install and set up as compared to Flatsome.
The Savoy theme is pretty minimalistic and does not have any complicated features. If you want a clean webpage, Savoy is a good choice.
9. Impreza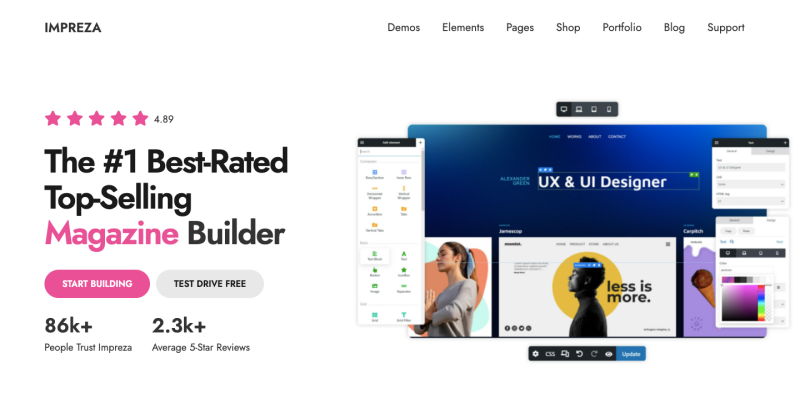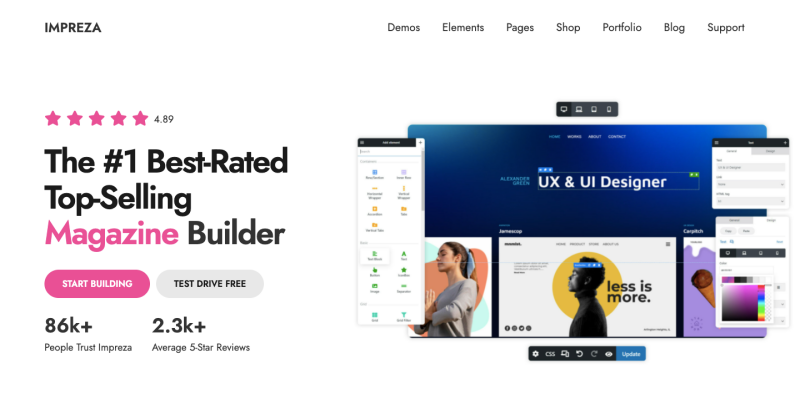 Impreza is a multi-purpose WordPress theme created by UpSolution, with some amazing features. It has the highest ratings on themeforest.net and over 85,000 sales, making it one of the best alternatives to the Flatsome theme.
You can start building your shop by installing a pre-built template from an array of over 25 demo site templates and over 300-page templates that are already available with the theme.
Impreza offers excellent customizability to all the page elements, and the one-click demo installer makes your job easier. These impressive features have pushed me to list as one of the best Flatsome theme alternatives.
Here are some features that the Impreza offers:
300+ premium page templates
SEO optimized
Free updates for a lifetime
$400+ worth of premium add-ons included
Best-in-class product grid builder
Provides support in 9 popular languages
Positives Of Impreza over Flatsome:
Options for adding audio and video posts are available in the case of Impreza.
Impreza offers some premium add-ons free of cost with their plans.
Wrapping Up The Best Flatsome theme Alternatives 2022
Now comes the obvious question, From this list of best Flastsome theme alternatives, which one should I get and build my online shop?
The answer is, it depends on your budget and requirement. If you want to invest in a premium theme, I recommend you go with the Divi or Astra theme.
If you are looking for free themes like Flatsome that offer all the basic features, Storefront can be an excellent option for you. 
Personally speaking, the Xstore theme also impressed me as it offers some fantastic optimizations for mobile viewers.
I hope this article helped you decide on choosing a perfect theme for your e-commerce business. Let me know which Flatsome alternative you have picked!