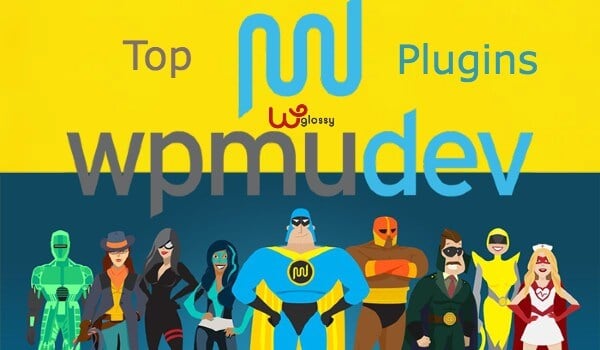 Are you going to start a business website? Looking for an all-in-one platform to make and manage a successful WordPress site? I have an ideal solution for all your web-building requirements!
Yes, I'm talking about a one-stop shop for all your WordPress needs, WPMU DEV. If you are using WordPress CMS or planning to utilize it to construct your professional site, then you should know about some fantastic top WPMUDEV plugins that let your site reach a high-level performance.
What is WPMU DEV & Why Should You Get Their Plugins?
Based in Melbourne, WPMU DEV is a leading WordPress company that offers a plethora of free & premium plugins to run blogs, personal sites, and business sites like eCommerce, agencies & membership sites.
Not only the plugins, but it also provides a reliable hosting service to launch your dream site on the webspace. Who doesn't like the server service with CDN, DNS, WAF, backups, site migration, and email service? Yes, you can read more details about WPMU DEV hosting service.
I would say that they have created a dominant space in the WordPress field since 2005. Having millions of loyal customers, WPMU DEV is running a successful service for WordPress enthusiasts through its products and services.
Now, let's have a look at their beautiful plugins that are essential for your site growth!
8 Top WPMUDEV plugins To Make Vibrant WordPress sites
Check the details of the below WordPress plugins; I highly recommend these for any proactive site that will get the power to surpass the competitors.
1. Humming bird Pro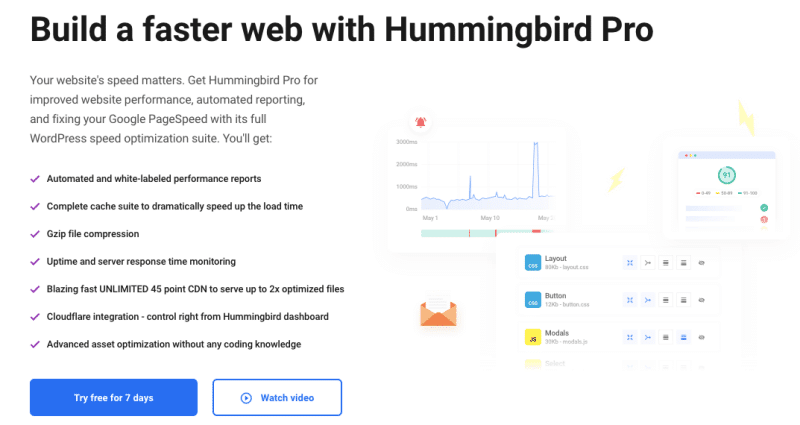 As you know, speed optimization is not an optional task for any website. It is mandatory! With the help of this best speed optimization WordPress plugin, you can improve your site's speed score in the Google Pagespeed test. The Hummingbird Pro plugin has crossed more than two hundred thousand active installations till now. It is one of the top WPMUDEV plugins to make your site load lightning fast.
Best Features
Scans your site and give recommendations for performance improvements
Get faster load times with their caching suite
Take the load off your server by serving your files from 45 locations worldwide through the blazing fast UNLIMITED CDN.
Uptime Monitoring is also available.
2. Defender Pro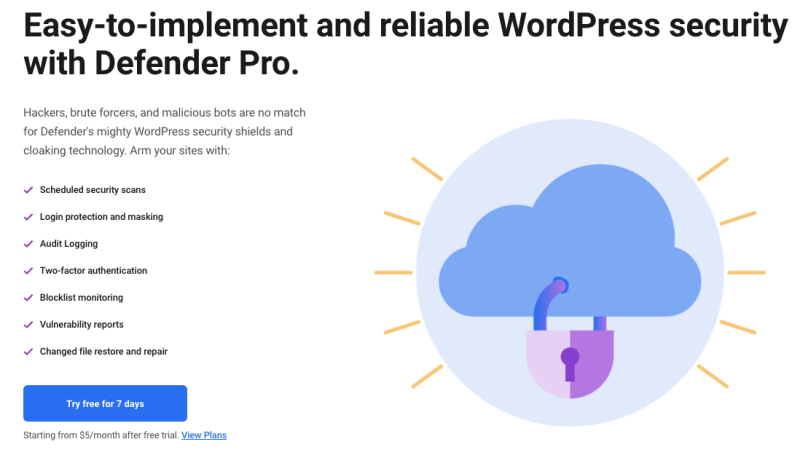 Like the site speed, security is also essential. If you lost your valuable data, then? It is a known fact that the WordPress CMS is highly vulnerable because of the third-party extensions, and hence we need to be careful in protecting the site from malware and intruders. Defender Pro is a wise plugin that offers regular security scans and vulnerability reports to tweak your WordPress security.
Best Features
Sends notifications about suspicious activity, and resolve issues in bulk.
2-Factor Authentication
IP Lockout
Login Masking
3. Hustle Pro
How to make a profitable website? It can be done by a marketing plugin! The level of reaching the target audience will decide your business's success. Hustle Pro gives the power to catch your visitors through unlimited email optins, popups, embeds, and social shares. This excellent lead generation WordPress plugin has more than a hundred thousand active installations right now!
Best Features
Build unlimited campaigns and get more subscribers
Pre-Defined templates
Fix a range of behaviors & triggers for the pop-ups and slide-ins. Time on page, scroll amount, exit-intent, and more triggers are available
Insightful Analytics
4. Beehive Pro
After executing a plan to reach the target audience, it is the right time to track and understand their behavior through a splendid tool, Google Analytics. WPMU DEV provides a great extension called Beehive Pro to add Google Analytics to your site, with which you will be able to see the stats and user metrics for better understanding.
Best Features
Simple GA connect wizard
custom stats dashboard
Tracks Multisite Analytics
Page & Post Analytics are also available
5. Branda Pro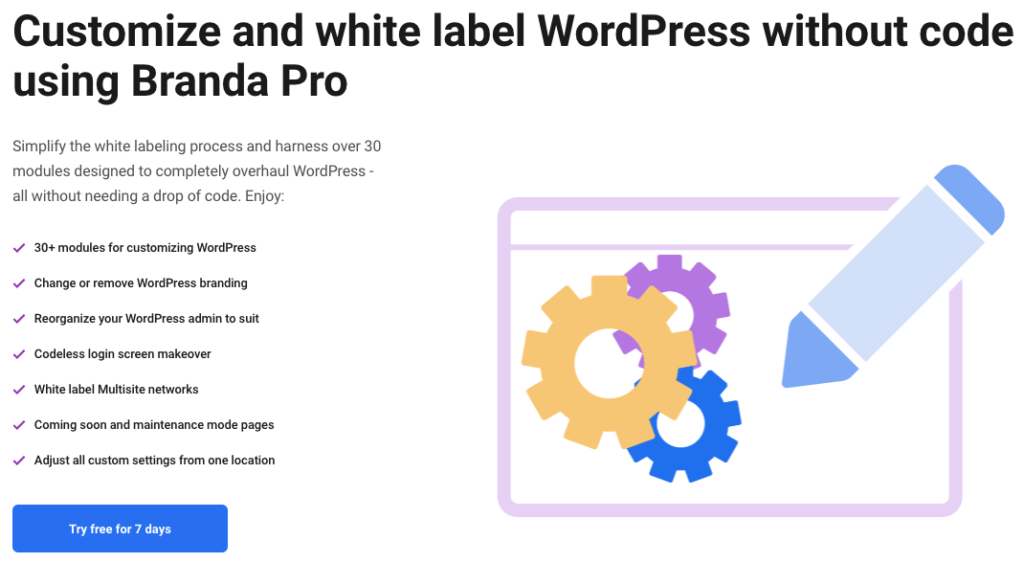 If you are a dedicated business owner, then you would like to create a brand name for your product/service site and get more exposure to gain huge revenue. This task can quickly be done by the Branda Pro plugin of WPMU Dev. It is a wonderful plugin with a white-label feature for business branding. 
Best Features
Front-end & Login page
Fully WordPress rebranding
Coming Soon Pages are present
White Label Multisite for personalization
6. Smartcrawl Pro
Here comes a key task for your website! Yes, it is SEO! Search engine visitors are the targeted audience who will easily convert into leads or subscribers. It is good to drive more traffic from search engines by optimizing your site for search spiders. The Smartcrawl Pro plugin can boost your PageRank and improve your web presence.
Best Features
SEO checkups & reports to enhance the performance
Titles & Meta descriptions for search engines
Automatic sitemap update for quick indexing
In-Depth content analysis to beat your competitors
7. Snapshot Pro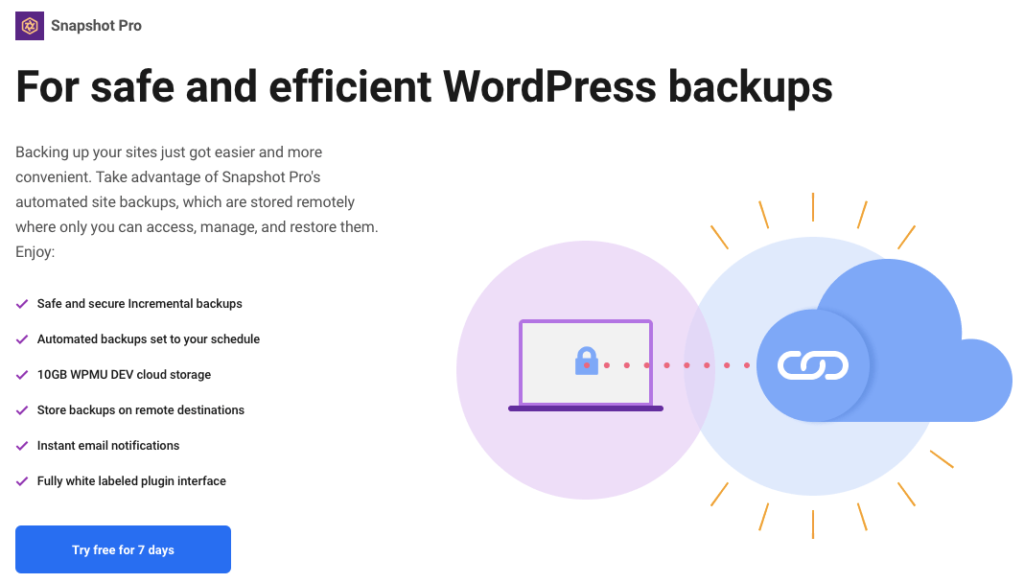 Is there a security breach or crash in your hosting server? How will you recover your money-making business site? Yeah, I'm insisting on taking the site back up. Snapshot Pro is an excellent WordPress add-on to store the remote copy of your site so that you can restore the files whenever you want. When writing this article, this amazing backup plugin has more than sixty-nine active installations because it comprises the following features.
Best Features
Incremental Backups for effective file restoration
Schedule & automate the process
One-Click restore to save your time
Third-Party Storage for easy access
8. Smush Pro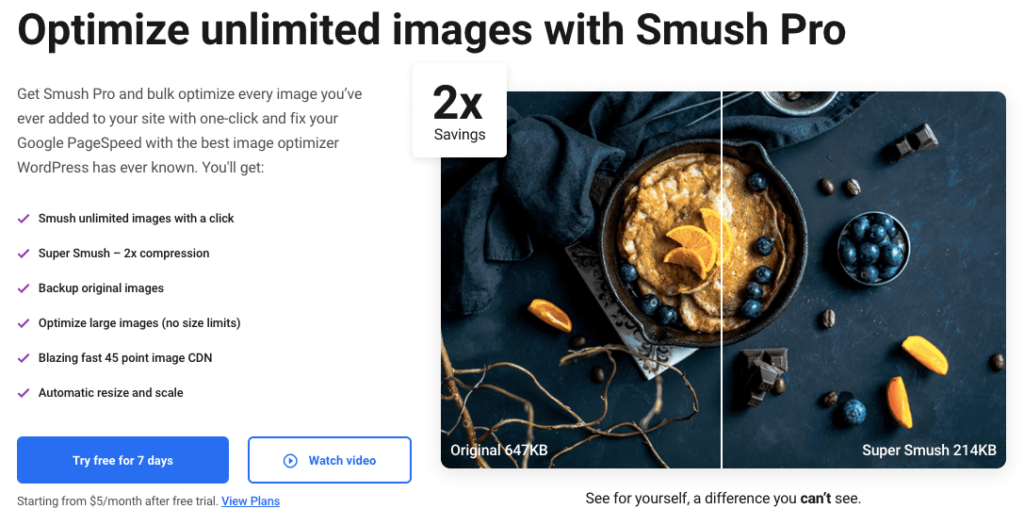 Do you know the importance of image optimization? Since the images can significantly influence the site loading speed, you should compress their sizes and upload them to your website. Smush Pro is a popular plugin to optimize the images of your WordPress site. It has a free version, but the Smush Pro is one of the worth-buying plugins of WPMU DEV.
Best Features
2x Size compression
Bulk unlimited images compression
Backup original images
Auto-convert PNG to JPEG
Wrapping Up – Top WPMUDEV Plugins
Getting the best all-in-one tool to launch and manage the WordPress site is impressive! I'm sure that you can build a better business site with the help of these top WPMUDEV plugins and hosting services. Glad we got the opportunity to test the features of their fantastic plugin, and yes, they are marvelous in doing their responsibility.
As an active WordPress digital entrepreneur, I greatly recommend the services of WPMU DEV to move your business site to the next level. Its award-winning plugins and time-saving management tools will likely boost your site performance. They offer excellent customer support as well. Just try their tools; You have a 20% special discount!