I'm a WordPress freak, and it is the reason for launching this blog, WPGlossy, to share my knowledge and experiences with the like-minded people who would like to run a successful business with a WordPress site.
I'm so glad about my regularity in visiting some of the great resourcing sites for WordPress, and WPMUDEV is one among them.
I hope you are also familiar with this remarkable WordPress asset, and yes, they are keenly interested in updating the information about the Themes, Plugins, Marketing, and Development.
Their in-depth tutorials and latest WordPress news updates are beneficial for digital enthusiasts like us! Make sure to subscribe to their newsletter to get the content updates directly to your inbox.
And now, I would like to share a piece of great news about them!
Last month (September 2019), WPMU DEV has launched its fully dedicated WordPress hosting service for the webpreneurs with affordable pricing plans.
After catching the amazing newsflash, I was planning to spread the word about their server service so that it would help my readers and social followers to get a reliable hosting plan for their WordPress business website.
Without further ado, let me summarize the features of the newly launched hosting service of WPMU DEV.
Exciting Features Of WPMU DEV Hosting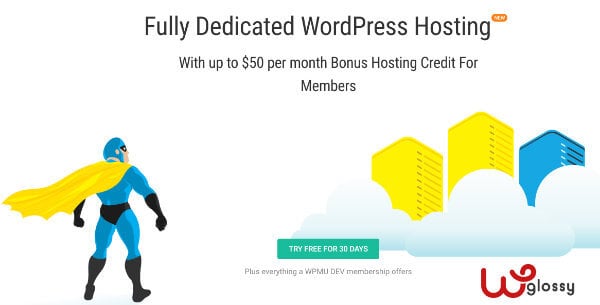 The following are the most distinctive sorts of WPMU DEV Hosting!
1. High Speed
The fully dedicated hosting of WPMU DEV is a high-speed service that is fine-tuned for WordPress sites. Boasted with SSD servers, this hosting service has all the site speed essentials like object & page caching, IPv6 (latest internet technology) support.
Moreover, they leverage the StackPath network to offer the CDN service for the users. Their Hummingbird and Smush plugins have in-built CDN, and therefore your site will load blazing fast for sure.
2. Top-Notch Security
Site security is one of the top priorities of WPMU DEV Hosting!
Through their Defender plugin and automate secure features, your site will be monitored, scan for potential issues, and get updates. As they provide 1-click restoration of nightly backup, you can stay cool without worrying about the data loss.
Besides, if your site gets infected by the malicious codes, their security plugin, and the support team will assist you in cleaning your website by removing the harmful intrusions.
They are also planning to introduce the secure feature – real WAF alongside DNS and other safety integrations to make your site more secure.
3. World-Class Support
With a team of WordPress experts, WPMU DEV offers exclusive technical support for the users. They are available round the clock 24 x 7, and you may reach them easily through the live chat support.
When you face any issues, they are readily available with the perfect solution. And if you have any specific troubles like site hacking, slow loading site or any technical glitches, talk with the team and crack the difficulties.
Why Should You Get Dedicated WPMU DEV WordPress Hosting?
You might think that the above-listed features are usual, which can be seen in every leading hosting provider.
But what makes them stand from the crowd? Why should you try their hosting service?
Let me tell you some valid reasons.
You can try the service 1-Month for Free.
They offer up to $50 hosting credit for the members.
You will get free manual migration without any downtime.
When you add your domain, the SSL certificate from Let's Encrypt will be auto-generated for your blog/website.
You can manage the database via PhpMyAdmin and convert it to multisite from the control panel.
You will be able to monitor resource usage through the real-time server stats.
Likewise, you can audit the PHP error logs & access logs inside the hosting panel.
The incremental backup process can be automated for instant restores, and they will be kept for 30 days.
Just stay on the control panel and look at the live stats of your site, including visits, storage, bandwidth, and email activity.
All plans come with the pre-configuration of their premium plugins like Defender, Hummingbird, and SMUSH to tweak your site performance.
The pricing plans are inexpensive and have multisite support as well.
You will adore the flexible scaling options for more storage, memory, and vCPUs.
It is a developer-friendly hosting as it has 1-click staging, a self-healing architecture, and WP-CLI with custom commands.
You can forward your mails to any of your email accounts.
It has eight different data centers to choose the nearest location of your target audience.
WPMU DEV Hosting Pricing Plans
WPMU DEV hosting offers four different pricing plans – Bronze, Silver, Gold, and Platinum and you may go with the membership plans as well.
They have mentioned the traffic-handling ability for each plan, and hence you can quickly choose a plan according to your audience visit every month.
WPMU DEV Vs. Competitors
I should admit that the task of choosing reliable hosting to meet your business needs is crucial. As there exist a plethora of providers, you may get confused while picking the right one!
The primary aim of WPMU DEV hosting is to offer the best and affordable plans than its competitors do.
Now, let's compare this fully dedicated WordPress hosting with the well-known players in the industry: WPEngine, SiteGround, and Kinsta.
WPMU DEV Vs. WPEngine
As you can see, WPMU DEV is preferable when it comes to dedicated server resources, dedicated IP, WordPress Multisite Support, and custom SSL certificates.
WPMU DEV Vs. SiteGround
It is crystal clear that your choice should be WPMU DEV when you need to get dedicated IP, dedicated server resources, painless migration, and malware cleaning for your WordPress site.
WPMU DEV vs. Kinsta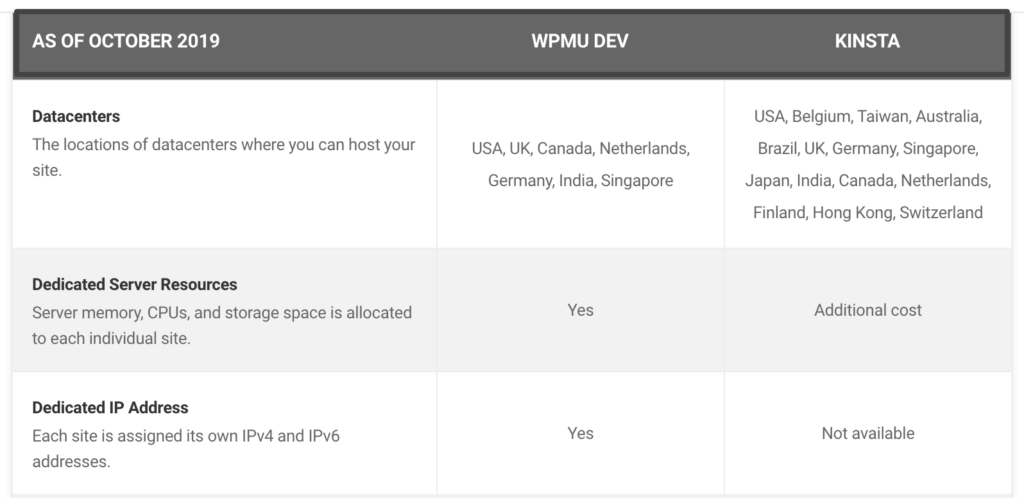 Not much difference between these two hosting companies! However, if you are looking for the cheap WordPress hosting with dedicated IP address, then WPMU DEV should be your ideal choice.
Wrapping Up
WPMU DEV hosting has just entered into the industry with a handful of impressive features and affordable hosting plans for WordPress users.
For launching this innovative server service, the team has worked for more than two years and tested the performance for six months behind closed doors.
As this dedicated WordPress hosting is optimized for maximum uptime, lightning speed, and supreme security, I would say that it is an excellent SEO hosting that would take your business site to new heights.
We have to appreciate this isolated hosting that has no shared IPs and shared plans. Just give WPMU DEV hosting a try with the free trial for 30 days and test its performance and qualities.
After using the service, you may share your experience with us!