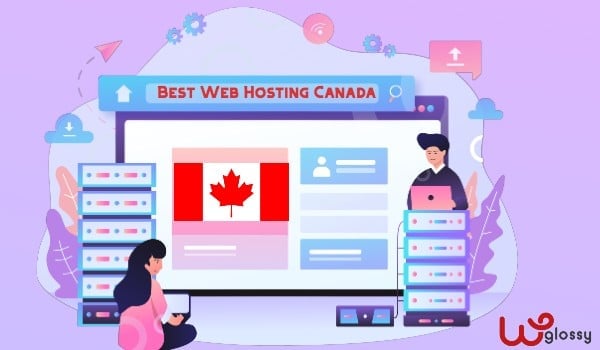 So, as you have arrived here, I can understand that you are looking for the best web hosting Canada.
In this age of cloud hosting & CDNs, there are still many advantages to hosting websites with the region preference.
I appreciate your decision of buying the web hosting server for your Canadian audience.
As I use a plethora of web hosts for my business clients, I can suggest some excellent servers with high reliability and improved security for the business sites.
Before getting into the details of top hosting services in Canada or the companies that have data centers over there, I would like to consolidate the advantages of buying the region-based server for your site visitors.
Benefits of Buying Region Specific Web Hosting
The region-based web hosting can help you host your websites located on the specific server locations of the region where your audience resides & from where they access your websites. More closure the distance between audience & web server, faster the loading of web pages.
Secondly, customer support in the native language can be a huge advantage to have a region-specific web hosting company. The hosting Company's office located in the same region where you reside gives you easy & quick access to get face-to-face web hosting deals.
Finally, the payment facilities in the local currency save you the time when you file tax papers later. The local currency billing saves you the currency conversion charges on every billing; otherwise, you bear the loss if you have to pay in foreign currency.
I have six recommendations for you. I have had experience in all the six different hosting companies, either for my Canada-based niche websites or client websites over there. I consolidated some best Australian web hosting companies as well.
Before seeing the top-notch web hosting deals in Canada, I give you the criteria I have used to grade them. Let's get into the details!
How to Choose the Best Canada Hosting Server?
Server Locations
I prefer a Canadian web hosting company that provides server locations inside Canada, like in Toronto city. I give less preference to a hosting company with server locations close to Canada's audience but outside Canada.
Server Uptime
I filtered that having Canada hosting companies above 99.9% server uptime to make this list.
Server Scalability
Is it possible to scale your server resources in times of sudden traffic spikes while you get exposure in the press/news?
Billing Currency
A best Canada web hosting should provide billing in (CAD) Canadian dollars.
Customer support
Having Canadian support or offices in the Canadian cities gets a higher ranking on my list.
Ease of Use
The top web host should have easy-to-use admin dashboard or control panels that you and I are familiar with.
Features
What about Free Domain, Free SSL certifications, Free CDNs, Free IPs, and Large Bandwidth?
Security
How about malware protection, spam, and DDOS attacks? The best Canada web hosting company should employ industry-leading security standards. 
Top 6 Hosting For Canada Based Business Sites
Based on the above criteria, I have picked the best web hosting Canada for your business.
1. Cloudways – Best WordPress Hosting Canada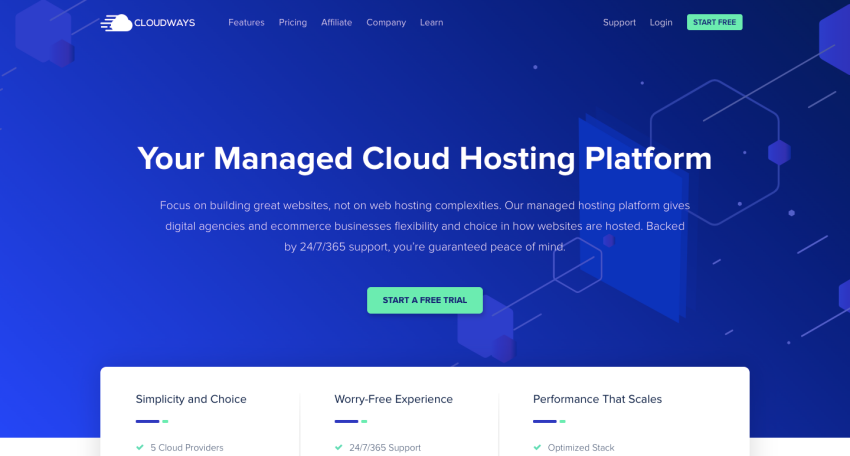 With Cloudways, you can host servers from Google Cloud, Amazon Web Services, and Digital Ocean. Montreal and Toronto data centers are available in Google Cloud, Amazon Web Services, and Digital Ocean. When you fill out a signup form, choose Canada data centers to host your website or apps.  
Instead of going to other Canadian web hosting companies, there is an excellent edge in hosting Cloudways. Unlike other hosts, Cloudways doesn't have its data centers. Instead, Cloudways provides managed hosting services, leaving the server to Big Bs like Google, Amazon, and Digital Ocean. That doesn't mean you must purchase hosting accounts with these Big Bs. 
Cloudways plans include hosting account purchases. You can do all the tasks like server deployments, software installations, adding domains & websites, server monitoring, security watches, and installing server-level software upgrades & patches in just a few clicks inside the server administration dashboard. I highly recommend this managed cloud hosting service as we use Cloudways to launch 4 different blogs and are satisfied with the speed and uptime performance.
Features
Canada data centers – Toronto, Montreal
Host your website at Google Cloud or Amazon Web services or Digital Ocean
Pricing plans are cheap. You pay only for what resources you use.
You may scale down through the admin dashboard so quickly.
CloudwaysCDN can easily be integrated; highly affordable as well. Edge page caching is now available.
Cloudways has exclusive expertise in PHP-based applications like WordPress; hence, it is the best web hosting Canada WordPress platform. 
Breeze cache plugin for an excellent swift experience.
Cloudways has an exclusive promo code – WPGLOSSY to grab a $30 discount, and hence you may use the basic plan for 3 months for Free and test the features.
2. GreenGeeks – Cheap Web Hosting Canada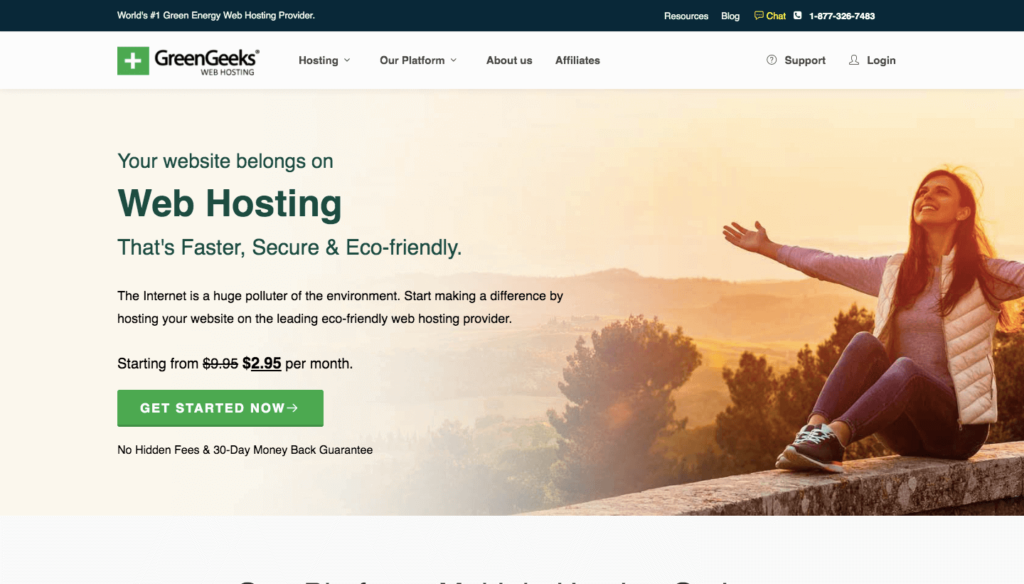 Greengeeks, as the name suggests, is a spotless Green energy company. Many hosting companies today produce Green energy equal to the point they consume. But GreenGeeks produce three times the energy they consume. Moreover, they have servers in Canada. 
GreenGeeks offers the best cheap Canada hosting. If you are starting, get started with their shared hosting plans that cost so cheap at $2.95. When you buy the GreenGeeks hosting, choose the data center in Toronto or Montreal so that your Canadian audience can get faster ping time & quicker page loading.
GreenGeeks has fast SSD drives, the latest PHP version, Litespeed caching technology, MariaDB's most secured DB servers, HTTP/3 technology, and free Cloudflare CDN. Many of my clients thank me for recommending GreenGeeks to migrate from their old, slow hosts. After migration, they get a high-speed loading page from day 1. 
Features
Data centers from Canada – Toronto and Montreal
300% clean green energy
Shared host, reseller cost, WordPress host, VPS hosting, dedicated servers
Latest server specifications like LiteSpeed cache, and HTTP/3 for lightning speed
Free Cloudflare CDN
Account isolation, secure vFS system to protect each hosting account from the neighbor accounts on the same server.
3. A2Hosting – Fastest Web Hosting Canada
A2Hosting is the next best Canada web hosting for Canadian small business websites, WordPress websites, eCommerce websites, and apps. A2Hosting provides 20x faster hosting than traditional shared hosts. A2Hosting shared plan is a decent choice for the Canada website if it has consistent traffic. However, you may go for their VPS or dedicated servers if you have over a hundred concurrent hits. 
A2Hosting doesn't have data centers in Canada but has in Michigan & Arizona; both are fantastic options for your Canada-targeted websites. These servers have low latency while accessing from Canada, thus providing fast page load speed. Choose the A2Hosting Swiftservers plan with Turbo technology, which gives you 20x fast loading pages than regularly shared hosts.
This best Canada hosting gives you free account migration, a 99.9% uptime commitment, and a money-back guarantee if you dislike them within 30 days. A2Hosting also gives you reseller hosting with the world-class WHM control panel to manage client accounts and the free billing system option. A2Hosting's shared plans are optimized for WordPress, Joomla & Drupal CMS systems. 
Features
Free Migration
Turbo servers
Free SSL certification
Easy cPanel Control panel
Performance plus traffic spike protection plan
Live chat, Phone, Email 24/7 customer support
4. WHC – Popular Canada Hosting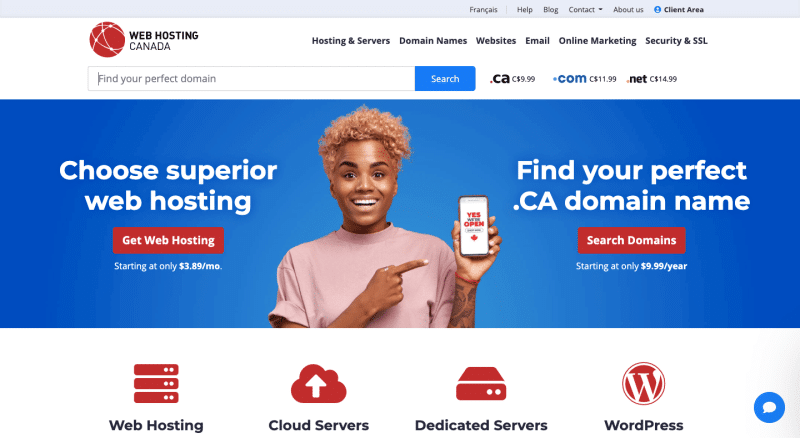 As the name sounds, this best web hosting deals Canada Company focuses on Canada hosting exclusively. WHC Company headquarters at Clark Street, #301, Montreal, QUEBEC, H2R, 2Y3, CANADA. WHC offers a Canadian customer support team to offer support in your native accent. The servers are located in Canadian East and West Coast areas, thus reducing latency for Canadian visitors and significantly improving page loading time.
The Company offers WordPress hosting, Canadian web hosting, Canadian reseller hosting, and dedicated servers. In addition, WHC provides Canadian Cloud hosting that lets you get both Cloud hosting and your Canada region hosting. I suggest you try this best Canada WP Cloud hosting for your websites and apps. That does the job perfectly. The cost of Web Hosting Canada is very cheap and affordable. You get.CA domains at C$2.99 for a year and pay in Canadian Dollars.
WHC hosting plans offer you World's easy cPanel with Cloudlinux. WHC claims to have the 1-click installs of over 300 apps, including WordPress and Joomla. Over 60000 Canadian Small businesses trust WHC Canada hosting. If you are hosting in any bad host, migrate to WHC for free. Yes, the Canadian expert team does free migration. Along with that, you can get your email hosting also migrated for free. 
Features
SSD Servers with Raid-10 Redundancy
Free SSL
Advanced firewalls
English or French – Call 24/7 customer support by phone or email. 
Dedicated IPs, External backups, and Softaculous are available for an additional cost. 
5. Inmotion Hosting – Secure Canadian Web Hosting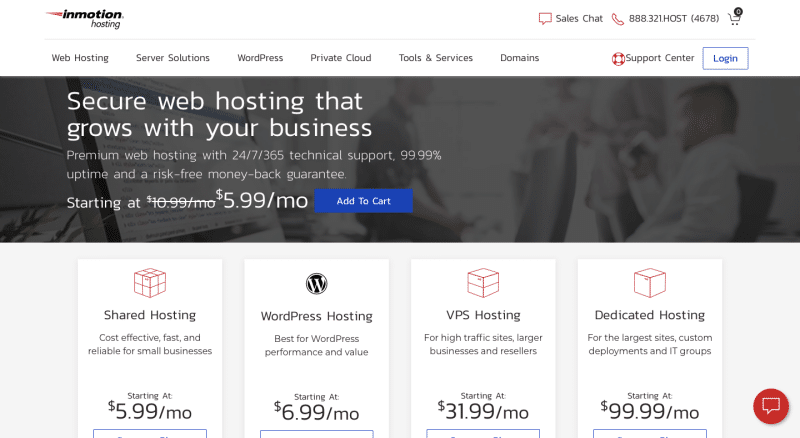 Inmotion Hosting Company is headquartered at 360N, Pacific Coast Hwy, Suite 1055, El Segundo, CA 90245-4414. Inmotion Hosting has been in this business for over 20 years now. They know the in and out of all the server business. Not only hosting, but you will also get SEO, Web design services, and many more from the Inmotion hosting team for an additional cost. 
Inmotion hosting offers Canada-based Shared hosting, WordPress hosting, VPS hosting, dedicated servers, and server clusters. Many of their hosting plans include Free migration, a Free domain for a year, a free dedicated IP, and many more features. In addition, all hosting purchases come up with a 90-day money-back guarantee and a Softaculous app installer for free. 
Inmotion hosting is an incredible web hosting Canada for WordPress because it offers free Jetpack personal plans. Jetpack Personal plan offers 100+ WordPress themes, daily backups, CDN, and social media tools. WordPress hosting plans are hosted in the latest PHP8 servers, including the Speed Coach plugin, Total upkeep plugin, free SSD storage, and NGINX advanced caching technology. 
Features
Canada-based hosting company 
Twenty years of hosting experience.
Free domain & Free SSL
Free dedicated IP & Free Premium WordPress Plugins
SSH Access to the servers
Inmotion hosting discount available
Code in PostgreSQL, MySQL, and PHP
6. HostPapa – Trusted Canada Business Hosting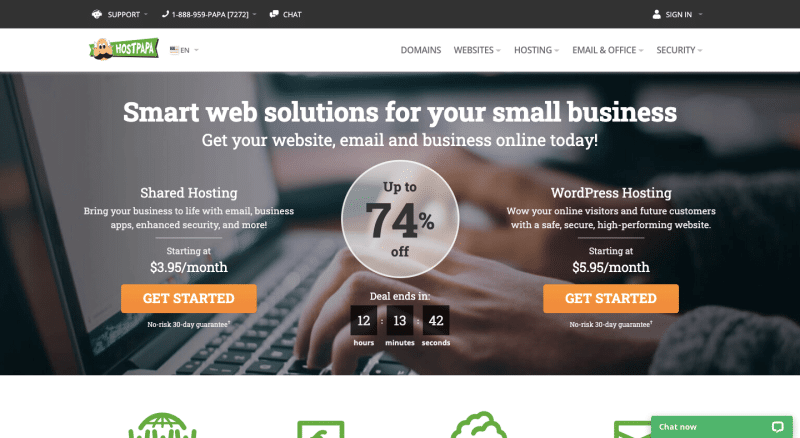 HostPapa is the best Canada hosting that offers data centers in TORONTO and MONTREAL. It provides a payment facility in Canadian Dollars. You get native-language customer support. HostPapa is the ideal hosting Company that offers optimized hosting for Canadian small business owners, eCommerce websites, and Canadian non-profits. The exceptional thing about HostPapa is that they are independently owned & operated, thus having more power to maintain quality, no compromise. 
HostPapa is one of the first few web hosting companies that adapted green hosting to return 100% of the energy they consume through wind & solar power. This reduces the carbon footprint and supports renewable energy initiatives. They also care about their customers, not the stock price like other bad hosts. Their servers boast a 99.9% uptime guarantee and 24/7 Staffed security. Hostpapa has won several awards and is consistently ranked in the top 10 Canadian web hosting companies. 
In Canada, this web hosting company offers shared hosting, email hosting, domains, WordPress hosting, reseller hosting, and VPS hosting. Its hosting plans include a free domain, free SSL, and free cPanel. Also, Hostpapa is known for its award-winning customer support via phone, email, and chat 24/7.
Features:
Canada data centers available
Canada Dollars CAD payment accepted.
Free SSL, free cPanel, and free domain
Award-winning customer support
Own data center & Own operation.
Frequently Asked Questions – Best Hosting Providers In Canada
Are Canada Hosts trustworthy?
Like other country hosts, Canadian hosting companies also incorporate all the hardware, software, and security standards. So the answer is yes, Canadian hosts are reliable, safer, and trustworthy.
What's a good Canadian web hosting company?
Cloudways, GreenGeeks, and HostPapa are the three good Canadian web hosting companies out of all available options, and yes, they have data centers ins Canada.
Which Canadian data centers are fast?
Toronto & Montreal data centers are fast. Toronto data centers have more traffic than Montreal.
Do Google Cloud & Amazon Web services have data centers in Canada?
Yes, Google Cloud & Amazon web services have data centers in Montreal, Canada. You can purchase hosting from these servers through Cloudways. 
Which is the fastest WordPress hosting With DigitalOcean servers in Canada?
Cloudways offers super-fast DO server hosting for Canadian-based business sites.
Conclusion: Which Is The Best Canada Web Hosting?
Cloudways is the best web hosting Canada Company. Cloudways do not have their own data centers like GreenGeeks or HostPapa. Instead, it offers managed hosting services for the World's top hosting servers of Google Cloud, Amazon Web Services, and Digital Ocean.
When you are with Cloudways, scaling the resources is easy & instant. The scaling can be done via the admin dashboard in clicks. Thus, your website can handle sudden traffic spikes super easily. It has a high-speed Digital Ocean server in Toronto and is considered the best web hosting Canada WordPress.
The ping time test for Canadian audiences proved that Cloudways is the lowest, meaning blazing-fast page loading time. During the ping time test, the hosts scored in the top to last order: HostPapa, GreenGeeks, A2Hosting, WHC, and finally, Inmotion hosting.
HostPapa is suitable for tiny business sites or new startups. At the same time, the GreenGeeks and A2Hosting are premium hosting services for small business websites to Medium-sized organizations. Both are green web hosting companies that reduce the carbon footpath.
Cloudways hosting is ideal for small and medium-sized businesses to big organizations, bloggers, digital marketers, and corporates. They have hosting plans for every size, and the servers never sell out entirely as they are in big companies like Google, Amazon, and Digital Ocean.
So, where are you hosting your business site at present? Leave your comment, and also let me your after-migration site experience from your not-so-good host to the best web hosting Canada Cloudways. Let's discuss your server experience.