Through this post, I would like to tell you the necessary details of Green Web Hosting (which is needed for the website owners) and the five best green web hosting companies worth buying for your WordPress business site!
So, you are looking for the best green hosting service for your website? Am I right?
Let's get into the topic!
Do you know that Internet usage is growing very fast at about 600% to 800% every year?
If the web hosting's energy consumption keeps increasing at high speed, it will become one of the most significant pollution sources that would harm our atmosphere.
If you are more concerned about the environment, why not try eco-friendly web hosting and, yes, green web host services?
Let's start the post with the essential details of green hosting so that you would be interested in getting it without hesitation!
What Is Green Web Hosting?
Green web hosting is eco-friendly web hosting that involves green technologies (eco-friendly technologies) to lower the environmental impact.
It can also be called carbon neutral web hosting as it uses the renewable energy of the wind, water, or solar power to lower the carbon print.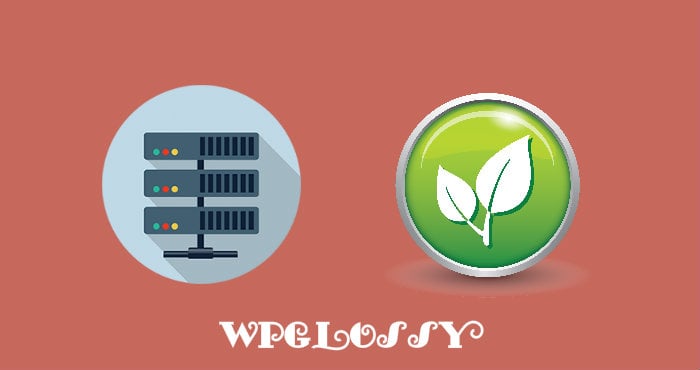 This type of hosting company gets Green Certificates and voluntarily sticks to follow the environmental guidelines to protect nature.
Why Green Web Hosting?
The best green web hosting companies follow the below things to have a green web!
# Generating renewable energy on their own to operate their data centers.
# Using energy-efficient servers to lessen power consumption.
# Practicing to plant the specific number of trees for every hosting sale they made.
# Partnering with non-profit eco-friendly organizations to support the pollution-free atmosphere.
So if you're someone who doesn't like to harm the environment, you should consider getting a green server to host your sites.
What To Consider While Buying The Best Green Hosting Services?
Reliability, Security, Bandwidth, and Technical support are some of the common things to consider while the purchase of good web hosting.
I have crafted a comprehensive post with the instructions to choose the best WordPress hosting company for your site.
However, what to look for in a green web host?
When purchasing the best green hosting service for your site, keep the following three things in mind!
#1 Are they really green?
Carefully look at their policies and understand how they want to be green. Also, check the authenticity of the Renewable Energy Certificate (REC) of the green web host and verify their legitimacy. Ensure that they use energy-efficient hardware and software to avoid harming the environment.
#2 How fast is their website loading times?
Make sure to find out the website speed of the hosting providers you want to go for. After all, no one likes a slow-loading site. If you have a fast loading WordPress site, it is more likely to increase your search rankings, traffic, and overall sales.
#3 How good is their customer experience?
Just do research and find out what other customers are saying about their hosting features. Most importantly, know how good their customer support team is. Connect with them even before you decide to go for their hosting. You can quickly decide which one to choose to run your sites.
Now, without much ado, let's find out the Top 5 green web hosting services of 2023.
Top 5 Green Web Hosting Providers Of 202

3
| | | | |
| --- | --- | --- | --- |
| | | | |
| | | Purchase 100% Green Renewable Energy | |
| | | | |
| | | More than 200 Tons Annual Carbon Cutout | |
| | | Partnered With Carbonfund.org To Offset Carbon Footprint | |
| | | Offset Every KWH Energy Usage By 200% Wind Energy | |
1. GreenGeeks (75% Black Friday Offer)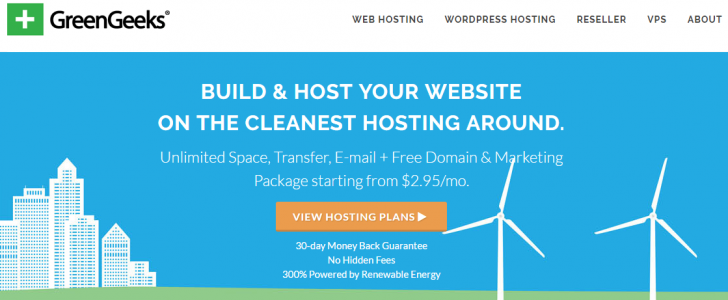 Not just like the name, it is one of the first Green hosting companies started in 2006. The company resolved almost all the environmental pollution complaints due to the data centers of the hosting companies.
They are pioneers in providing green-based web hosting service. GreenGeeks responsiveness and customer support are unbeatable. Moreover, you will get the SSD hosting benefits from this web host provider.
What makes GreenGeeks stand out from the crowd?
Delicious web hosting service

Guaranteed 99.9% uptime

Gives priority to customer satisfaction

Eco-friendly service

Automated WordPress updates

Enhanced security

Offers nightly backups every day. So, your data is 100% safe

The company is committed to a 30-day money-back guarantee

GreenGeeks Discount is available
Based on customer ratings and recommendations, GreenGeeks secured the best green web hosting service award in 2017 too. However, this is good for Linux/UNIX users but unavailable for Windows users.
I'm using this green hosting service for the past six months for my niche blog; I don't have any downtime or any other complaints with them.
Thus, I recommend this green web service for dedicated bloggers and online publishers. You may read my in-depth GreenGeeks hosting review.
Check GreenGeeks Exclusive Price Offer
2. HostPapa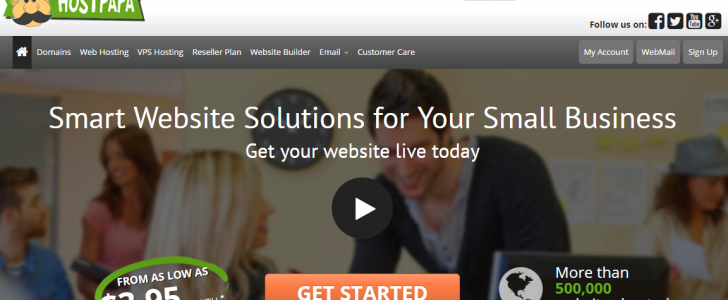 The hosting service HostPapa is certified green, and their hosting options are helpful right from the novice user who runs the very small business to the advanced user.
With the help of its certified renewable energy credits, it reduces the amount of energy consumed by servers. This green hosting provider is putting clean energy to the grid and supporting renewable energy initiatives.
What are the highlighting features of HostPapa?
Up to one year, the hosting service is affordable. However, it reduced by 30% if you use the hosting service for three years.

Reliable servers and great security features.

Unlimited domain name hosting on a single account.

Free set up and unlimited bandwidth.

Free SSL certificate

A free domain name that never expires.

One-click installation support

90-day money-back guarantee.

Customer support is provided 24/7 through live chat, phone, and email. However, it's only on weekdays.

Guarantees 99.9% uptime.

Good server speed & domain transfer is very easy.
Check Exclusive HostPapa Price Discount
3. InMotion Hosting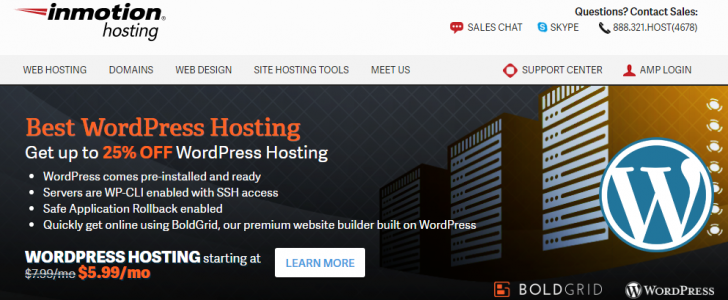 InMotion hosting is one of the best green web hosting companies as they follow eco-friendly policies like wastage reduction, implementing recycling process, and limiting paper usage.
They really care about energy consumption and founded the first-ever data center in Los Angles. This excellent green hosting company cuts down the cooling cost by 70% and carbon output by more than 2000 tons per year!
Why should you get InMotion hosting service?
State-of-the-art infrastructure and had the best SSD servers to offer the fastest hosting service

Excellent reliability with 99.9% uptime

400+ applications with one-click install

Great affordable hosting plans

Fantastic technical support with best-fit solutions

industry-leading money-back guarantee (90 days)

Free site migration and daily backup
As an entirely satisfied user, I feel good to say that this green hosting service has partnered with the non-profit organization, Trees For The Future to plant the trees.
Their overall eco-strategy is fantastic, and it inspired me to get this service.
Which is best, GreenGeeks Or InMotion?
If you are confused about choosing between the above two hosting services, then you may check my detailed comparison of GreenGeeks and InMotion where I have compared the basic features of these hosting services and revealed which is the best one.
Special InMotion Discount Coupon
Do you want the special discount offer from InMotion hosting? If yes, then check the InMotion hosting coupon details for WPGlossy readers. Enjoy the vast concession and save your hard-earned cash.
4. A2 Hosting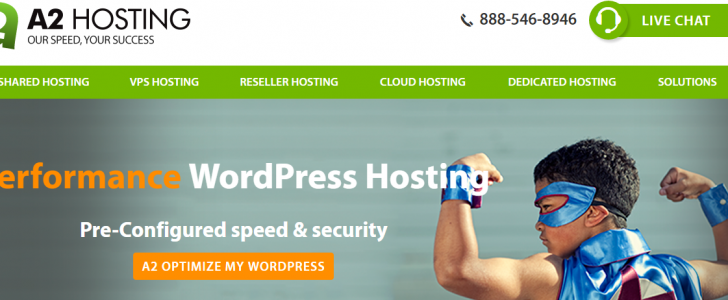 A2 Hosting claims that it is the best green hosting solution that boasts high-performance features. Since it has been headquartered in Ann Arbor which is nicknamed as "Tree Town," the company felt that it is essential to protect our global environment.
Thus, in 2007, A2 Hosting has partnered with Carbonfund.org (a leading organization to fight against global climatic change) to offset their carbon footprint. Planting the trees, reducing the trash, and recycling the older servers are the best features of this best green web hosting service provider.
Planting the trees, reducing the trash, and recycling the older servers are the best features of this best green web hosting service provider.
Following are the impressive features of A2 Hosting
Faster page loads with optimized servers (20X faster)

99.9% uptime guarantee

Perpetual safety measures to keep your site secure

Free account migration & anytime money-back guarantee

knowledgeable & user-friendly customer support

Cloudflare free CDN

Reasonable pricing plans

Any time money back policy
This eco-friendly web hosting allows their employees to work remotely from their homes to avoid unessential carbon-di-oxide emissions. Their primary goal is to offer blazingly fast and ultra-reliable solutions which are fantastic things!
5. iPage Hosting
You might be wondering, is iPage hosting a green company? And yes, it is! Let me tell you the details of this amazing hosting service which makes the green web!
iPage is an EPA Green power partner that certifies its data centers and supporting web servers are powered by wind energy. It purchases renewable energy certificates to offset every KWH energy usage by 200% wind energy.
These are some of the best qualities of iPage green hosting that you would like to check!
World-class technology

Unlimited resources

millions of worldwide, satisfied customers

expert customer care

30 days money-back guarantee.
As it is an environmentally responsible hosting service, I have kept it on my list of the best green web hosting companies of 2023. If you get this wind-powered hosting, you can proudly say that you are preventing the tons of carbon-di-oxide release annually which is equivalent to the plantation of 244 acres of trees. 
Check iPage Hosting Price Offer
Final Thoughts On Excellent Green Web Hosting Services
Researchers have shown that our environment becomes unstable and hence we should opt for eco-friendly products & services to make a significant difference.
As a web enthusiast, I would request you to consider getting a green hosting service for your business website and save the atmosphere from pollution.
As they buy renewable energy credits to offset the carbon emissions and use energy-efficient servers, you can proudly say that you are not making any carbon footprint on the web by getting this type of environmental-friendly hosting and adding the green badge to your site.
Before choosing the green web hosting service provider, it is recommended to read all their policies and procedures. Make the price comparison, and check their green support.
Look at the other critical features like Speed, Security, Performance, SSL Certificate, and Backup methods. Some say they offer a 30-day money-back guarantee; however you need to check their refund procedures.
What do you think about these best green web hosting companies that I have listed in this post? Are you going to pick the green hosting provider to run your sites?
So, if you're looking for affordable and eco-friendly hosting services for your WordPress site, then green web hosting services are just for you.
I have 2 excellent recommendations! You may either go with HostPapa or GreeGeeks green web hosting companies. I have exclusive offers for you!
Exclusive GreenGeeks Price Offer