Do you want to choose between Gutenberg vs Elementor? When you are confused about selecting the right page builder for WordPress to create stunning web pages, keep reading my article! I have more than 10 years of design experience; hence I can guide you to get the best!
Users can customize any website or online store with a CMS like WordPress and a powerful page builder plugin. Searching for a page builder for WordPress will show you several free, freemium, and premium options.
You'll always find tools like Elementor, Gutenberg, Beaver Builder, WPBakery Page Builder (formerly known as Visual Composer), and so on in your journey to find the right plugin to make your site more interactive for high user experience.
Picking the right tool would be challenging for a beginner. Elementor and Gutenberg are the two best options for designing a custom landing page or homepage. But which tool offers more features? Elementor or Gutenberg?
Let's find out! My blog post will show you the complete Gutenberg vs Elementor comparison. Which tool would be ideal for designing your next website or WooCommerce store? Keep reading this post! Let me start with a brief intro of Gutenberg and Elementor for your understanding.
Gutenberg: An Introduction
When the WordPress development team released version 5.0, it came up with a brand new content editing experience – Gutenberg. Gutenberg replaced the content writing/editing style and capabilities.
These days, Gutenberg is a popular tool available to design a web page. Plus, most WordPress plugin developers have started creating dedicated Gutenberg blocks to ensure they won't miss out on the incredible opportunity to grow.
FSE themes (Front Site Editing) are also getting popular nowadays, so we can ensure Gutenberg would be a feasible option for custom page designing. Gutenberg will be ideal if your main goal is an in-built page builder for your website.
Since it completely replaced Classic Editor, people have started using blocks to create blog posts, custom landing pages, etc. Besides, it is getting regular feature updates and is being used by industrial experts.
Elementor: A Quick Intro
Elementor is one oldest and most popular WordPress page builder tools. It is a freemium tool too. The free version of Elementor (Elementor Lite) can be found on the WordPress plugins repository.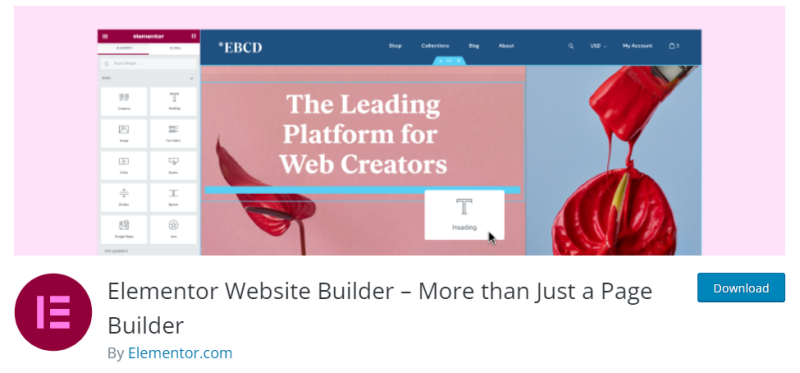 Over 5 million websites use Elementor to design their online store, Blogs, and business sites.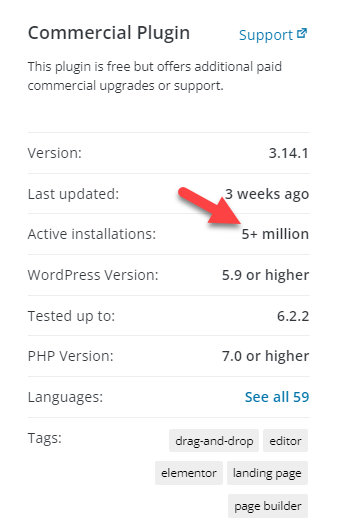 On top of that, more than 5700 users left a five-star rating for Elementor.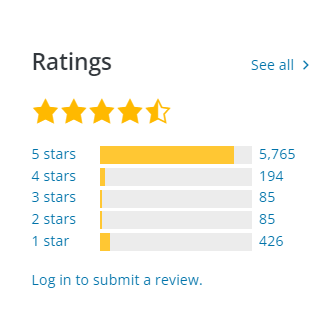 With the free version, do limited customizations on your website. But you must buy their premium subscription for more cutting-edge features. We will learn more about the pricing options of Elementor later in this article. Meanwhile, check the Elementor Free Vs Pro comparison.
Gutenberg vs Elementor – Which Is The Best Page Builder?
In this comparison, we will look at both tools
Performance
Ease of use
Available pre-made templates
Integration options
Pricing
Support
Without any further ado, let's get into the comparison.
Performance: Gutenberg vs Elementor
Google is using page speed as a ranking factor. Hence, your website must be blazing fast to outrank your competitors and gain more visitors. Most page builder plugins will add extra JavaScript and CSS codes to the website, slowing the overall site. Let's see which page builder offers optimized performance.
Gutenberg
Since Gutenberg is integrated with every updated WordPress version, so you don't want to install external plugins. This doesn't mean the Gutenberg editor will not slow down the website.
If you use too many (I mean way too many) blocks to a single page to create a design, this can hurt the overall speed. You should also ensure your theme and plugins are compatible with Gutenberg.
These days, most themes and plugins are compatible with the Gutenberg editor. So, that won't be a problem.
Elementor
Elementor is a heavy WordPress page builder plugin. The tool has great customization features but can also slow down the website. But if you use a dedicated WordPress caching plugin like WP Rocket or FlyingPress, the performance issues can be handled.
Enable the JavaScript optimization methods, and you are good to go. Elementor has some in-built performance optimization options to make things even better.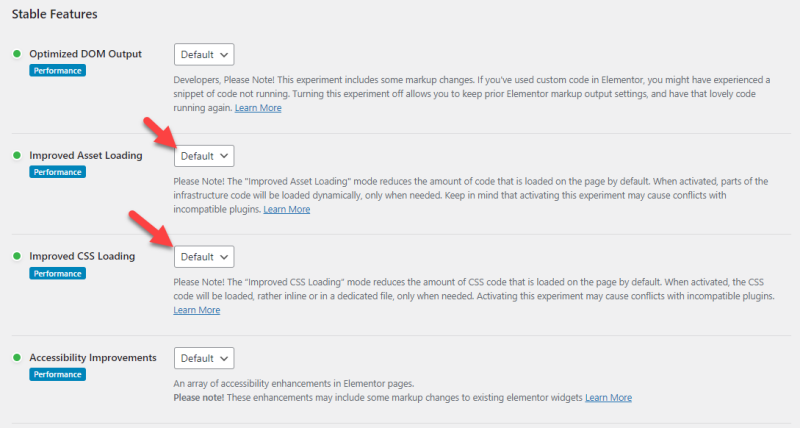 Enable the optimization options to speed up the website. However, most beginners do not know about the feature. They won't enable it and will end up with a slow-loading (but beautifully built) website. It is more likely to speed up Elementor site.
Winner: Elementor
Elementor comes with in-built speed optimization methods. This is ideal for optimizing the performance of your website.
Ease of Use: Gutenberg vs Elementor
Using a page builder plugin that is easy to use will help you create custom designs without any hassle. Do not choose the design tool where you want to manually enter CSS or HTML codes to create and style structures.
Let's see which plugin offers an easy-to-use experience between Gutenberg and Elementor.
Gutenberg
You will deal with blocks while using Gutenberg to edit the page. Here's an example of a Gutenberg editor: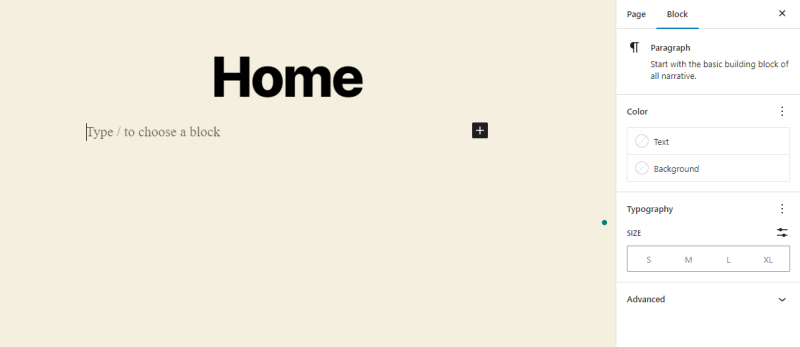 This is very simple and got a minimalist design. To add elements to the page, use/method.
For example, to add images to the page, search like /image. Similarly, you can click the + button on the top to see all the blocks.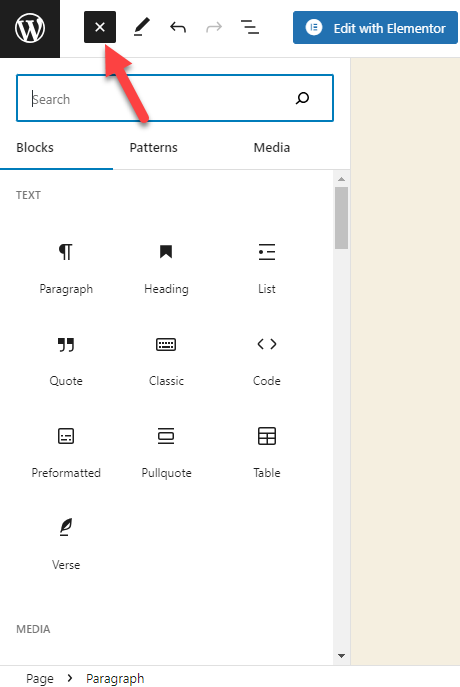 Most plugins will also add desiccated Gutenberg blocks. So, go through the available options and design the page accordingly. It is so simple.
Elementor
Use the drag-and-drop editor to create a custom design with the Elementor plugin. Once you have opened the page to modify, click on Edit with Elementor.
You will be redirected to the Elementor editor then.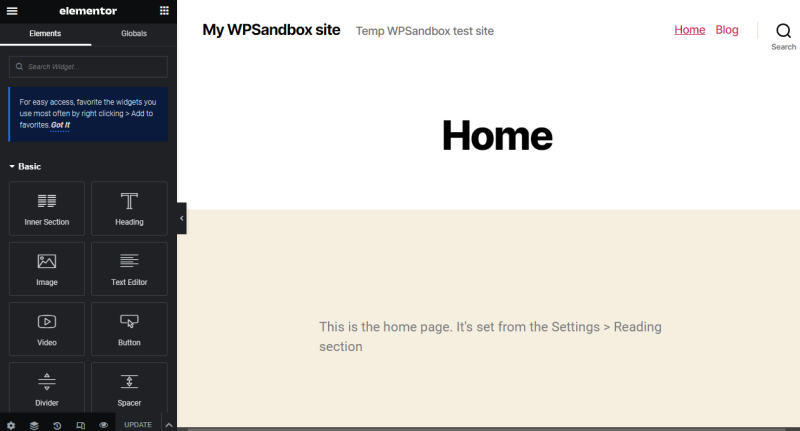 On the left-hand side, you will see all the elements to embed inside the page. From there, drag an element and drop it inside the preview section.
This way, add new elements to the page. And when it comes to editing it, select the block. On the left-hand side, you will see all the configuration options.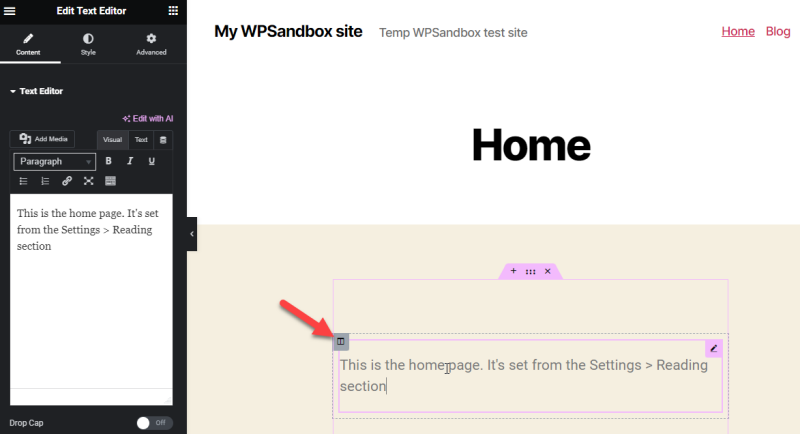 As you can see, Elementor also offers an easy-to-use editor.
Winner: Tie
Both plugins are easy to try. There is no coding part; create pages within a few seconds or minutes.
Custom Templates: Gutenberg vs Elementor
If the page builder got pre-designed templates, it is a plus. Most people will sit in front of a desk and analyze multiple design options to find a suitable structure for the website.
If you lack design skills, this can be challenging. But do not worry. Let's see whether Gutenberg or Elementor has pre-designed templates.
Gutenberg
Gutenberg doesn't comes with pre-made templates. But some WordPress themes can help you with the designs.
For example, if you use the GeneratePress theme while you import the demo templates, the theme will ask which page builder you will use.
Once you have selected Gutenberg as the editor, the theme will display all the templates that fall under Gutenberg.
From there, choose an option. The templates would be limited but customizable. You won't get many options like other plugins' pre-made templates.
Elementor
Elementor comes with many pre-made templates to use.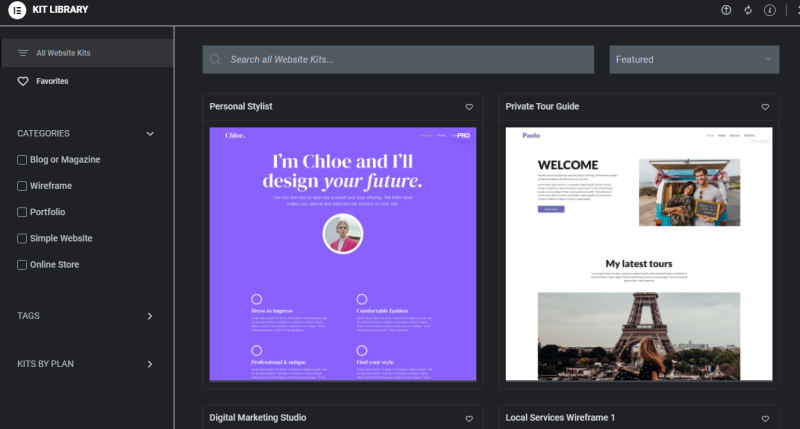 Through the page, filter website templates based on your blog's niche or industry. All the templates are 100% customizable. Hence, redesign and match the templates with your brand colors, fonts, etc.
This will improve the website designing process.
Winner: Elementor
To design a website quickly, choose Elementor!
Integrations: WordPress Block Editor vs Elementor
Integrating tools with third-party services are always great. It makes the website better and more powerful. Let's see which plugin offers better integration options.
Gutenberg
There are several add-ons for Gutenberg. Some awesome ones are Spectra, Kadence, Advanced Gutenberg, etc. They don't need any additional configurations. Once activated, you get access to all their blocks.
Elementor
Elementor also has a couple of third-party add-ons. Tools like Ultimate Addons for Elementor and Happy Addons are popular plugins. With the tools, enhance the Elementor features.
Winner: Tie
Both tools have add-ons that can help you build stunning websites without hassle.
Pricing: Gutenberg vs Elementor
Pricing would be one of the main concerns when choosing a page builder plugin. Here's how much Gutenberg and Elementor will cost you.
Gutenberg
Gutenberg is a free WordPress page builder. Gutenberg will be installed after you install WordPress CMS on your web hosting. You do not need to install third-party tools.
Elementor
Elementor is a freemium plugin. The free version can be downloaded from the WordPress plugins repository. The lite version has basic features. When you need more features, upgrading would be a good choice.
Elementor Premium does have four pricing options.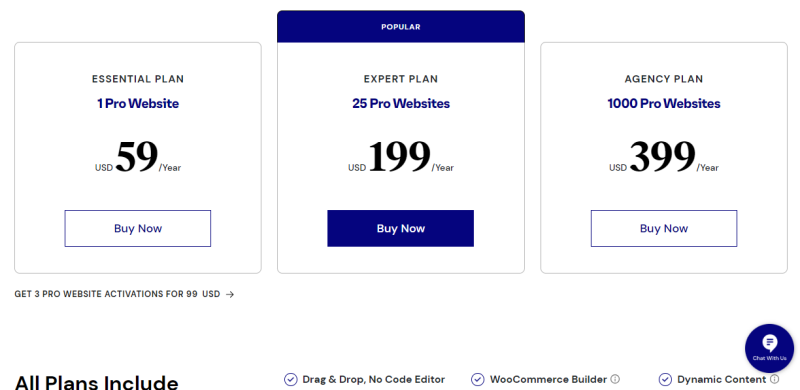 Essential Plan – $59/year
Three Websites Plan – $99/year
Expert Plan – $199/year
Agency Plan – $399/year
Choose a plan according to your preferences. All the plans come with a whopping 30 days money-back guarantee. So when you are unhappy with the platform, get a complete refund.
Winner: Elementor
Both plugins offer free options. When comparing the features, Elementor wins.
Support: Gutenberg vs Elementor
To get help, contacting the support team would be the best thing to do. This section will show you which plugin has a better customer support team.
Gutenberg
Gutenberg editor has an active support forum.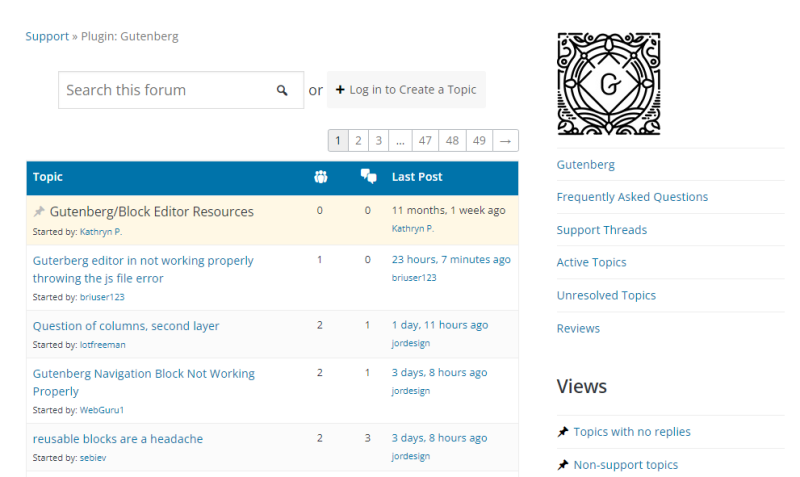 Post your issue there and get help. The help and support of the Gutenberg editor is minimal. You should go to multiple websites to find a possible fix.
Gutenberg won't be an ideal tool when you get some significant issues.
Elementor
Elementor comes with an excellent support team. If you have installed the free version of Elementor and need support, create a new thread inside the support forum.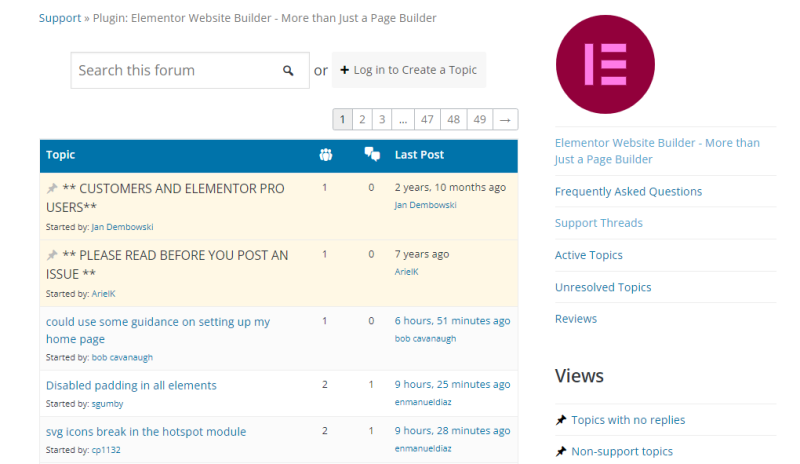 One of their experienced support staff will get back to you with a solution. On the other hand, the premium version of Elementor users will get priority support.
You can raise a support ticket, and their support team will get back to you within a business day.
Winner: Elementor
Elementor offers excellent support for its users/customers.
Gutenberg is Best for…
You should choose Gutenberg if you
Do not need a third-party page builder plugin
Need an easy-to-use platform
Doesn't want to pay for the premium subscription
Block building experience
Need a compatible solution for most themes/plugins
Start using an FSE theme
Elementor is Best for…
The Elementor page builder will be the best option for
Cutting-edge features
Affordable option to build pages
Great support team
Custom pre-made designs
AI integration
An easy-to-use page builder
Gutenberg Vs Elementor, Which Should You Get?
Want to design a custom page without touching a single line of code? You should get a page builder. Elementor and Gutenberg are popular tools for creating custom landing pages or similar designs.
If you prefer getting a powerful tool that can create elegant designs, Elementor is the best option. On the other hand, if you are not planning to spend time using a third-party plugin or work with an FSE theme, check out Gutenberg. WordPress Block Editor Vs Elementor, which is your pick?
Check Other Elementor Comparisons