Do you want to buy web hosting with Cloudflare CDN to make your site load super fast? You have come to the right place to know some reliable hosting companies that offer Cloudflare service.
In today's world of fast-paced environments, every second counts, and your website performance is not just a convenience but a competitive advantage over others.
Website speed is a crucial factor affecting search engine rankings and user engagement. Turning to a Content Delivery Network (CDN) for the best website performance would be best.
Hosting providers are pivotal in ensuring your website runs smoothly and has a blazing speed. When they integrate with Cloudflare CDN, the result comes out to be spectacular.
But with the plethora of hosting choices available in the market, selecting the best one for your needs takes time and effort. That is where we come in.
This article will explore the best hosting that offers Cloudflare CDN integration that can help you supercharge your website performance and user engagement.
Understanding Cloudflare CDN
A content delivery network (CDN) is a network of strategically placed servers across the globe that help deliver web content such as images, scripts, and videos to users more efficiently.
Cloudflare is a widely acclaimed CDN provider known for its exceptional performance, ease of use, and robust security features. As per the Kinsta report, Cloudflare Is Used by 79.9% of all websites that rely on Content Delivery Networks.
So, why should you use a CDN? Let's dig deeper!
Benefits of using Cloudflare CDN for website performance:
Improved loading speed: Its extensive network reduces the distance between your website content and visitors. It reduces loading times and ensures faster user experiences.
Enhanced Website Availability: Cloudflare employs advanced caching techniques to ensure your website remains available to visitors most of the time.
Advanced Security: It offers protection against online threats like DDoS attacks and malicious bots by filtering traffic through its global network.
SSL/TLS Encryption: Cloudflare offers SSL/TLS encryption, which secures data transmission and boosts search engine rankings.
Global Reach: With data centers worldwide, Cloudflare enables websites to load quickly, irrespective of visitor geography.
Thus, by choosing the web hosting provider that offers Cloudflare CDN integration, you can harness these features to enhance user experience, security, and performance.
Top 8 Web Hosting With Cloudflare CDN Integration
I've curated a list of the best hosting services that let you integrate Cloudflare CDN for improved site loading. They also provide security and reliability to your business site. Let's get into the details.
1. Cloudways ($30 Discount)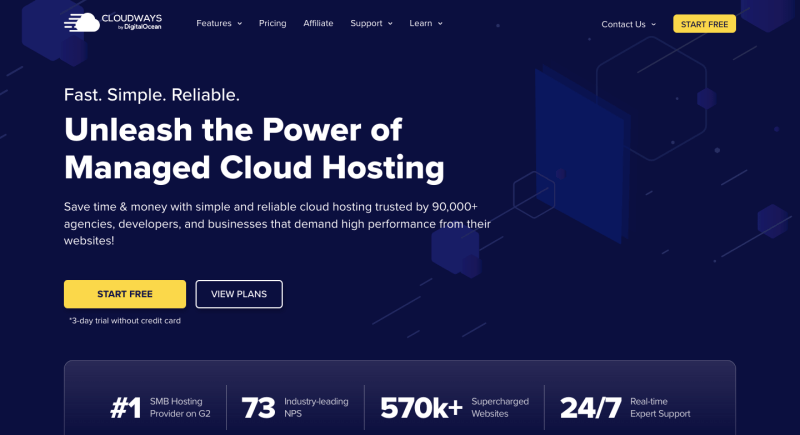 Cloudways is a renowned name in the web hosting industry. It offers a wide range of hosting solutions catering to the needs of businesses of all sizes. This managed hosting provides a comprehensive suite of features that ensures high speed, security, and reliability.
You can easily manage the Cloudflare CDN settings through the Cloudways platform. It also offers the flexibility to choose multiple cloud providers like AWS, Google Cloud, and Digital Ocean. They also allow you to scale your hosting resources as needed for the site.
Key Features:
Cloudways provides managed cloud hosting, which will handle all your needs and server issues.
It has advanced cache features for quick page loading. You can easily activate Object Cache Pro here.
It also provides advanced security features and precepts for DDOS attacks and malware.
Cloudways Promo Code is available for my readers. it gives you a $30 discount on any pricing plans. Use the coupon code – WPGLOSSY and grab the offer.
Through its Cloudflare integration, you can enable Edge Page Cache to reduce your site's LCP and TTFB values.
For these reasons, I recommend Cloudways as the best web hosting with Cloudflare CDN.
2. A2 Hosting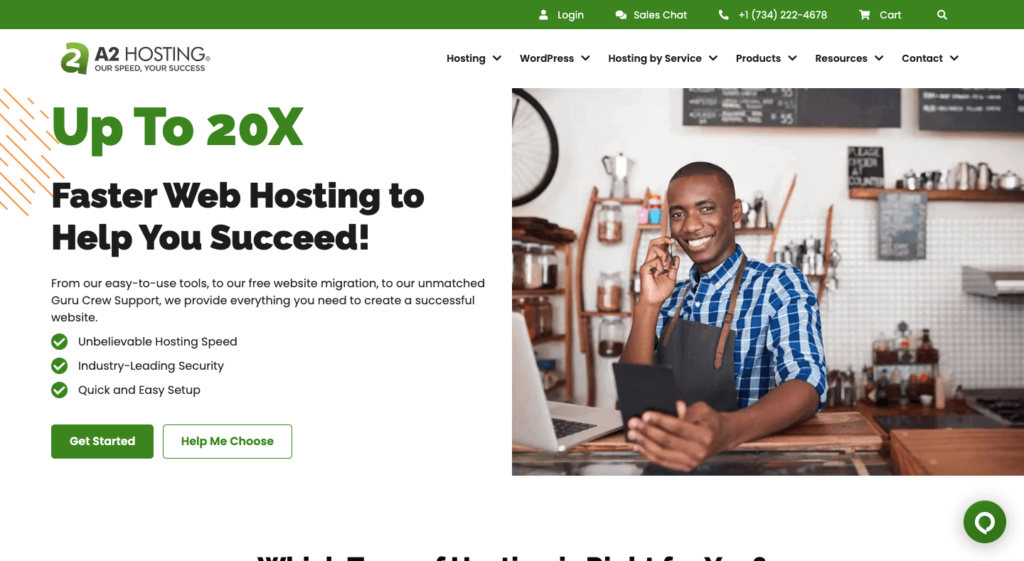 A2 Hosting is a well-established provider in the market and is known for its service for the blazing speed of your site. It integrated its turbo servers with Cloudflare CDN into its hosting services.
What I like about this hosting is its extensive portfolio of different types of web hosting, plans, and offers. Also, they allow month-to-month payments without forcing you to buy for a year upfront.
Key Features:
A2 hosting uses powerful Turbo servers to supercharge your website performance by 20X faster than others.
They also offer free site migration, so you don't have to worry about your site migration and technicalities.
For your assistance, the customer team is available to help 24/7.
3. Siteground
Siteground is a hosting provider known for its exceptional performance and reliability. Its collaboration with Cloudflare ensures that the website hosted on its platform benefits from faster loading times, enhanced security, and global CDN.
Their customer support is highly regarded, assisting with any technicalities or issues you face. Siteground is the top hosting for WordPress hosting, but it also allows you to host a site built on Joomla, Drupal, and other CMS platforms.
Key Features:
Siteground offers a complete package of managed services for WordPress sites. And for this purpose, it's widely preferred web hosting.
It offers a free SSL certificate and provides advanced security features.
Very easy-to-use panel and one-click software install
4. InMotion Hosting
Established in 2001, it made its presence in the web hosting industry by offering reliable hosting and comprehensive features. They offer a wide range of services like shared hosting, dedicated hosting, and VPS hosting.
What I like the good thing about InMotion is that it offers fast speed by integrating CDN and free SSD storage. This results in faster page load time and overall best user experience.
Key Features:
InMotion provides a 90-day money-back guarantee in case you change your mind
Offer quicker load time and blazing speed by providing free SSD storage.
US-based customer support available 24/7/365 (Live chat included)
5. DreamHost
DreamHost is one of the most affordable and reliable web hosting service providers, especially for beginners with little experience with web servers. They offer various hosting solutions like manage, shared, and even dedicated hosting.
The good thing about DreamHost is that they offer unlimited bandwidth. Thus, you don't have to worry about handling high traffic on your website or paying extra costs for the same. DreamHost is the perfect choice for any scale of business.
Key Features:
Free domain name for a year, along with domain privacy protection
Unlimited website hosting and unlimited email accounts
One Click installations feature to install popular software and apps like WordPress with just one click
6. WP Engine
If you are searching for the best WordPress hosting with Cloudflare CDN, WP Engine is an ideal choice. Though their hosting plans are expensive, experts consider them one of WordPress's top web hosting choices.
The platform is designed for all types of businesses using WordPress as a CMS. Apart from advanced security features, they also allow Global CDN integration. They automatically create the cache of your site contents, reducing load time for your site visitors.
Key Features:
WP Engine is known for managed WordPress hosting, and they take care of all your technical aspects of the site.
Offers unlimited data transfer, free backups, and free fixes in case your site gets hacked
Expert support team to help you with any issues 24/7, with an overall 96% customer satisfaction score
7. Kinsta
Kinsta is among the premium web hosting providers that offer managed WordPress hosting with Cloudflare CDN integration. This collaborative integration delivers outstanding performance and security to websites.
Kinsta has a user-friendly dashboard that simplifies website management, making it the top choice for premium WordPress users. Whether you run a website, personal blog, or e-commerce site, Kinsta ensures a top-tier online experience for all your visitors.
Key Features:
Fast content delivery network with a presence in 200+ cities.
Very user-friendly and easy-to-manage MyKinsta hosting dashboard.
Uses the Google Cloud platform and the latest technologies that enhance web performance and scalability.
Kinsta is the best hosting that offers Cloudflare CDN, especially if you want a managed WordPress hosting solution.
8. GreenGeeks
GreenGeeks stands out from the competitors for its commitment to environment-friendly hosting services. With integration with Cloudflare CDN, GreenGeeks takes its hosting service to the next level.
In addition to their commitment to green initiatives, GreenGeeks also offers robust web hosting services for all types of businesses. For users seeking sustainable hosting that doesn't compromise with speed and security, GreenGeeks is an excellent option.
Key Features:
GreenGeeks offers free Cloudflare CDN integration that speeds your site loading time
30 days money-back-guarantee and free domain for a year
Automatic backup and advanced security features
FAQs on Best Hosting With Cloudflare CDN
1. Is Cloudflare suitable for hosting?
Ans: Cloudflare is not a traditional web hosting provider but a CDN and web security company. It enhances web security speed when integrated with your hosting provider.
2. Does Cloudflare provide free SSL for a lifetime?
Ans: You can get free SSL from Cloudflare if you integrate it with your hosting provider. But if you don't want to use it, there is a free option to use Let's Encrypt.
3. Is Cloudflare DNS faster than Google?
Ans: Regarding speed, Cloudflare DNS outperforms Google DNS because of several things like the number of servers, global coverage, and network optimization.
4. What are the downsides of using Cloudflare CDN?
Ans: Though Cloudflare is a widely used CDN globally, only some beginners face configuration complexities and compatibility issues with some plugins.
5. Is Cloudflare CDN included for free with these hosting providers
Ans: Many hosting providers offer free Cloudflare CDN integration with their hosting plans. However, it's essential to check and confirm before purchasing.
6. Which is the best Cloud hosting with Cloudflare CDN?
Ans: Cloudways is the best choice! You can easily integrate the CDN through a few steps here. Moreover, you can pass the core web vital assessments with this active collaboration.
Wrapping Up The Best Hosting With Cloudflare Integration
In this comprehensive guide, we've explored the world of the best web hosting with Cloudflare CDN. By now, you have a clear understanding of the crucial role played by CDN.
So, choosing the right hosting provider that seamlessly integrates with Cloudflare CDN will boost your website performance significantly.
As per my experience using various web hostings for my sites, I recommend Cloudways & A2 Hosting. They offer a user-friendly platform with exceptional scalability and boast high-speed hosting optimized for Cloudflare CDN.