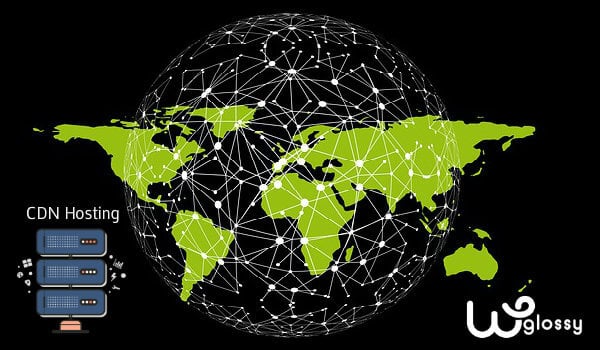 Are you looking for the best CDN hosting to speed up your WordPress business website?
If yes, you have reached the right place to know some of the web hosting with the CDN feature so that you can make your site loading blazing fast in 2020 and beyond.
Not only you, but most site owners also get confused when it comes to using or purchasing the content delivery network (CDN).
Instead of buying the CDN as a separate service for your business website, it would be better to get the CDN web hosting, and yes, it is nothing but the web hosting company that offers the CDN quality along with their server service. 
You might be in the dilemma of whether to get the web hosting that comes with the CDN or not! Well, first, you should know some valid reasons for using the content delivery network for your website. 
But before that, the basics of CDN should be cleared to make effective purchase decisions. 
Why Is CDN Important For WordPress?
So, let's dive straight into why CDN is required for WordPress websites.
#1. Instant Loading At The User's End
As per a survey, there are nearly 1.6 billion websites that are live on the internet. Out of which, WordPress dominates the content management system market with a 60% market share, and more than 30% of websites use WordPress.
To make your website featureful and attractive, you must use plugins and themes. However, these plugins and themes have JavaScript, CSS, and Flash files that increase the loading time and the users might have to wait to access your website.
However, that does not mean that you have to remove all the third-party extensions from your WordPress dashboard so that your website could load faster because, for better user experience and smooth functioning, you cannot uninstall the necessary plugins on your website.
Along with the WordPress' elements, other reasons for your website's slow loading speed are differences in geographical location between your website server and your visitors and the number of visitors requesting your website at a time that would create a load on the server.
Whenever visitors come to your website, they are redirected to your hosting's server, and the server response time should be minimum. 
For example, you have purchased a hosting server based in the United States, and now your users have to interact with their US servers to connect with your website; otherwise, they would get a poor loading experience. 
Suppose you are maintaining a highly engaging website where you entertain thousands of visitors. In that case, the server load might not be able to cope with the number of visitors and eventually make your website load slower or might crash the server altogether in the worst-case scenario.
To manage your highly engaging website and provide a perfect experience to every visitor, your WordPress website loads immediately, which must be when CDN comes into the picture.
CDN is a series of servers distributed across various geographical locations. The content of your website, like JavaScript, images, Flash, and videos, would be cashed and stored in these CDN servers.
Whenever the users try to visit your website, they are redirected to the nearest CDN server instead of going to the main server's location.
At the CDN server, your static data would be already cached so users can have instant access to your website. Hence, a CDN server mitigates the distance between two geographical locations and improves website rendering and performance at the user end.
#2. Benefits Of SEO Ranking
As you might be aware, loading speed is one of the most critical UX signals that Google considers to rank a website. Thanks to CDN, your dramatically improved website loading speed eventually adds SEO value and improves your position in search engine result pages.
#3. User Segmentation Becomes Easier
CDN allows your website to provide a dynamic layout based on where you are getting traffic from. So, you can give different and optimized versions of your website to the users of mobile, desktop, tablets, etc.
Moreover, you can effectively target different kinds of users and provide a dynamic user experience to each of them.
#4. Robust Data Management
CDN service providers give excellent data management to website owners. You can store sensitive information and ensure the maximum privacy of your data at your CDN servers.
If you are selling products through your WordPress website, you can entirely rely on the security and storage capacity of CDN servers. Usually, you won't encounter any masquerading, denial-of-services, or any other security glitches.
Who Needs A CDN?
Today, as the number of websites has increased daily, hosting service providers have started providing CDN services to their customers.
Although the content delivery network can make your website quickly accessible throughout the globe, are the CDN servers necessary for all the sites?
Integrating CDN will require investment, time, and energy as you must also pay the charges for using it. Hence, it is necessary to determine whether you need CDN or not.
Here is the list of who must purchase hosting with CDN for their website.
1. People Who Offer Downloads On Their Website
Does your WordPress website offer content that is supposed to be downloaded on the local system of the user to access it? Then, you should give serious thought to using CDN for your website.
Because whenever your visitors download content from your website, the server has to establish a connection and send the data via hops to the person's system.
Hence, if the distance between the user and the server is long, the downloading will become slower and tiresome.
2. E-Commerce Websites
If you are running an online store that sells goods across the globe, you should try CDN for your WordPress site.
Because your website will be accessed across the world and you don't want your potential buyers to keep waiting to access the website due to server overload.
Hence, as a business owner, make your online store seamlessly accessible through the CDN and scale your ROI effortlessly.
3. Websites That Host Webinars Or Stream Live Videos
As already discussed, multimedia content demands more amount of data for accessing them compared to data used for textual content.
Hence, if you are a blogger who hosts regular webinar podcasts or you manage an online streaming website that broadcasts live sports matches frequently, you will require a CDN for a better user experience on your website.
Even if you publish videos of the latest songs, movie trailers, and highlights of matches, then a good CDN server will make your users' access your website more accessible and allow them to stream videos comfortably.
4. Online Gaming Sites
Gaming portals should have robust and scalable CDN servers to allow gamers to play online games. These games have real-time scenarios where users cannot afford to lose connection with your website even for a second.
Hence, to entertain thousands of players at a time, a single server won't greatly help your business.
5. Developers And Bloggers
Game and software developers need to let their prospects download or check the demo online before purchasing their product.
At that time, a single server has to hustle a lot to sustain the live demo of an app or software in the size of megabytes. The server may have latency in maintaining the website accessibility while ensuring a live demo of the product.
A blog that has subscribers and readers across the globe should use CDN to manage thousands of readers at a time without giving any latency. A slow blog will face decrements in search engine ranking and bad user experience too.
Top 12 Fastest CDN Website Hosting Services To Buy In 2020 
You might search which is the best WordPress hosting with CDN. Here is the list of best CDN hosting 2020 you can try for your business.
#1. CloudwaysCDN (Best Choice)
Cloudways is a managed cloud hosting platform that provides affordable hosting solutions to individuals, businesses, and agencies. They have 24/7 customer service support and have PHP 7 ready servers.
Along with usual hosting services, Cloudways offers CDN servers to their prospects at a starting price of $1 per 25GB, and hence it is one of the cheap CDN hosting for WordPress. 
They also provide HTTPS support to websites and assure improved response time, more reachability, and eventually more ROI through their WordPress CDN hosting.
We are using the best cloud hosting CDN service for this blog, WPGlossy, and here is the detailed guide on how to integrate CloudwaysCDN to WordPress site. Just use our Cloudways discount code and get the maximum price reduction offer.
#2. Kinsta CDN (High-Performance CDN Hosting)
Kinsta has partnered with KeyCDN, an HTTP/2 and IPv6 enabled content delivery network, to provide excellent CDN hosting services to their customers. They have CDN servers across 35 different locations, so making your website accessible throughout the globe.
Moreover, you don't have to pay an extra amount to use Kinsta CDN for your website. Your Kinsta hosting plan will have a generous amount of free CDN available. Below is the screenshot of the free bandwidth you get with your existing Kinsta hosting plan.
#3. A2Hosting CDN
A2 Hosting was started as a hobby by its owner and has now become a functional hosting service provider company. They started their journey back in 2001. Today, A2 Hosting commits to offer 99.9% server uptime and have 20x faster servers compared to other hosting providers.
When it comes to CDN, A2 hosting has three affordable Cloudflare CDN hosting package. LITE and SWIFT can manage a limited number of websites where TURBO can handle the unlimited website and provide fast WordPress hosting with SSL and CDN. Each plan has any time money-back guarantee from A2 Hosting.
#4. WPEngine CDN
WPEngine is a hosting company that is on a mission to help its customers win online. Admired by the leading websites like WPBegier, SoundCloud, and WebDevStudios, WPEngine has been accoladed with many awards.
When it comes to CDN, WPEngine has collaborated with StackPath (formerly called MaxCDN), previously known for NetDNA, to provide CDN WordPress hosting to its consumers.
People who have purchased Startup, Growth, Scale, Professional, Business and custom dedicated plans can integrate CDN servers on their website within 10 minutes without paying extra cost. 
#5. WPX Cloud CDN
WPX Hosting has developed its own custom-made CDN, known as WPX Cloud. Founded by Terry Kyle, an experienced professional in the industry of web hosting, WPX Hosting's journey started in 2013.
They have 24/7/365 days of customer support, and they have the fastest web servers on the web. This best cloud hosting CDN is given free to WPX Hosting users.
WPX Hosting doesn't charge a single penny from their users, and they haven't partnered with any other 3rd party CDN providers for the job. They guarantee to update the quality of WPX Cloud over time, and their servers are located around 20+ locations.
#6. AccuWeb Hosting CDN
With an experience of more than a decade, AccuWeb hosting manages more than 50,000 hosting accounts at their place and have servers located across the web.
They have cloud hosting, shared and dedicated hosting, VPS hosting each running on both Linux and Windows operating systems.
The content delivery network of this CDN website hosting has a traffic allocation of 10 GB per month. It is one of the largest CDN services which is available in 31 countries and has access to 107 Pops.
The security of Accuweb CDN hosting is excellent to prevent DDoS attacks and malicious usage of site features. You can sign up and use this cheap CDN hosting for one month.
#7. CloudOYE CDN
CloudOYE has a set of hosting solutions that can meet as per your project requirements. When it comes to CDN, they have POPs in more than 40 countries with a simple pricing structure. If you are looking for cost-effective, scalable CDN hosting with global reach, the CloudOYE is the ideal choice. 
They charge $0.1 per GB of traffic and they provide secure traffic management, accelerated webpage loading speed, global reach. CloudOYE has several CDN resources and cache server template to set up from their own cloud infrastructure. 
Fastest Reliable Hosting With Cloudflare CDN
I hope you know the best free CDN hosting for WordPress – Cloudflare. Below mentioned are the other renowned hosting providers that have Cloudflare's CDN plans along with their hosting service. 

#8. Siteground 
If you are looking for high-performance hosting with free CDN, then SiteGround is the right choice. All their plans include a free CloudFlare CDN, and hence, you will get access to all the speed and security features of CloudFlare. 
#9. Rosehosting 
Rosehosting is the emerging server service provider in the industry and yes, it offers Free CloudFlare integration and optimization with all their fully managed SSD VPS hosting plans. They have recognized that speeding up a website is essential and hence the support team will activate and configure CloudFlare CDN on your website in just a few minutes. 
#10. Hawkhost 
How about buying the CDN shared hosting? Yeah, you can get the Free CloudFlare integration for all the shared hosting plans in HawkHost. Just it takes 2 clicks to enable the service on any of your websites. Both the free and pro plans of CloudFlare are fully compatible with their shared hosting accounts along with the SSL support. 
#11. Dreamhost 
To provide improved speed and protection, DreamHost has partnered with CloudFlare CDN and gives Free CDN hosting for WordPress in all its pricing plans. Your business website or blog will load nearly load twice as fast when you activate the CloudFlare CDN. 
#12. Bluehost 
The shared plans of BlueHost have the 1-Click CloudFlare activation feature via the control panel through an Icon. You just need to hit the "Activate" button to get the shared hosting with CDN and lower the number of requests to your server. 
With Cloudflare's features mentioned above integrated with these hosting, you can make caching your website quickly and make it accessible immediately to anywhere in the world.
Conclusion
A Speedy business website can capture the readers' hearts and make conversions for sure! It can also get high SERPs since the fast loading site is best for the user experience!
Getting the best CDN hosting is one of the best ways to speed up your WordPress site. As there will be no geographical barriers for your website, your server load will be decreased, and content delivery will become faster. 
If you have a medium to high traffic website, then you will get the performance benefits through the web hosting with CDN quality. 
So, what are you waiting for? Out of 12 best web hosting CDN services 2019, I highly recommend the managed WordPress hosting with CDN from Cloudways and Kinsta. Get any of the services without any ado and tweak the speed performance of your WordPress site.