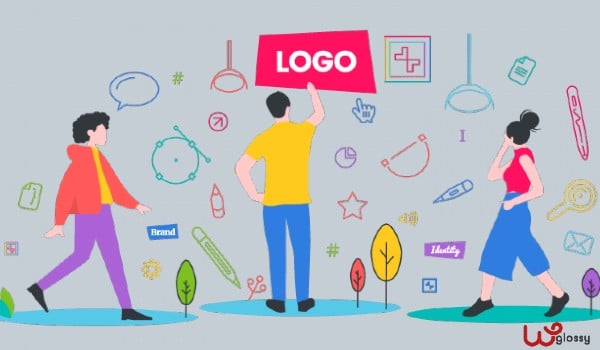 Whether you plan to build a new website yourself or hire a designer, you might have invested heavily in launching a new website. And you've probably spent months writing content, choosing images, and designing the perfect UX for improved SEO.
Or you've dug deep into your budget, hired the best, and now hope for a return. But before your site goes live, how's your logo? Is it ready to stand out from the crowd, connect with your target audience, create brand cohesion, and carry the weight of your website?
Let me ask you a few questions about your site logo!
Did you nail the balance, colors, fonts, and versatility?
Have you used the correct files?
Have you avoided these newbie logo design mistakes?
If not, your website could critically misfire.
Now's the time to ensure all is as it should be and run those final pre-launch checks. I have that checklist for you, all the logo design mistakes you must avoid, and simple tips on getting them right. Let's get into the topic!
Beginner Mistakes To Avoid While Designing Your Site Logo
Logo designing isn't easy! It's a creative challenge! Even a design expert might struggle to create a stunning output and make some logo design mistakes. Hence it is essential to understand what should be avoided while making a new logo for your company website.
1. Did you avoid this most common mistake?
Going in blind and not researching the best design practices for your specific marketplace is a common mistake. Often resulting in a logo that instantly looks out of place, sends the wrong message, and fails to engage. However, it's also easily avoidable; all it takes is a quick research.
Start by looking at your competitor's logos on page one of Google; the odds are that they have well-designed logos that suits their market if they're high ranking. And note elements such as colors, fonts, logotypes, and images. However, make sure that you're not a copycat!
Recognizing industry norms that you can use in your logo doesn't take long. From there, choose ones that suit your brand's voice and personality. It's a quick and easy way of ensuring you start your logo design on the right foot.
2. Have you designed with your audience in mind?
Another newbie error is forgetting your audience and creating a logo with unclear intentions. Logos aren't there to look pretty; we design them so they emotionally connect and instantly engage our audience's attention.
And we must do as people form an opinion on your website within 50 milliseconds (0.05 seconds) of landing, and the first visual they see is your logo. If you don't in-fuse it with design elements your audience subconsciously expects to see, viewers won't hesitate to press the back button.
The visual intention is the message you want your logo to convey; it also relays your brand's values and purpose and creates the emotional link required to engage your audience. This is where designing with your audience in mind comes into play.
For example, your logo sends vitality and movement messages if you're a fitness brand. This message would be lost if you used blue as your primary color and a formal font. However, they'd work perfectly for a financial institution.
When you design with your audience in mind, you'll create a logo that correctly reflects your visual intention, resulting in your target audience forming the correct opinion about you and your brand. So, strictly stay away from unclear intentions!
3. Over designing your logo?
Embracing clutter and making your logo too busy undermines the first rule of logo design, KISS (keep it simple stupid). It's why the very best logos are simple, using the bare minimum to convey their message.
But here's the paradox, simplicity is a complicated process. However, fortunately, you don't have to spend years at a design college to achieve it; research transparent logo design to understand the process.
Here are the three main reasons your logo has to be simple:
Your logo has to be versatile, so it's scalable without losing clarity, making it suitable for all your marketing platforms. Such as your website's header, social media avatar, email signature, and printed merchandise. All of which help create brand recognition.
Simplicity enables viewers to understand and connect with your logo at first glance.
On average, people must see a logo six times before remembering it. The simpler your design, the more memorable it will be.
You can achieve these by using only one or two fonts, an essential and relevant icon, and only adding color once you're happy with the basic design.
4. Using an inappropriate font
Underestimating the importance of font choice and choosing fonts at random is another rookie mistake. It's important to choose fonts that match your brand's personality; otherwise, you'll send conflicting messages to your audience, leaving them second-guessing what it is you're trying to say.
You should find the right fonts for your logo when implementing the first two steps of this post (researching your competitors and designing with your audience in mind). To ensure you choose ones that match your message, create two or three alternative versions, then ask friends or family how they feel when they see them.
Other things to consider when choosing fonts
Bad font pairings – Most things in life have a natural partner, white wine and fish, red wine and steak, salt and pepper, fries and ketchup, or perhaps you're a mayonnaise fan; either way, they work. If you're using a supporting font, it has to compliment your leading font so the recipe works and satisfies the viewers.
Two is the magic number – If you include a slogan/ tagline in your logo, use your primary font for your company name and your supporting font for the slogan. Your primary font should be clean and straightforward, while you can infuse your brand personality by using an elaborate font for your slogan.
I have one more suggestion for picking your logo font! Yes, you must choose the Logo font that resonates with your audience's age and demographics. Ensure that the size you pick is easy to read for them.
5. Clashing with colors
You can't do a Jackson Pollack and Throw colors at the canvas and expect them to work; there's far more to color psychology and choice when designing your logo. Like choosing the right font, picking the Logo color is crucial for your brand identity.
Firstly, your chosen color palette must suit your target audience, marketplace, and brand personality. Once you've selected a color palette that works for all three, your next step is to ensure they don't clash.
Top designers achieve this by designing black and white logos, then adding color once the concept is in place. Now you can try some of the chosen colors; again, simplicity is crucial; it's why most logos use only two colors, three at most. Keep playing around with your color palette until you find ones that work in harmony, are easy on the eye, and get your message across.
6. Improper Logo Marks
Logo marks are visual symbols used alongside your logo or separately depending on your brand recognition and requirements. They are an excellent way of creating a memorable logo usable in multiple formats. An excellent logo design tool is better for getting the job done efficiently.
You can reduce your logo to its simplest form by only using your logo mark to convey your message. When choosing a logo mark, remember it's there to support your name and slogan, not fight for attention. It also has to make sense by being relevant to the text you've used and your brand.
Simplicity is again your best course of action. Please think of the Headspace logo mark as an example; it's an imperfect orange circle and couldn't be more straightforward in design. Still, the message it conveys (nothing is perfect in life, and that's ok) is powerful, simple, and memorable.
7. Using Incorrect File
Even the most straightforward logo designs don't look right when downloaded using the wrong file type, and it's a mistake you can easily avoid. It's because the file type you choose determines your logo's versatility and ability to scale without losing definition and clarity.
Use a Vector graphic program file type to have a logo that works everywhere. If you're outsourcing your logo, your designer should provide you with one; if not, find another designer. If you're using an online logo creator, pre-check that they provide this service.
The three main advantages of using vector graphics for your logo are:
You can scale your logo to any size, from a website header to a billboard, without losing quality.
Vector file logos are easy to edit.
You can adapt a vector file to numerous other media, meaning you can use it for all your marketing campaigns.
Here, I wish to add one more suggestion! Don't use the Clipart symbol as your logo. It never helps you establish your brand as you must design a unique professional logo representing your business vision with your customers.
Few More Logo Design Mistakes To Keep Away From
Don't use generic images
Never design with Photoshop
Don't rely on free logo-making websites
Avoid using special characters
Stay away from the lengthy logo slogans
Conclusion
Making a successful logo is a tricky task! Conveying a message through the logo by balancing the color, font, and size needs much effort and creativity. As it is the face of your business brand, you should be very careful in creating a simple yet attractive logo to stand out from the crowd.
And now, you know what the newbie logo design mistakes are and how to avoid them. Just follow my guidelines, and you'll have a logo you can be proud of and one that will support your website now and for years to come.