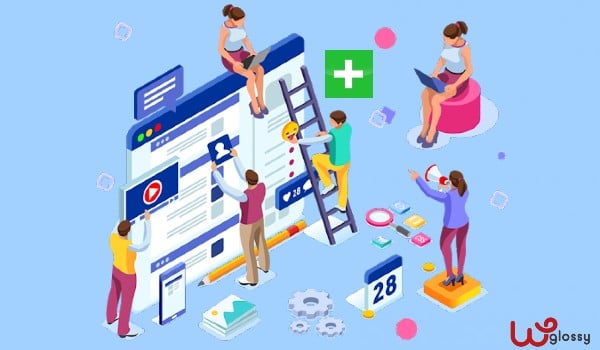 Do You Want To Start A Website For Your Small Business? Then this massive guide is specially crafted for you.
Starting a website doesn't cost a fortune anymore, and it's not that hard either. You can start your own business website in just a few simple steps without spending much money.
In this blog post, I will show you step by step how you can start your small business website within an hour and grow your business online.
So without any further time, let's dive in!
Why Your Small Business Needs An Website?
In this digital era, it doesn't matter how successful your business is; if your product/service doesn't have a website, you're leaving a significant opportunity on the table.
According to a survey, 84% of consumers think a business with a website is more credible than one that only has a social media page.
On top of that, 64% of consumers prefer to buy from businesses they can contact online.
So you can understand the power of taking your business online.
Taking your website doesn't always mean you have to sell your products or services online.
Having a simple website presence with some information about your business or product will also work as a wonder for you.
You'll not just build a good brand presence online, but you'll also attract a lot of customers and leads for free through your website.
Here are a few major benefits of having a website for your small business:
It will help you to build a good brand presence and authority for your business.
Featuring testimonials will increase trust among your customers.
You can easily give information about your business or products to your customer.
Products can be displayed in creative ways to grab more eyeballs.
You can run ads for your business on Google and social media using your website.
It will increase your credibility to perform better than your competitors.
Your customers can quickly contact you
It will make your business future-proof.
The future is online! And if you don't upgrade your business right now, you may have to face lots of troubles in the future.
Here's why having a website won't cost you much but will give you lots of perks you can't even imagine.
How to Easily Build a Website For Your Small Business? (7 Steps)
Step 1: Register Your Domain Name
The first and most crucial step of building your business website is registering your domain name. Even though it's a super important step, many businesses still make mistakes at this point.
They either use a free domain extension or subdomains provided by free website-building platforms.
But if you want people to recognize your brand and website, you must go with a brandable domain name.
If you already have an established business, you don't have to break your head looking for new domain name ideas since you can use your exact business name as your domain address.
However, sometimes the domain name you're seeking might be booked already. This situation often happens when you have a widespread business name.
But you don't have to worry if your domain name is already booked because I have a cool trick for you.
And the trick is – Use any common word before or after your business domain name.
Let me explain!
Suppose you have a business called "Paradise Island," but that domain name is already snagged by someone else.
In this case, you can add a common word in your domain name like "theparadiseIsland.com" or "paradiseislandresort."
Most of the time, you'll get these domains very easily.
So that's how you can grab a domain name around your business name if it's already booked using this simple trick.
Although If you don't have a business yet and are starting a new one, you can use a domain name generator like NameBoy to find some cool domain name ideas for your business.
The best part is you don't have to purchase your domain right now because, in the 3rd step, I will show you how you can get your domain name completely free with your hosting.
Step 2: Choose The Platform You Want To Build Your Website
Earlier, building a website was not that easy. But now, almost everyone can make a website on their own without even having to write a single line of code.
And that became possible because of website-building platforms or CMS's (Content management systems). With just a few clicks, you can also build a professional-looking website using these website builders.
But if you're starting, then one major problem you'll face is choosing the right platform for building your website. There are hundreds of website builders and CMS's available on the market. Some of them are free, while some of them are paid.
But choosing the best among them is a really heavy task. I won't lie; I also faced this situation at the beginning phase of my career. And not just me and you; almost everyone faced this situation once while building their website for the first time.
To make this task a lot easier for you I'm going to give you three options to choose from:
WordPress.org (Most used and my personal favorite)
Wix
Squarespace
I personally prefer WordPress over other website builders because not only it's the most reliable and most used website builder in the world, but it also gives you way more control over your website than other website-building platforms.
On top of that, WordPress is powering almost 34% of all websites on the internet. So you can understand the popularity of WordPress around the internet.
Quick Note: Remember that WordPress has two versions. WordPress.com and WordPress.org. WordPress.com lets you host your website on its servers, while on WordPress.org, you can host your website on your servers. The biggest drawback of WordPress.com is it doesn't give you complete freedom over your site.
WordPress is a free-to-use open-source project which means you don't have to pay any fees for using their platform, but you need a web hosting server.
On the other hand, Wix, Squarespace, and Appy Pie Website builder are also self-hosted platforms which means you don't need web hosting to use these website builders, and it will give you good design flexibility.
Overall, I would still recommend WordPress.org over other website builders because it's more reliable and will give you more flexibility over your website than any other website builder.
Now let's move on to the next step and purchase web hosting for hosting your website.
Step 3: Select Your Hosting Provider
Selecting web hosting for your website is the most important part you must follow while building your small business website. It's so important that it can make or break your website.
As I told you earlier, if you've decided to go with WordPress.org, you would need a web hosting server to host your website.
If you don't know what web hosting is, let me explain!
Web hosting is an online service provider that lets you host your website on its servers and makes it accessible to other people over the internet. The web hosting servers stores all your website files/data and makes it available to the internet user whenever they search your domain name.
In simple words, think of hosting servers as land, your website as a shop, and the web hosting provider as a landowner. It's as simple as that.
But I know one biggest problems you'll face is – choosing the right hosting for your site.
See, both terrible and good web hosting providers are available on the market. However, all of them claim to be the #1 hosting provider.
So it became quite confusing for everyone while choose the best of all. Some hosting might charge less money, but they also provide horrible service.
But there are very few web hosting providers available on the market which provide excellent hosting service at an affordable price.
And GreenGeeks is one of them!
GreenGeeks is the #1 web hosting provider I recommend, especially for small business websites. I strongly recommend this hosting not only because of its affordable rate but also for its award-winning service and out-of-the-box features.
To make your decision a little easier, here are a few reasons to choose GreenGeeks hosting over others:
Fast hosting servers – GreenGeeks uses SSD storage servers and the latest technologies like LiteSpeed, an In-built cache system, MariaDB, HTTP/2, and PHP7, which makes servers super fast.
Free CDN – A content delivery network known as CDN helps spread your server connectivity, which helps international audiences access your website faster. Premium CDNs usually cost a lot of money, but with GreenGeeks, you'll get it completely free.
30 Days money-back guarantee – GreenGeeks also provides 30-day Money-Back guarantee with all of their web hosting plans, which means if you don't like their service, then you can ask for a refund of your money within 30 days of your purchase.
Secured Servers – GreenGeeks pays very close attention to securing their web servers. They use Container-based Technology, Spam protection, real-time security scanning, server monitoring, and daily nightly backup to make your website super secure from any security threat.
Amazing Support – GreenGeeks has a fantastic support system. Their support staff is amicable and knowledgeable and will always provide solutions to your web hosting-related problems. They provide support over live chat, phone calls, and email tickets.
Free Website Migration – If you have any other website on a different web host, then GreenGeeks will migrate that website from your old web host to GreenGeeks for entirely free.
Free Domain – With any GreenGeeks hosting plan, you'll get a domain free of cost for the first year.
On top of these reasons, GreenGeeks is also very pocket-friendly, and almost every business can afford its pricing.
The pricing of GreenGeeks starts from only $2.95/mo and goes up to $11.95/mo. Now for purchasing GreenGeeks hosting, first of all, head over to their official website.
Then select the hosting plan you want to go with and click on "Get started."
Ideally, as a small business website, you can go with the Pro plan, and you can upgrade when you grow and your website starts to get more visitors.
After that, enter a domain name you want to book (It's free) and click on "Next."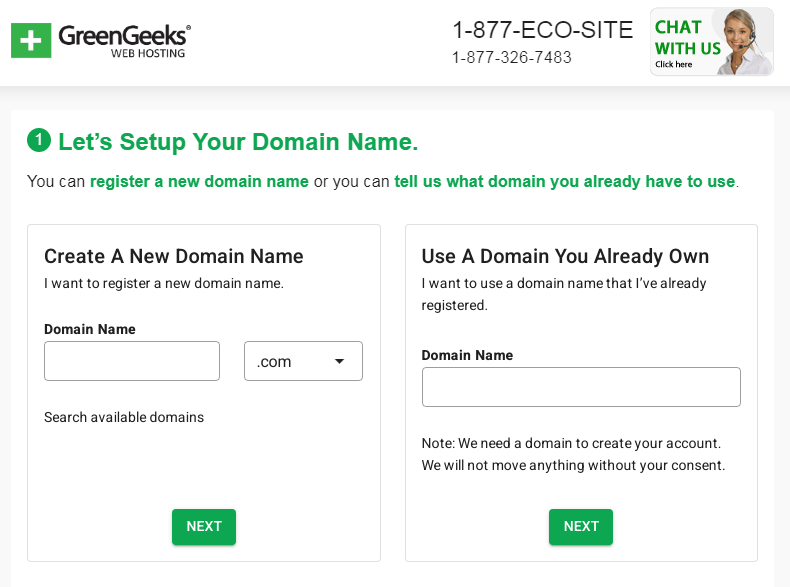 On the check-out page, fill up your account information, select your hosting tenure (Go for 24 months or more to save money on renewal) and complete the payment.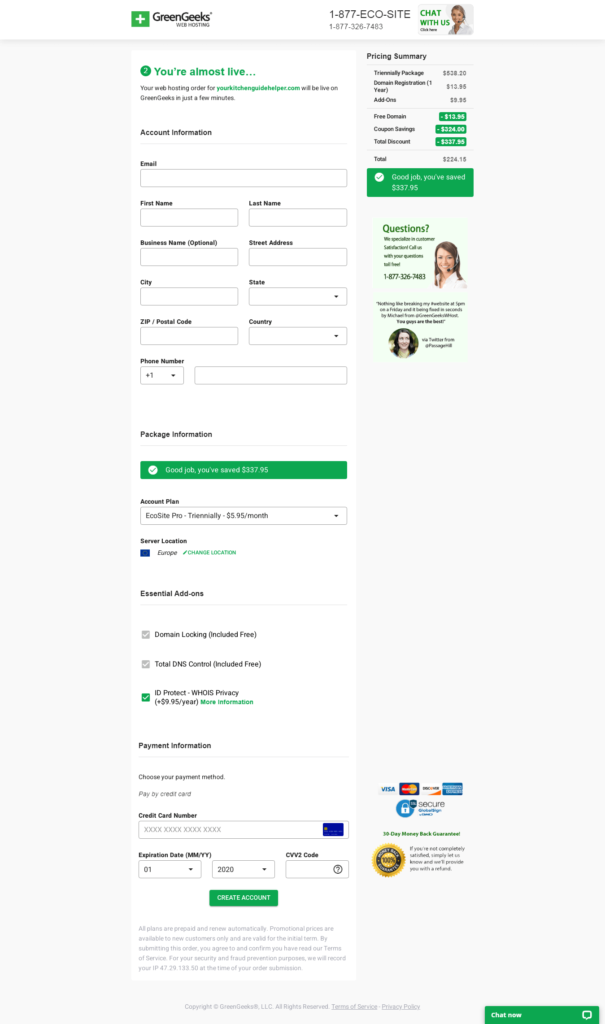 And you're all done.
Next, you'll get an email from GreenGeeks with your billing and account details.
GreenGeeks Quick Launch Wizard
How you can install WordPress in GreeenGeeks hosting? It's super easy!
GreenGeeks has launched a new tool – Quick Launch Wizard to get started with your account. Once the sales team verifies your account, you will automatically take this exceptional service with the following four options.
After picking the right choice, choose the "WordPress" App under "Select Your App" and Click "Continue."
If you are going to start an eCommerce website, then prefer the option "WordPress + WooCommerce" to set up a new WordPress installation on your account.
To speed up your site, the LiteSpeed cache plugin will be included in the installation by default. The installation will be complete, and you can log in to your WordPress account.
See how simple it is! GreenGeeks made everything comfortable for us; hence, we need to focus on business growth instead of getting more into the technicalities.
Here is the video tutorial for the "Quick Launch Wizard" of GreenGeeks Hosting
I'm sure that you can install WordPress within a minute using this feature! What are you waiting for? Just check the GreenGeeks discount, if any, and start your business website with GreenGeeks hosting.
su_button url="https://www.wpglossy.com/go/greengeeks" target="blank" background="#25a7eb" color="#ffffff" size="4″ center="yes" icon_color="#ffffff" rel="nofollow"]Get GreenGeeks Discount[/su_button]
Step 4: Choose a Theme And Design Your Website
Here's a groundbreaking fact – 57% of internet users say they won't recommend a business with a poorly designed website.
We all know, that the first impression is the last impression. And believe it or not, human beings judge something by its appearance.
We tend to attract more beautiful things. It's fundamental human nature. Here's why you must be careful when choosing a theme for your site or designing it.
By default, WordPress comes with a straightforward theme which is not quite good for a business website. That's why as soon as you install WordPress, you have to change your theme.
There are plenty of WordPress themes available on the market. Some of them are free, while some of them are paid.
Ideally, I recommend everyone start with a free theme. Still, as you're building a business website, I would recommend you choose a good paid theme because it will give you way more customization options and flexibility over your design than a free theme.
And most importantly, you can give your business website a new and fresh look. I'm not saying free themes are bad, but they have many restrictions that won't let you freely customize your site.
But the main problem is choosing the ideal theme for your website from this vast ocean of themes. I personally recommend the Astra and Divi themes since both of these themes are highly flexible in design and features.
Not only that, but it has a stack of pre-built templates for business websites that you can use.
But if you want to explore more theme options, you can go to Appearance > Themes > Add new.
And here, you'll find lots of theme options for your site!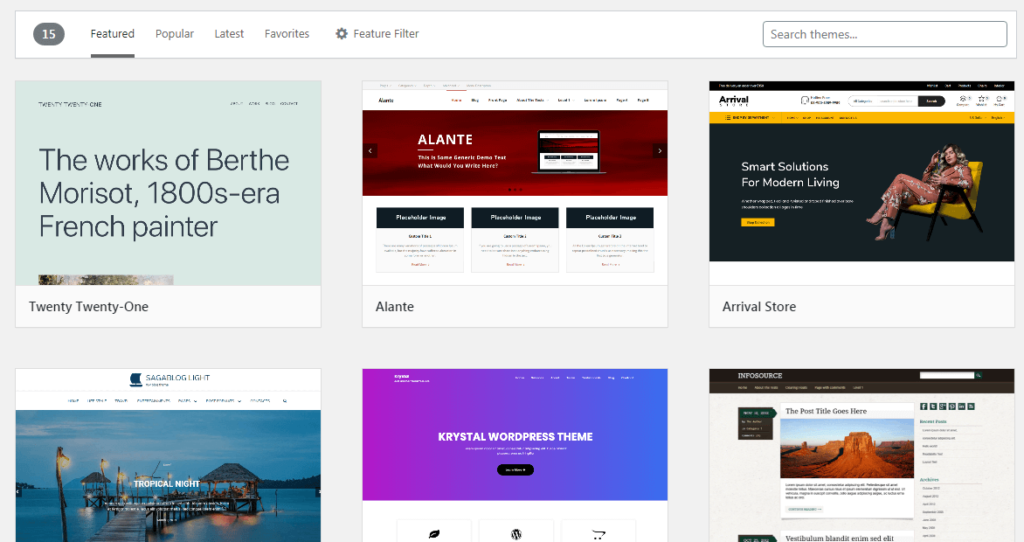 But wait! Installing a theme alone won't work. You have to customize it as well.
To customize your theme and give your small business website a new look, you have to head over to Appearance > Customize. And you'll get access to your WordPress editor.
You can make almost any changes you want to your website using this easy-to-use WordPress customizer (Without any coding).
But remember that not all WordPress themes come with good customization options. A few themes like Astra and Divi come with plenty of customization that will help you to build your site with a fresh new look.
If you are a busy business with no time to make an appealing design from scratch or don't have customization skills, then you need to rely on a reliable web design agency to get the job done quickly. They will handle things better and give your site a pleasing design that your visitors and search engines will love.
Step 5: Setup Google Analytics & Submit Your Website to Google
Now that you're almost done building your business website, it's time to set up your Google Analytics and add your website on Google so that people can easily find your business online.
Well, both of these things have different benefits, but at the same time, both of these are extremely important.
Google Analytics will help you track user activity and traffic of your website while submitting your website on Google will help people discover your website online.
Let's start by setting up your Google analytics first.
Setup Your Google Analytics
First of all, head over to Google Analytics and click on "Start measuring."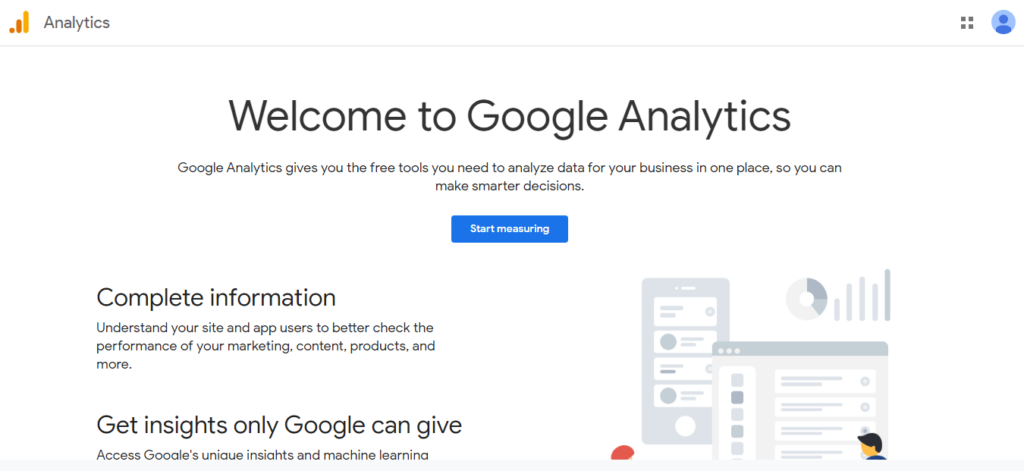 Then put a new account name and click on "Next."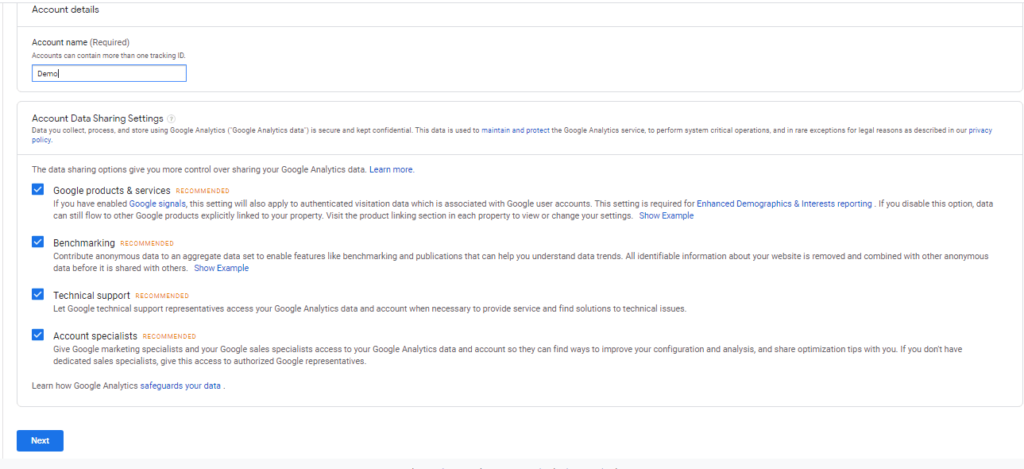 After that, enter your property name (you can put your website name here), select reporting time zone, select your preferred currency, and click on "Next."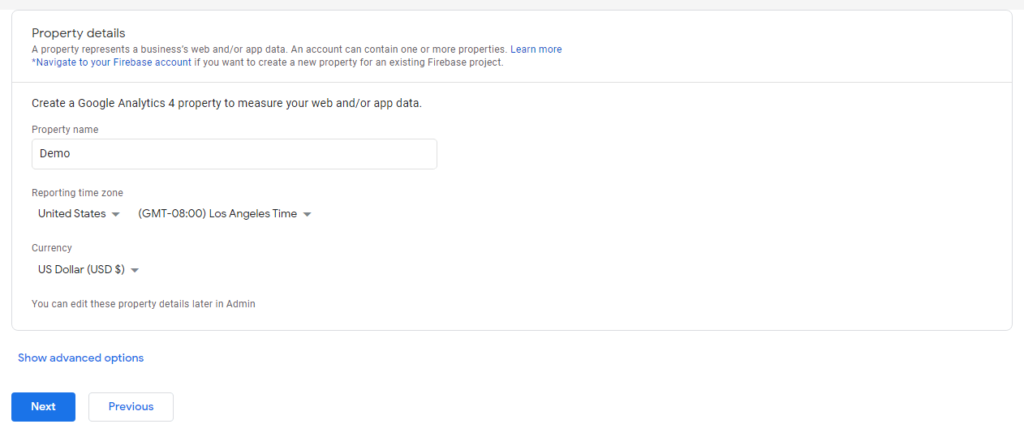 In the next step, select your industry category, provide some basic information about your business, and click on "Create."
Then you'll get a popup where you have to accept the terms and conditions of Google, and that's it. Your analytics account is successfully created. But now, you have to connect your analytics with your website.
For that, you have set up a data stream. Since you want to track your website activity, click on "web."
Then enter your website URL and your website name, and then click on "create a stream." Then you'll get a page something like this.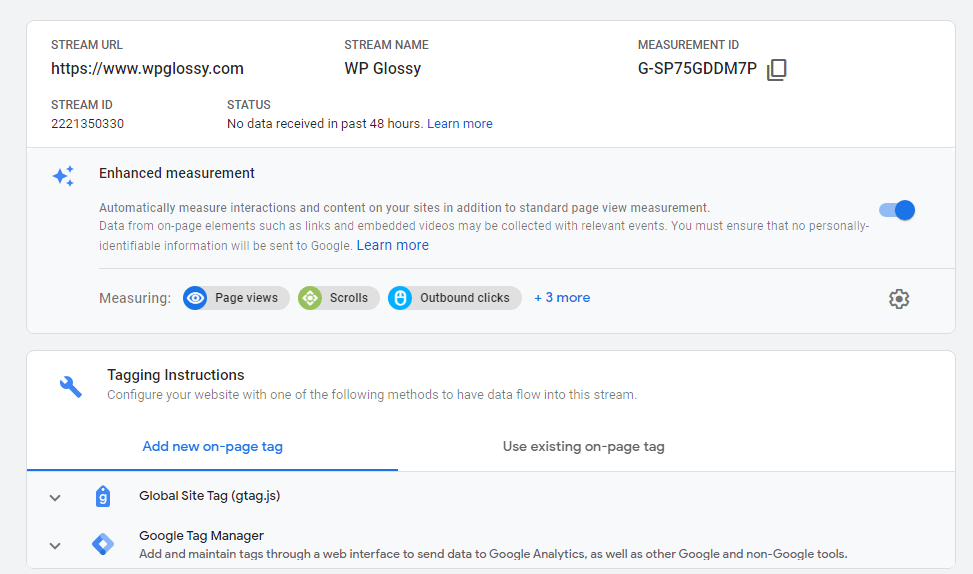 You must expand the "Google site tag" option and copy the code from there. After that, you have to head over to your WordPress dashboard and install a plugin called "Insert header and footer."
You must paste the code in the header section you copied earlier from Google Analytics on this plugin. And then click on "Save."
Now Google Analytics is successfully connected with your business website.
Submit Your Website to Google
If you want more customers and visitors and want your business to appear on Google search results, you must submit your website to Google.
Submitting a website on Google is unnecessary since it automatically crawls and indexes websites independently.
But sometimes, the automated process takes way too much time (Especially if your business doesn't have much popularity).
Here's why adding your website manually will help Google to find your site quickly, which will help your website rank much faster.
Let me show you exactly how you can submit your website on Google within a few minutes.
First, log in to the Google search console, enter your domain name and click on "continue."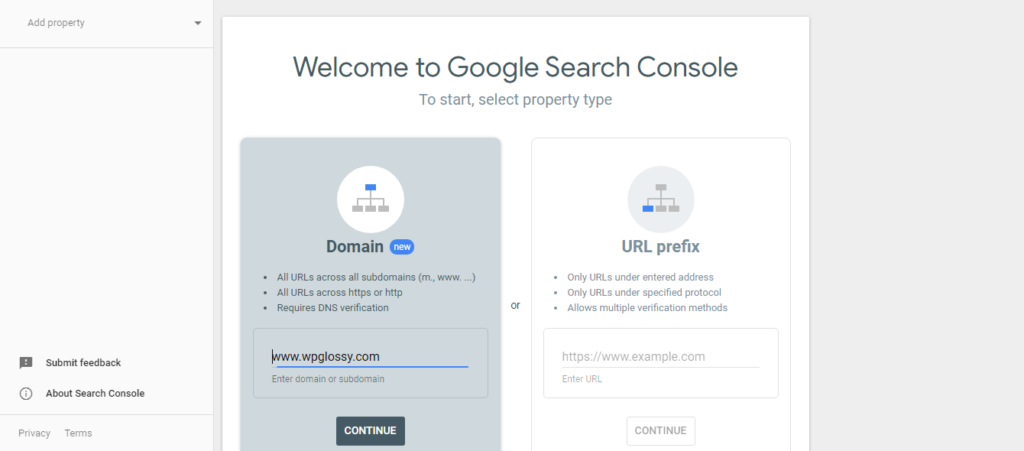 Now you have to verify your website ownership via DNS records. Once you click on "Continue," you'll get a popup to get a code to add to your DNS records.
Copy the code, login into your hosting cPanel, and paste that code into your DNS as a TXT record.
Again, return to the Google search console and click "verify." Then wait a couple of hours, and your site will be verified.
Once your website is verified on the Google search console, you must do one more task.
You have to add a sitemap of your site on the Google search console so that Google bots can easily crawl through your website pages.
For generating sites, you install a plugin called "Yoast SEO."
Once you install and activate the plugin, it automatically generates a sitemap for your website. You can get access to your sitemap by going through "yousite.com/sitemap_index.xml."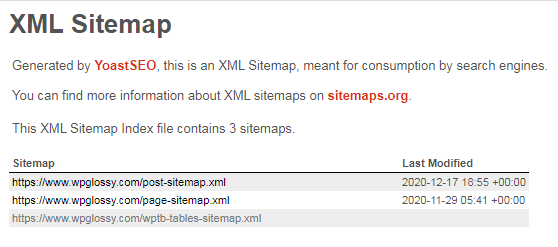 Now copy the URL of your sitemap page, go to Google search console, click on sitemap from the sidebar and submit your sitemap URL.

And your task is over! Now Google bots will automatically crawl your site, and your site will appear on Google search results within a few hours or days.
If you are still unclear about implementing the process, check my detailed post on integrating Google Analytics & Search Console For WordPress.
Step 6: Install Some Important Plugins To Supercharge Your Website
The main benefit of choosing WordPress over other website builders is plugins.
Plugins extend the functionality of WordPress and help you to add out-of-the-box features to your website.
Right now, there are over 58,000+ plugins available only in the WordPress directory. It doesn't matter what feature you want on your website; you'll probably find a plugin for that.
Considering the huge positive impact of plugins, I've compiled a few important WordPress plugins that will help you grow your business.
Yoast SEO is an all-in-one SEO plugin that will help your website rank higher on Google.
WP Rocket – This plugin will improve your website speed, and your users will get a better user experience.
Live Chat – This plugin will allow you to put a live chat feature on your website so that your customers can talk to you directly over live chat.
Social snap – It will help you put social sharing and follow icons on the website so your customers can easily share your business.
OptinMonster – It's a premium lead generation plugin that will help you capture leads on your website.
UpdraftPlus – It's a free backup plugin that will help you to take a backup of your website.
WooCommerce – WooCommerce is the most popular eCommerce plugin enabling you to create eCommerce stores and sell your products online.
WPForms – It's a freemium form plugin you can use to insert any form on your website.
Sucuri – It's a security plugin that helps to secure WordPress sites.
Step 7: Launch Your Website And Take Your Business Online
And it's the last step of this massive guide. Now that you've followed all these steps, it's time to launch your site to the public.
Sure, as a small business, you can't spend thousands of dollars on launch events or ads, but still, there are some things that you can do.
And those things are:
Tell your friends about your new website.
Place a banner in your shop, showroom, or around your business complex that you've started a new website.
Convey your customers about your website.
Start publishing blog posts to attract more visitors
Share your website on different social media channels.
Run brand awareness Ads in your locality with a small budget.
You will start getting positive responses quickly as you spread more words about your business website using these techniques.
FAQ Related to Building An Small Business Website
1. Can I create a small business website for free?
Yes, you can create a small business for free, but free options also come with lots of limitations and problems.
2. Which website builder is best for small businesses?
WordPress.org is the best website builder for small businesses because it gives you full control and flexibility over your website that other website builders don't provide. You may also consider Elementor, the best premium page builder for WordPress.
3. How much does it cost to set up a website for a small business?
I can't say the exact cost of setting up a website for a small business, but on average, it comes to around $100 – $300, depending on the web hosting and products you buy.
4. Is Wix better than WordPress?
Wix is a good website builder but does not give as much flexibility as WordPress.
5. Is Free Domain good for a business site?
Most hosting companies provide free domains with their hosting plans. So if you're getting a free domain from your hosting provider, then it's good. However, don't go for cheap and free domain extensions.
6. How Important Is It To Own A Website For Business?
It's super important for every business to own a website because today, everything is happening online, and the future also belongs online. So if you want your business to survive in the new world, you will definitely need a website, even if you run a small business in your locality.
Start A Site For Business – Wrapping Up
So that's how you can quickly build your small business website within an hour and grow your business online. If you want to take your business online, then today is the right time.
And the best part is you don't have to spend lots of money, hire a web developer or learn coding to build a website. Website builder made the whole website building process super easy.
I hope you learned how to make a small business website from this guide. Now tell me, Are you going to start your website now? If you need any help setting up a new business site, I'll help you. Comment down below!