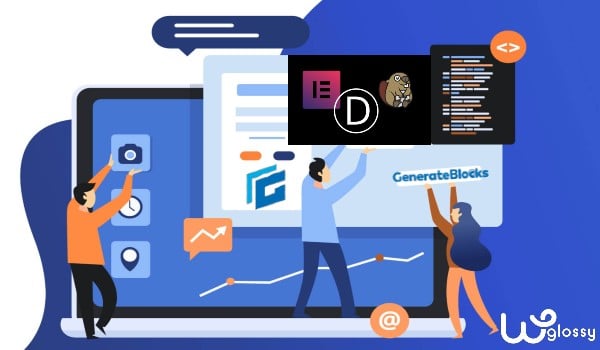 Do you want to remove page builder plugin from WordPress? If yes, you have come to the right article to learn the process of taking it off from your website.
Elementor has been the king in WordPress development for a long while. The simplicity, effectiveness, and depth of Elementor made it an excellent choice for non-website developers that needed to create a site.
Divi, Thrive Architect, and Beaver didn't fall short either. They're all wonderful tools that help anyone create beautiful pages to make huge conversions or leads.
But there's a new player in town. And it's not a page builder.
I'll talk about it a bit later. Before that, I would like to tell, why should you get rid of the Page builder from WordPress?
Why Should You Remove WordPress Page Builder?
I'm not against page builders! However, it has certain limitations that would affect our SEO performance. Here are the few that I always concern about!
The learning curve is steep! You will have to understand the design concepts like padding, filters element styling and much more.
Time Consuming! You will have to experiment the features and effects while designing the page. It is definitely time-consuming.
Increased Page Loads! As your site size gets increased through shortcodes, it makes the backend slow and you will need to depend heavily on the cache plugin for faster page loading. Infact, page builder plugins are not good for SEO.
Leads To Frustration! Since we are not the designing experts, we may mess up things and ends with disappointment.
Not Passing Core Web Vital Assesment! You will need to optimize your site through different steps to get escape from the Google page speed algorithm by getting a good core web vital score,
Meet Generateblocks (Page Builder Alternative)

Generateblocks is a website development alternative that fits natively into the WordPress environment. And I've been using it for a while.
You can build anything with its one-dimensional blocks that have been built for optimal performance for faster loading sites.
I adore its responsive nature through the device-level controls and advanced grids. Its Typography feature, spacing control, background images, SVG icons, cascade colors, and custom gradients are mind-blowing qualities to build stunning websites.
If you want to make the shift too, or if you want to get rid of page builders for a different alternative, I'll show you exactly what you need to do!
How To Remove Page Builder Safely?
Getting rid of the page builder from the WordPress site is troublesome! You may follow these steps and remove it safely without affecting your site performance!
Step 1 – Audit Your Page Builder Content
If your website has been around for a long time, and you relied on a page builder until now, you'll need to change many pages. From the home page, and the About Us section, all the way to sales pages you forgot about, or category pages you rely on, a page builder has probably seeped in every corner of your website.
The best way to ensure a smooth transition to Generateblocks, or any other website development alternative, is to audit all the pages and posts on your site built (entirely, or in part) with a page builder.
Gather all the URLs, and put them in a spreadsheet. Make sure you add some details about all of them. This will make it easier to sort them and change each page when you have a website development alternative.
Speaking of sorting – sorting your pages based on importance is a good idea. You'll want to check every code snippet on your home page when you make the transition, but you don't have to do the same for a sales page template that's not even public yet.
In general, these are the pages you'll need to check:
Content templates
Home page
Contact page
Functional pages
Hub Pages
Bio Pages
And lastly – don't forget to create a backup. You can follow every recommendation for updating your site and still make a small mistake somewhere, so better safe than sorry.
Step 2 – Install A Website Development Alternative
Once you have a spreadsheet with everything you want to change, it's time to set up your page builder alternative. I'm a big fan of Generateblocks, since it integrates flawlessly with WordPress. In turn, this makes website development smoother.
However, the biggest benefit of Generateblocks is that it's lightweight. The theme and premade WordPress blocks combo only take up 61 KB from your server. I even ran the tests, and the performance increase is clear when using GenerateBlocks.
So if that's your alternative, you'll need to purchase GenerateBlocks, download the zip file with the tool, and upload it manually to WordPress.
If Generateblocks is not what you're switching to, the process will probably still work. And if you're switching from Elementor to an in-house developer, ensure you put all resources at their disposal, including the audit you made.
Step 3 – Remove Or Replace Pages
With a thorough audit and new tools ready, it's time to remove or replace the content you created with a page builder. You should start from scratch if you have entire pages built with nothing but a tool like Elementor.
For pages only in part made with builders, you can scrap particular elements and then replace them with an alternative from your new tool.
However, changing to GenerateBlocks might make it harder to recreate page builder elements with 100% accuracy. It's not impossible. It just takes a while, especially if you relied on templates the first time you built your site.
I advise you to switch things up and find a new look for some elements. If you hired someone to charge your new site, try accommodating them as much as possible. Be very clear and specific in your communication. It's the easiest way to make sure you get a website that looks exactly like you want it to.
Step 4 – Review Your Site
When you manage to change all the pages or elements previously created in a page builder, it's time to check the front end one more time to make sure everything is smooth.
You can use a tool that checks uptime on your site, but that would only reveal bugs and errors. To ensure everything is crisp and clean, open your site as a visitor and check every page.
If you want to be extra thorough, you can initially use the audit to tick every page that looks good after the transition. Don't forget to check mobile responsiveness as well.
Step 5 – Uninstall The Page Builder
After you check that all of your pages still look good after the transition, you can go ahead and uninstall the page builder you've been using. For this, go into your plugins list, click tick your page builder, then click on "Bulk Actions" and choose "Delete":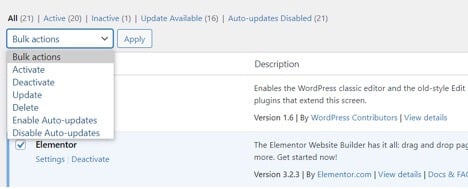 Some page builders have two plugins installed – one for the free version, one for the premium version, like Elementor Free & Pro. Make sure you uninstall both of them.
Lastly, make sure you also uninstall plugins or tools that only worked with the page builder you previously built. For example, if you had the "Elements for Elementor" plugin installed to work with the free version of Elementor, remove that from the plugin list.
If you don't go to the backend and uninstall these tools, they can slow down your website, even if you're not using them anymore.
You don't have to do this for every single plugin you use. Most of them will still work with GenerateBlocks, or any other alternative for web development. And if extra tools are something you're interested in, don't forget to check the list of best online marketing tools.
In Conclusion
Page builders are a great way for beginners to create their site for huge conversions. I have loved using them for years, and they're still a great option.
However, with the advent of Generateblocks, more and more people are shifting to it. It's better for SEO, and it integrates better in the WordPress environment.
I hope our 5-step guide also helped you understand how you can make the shift. Are you planning to get rid of page builders altogether? Let me know in the comments below!