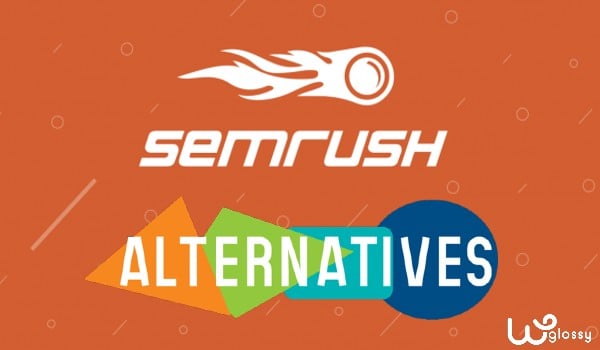 Are you searching for the best SEMRush alternatives to identify long-tail keywords and boost up the SEO of your business website? You are at the right place.
Talk to any blog owner, and they would certainly recommend you to make use of SEMRush. That demonstrates how well it has been working for bloggers in the market.
Despite the widespread usage, several users have found that SEMRush wasn't easy to use, expensive, or had different needs. Perhaps, there are SEMRush cheaper alternatives in the market.
After years of trying several SEO tools, I admit that SEMRush has certain downsides. Still, excellent SEMRush substitutes are out there that can outperform in multiple areas.
Before you come to a verdict on alternatives I suggest, you need to know some of the downsides of SEMRush to make better-informed decisions.
Downsides of SEMRush
SEMRush offers different plans at higher price slabs than its competitors.
Certain features in competitive analysis demand extra prices.
The interface crashes in specific mobile devices, thereby questioning its responsiveness.
It offers data exclusively based on Google stats.
The keyword difficulty is not as accurate as it should be.
Novice users can become overloaded with data for each search.
Perhaps, it can be great for those of you running agencies, but in general, let me tell you that other SEMRush alternatives do the job better.
| | | |
| --- | --- | --- |
| | | |
| | It is possible to automate critical SEO operations, including website audits, backlink audits, and rank checks. | |
| | Accurate Results & Monitor Everything From Scratch | |
| | SERPSTAT has a cluster research feature to determine LSI keywords that your articles can rank for. | |
Top 8 Best SEMRush Alternatives For Pro Bloggers & marketers
1. SEO Powersuite
SEO Powersuite is a comprehensive, all-in-one toolkit that is downloadable on your desktop and trusted by millions of bloggers worldwide. The toolkit comprises site audits, keyword research, rank tracker, and backlink analysis features.
Consisting of 4 essential tools, this exceptional software is ideal for enhancing the technical SEO performance of your website with accurate analytics.
In using SEO Powersuite for the past 2 years, I should admit that this resource is an excellent SEMRush alternative with outstanding features.
SEO Spyglass is one such feature that caught my attention as it conducts backlink checks and also analyzes competition. It gives you detailed reports of backlinks and ranks regularly.
I love its rank tracking tool. Its a great source to track unlimited keywords for my SEO projects.
LinkAssistant is yet another feature letting you understand the status of every link. Sometimes, this is a hack to fix bad or broken links in your site.
How Is SEO Powersuite Superior To SEMRush?
Desktop-based application is available in this all-in-one SEO tool, unlike SEMRush that has a cloud-based platform.
It is possible to automate critical SEO operations, including website audits, backlink audits, and rank checks.
You will be able to track keyword rankings on hundreds of search engines.
These imply that SEO Powersuite simplifies the keyword management system for your website.
2. SERanking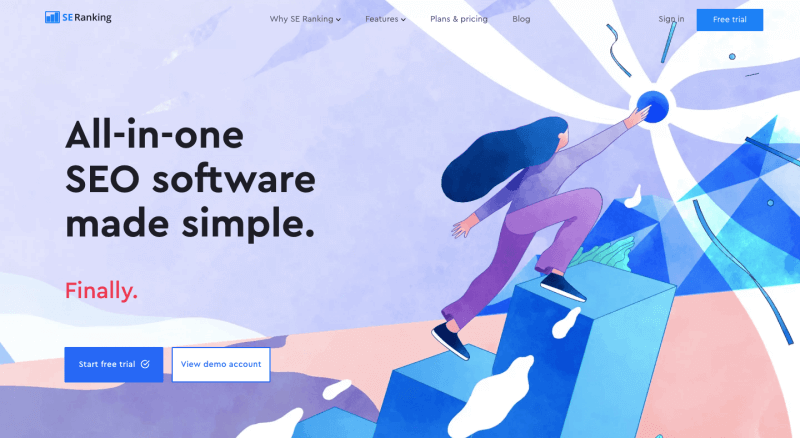 SERanking is on the list of significant SEMRush competitors that grab the audience of SEMRush due to its multiple features. Although a newcomer, it has made over 300,000 users.
Similar to SEO Powersuite, SE Ranking is also an all-in-one SEO software but runs on the cloud, so you do not have to worry about downloading the software. All these days, you might be doing general SEO audits with SEMRush.
But, you now have a cheaper SEMRush alternate that lets you discover new untapped keywords along with ranking opportunities that you may begin focusing upon.
Perhaps, this is one way demonstrating that SERanking cares about your site's progress and acts as a spy to reveal loopholes in other sites. As I use SERanking for more than a year, I should also inform you that it fits the bill for individuals and agencies.
Why Choose SERanking Instead Of SEMRush?
The beginner plan in SERanking lets you manage ten websites and also access services including white labeling, competitor research, SEO reporting, backlink checker, and keyword grouping.
SERanking also has an easy-to-use intuitive dashboard and does not overload its users with large chunks of data, unlike SEMRush.
It has a unique keyword grouper tool to establish a strategy for your site.
Here is my favorite – SERanking offers detailed audit reports and on-page checkers that upgrade your web asset performance much better than all that SEMRush does.
Want a great solution at a handy price? SERanking is for you.
3. SERPSTAT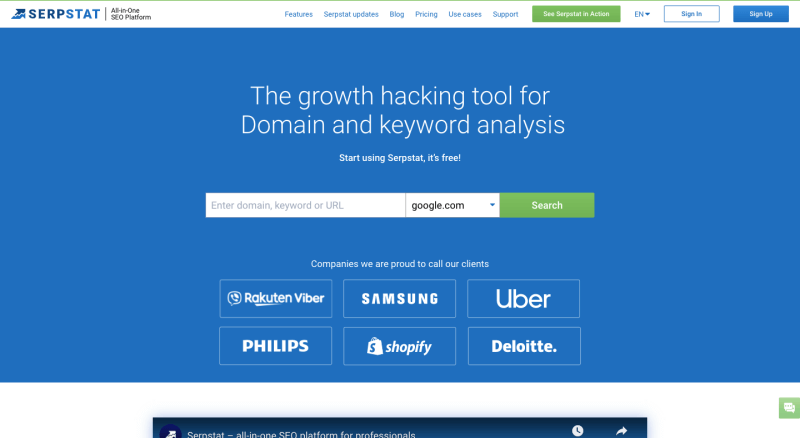 SERPSTAT is one of those high-performing yet best SEMRush alternatives as it is affordable and acts as a guide to upgrade your web pages as much as possible. Monthly plans of SERPSTAT start from as low as $69, enabling individuals and small agencies to make use of it.
Not to forget, SERPSTAT also provides multi-user plans at affordable prices, unlike SEMRush. SERPSTAT is a boon for large SEO teams out there.
Why Your Choice Should Be SERPSTAT Than SEMRush?
It would be unfair if I didn't list all the fantastic features of SERPSTAT that made me recommend it to my clients.
SERPSTAT has a cluster research feature to determine LSI keywords that your articles can rank for.
I cannot miss mentioning the keyword variation feature that is unique about SERPSTAT. Unlike SEMRush that lists keywords along with CPC and competition, SERPSTAT explores and offers keyword variations to optimize pages.
The batch analysis option is another exciting aspect of SERPSTAT that is not seen in SEMRush. Compare your site's performance with up to 200 domains and revisit the strategy.
SERPSTAT also lets site owners identify and fix redirect issues and redundant content.
Can you believe that an SEO tool also works for the loading speed of your website? SERPSTAT has a website speed feature to give you details related to compression errors, caching, and optimization levels.
SERPSTAT is a free alternative for a limited time. You will have complete access to all its features during your trial period.
4. Spyfu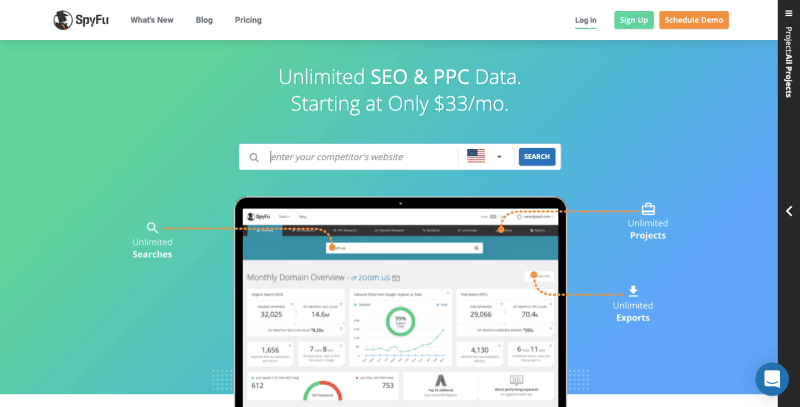 SpyFu, as the name goes, focuses on spying on competitors' sites and fetching metrics that can benefit the site and position better. Unlike SEMRush, SpyFu goes one step ahead in providing complete coverage of competitor analytics at a monthly price of $39.
If you are looking for a SEMRush cheaper alternative, SpyFu is the solution. Comprising powerful SEO tools, SpyFu also lets you conduct PPC analysis and keyword analysis.
If you run an agency and want to overtake your competitor, this tool lets you accomplish that. You may also try some best SpyFu alternatives to boost your SEO performance.
How SpyFu Beats SEMRush?
SpyFu focuses on high-end research on keywords and delivers profitable keywords to grow your business website exponentially.
Kombat is my favorite feature of SpyFu as it allows you to access hidden keywords capitalized by competitors, and you may use them to carry PPC campaigns.
What is more interesting is that SpyFu has let you access competitor data for the last two decades at no additional cost.
Those of you planning to optimize your professional site and run PPC campaigns as well, SpyFu can blindly be trusted as one of the best SEMRush substitutes.
5. KwFinder
A common problem faced by users of SEMRush is that it does not provide an accurate keyword difficulty score. KWFinder addresses this gap and is more specific about researching the keywords.
Although KWFinder is not an all-in-one SEO tool, if your requirement is keyword research, KWFinder is all you need. From the ease of use to intuitive dashboard and pricing, KWFinder stays ahead in the race against SEMRush.
At a monthly cost of $29, you can do 20 site lookups, 200 keyword tracking, and 200 keyword suggestions. However, you may try a few KWFinder alternatives to enhance your search engine ranking performance.
Why Is KWFinder Better Than SEMRush?
KWFinder is an expert in researching the keywords. Instead of subscribing to SEMRush, which offers multiple features, it is always good to subscribe to an expert who gives you the best suggestion.
KWFinder provides benchmarks letting your web pages improve ranking accordingly. There is no such exclusive feature in SEMRush.
Unlike SEMRush, KWFinder uses over 45 SEO metrics to fetch keywords and optimize sites, including backlinks.
I have used KWFinder several times, and I should agree that it has never disappointed me in terms of the quality of data aggregation and customer support.
6. Ubersuggest
As site owners, we ought to pay bills too. There is nothing wrong with looking out for a SEMRush free alternative. In the name of "FREE TOOL," don't get swayed away by false suggestions and inefficient tools.
If you have been hunting for a free tool, Ubersuggest is for you. The apparent reason bloggers choose Ubersuggest is that it offers all features free of cost but imposes restrictions on daily usage levels.
Ubersuggest is also a great solution if you are a beginner in this field or need limited features to maintain your blog or website. Ubersuggest has an SEO analyzer, traffic analyzer, keyword ideas, and content ideas.
I have used Ubersuggest to crosscheck my site's SEO performance and spy on competitors' sites free of cost.
Why Use Ubersuggest In The Place Of SEMRush?
Ubersuggest is the ideal tool for basic SEO research as SEMRush is advanced.
The content analyzer in Ubersuggest performs exceedingly well compared to SEMRush in terms of quality and accuracy.
Ubersuggest is a must-use for basic keyword analysis run by the SEO giant Neil Patel.
7. WebCEO
Similar to SEMRush, WebCEO is among the most reliable SEMRush alternatives available in 20+ languages and offers a host of tools grouped under different sections, including traffic analysis, competitor metrics, research relevant search phrases, site audit, link earning, and social media analytics.
The solo plan comes at a handy price of $35, and there are plans for corporates as well. Most importantly, there are no conditions for the user login count.
Why Pick WebCEO Over SEMRush?
I like WebCEO for a few reasons.
It provides unlimited keyword suggestions, unlike SEMRush that has a limit on the same. Most importantly, geographic-based keyword suggestions are also feasible with WebCEO.
As soon as you subscribe, you get an SEO roadmap and a checklist to enhance your website on aspects like page speed, optimization, ranks, and competitor metrics.
The white-labeled version of WebCEO is available for every user, which is not the case with SEMRush.
The majestic backlink data provided by WebCEO is gold! With this backlink report, you can optimize your blog content and gain a reputation on social media platforms. This SEMRush substitute is an excellent solution for tracking ranks and researching keywords.
8. KeywordTool.io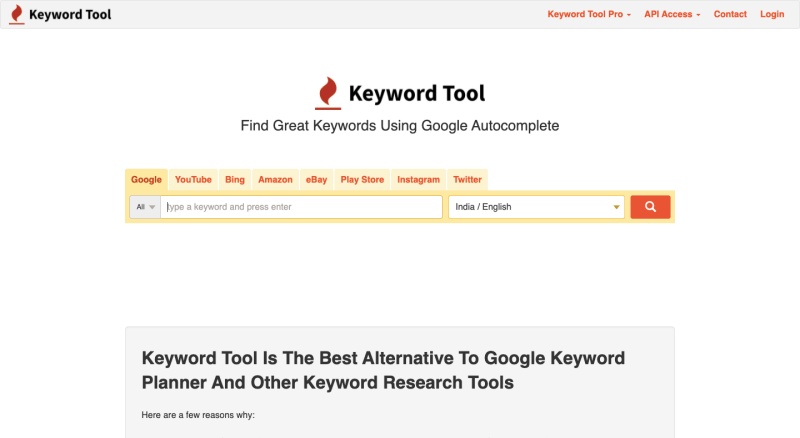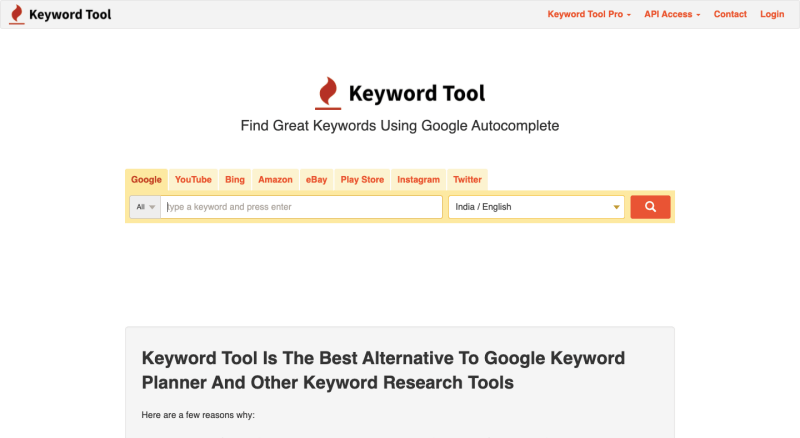 Are you a fan of long-tail keywords? KeywordTool.io is a SEMRush free alternative that throws around 750 long-tail keywords as search results for each search.
The free version of KeywordTool.io gives keyword suggestions and does not provide information related to CPC, search volume, trend, and competition. However, you can also access keywords in two other forms – including prepositions and questions.
KeywordTool.io is one of those best SEMRush alternatives that can offer keyword suggestions to YouTube as well. This tool is a must-use as a starter since you save your penny and gain access to what actually works for your website.
Why is KeywordTool.io better than SEMRush?
I have been using this tool for the past couple of months.
What is so impressive about KeywordTool.io is keyword research openness to social media platforms.
It provides tons of long-tail keywords and related questions, unlike SEMRush that gives keywords in varied lengths.
As you advance your money-making site, you can use this tool with its pro version to strengthen the research on relevant keywords.
Which Are The Best SEMRush Alternatives 2023?
SEMRush is great, and there is no doubt about it. However, not for all, and it is undeniable. At some point, people should be aware of SEMRush competitors to address a specific area or due to any other concern.
In such instances, this article comprising excellent alternatives will help. Most importantly, you can efficiently perform keyword research, rank tracking, and surpass your competitors with these exceptional tools.
I always wanted to suggest the best one based on my experiences, and hence, I drafted this article to suggest some excellent SEMRush alternatives. Out of these similar SEMRush tools, I highly recommend SEO Powersuite and SERanking to improve your site's SEO.