Starting a blog relevant to your niche is essential, particularly to establish yourself as an expert and gain loyal followers. Almost everyone is doing it; this is why your decision to start a dental blog is perfect and timely.
But the question is how to start a dental blog. Is it challenging to start a blog from scratch? Do you need to hire an expert, or can you do it yourself? These are a few questions that ring the bell in every dentist's mind.
Good for you; blogging isn't difficult, especially if you're reading this article. I was a self-learner and now earning as a full-time professional blogger. I'll explain the entire process of creating a good dental blog through easy steps. Get ready for an exciting blogging journey!
Step-By-Step Guide To Start A Dental Blog
Here's the step-by-step guide to build a dental care blog. Remember to follow all steps as they're written below else you may face issues. And since it's the first time creating a blog, finding the solution won't only be challenging but will take more time than usual.
1. Start With A Micro Niche
You may not see the advice of picking a micro niche everywhere but trust me, it is essential. No doubt, the dental niche is itself a micro niche in the health domain; still, it's a big niche. If you start covering all the topics in the dental niche, you'll have to compete with big blogs.
Here's a question to think about: Why would Google show your new blog to people when there are already prominent and well-known websites that talk about the same things? These websites aren't only older but more relevant.
This is why my suggestion is to pick a specific focus. Instead of trying to cover all things in the dental niche, zoom in on something particular, like starting a dental hygiene blog. Your micro niche may be
Abscessed Tooth
Bleeding Gums
Cavities
Dental Implants
Endodontics
Oral Surgery
Root Canal
First, cover everything in that specific domain in the dental niche, then expand the topics. It's also suitable for building "topical authority." When you cover one specific area, Google will consider you an expert and bless you with higher search engine rankings.
Note: Read the blog post till the end! I'll tell you how to choose a micro niche for your Dental blog. As it involves SEO for dentists, you might be unclear or confusing initially. Hence, I'll add this tip under the FAQ section!
2. Do Keyword Research
Now comes an important point – keyword research. Without this step, it's almost impossible to pick a profitable niche. Most of the time, beginners don't follow this step and trust the data of keyword research tools, which is a big blunder.
Honestly, no keyword research tools, including the famous ones Ahref, Semrush, and Keyword Everywhere, are 100% accurate. Manual research is essential because you can't rely entirely on any tool's data. 
For manual research, open the CSV file of micro niche keywords in Google Sheets or MS Excel. Check the keywords of each niche, one by one, on Google. You should check these three points, how many competitors you have, their Domain Authority (DA), and how good their content is.
Bonus Tip – Domain Authority is the number between 0 – 100 that shows how powerful and reputable the site is. If reputable and powerful sites are already ranking on the first page, the chances of your blog for rank are low. Use Moz Tool to check the DA of any site.
How To Do Keyword Research Manually? Examples
Let's understand this with two examples: I have the keyword: how to take care of teeth; now it's time to analyze it. This keyword has a search volume of 260 as per the Surfer keyword research extension. When I put this keyword on the search bar, the top results were: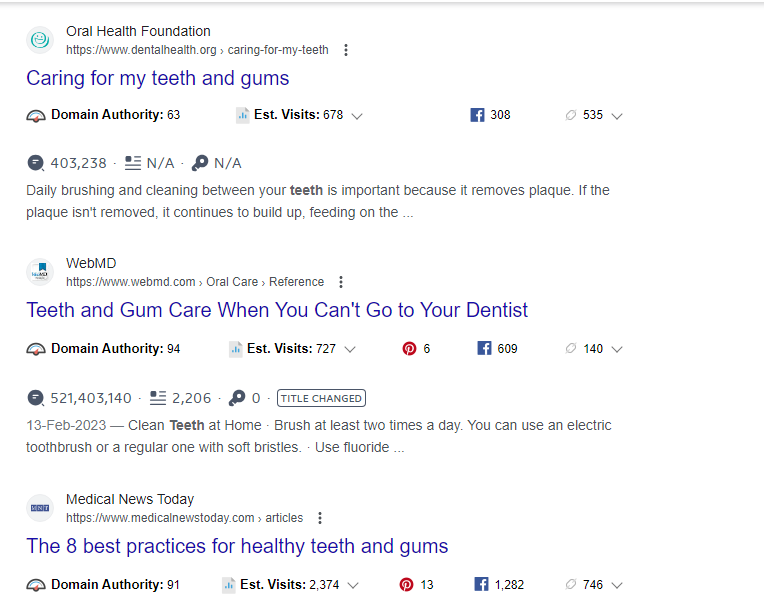 As you can see, the websites that are ranking for this keyword have more than 60 domain authority. Additionally, more than 225 blog posts from different websites are already ranked for this specific keyword.

It shows the keyword is highly competitive." It's not easy to rank for this keyword. At the same time, the keyword: Are veneers bad for your gums, is a better option. Only one website has worked on this keyword.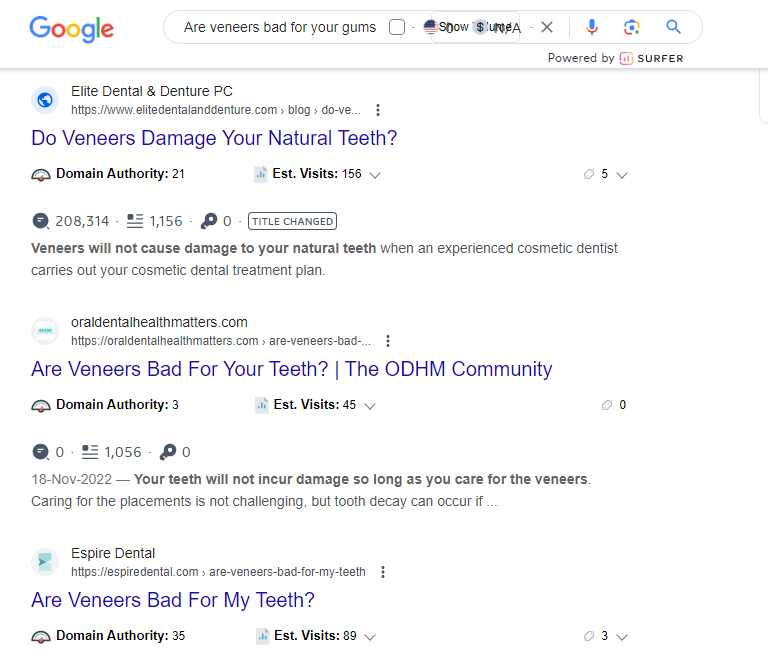 Besides that, the top two results for this keyword have low domain authority (below 30). The third website is authoritative with 70 domain authority, but the fourth and fifth results are low domain authority websites.
You should also consider that for this keyword, Google is showing related results to your keyword. The first result concerns veneer ruining your teeth; the second blog post is designed for the keyword: veneers bad for teeth.
They're not precisely crafted for the keyword: Are veneers bad for your gums? It's a plus point; if you pick a micro niche that has keywords like this, the ranking won't be an issue. The only thing you need to focus on is the content.
After doing all this research, pick one niche with good keywords. The competition must be low and ensure not many highly authoritative websites are ranking for it. Also, don't forget to consider your interest in the niche.
3. Do Your Homework
Since you've done 50% of the work by selecting the niche and getting the keywords let's move toward the remaining steps. Always do your homework before starting any blog. What I mean by homework is – analyzing your competitors.
When you do your homework, you check out what other bloggers do. These are the people who are already writing about similar things. By looking at their blogs, you can learn a lot. You'll see what they're talking about, how they're writing, and what people like to read.
Remember, this isn't about copying others. It's about getting ideas and making your own unique plan. Just like a discoverer exploring new places, you're learning before you set off on your own adventure. You may use SEMRush for doing the competitive analysis.
4. Buy Hosting & Domain
So, you have chosen the "Niche" (What to write about) and did the "Keyword Research" and "Competitor Analysis." The fourth step is to buy a hosting and domain for your dental blog. I have a web hosting suggestion for you!
For hosting, I always recommend Cloudways hosting; it's the best option for blogs. My primary and niche blogs are also on the Cloudways DigitalOcean server, and so far, I've not faced any technical issues or downtime with the high-performance server.
You can select any other hosting service like GreenGeeks or A2 Hosting. Just ensure the customer support, uptime, and speed are all good. If the hosting service doesn't meet any requirements, it shows that you're selecting the wrong hosting. 
Then buy a domain for the website. It's a vital step to ensure that you choose the domain name carefully. Readers don't remember the blog owner's name; instead, they search for you by writing your domain name on Google. Here are a few tips to consider when buying a domain:
Tips To Consider When Selecting Domain Name
Choose a domain relevant to content or brand.
Keep the domain name simple and short.
The domain must be memorable and easy to spell.
Always avoid numbers and hyphens.
Brandable uniqueness is the key, so it must be unique.
Make sure to check for trademark conflicts.
Note – Most hosting companies offer domain name registration free for one year. However, Cloudways Hosting is not offering a free domain. you may use Namecheap or GoDaddy to get the domain of your choice.
5. Set Up Your Blog
The next step is setting up your blog. To do this, you need to select one platform. I suggest using WordPress, as it's the best blogging platform for dentists domain, one where you can get tons of features, especially the massive library of plugins and themes.
Many other platforms are also available, like Wix, Weebly, and SquareSpace. However, none of them are as good as WordPress platforms. Additionally, you also have to pay if you're selecting a platform other than WordPress.
How To Set Up A Blog With WordPress?
Install WordPress through your hosting's control panel.
Log in to your WordPress dashboard using the provided credentials.
Select and buy a suitable theme for your blog's design.
Customize your theme with colors, fonts, and layout options.
Add essential plugins for SEO, security, and social media sharing.
Create important pages: Home, About, Contact, and Blog.
Organize posts using categories and tags for easy navigation.
Set up widgets on the sidebar and footer areas.
Create a user-friendly navigation menu for site navigation.
Test your blog's responsiveness on various devices and browsers.
6. Make A Content Strategy
After setting up your blog, make a content strategy. You already have a list of keywords, so now select which keyword you want to work on first. Plan content for at least two months, and don't forget to note down your planning.
It's best to use Google Spreadsheet, create a new file, and add multiple sheets for different months. Complete the keyword research following the same method I've shared, filter the best keywords, and add them to the spreadsheet. 
Remember to plan the interlinking parts for a good Silo structure of the website. You can also add LSI keywords besides the primary keyword in the sheet. By doing this, you only have to write the content as the research part is already done.
7. Create The First Blog Post
Congratulations! You've come a long way; only a few steps remain, one of them is creating the first blog posts. It's an opportunity to make a strong impression and set the tone for your dental blog's journey. Ensure to follow our tips to leave a good impression on the readers. 
Tips To Write A Good Blog Post
Define Clear Purpose: Know what you want to convey before writing.
Understand Audience: Tailor content to your readers' needs and preferences.
Catchy Title: Create a headline that grabs attention and hints at content.
Introduction Hooks: Begin with a compelling hook to engage readers immediately.
Structured Content: Organize with headings, subheadings, and short paragraphs.
Use Short Sentences: Keep sentences concise for easy readability.
Visuals Enhance: Incorporate images, diagrams, or videos to illustrate points.
Be Informative: Provide valuable, accurate, and well-researched content.
Engage Emotions: Use relatable stories and personal experiences to connect emotionally.
Use Bullet Points: Break complex info into bullet lists for clarity.
Internal Links: Link to your previous relevant posts for more context.
External Links: Cite credible sources to support your claims.
Call to Action: End with a clear call to action for engagement.
8. Share On Social Media
Last but not least, share your content on Social Media. It helps a lot in going viral and getting loyal followers to the blog. As per my experience, audiences from social media pages are likely to subscribe to the newsletter. 
Apart from that, social media sharing can impact a blog's ranking in search engine results, but their direct influence is a topic of debate among SEO experts. It's also an excellent way to get backlinks without asking.
There's a chance that a writer or someone who has a blog similar to your niche may link back to your blog. I got two to three links in one of the blogs I wrote in which I discussed facts about a specific animal.
9. Link Building
Getting a backlink from other relevant sites is called Link building. It will improve your search engine rankings, boosting traffic and overall visibility. Here are some effective link-building strategies for your dental blog:
Quality Content Creation
1. Expert Articles: Write detailed and well-researched articles about dental health, procedures, or technologies. When you produce high-quality content, your co-bloggers and other dental websites naturally link to your site.
2. Infographics: Dentistry has several topics that can be turned into engaging visuals. Infographics about dental hygiene, tooth anatomy, Gum care, or brushing techniques can be created and linked to your blog.
Guest Posting
Identify health and dental-related blogs or magazines that accept guest posts. Write relevant content for them and include a link back to your dental blog.
Local Directory Listings
As a dentist, you may have a clinic. Ensure your clinic is listed in local directories with a link to your blog.
Build Relationships
Connect with other dental bloggers, attend seminars, and participate in dental forums. Building relationships will help you get natural backlink opportunities.
Engage With Dental Associations
Try to contribute articles or resources to dental associations. They may link back to your blog as a reference.
Testimonials
Write testimonials for dental products or services you've genuinely used. You may request a link back to your blog.
Broken Link Building
Identify broken links on dental or health-related websites. Outreach them and suggest one of your relevant articles as a replacement.
Participate in Interviews and Podcasts
As an expert, share your knowledge through interviews or podcasts. It will help your blog to get linked from different platforms.
Comment on Relevant Blogs
Visit popular dental or health-related blogs to leave meaningful comments and occasionally link back to your relevant articles (without spamming).
Resources and Tools
Try to create free dental tools or resources. It might be something like a dental health checklist, an eBook on oral care, or an interactive tool related to dental health. It will help you get authority backlinks.
Ask for Links
If someone has mentioned your blog, clinic, or specific content you've written about without linking, reach out and politely ask for a link. You may use Google Alerts to know who mentioned your dental site.
The quality of backlinks matters a lot! Focus on building high-quality backlinks from authoritative and relevant websites and blogs to get the best SEO improvements. You should also follow Google's Webmaster Guidelines while building links to avoid penalties and stay safe.
Start A dental Blog – FAQs
How much money do you need to start a dental blog?
The investment for starting a blog depends on different circumstances. For example, you need at least $40 for a cheap hosting and domain plan. Then the cost depends on your team; if you plan to write yourself, the cost won't be high. 
How To Pick A Micro Niche?
To solve the issue of picking a micro niche, I'll explain the step-by-step guide below. Note that it's an example; here, I'm searching for a "Gaming" micro-niche; you can follow the same process for the dental domain.
Purchase a subscription plan for tools like Ahref or SEMRUSH. After getting the plan, log in to the tool and select the keyword overview.
Write the topic or main niche in the search bar, like "Gaming." Since it's an extensive domain, the keyword difficulty will be high.
KD (Keyword Difficulty) of Gaming isn't a problem because you're not working for the "Gaming" niche. You need to find its micro-niche.
When you go deeper into the niche, you'll find micro niches related to it, like gaming chairs, gaming keyboards, and gaming accessories.
See how many micro-niches have keywords with low difficulty (less than 30 KD). The keywords must be at least 200 to 250 with the standard KD criteria; the more, the better.
Always pick 3 to 4 micro niches, download their keywords in CSV format, and then the final one after the keyword research process, which I'll discuss below. 
What should a dental website include?
Here are a few pages that every dental website should include.
Must-Have pages
Optional Pages
Home Page: Welcome, introduction, clear call to action.About Us: Team expertise, qualifications, personal touch.
Privacy Policy: Clear data protection commitment. Services Offered: Detailed services with dedicated pages.
Our Team: Share details about you and your writing and editing team.
Blog or Resources: Informative content on dental care.
Contact Information: Address, phone, email, contact form, map.
Appointment Booking: Online booking for visits and consultations.
FAQs: Common patient queries answered.
Testimonials and Reviews: Positive patient feedback.
Patient Forms: Downloadable forms for first visits.
Wrapping Up The Guide To Start A Dental Blog In 2023
I hope you've learned how to start a dental blog. I've discussed all the steps in detail; you'll get all the information here with examples. Just make sure you're not skipping any part of the blog post. Don't feel difficult with the number of steps involved. It's time to learn!  
In case you're not sure about dental blog setup using WordPress, reach me through the comment section. I'll help you fix everything and customize the design for your dental blog. Also, if you want to learn how to use SEO tools, ping me.
Other Start A Blog Articles