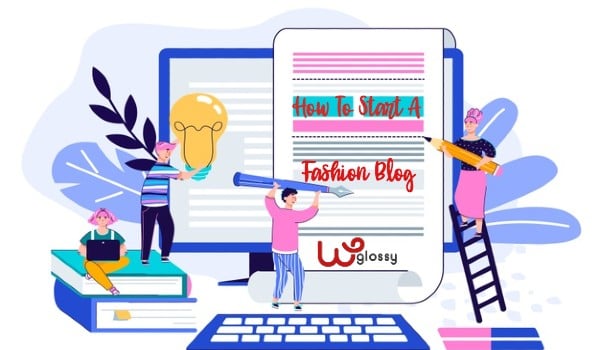 Do you want to learn how to start a fashion blog but don't know where to begin? If yes, then you're in the right spot.
In this article, I'm going to show you step by step how to build a fashion blog easily in 2023 without spending hours.
On top of that, I'll also show you how you can make your fashion blog successful and earn a good income out of it.
So without wasting any further, let's jump right into the step by step procedure of creating the fashion website.
Note: The Fashion site making process may be confusing because you are new to the field. However, it is easy to start a blog with a WordPress content management system.
9 Steps to Start a Fashion Blog And Make Money
Creating a Fashion blog is a clever move to support your passion and make a side income. I don't think that starting a blog for Fashion involves complicated steps. The procedure is new for you, and hence they may frighten you into moving forward!
Just relax and follow the steps; you can build a successful Fashion blog and earn income with it!
Step 1: Pick a Name For Blog & Register a Domain
The most crucial thing you should do before starting your fashion is choosing a trendy yet memorable name. If you would like to start your fashion blog and make it famous, then it's better to focus on your blog's branding.
And when it comes to blog branding, the name plays a very significant role. Because people remember any brand based on their name, and if you fail to choose a brandable name, it will be challenging for you to showcase your blog as a prominent brand.
Here's why before even starting a blog, make sure that you've chosen the right name for your blog. If you can't do it, then here are some quick tips that you may follow while choosing a name for your business site.
Keep it short (If possible).
Your audience should understand what your blog is about by looking at its name.
Put your core message in the blog name.
If you're still blank and not getting any good blog name ideas, you may also use a blog name generator tool to find some really cool ideas within a few seconds. Once you have selected the blog name, the most difficult task of starting your fashion blog is over.
Next, you just have to register your domain name and make the fashion blog online.
Step 2: Choose a Web Hosting For Your Fashion Blog
After selecting the blog name, it's time to choose a web hosting to create the fashion blog.
Web hosting is a significant part of a blog! In simple words, it is the backbone of the website. So, you should be extra careful while choosing a hosting service for your blog. But if you don't know what web hosting is, then let me explain.
What is web hosting?
Web hosting is basically a server service that makes your website accessible to other people over the internet. Web hosting servers stores all of your website file and makes it easily accessible to everyone whenever someone searches for your domain name.
Without good web hosting, you can't even think of starting a successful blog because if people can't visit your website, they won't even know that you exist. That's why you have to choose a reliable web hosting that will always keep your website live and secure at the same time.
Select The Right Hosting For Your Blog
I told you earlier that you have to be mindful while choosing a web hosting for your fashion site.
The reason is – These days you'll get hundreds of hosting providers that provide hosting at a really low price and offer terrible service at the same time. And if accidentally you buy those hostings, you'll not only lose your money but also harm your blog's overall growth.
But the good news is that there are actually some awesome web hosting providers available on the market that provide great service and very affordable at the same time.
And among those web-hosting providers, Greengeeks is by far the best in terms of performance, speed, customer support, and pricing. It's not only one of the most affordable hosting providers, but it also offers world-class service to its customers.
They are also World's #1 Green Energy Web Hosting Provider. That means you won't harm the environment that most of the hosting providers do. Above everything, the best part is that you could grab their hosting for as low as $2.45/mo.
That's insanely affordable, isn't it?
If you have decided to go with Greengeeks, let's see how it's easy to purchase their hosting without any hassle. Click on this special discount link, select your preferred plan, and click on "Get started."
I strongly recommend choosing the pro plan since it is more likely to host unlimited websites, and you'll also get extra benefits to boost your site's performance. After that, register your free domain name.
Then fill up your account information, select your hosting tenure (Choose the tenure for 24 months or above for using the benefit of discount) and finish your payment.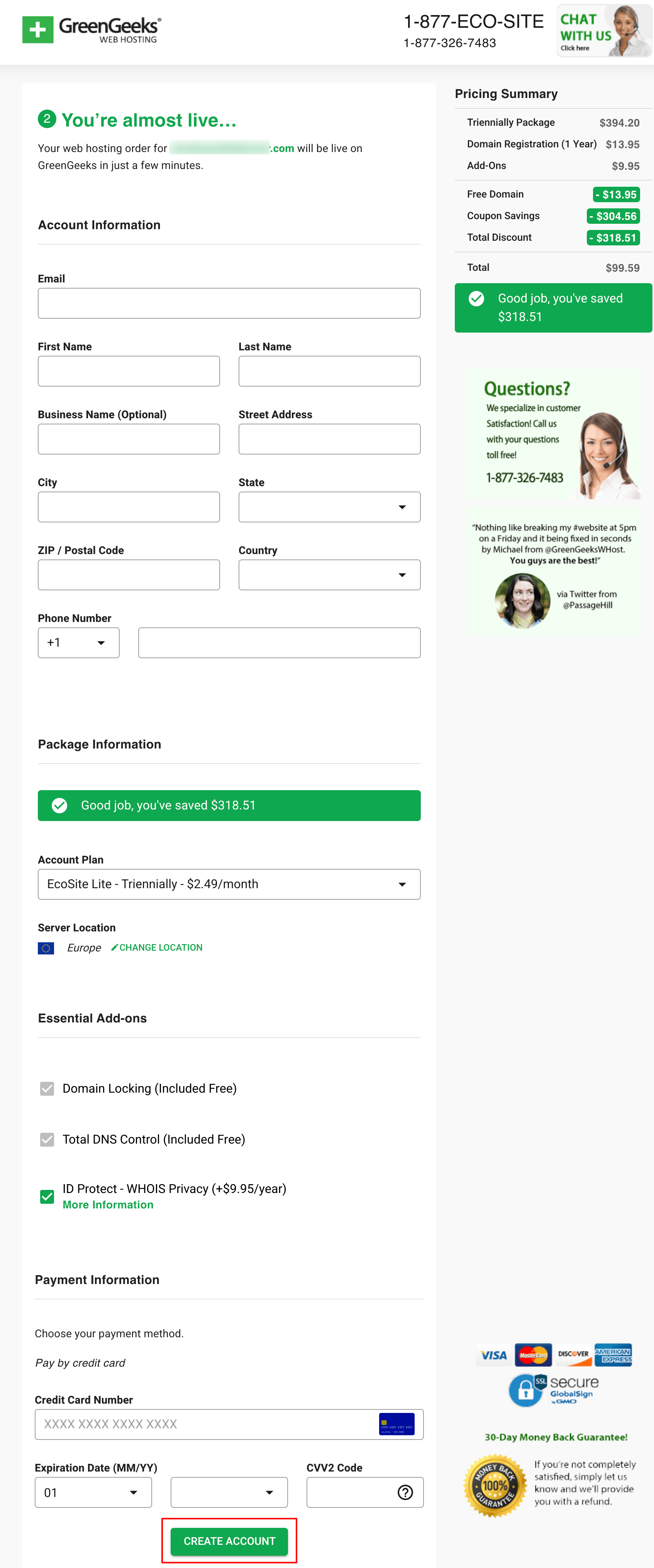 And you're all done! Now you'll get an email from Greengeeks with your account and billing details.
You may also get any other hosting services for your Fashion blog. In the next step, I'll tell you why you should use WordPress CMS and show how to install WordPress and set up the blog without any coding or technical knowledge.
Step 3: Setup Your Blog
If you wish to determine how to start a fashion blog, then this step is fascinating because you're actually going to make your blog live in this step.
Now, after purchasing your hosting, you would need a content management system that will allow you to create, modify, and manage your content without any technical knowledge.
It's basically like a control room of a blog. But the problem is, there are dozens of content management software available on the internet, and it can be confusing for you to choose the best among them.
So to make this decision easy for you, I'm going to tell you about the leading and best content management system out there. And that is – WordPress (Without Any Doubt).
Here's an interesting fact – WordPress powers more than 39% of all websites on the internet.
You can imagine how popular it is. And the best part is, with Greengeeks, you are going to install WordPress with just one click.
Let me show you in action how to do that.
Install WordPress
Installing WordPress on Greengeeks hosting is like eating a piece of cake. It's super easy.
First of all, log in to your Greengeeks account and click on "Cpanel" from the dashboard.
Once you're on your CPanel, scroll down until you get "Softaculous Apps Installer."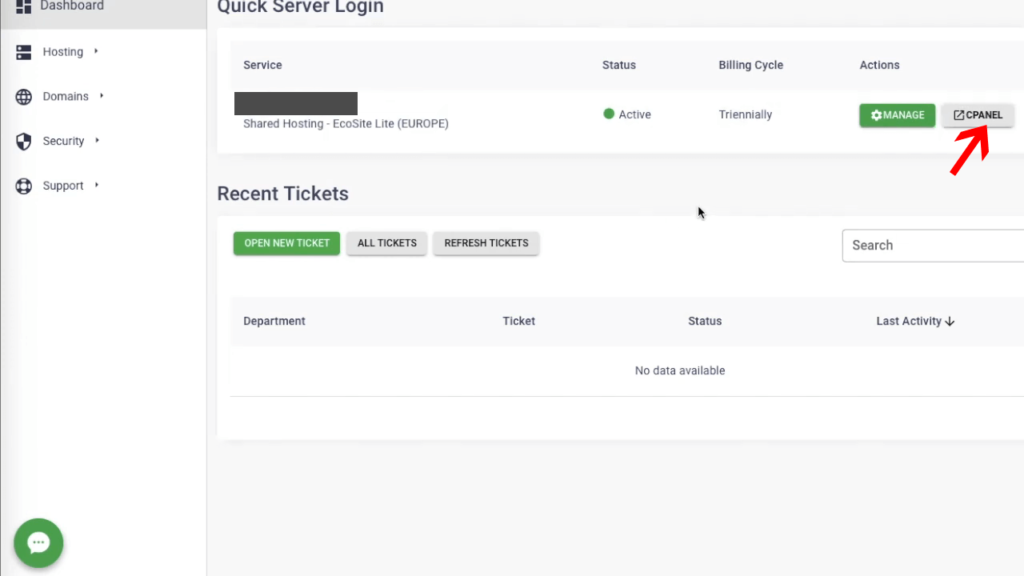 From the Softaculous Apps Installer, click on WordPress and then click on "Install Now."
In the next window, fill up basic information about the blog and admin details, then again click on "Install."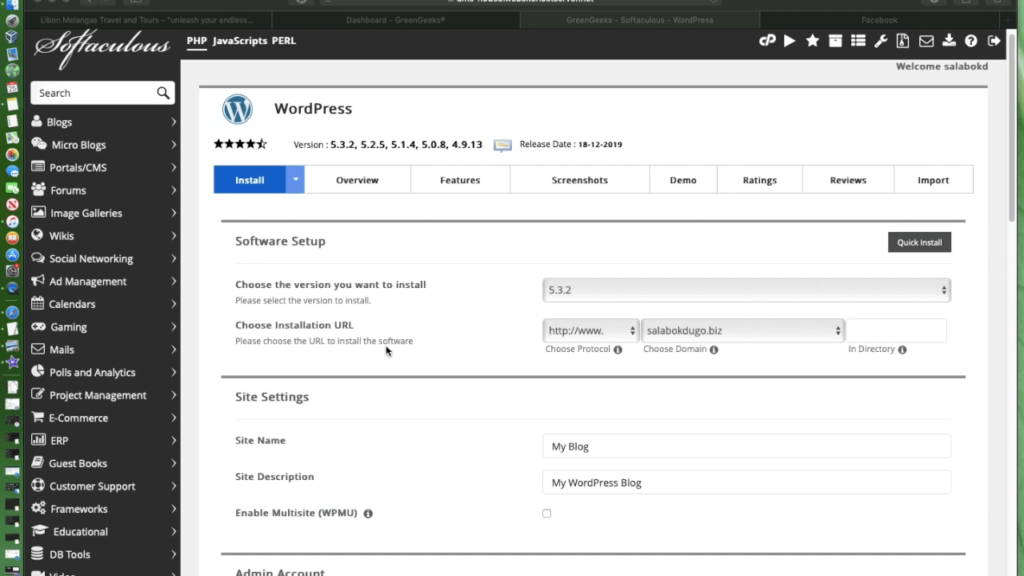 That's it. It will take a few seconds to install WordPress, and then you can access your blog.
Choose a Perfect Theme For Your Blog
As soon as you install WordPress, you need to select and install a theme for your blog.
Because the design of a blog plays a critical role in your blogging success.
The first thing your audience will notice whenever they will land on your blog is its design and look. Having a bad design can destroy your blog's reputation and leave a bad impression on your audience.
That's why choosing the right theme is very crucial. There are thousands of cool and well-designed themes available on the WordPress theme directory to choose from. And the best part is all of them are totally free.
For finding free themes for your Fashion blog, just go to Appearance > Themes > Add New. And then, you'll find hundreds and thousands of themes to utilize on your WordPress blog.
While most of the themes are good to some extent, I recommend Astra and Generatepress.
which are popular themes on the market. But I don't just recommend them because of their popularity. I recommend Astra and Generatepress because
They are performance-optimized.
Provide plenty of out of the box features.
Have a clean design.
SEO optimized.
High-speed loading.
Mobile responsive.
Both are very easy to customize.
On top of that, both of these themes have a free version and a premium version. You may start with their free version, but you have to upgrade to their premium version when you want to use their advanced features, and you may check few more WordPress themes for your Fashion blog.
Install Some Essential Plugins
After installing the theme on your site, you should install some essential plugins. The best thing I like about WordPress is that you can make any kind of changes to your website using plugins without writing a single line of code.
From SEO to optimize your website speed to designing your website, you can do almost anything using a plugin. Overall, plugins will help you a lot to grow your fashion to the next level.
Most of the WordPress plugins are free, and easy to install on your site by going to Plugins > Add new.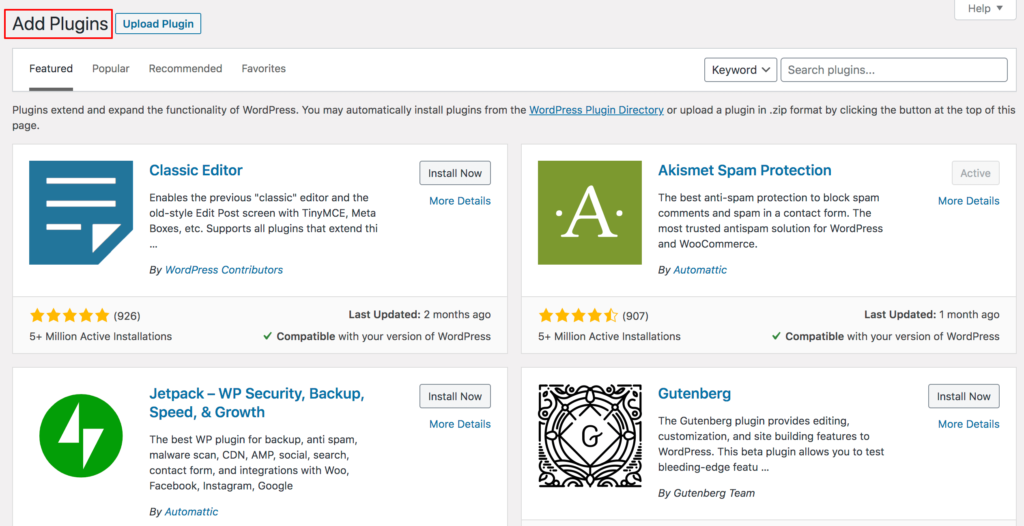 But there are also some premium plugins available that will enable you to do some advanced things on your website. Let's quickly look at some of the must-have WordPress plugins for fashion blogs.
Yoast SEO – It's an SEO plugin that handles all the major SEO tasks. Use this plugin to improve your on-page optimization, create a sitemap, add schema, and do many SEO-related tasks.
Contact Form 7 – Contact form 7 is the most popular contact form plugin on the market. Using this plugin, you can easily create contact forms on the blog. These kinds of contact forms are convenient because people can easily email you using these forms without any hassle.
Smush Image Optimizer – I know being a fashion blogger, you'll use many images on the fashion blog. But using too many unoptimized images can increase your website loading time. Using Smush, be ready to optimize and compress your heavy images without compromising the quality of your image.
Social Snap – Social snap is one of the most prevalent and lightweight social sharing plugins on the market. Using this plugin, you can easily insert social sharing icons into your blog posts and other parts of your site.
Smash Balloon Instagram Feed – This plugin will help you to show your Instagram feed on your fashion site. It has plenty of advanced features, and it's super easy to use.
NextGEN Gallery – It's an amazing plugin for managing blog images. It's the most popular gallery plugin for WordPress, and it has over 800k+ active installs. It's a simple yet powerful plugin for every fashion blogger.
WP Rocket – When you are desiring to make the blog lightning fast, then WP Rocket is a must-have for you. WP Rocket is a premium cache plugin that helps to optimize sites and make them faster. It has many amazing features like minification, Cache preloading, Files Compression, lazy loading, and a lot more that helps to optimize sites for better performance.
Pretty Links – Pretty links is a link cloaking and link management plugin that helps to manage and cloak affiliate links so that you never miss on your affiliate commissions.
Step 4: Create The Important Pages Of The Blog
Wait, you're not done yet. You've successfully set up your blog, but that's not the end of this story. In the learning process of how to start a fashion blog, it will be good to do one more important thing – creating the important pages of the blog.
Every blog or website has to provide some basic information so that your audience can understand who you are, what you do, and why they should listen to you. Here are some of the pages that you have to create as soon as you start your fashion blog:
About page
Contact page
Disclaimer page
Privacy policy page
These pages are super important while launching a fashion site, and it's going to play a very significant role in your blogging success.
To create these pages, go to Dashboard > Pages > Add New. Then write the content of your pages and publish it. That's it. Always make sure to add these pages in the header or footer of your blog for better visibility.
Write An Killer About Page
"About me" pages are the most important and popular page of any blog. It's the place where your readers get to know about you, and you create a connection with your reader. Having a great about me page can instantly increase trust among your audience and improve your blog's reputation.
But the question is – How to write a killer about me page?
Well, writing a killer about me page is not rocket science. Here are a few tips to follow while writing the about me page of your Fashion blog. Put 50% of your effort into crafting the headline because it's going to decide the whole game.
Make sure the first few sentences of your page quickly grabs people's attention. Share your journey, inspirational story, or any personal story to keep your readers engaged.
Add a crystal clear photo of yourself. Tell your audience how you are going to help them in their journey and life.
Add your social media profiles
Show your expertise to stand out from this huge crowd. Include some testimonials from experts in your industry. See, people visit the page to know more about that particular person or company. That's why you must write the copy of your about me page naturally so that it can connect with your audience.
Step 5 – Publish Your First Blog Post
Now we have come to the most exciting part of this guide. That is writing your first blog post. We have already set up the blog and made it live. But a blog without content like a house without walls. Hence, you have to put content on the blog before you make it public.
For writing your first blog post, try to find out some excellent Fashion blog post ideas. You could brainstorm some ideas on your own, or employ a tool like answerthepublic. Just head over to this site, enter a topic and click on search. And it will crawl the web and give you tons of content ideas that people are already searching for on the web.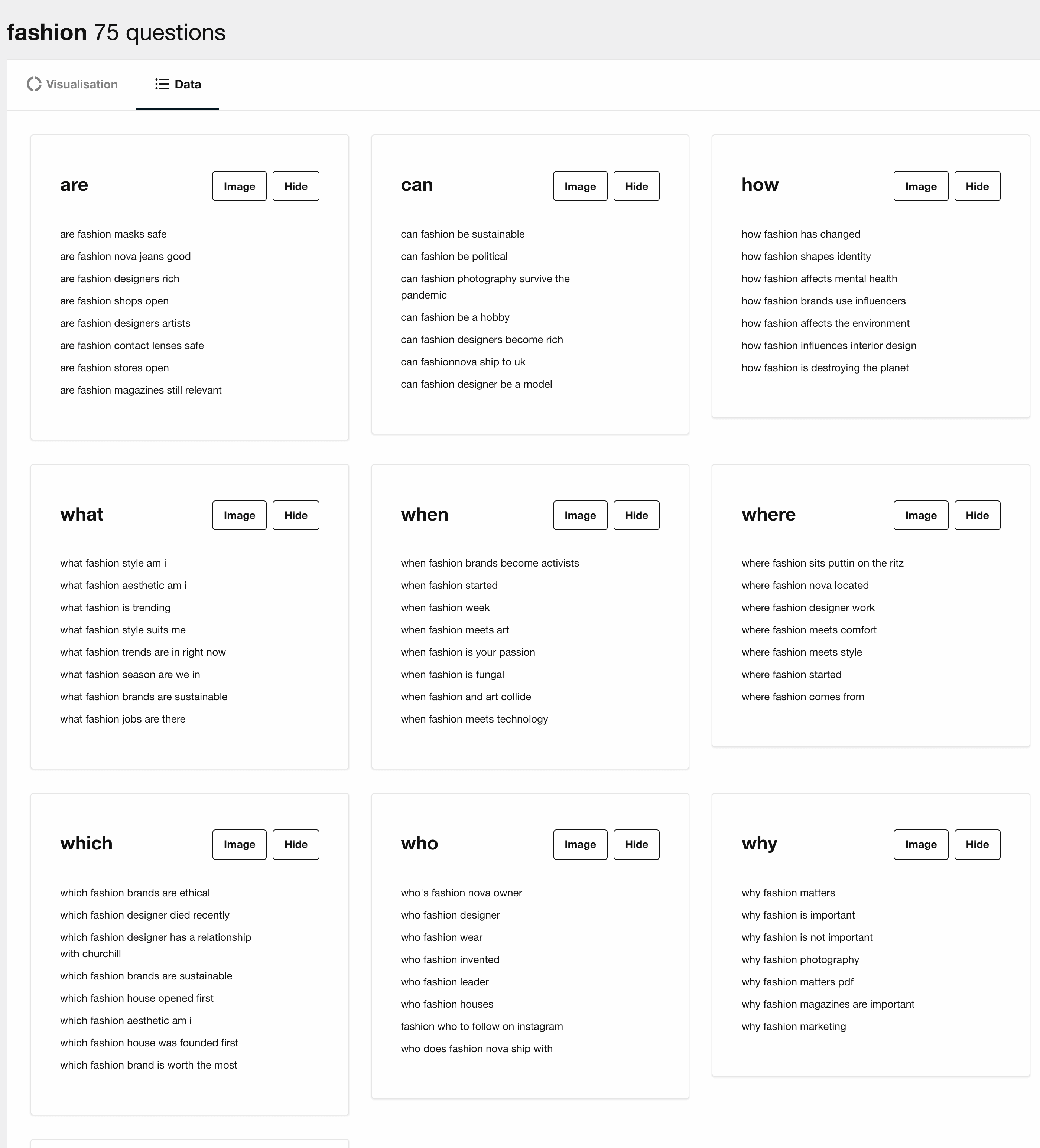 Write Down The Blog Post And Publish It
After finalizing the content, it's time to write down the content. For writing your first blog post on WordPress, go to your WordPress Dashboard > Posts > Add New. Then you'll get a page that looks like this. Now, write down the blog post on this blank canvas.
The WordPress Gutenberg editor is pretty simple! This new editor is easy to operate and format the blog posts without any issue. Once you're done writing and formatting your content, then click on "Publish."
And congratulations, you've successfully published your first ever blog post on your brand new blog.
Step 6: Optimize The Blog For SEO
53% of US consumers say that they research a product using a search engine before making any buying decision. You can imagine how much it will be beneficial for you to get traffic from search engines like Google.
The best part above all is the traffic you'll get from Google is completely free. You don't have to pay a single penny to any advertiser for bringing traffic to your blog. As a beginner, when you don't have a budget for ads, then SEO is the best way to bring traffic to the blog organically.
But the harsh truth about SEO is – It's really tough to crack it (Especially if you don't know anything about SEO). Don't worry if you don't have any idea about SEO. Because in this step, I will tell you about the basics of SEO and how to use it to optimize your content for better search ranking.
Basically, SEO is divided into two parts – On-page SEO and Off-Page SEO.
Both of these are different, but both are equally important for Google rankings. Let's discuss both of these parts of SEO one by one.
On-Page SEO
On-Page SEO basically refers to optimizing a single web page for higher ranking and better visibility in search engines. It is a vital part of SEO, and you can't think of ranking of your site content in any search engine without proper On-Page SEO optimization.
Here's why you need to pay very close attention to this part. I don't want to make things complicated for you. That's why as of now, I'm going to give you a few actionable on-page SEO optimization tips to follow for optimizing the on-page SEO of your blog straight away.
Let's have a look at those tips:
Use your targeted keyword in the first 100 words, sub-headings, H1 Tags, and at the end of the blog post.
Use powerful title tags and description for higher CTR (Click-through rate).
Write in-depth and quality content.
Satisfy the search intent of your targeted keyword.
You won't get overnight rankings using these tips, but it will surely boost your rankings.
Off-Page SEO
Off-Page SEO refers to doing activities outside of your website to improve the search engine ranking. Google doesn't just rank a web page based on the content. Off-Page SEO also plays a vital role in ranking a web page on Google.
Many factors go behind off-page SEO, but backlinks hold the majority of the stack. But it can be a little confusing for you than On-page SEO. That's why to make things a little easier for you, and I'm going to give you a few tips that will help you improve your Off-Page SEO.
And those tips are:
Use the power of social signals by promoting your site on different social networks.
Leave comments on other blogs.
Leverage the power of popular forums in your niche.
Improve your authority.
If you follow these tips correctly and combine them with good on-page optimization, I'm sure it will improve your rankings very quickly.
Step 7: Promote Your Blog For More Exposure
Over 4 million blog posts are getting published every single day. And there is a high chance that you won't survive in this huge ocean of blog posts unless you know how to promote it. Starting from choosing a name to setting up your blog, you have almost done everything. But it's not going to make you a successful fashion blogger.
If you want to become a popular blogger in your niche, it's wise to learn the art of promoting blog posts. On the other hand, when you start your brand new fashion blog, you won't get much traffic from any search engines, and you have to depend on promoting your blog on your own sorely. Let's look at some of the blog promotion techniques to promote and drive traffic to your blog.
Leverage Social Media
Social Networks and blogs are like bread and butter for fashion bloggers. A fashion blogger without social media is not a fashion blogger. I don't want to get into the benefits of using social media to promote your blog since I know being a fashion blogger, you already know it.
So I'll directly jump into the action steps and will tell you how to use social media to promote your fashion site, grow your audience, and make it successful. Before you start promoting the blog on social networks, make sure to make one big decision.
You have to choose a maximum of 3 social platforms where your ideal audience might hang out. As a beginner, I don't recommend going out and leveraging every social media to expand your fashion site since it can burn you up. You'll eventually end up generating nothing.
So, it's always a better option to choose a single or few social media platforms at first, and then after getting results on one platform, you can easily scale it up. Once you're done deciding which platform you want to leverage, then it's time to create content.
See, in social networks, content is everything. It's almost impossible to grow without producing great content. And those days are also gone when you can spam your website link all over the social media platforms. So you have to be very smart while you promote your fashion site on social networks.
If you already have a good social presence, it's obviously not going to be that hard for you to promote the blog. But if you don't have any social media platform, producing high-quality content repeatedly is the only solution for you. Also, check out social media profiles of other popular fashion blogs and see how they promote their blog.
Try to reverse-engineer the same process on your social media and see if that works for you.
In the end, social media is all about trying and error. So keep hunting for new and creative ideas for promoting your blog on social networks.
Few Other Ways to Promote Your Fashion Site
Other than social media, here are a few ways to promote your fashion blog!
Build a good relationship with Other Influencers
Building a good relationship with influencers and bloggers in your industry will help you in many different ways. But the biggest benefit you'll get is, you can promote yourself and your blog in front of their audience. That's why it doesn't matter what promotion technique you use, and it should be on your priority list.
Repurpose Your Blog Post
One of the best ways to promote your blog post without building any extra content is content repurposing. Just take the blog posts and repurpose them into videos, infographics, social media posts and distribute them on other channels to increase your reach. When you use this correctly, this easy technique can drive you tons of traffic with very minimal effort.
Publish blog posts on trending topics
Trending topics catch like fire, and you may use that fire to boost your site traffic. Simply by writing content on trending topics, you'll automatically increase your chances of going viral. You don't have to put any extra effort into promoting your blog posts around trending topics, and that's the beauty of writing this kind of content.
Interview influencers and bloggers in your niche
Interviews are already popular. People love to hear and learn from industry leaders and experts, and by interviewing them on your blog, you will definitely attract more eye-balls. On top of that, when you'll interview someone, there's a high chance that they will also promote that interview on their network as well.
Step 8: Own Your Audience (Build Email List)
Most fashion bloggers sorely depend upon social media followers, likes, and engagement.
But you never know what's going to happen in the future. Social media channels can ban you, or they can stop their services forever.
That's why I always prefer to stay on the safe side and own my audience. And it's not just me. Many companies and influencers build their whole business on their email list. In fact, email marketing is an excellent way to own your audience, keep them engaged, and generate a profit out of them.
If you're still not convinced, then let me tell you a mind-blowing fact about email marketing.
Every $1 spent on email marketing generates $42 in ROI on average. That's huge compared to any other marketing channel. Other than that, it will also help you to build connections with your audience and increase engagement.
In short – You should never skip this part when you crave to become a successful fashion blogger.
Start Building Your Email List
For building an active email list, you would need three things:
Lead capture tool – It's basically like a form that will help you capture email addresses and other information about your audience.
Email marketing software – After capturing the lead, your lead will automatically load up on your email marketing software. It's like a platform where you can store all your leads and send emails to all of them in just a single click.
Lead magnet – No one is going to give you their email address. For getting their email address, it's good to give something to them in return, and that's called a lead magnet. A lead magnet's main purpose is to attract more leads and give them a massive value straightaway.
These are the basic things that you will need if you require to build a huge email list.
For lead capturing tools, I recommend OptinMonster. For email marketing software, you may use Mailchimp (When you have a short budget) or ConvertKit, which is better than any other email marketing software.
Some Strategies To Grow Your Email List
You know that building email lists is important. But, it's not an easy task to grow an email list. Of course, If you have a huge ad budget, then it is easy to build an email list. But if you don't have and just starting, it will be challenging for you to grow your list.
Here are a few strategies to grow the email list without paying for ads.
Run a giveaway: Giveaways are amazing because it creates a lot of buzzes and you may use that buzz to grow your email list. You can host a giveaway of any product and ask people to leave their name and email address for participating in the giveaway. Since people love free stuff, you don't have to put too much effort into promoting it.
Launch a free course: Courses help build trust, authority, and hell a lot of money. But you can use it to increase your subscribers rapidly. Create a small course around any topic you're good at and give access to that course to people completely free of cost in exchange for their email addresses.
Create a free tool: If you could create a free and simple tool around your niche, then it can boost your subscribers like a fire. This method takes a little more effort than other methods, but it's totally worth it.
Include a call to action on your homepage: Homepages are the most visited page of any website, and when you want to develop your email list, you have to use that opportunity. Just by placing a simple email form on your homepage, you can massively increase the list of subscribers.
Step 9: Monetize Your Blog And Make Money From It
Now here comes the most important and last step of this how to start a fashion blog tutorial. In this step, you will learn how you can make money out of your website.
Making money from a blog is not difficult. If you follow the right methods and have patience, you don't have to make any extra effort to make money from your blog. The money will automatically come into your bank account.
Here are a few best methods to monetize the fashion blog!
Affiliate marketing
Affiliate marketing is one of the best ways to monetize your fashion blog. The best part about affiliate marketing is, it can run on autopilot and will keep generating revenue for you even while you'll sleep. So, when you promote others' products, and if anyone buys from your affiliate link, you get a commission of the sale price.
Some affiliate programs provide 2% commission, while some provide 90% commission as well. With a good audience base and the right content strategy, you can easily make $1000 – $10,000 per month with affiliate marketing. Check the best Fashion Affiliate Programs to make a consistent income by promoting the product of others.
Sponsored post
The sponsored post is an amazing way to generate quick money from the blog. Once you build a good audience base, many brands will contact you to promote their blog posts as a sponsored post. For the sponsored post, companies will also pay you a handsome amount of money.
In the beginning, companies won't approach you that much for a sponsored post because you'll have a small audience base. That time you can contact brands in your industry and ask them if they are interested in having a sponsored post on your blog.
Display banner ads
Displaying banner ads is the easiest way to make money from a blog. But this method won't give you good returns when you don't have a good amount of traffic. You can still use this method as an alternative source of income other than affiliate marketing and sponsored posts.
Sell your own product
Selling your own products is the most profitable monetization method for a blog because you're going to keep 100% of the profits in your pocket. But selling your own products is not easy.
You need to have a good and engaged audience base when you want to sell your own products. Though once you build your authority and audience base, it will be straightforward for you to crack this monetization method.
In the end, if you want to make money from these monetization methods, you need to have patience. Remember that blogging is not a quick reach scheme. It takes time to make money from a Fashion blog, but once you make your first income, the journey will be a little easy for you.
FAQs on How to Start a Fashion Blog In 2023
Should I start the fashion blog in 2023?
When you're passionate about fashion and want to create a fashion blog, make sure to start this year (2023) itself.
Who is the highest-paid fashion blogger?
I can't tell you the exact figure and name since most fashion bloggers don't disclose their income. But according to a blog post, Chiara Ferragni (An Italian fashion blogger) is the highest-paid fashion blogger and charges a whopping $19,000+ per post.
Can I start the fashion blog for free?
Yes, you can start your fashion for free on free blogging platforms, but I don't recommend them since you'll block your growth and can't do much with your blog. Here's why spending some money on hosting and the custom domain is always the best option.
Is fashion blogging dead?
No, fashion blogging is not dead and will not be either in the future. People love fashion, and the fashion craze is growing day by day.
Is fashion blogging profitable?
Definitely, yes! Fashion is the highest-paid industry in the world. If you put in hard work and follow the best monetization methods, then it will definitely be profitable for you.
Can you make money from fashion blogging?
Yes, when you understand how to start a fashion blog, then you can make huge money if you execute the steps dedicatedly. Many fashion bloggers are earning thousands and millions of dollars from their blogs already. If you follow the monetization methods that I've shared in this guide, you can also make a decent amount of money from your fashion blog.
How To Create A Successful Fashion Blog – Wrapping Up
And there you go. You've set up your own fashion blog and ready to make money from it!
Starting the fashion blog is easy but actually making it successful is a long process. Not only you'll have to work hard, but have to work smartly as well.
But in the end, it all depends on your passion and patience. If you have these two things, no one can stop you from becoming a successful fashion blogger.
Do you still have any doubts or questions about how to start a fashion blog? Leave a comment below, I'll help you!