As you have landed on this page, I can understand that you are looking for the best Thrive themes alternatives to design your business website or blog or landing page, or sales page in a stunning way to improve reader engagement.
Am I right?
I'm sure that you will find a suitable alternate for Thrive themes through this blog post.
Thrive themes has entered the WordPress market to implement conversion-friendly themes with dedicated products, including Ultimatum, Leads, Architect, and Optimize.
The buzz that Thrive has created in the market would have pushed you to purchase it, but there may be several reasons for you to look out for an alternative to Thrive themes.
After using it for quite a long time, I admit that Thrive themes has an excellent theme builder associated with exceptional features. It was letting me create attractive pages for my money-making sites. However, I was really disappointed and started looking for the Thrive suite alternatives when it comes to speed, third-party plugin support, sleekness, and payment integration.
Let me discuss the downsides of Thrive Suite in detail!
Why Thrive Themes Alternatives?
I strongly believe that you should be aware of downsides, so it does not disappoint you at the eleventh hour.
It is impossible to buy the Thrive theme builder; we are forced to buy the Thrive suite containing some unessential tools for page design.
Thrive suite is expensive! We need to pay $19 every month, and it will cost $90 for every quarter or $229 yearly. Beginners and startups cannot afford this huge amount.
Steep learning curve! Yes, it is difficult to begin because you can be overwhelmed with too many confusing choices.
When you are in the middle of something and looking for customer assistance, you should be very patient because their tech support is not responding fast.
Thrive theme team has bombarded users with too many products that lack value and application in real-time to provide value for money.
You have to go for Thrive alternate if you need third-party plugins to be installed on your site. As an agency owner, you may have to incorporate a few third-party plugins for different reasons.
Unfortunately, the bulky nature of Thrive suite can affect the site speed.
I understand that Thrive has turned into your favorite theme because it has helped your site attract more customers and subscribers. Remember that this is the time when you need to evaluate if your theme is right.
3 Great Thrive Themes Alternatives 2021
As a quick suggestion, I would like to recommend the three best Thrive themes Alternatives through a tabular column.
| | | |
| --- | --- | --- |
| | | |
| | Contains More Modules & Supports 3rd Party Plugins | |
| | Front-End Page Builder, Inline Text Editing & Global Elements | |
| | Awesome WordPress theme framework and builders | |
Top 6 Thrive Suite Competitors With Great Design Features
1. Elementor
Elementor is a perfect alternative to Thrive Architect as it has worked wonders for individuals and agencies. The advantage of Elementor is that it enables users to build dynamic headers as well as footers.
The best part about Elementor compared to Thrive Themes is its support to 3rd party plugins to enrich the site's functionality. Moreover, it has an "Embed Anywhere" feature and more modules than Thrive suite. If you have any concerns, check Elementor alternatives.
A list of features in Elementor that impressed me are as follows!
Absolutely flexible drop and drag page builder
Easy customization options and better navigations
Third-party tool integration with round the clock premium support
Option to integrate WooCommerce, emojis, space dividers, and e-commerce blocks
Perfect for creating lengthy landing pages
Why Elementor Page Builder?
Elementor has inspired users and set a record in providing visual design features that fetch traffic and are also friendly to developers. It is a wonderful free alternative to Thrive themes if you want a page builder that adds ease to your job and has intuitive features making your site look unique. You may also get Elementor Pro and take your site design to a new height.
2. Divi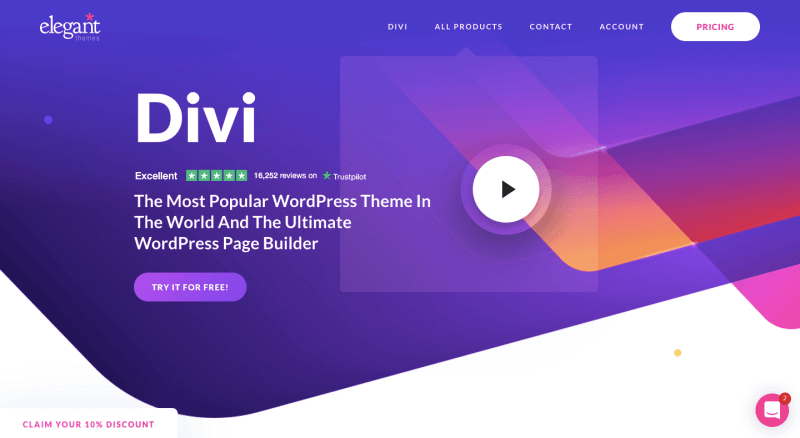 Divi is, hands-down, the best alternative to Thrive themes if your priority is to create a visually appealing site that outranks in terms of features and schemas. Divi also offers access to its architecture but does not stop at landing pages.
Divi theme outranks Thrive themes in containing beginner-friendly interfaces, value for money, and addon functionalities and enables users to build complete websites. It is perfect for those users wanting to create corporate websites along with newsletters to generate leads.
What features attracted me?
Intuitive and elegant drag and drop feature
Global content and design styles
Ideal for building pages and generating leads
Responsive and inline text editing
Hundreds of templates to choose from
Promising support
Thrive Vs Divi, Which Is Better?
One notable difference between these themes is that the split testing option can be explored only on email marketing campaigns in Thrive themes, but the Divi theme lets you explore any part of the page to conduct a split test. Moreover, you will get a Divi theme discount so that you can save some bucks during the purchase. Besides, if you want to work with a simple interface and need good tech support, Divi is the ideal choice.
3. Themify
Themify has helped over 100,000 customers create faster, highly responsive WordPress sites with its premium themes and plugins since 2010. Themify is a promising alternative to Thrive Themes enabling customers to play with its easily customizable features.
Themify is made exclusively for WordPress sites, and this sets aside any doubts related to the compatibility of the theme with your site. How did I miss telling you that you can choose between $39 and $59 to purchase this responsive, promising theme? This does not drill a hole in your pocket.
What features of Themify grabbed my attention?
Translation ready and highlight features
Awesome WordPress theme framework and builders
Includes SEO optimization feature
Faster editing with the new interface
Your content remains unaffected even if you deactivate Themify Builder at a later stage.
Why Pick Themify Themes Over Thrive Themes?
Customers can still go ahead with the usual WordPress editor instead of Themify Builder based on the individual's choice. This is not the case with Thrive Themes, as you are forced to adapt to the framework provided. Go for it if you are handling a pile of WordPress sites, as you can also purchase only the plugin if you do not need the entire theme.
4. Beaver Builder
Beaver Builder is an expert in the page building arena out of various Thrive themes alternatives listed here. Combined with flexibility, Beaver builder is a free alternative to Thrive themes, but there are also plans starting from $99 based on your needs.
The best part about this theme is the availability of templates to suit a range of industries. Alternatively, Beaver Theme takes a big YES from us if you need a unique frontend that can be set up in one click.
Here are a few ways by which Beaver builder outranks Thrive themes.
Inline text editing
Excellent control of styling
White labeling is important while creating sites for your clients.
100% clean output code with supportive lock-in
Video keyboard and animations
Overwrite modules
Why Buy Beaver Builder?
Beaver is giving intense competition to Thrive themes as the former outranks on several features. As a lightweight theme, it gets you rid of messes related to website schema. Are you an agency owner? Beaver Builder is your solution!
5. Astra Pro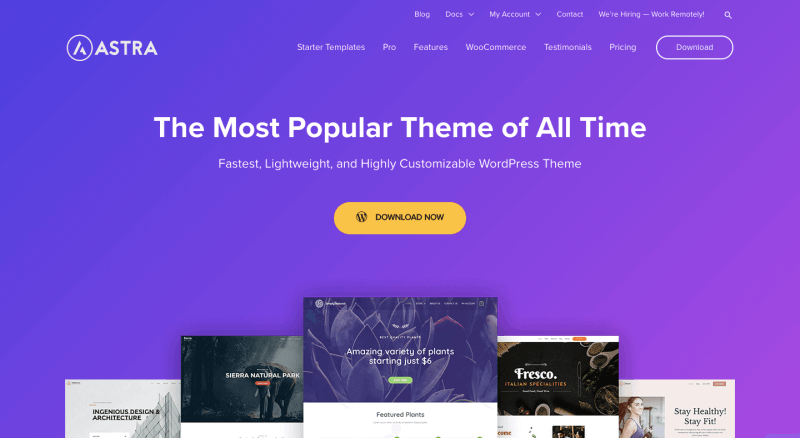 As an alternative to Thrive suite, here you go with the highly professional, promising, attractive, and functional theme, Astra Pro. This has caught my attention for its flexible plans and ease of use among website owners, irrespective of their knowledge levels.
At a budget-friendly price of $59, you get an SEO-friendly theme apt for white labeling and page building. Looking out for a theme that is handy, powerful, customizable, and fast, Astra Pro is your answer. It optimizes your site and reduces the size irrespective of the number of pages and heavy features you implemented.
Why choose Astra Pro?
Most affordable theme
Trusted by millions of users
World-class design option
1 to 1 support round the clock
Includes WP Portfolio, Schema Pro, and Convert Pro in addition to 50+ agency starter templates
Why Should You Get Astra Instead Of Thrive Suite?
When it comes to Thrive, the problem is that you may have to visit the framework each time to implement a particular feature. Astra Pro relieves this tension with its freemium option and customer support that has incredibly faster turnaround times. Also, do you want to make tons of money and gain the support of your clients with your professionalism? This superfast WordPress theme is where you should start.
6. Oxygen Builder
Oxygen Builder is ideal for those of you already holding rich expertise in building sites and looking out for advanced options. We suggest Oxygen Builder as an alternative to Thrive themes if you are WordPress savvy.
Thrive Themes is meant for moderately knowledgeable users, but Oxygen Builder goes one step higher. Bring that coding expert in you with Oxygen Builder! What grabbed our attention?
You can use Oxygen builder along with other page builders to get the output you want.
Custom stylesheets to give that personalized touch to your site.
Dynamic visual editor
Detailed design library and performance optimization feature
Lifetime support for one-time purchase
WooCommerce ready
Why Oxygen Builder?
Those agencies having expert resources with strong coding skills should explore Oxygen Builder! Not only does your output look unique, but you also get a chance to save money and use it wherever you want.
Conclusion
Thrive themes alternatives are listed. And, the winner is? It is a tie between Elementor and Divi as these themes have scored equally on aspects like pricing, documentation, features, support, and editing options. I was also overwhelmed by the number of trusted Elementor and Divi members compared to large schemas like Thrive Themes.
Astra Pro is also a good option! You will get high design flexibility and great support from this top Thrive themes alternate so that you could grab more eyeballs on your landing & sales pages that would tweak your income for sure. List down your needs, plan the budget, and go through my reviews! Your journey to developing websites starts right there!