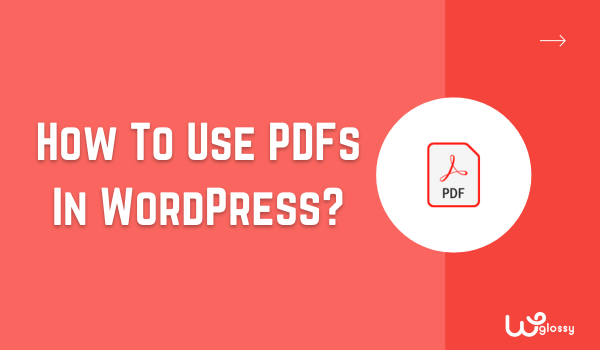 WordPress is a powerful tool for website development, offering users many ways to customize and manage their sites. One of the more popular options for WordPress users is using PDFs on their website. If you want to add value to your user experience, this blog is for you.
PDFs can help your site stand out, making sharing documents with visitors and customers easier. They can help make your website even more user-friendly and engaging, from creating dynamic documents to displaying and sharing them. And you should take advantage of them.
PDFs provide a simple yet powerful solution. With the right tools and plugins, it's easier than ever to use PDFs on a WordPress website. For the best WordPress experience, we'll list 10 different options for using PDFs on your website. Let's get started with what PDF is!
What Is A PDF?
Portable Document Format (PDF) files are the most common type of document used for sharing and archiving documents. They are digital versions of paper documents that can be viewed and printed on any device. PDFs are popular because they are compact, secure, and easy to share.
If you're running a WordPress website, you can use PDFs to enrich the user experience in many ways. PDF files can help boost your website's engagement and user retention, from offering downloadable content to creating interactive forms. But what are the actual pros?
Benefits of Using PDFs In WordPress Website
PDFs have become an essential tool for sharing information in digital form. It's a file format that retains the look and feel of a printed document. This makes a PDF an ideal format for sharing documents on WordPress websites. Let's discuss the benefits of using PDF on your website.
1. Improved Readability And Accessibility
PDFs are designed to maintain a document's original formatting, making them an excellent tool for ensuring readability and accessibility. Converting a document to PDF preserves the original document's fonts, images, and layout.
By doing so, website users can read and understand the document's content more easily. In addition, PDFs can be made accessible to people with disabilities by adding alternative text, bookmarks, and tags.
2. Protection of Document Content And Layout
PDFs are a secure way of sharing documents on WordPress websites. They allow you to protect the document's content and layout from unauthorized copying, printing, or modification. You can password-protect your PDFs to ensure only authorized individuals can access them.
This feature is particularly useful for sensitive financial reports, contracts, and legal documents. So, they are perfect for legal or government websites. If you run a small school, PDFs are also for you!
3. Search Engine Optimization (SEO) Benefits
PDFs can also provide SEO benefits for your WordPress website. When you create a PDF document, you can add metadata such as title, author, and keywords. Search engines use this metadata to index the document, improving the visibility of your website in top results.
Additionally, PDFs can be optimized for search engines by including hyperlinks, headings, and alt tags. So, you can expect the ranking of your PDFs on the search engine, and more users will be able to access them.
4. Increased User Engagement And Interactivity
PDFs can be used to create interactive and engaging content for your website visitors. You can include forms, surveys, quizzes, and multimedia content in PDF documents. This content can help increase user engagement and drive traffic to your website.
You can embed PDFs in web pages or share them on social media to increase their reach. And this can increase your website traffic even more, along with organic traffic from Google. So, they are also best for branding.
How To Use PDF Files On Your WordPress Website?
PDFs are useful in any online setting, as search engines universally recognize and trust them. Here are some great ways to use PDFs on your WordPress website.
1. Student Assignments
PDFs are great for accepting student assignments or papers if you're teaching a course or providing education over the web. You can make e-learning a breeze if you use WordPress, as there are plenty of plugins, templates, and themes that help with learning.
Coders can create a pipeline that runs homework through plagiarism software the moment it's uploaded to your website. This cuts down on manual tasks that interrupt a teacher's day.
2. PDF Forms
PDF forms are a great way to provide user feedback or accept orders or payments. Forms can be embedded right onto your site or using a download link. A WordPress developer could easily code one of these forms into your website if you have a CGI application on your server.
Consider reading an in-depth tutorial to add submit functionality, a reset form button, and an import data button yourself. Remember, it's simpler to do this if you're using Acrobat. You can import any PDF file from any program using the right address.
3. User Manuals
If you offer products requiring manuals to be understood, you can use PDFs to provide that information. Since PDFs retain their original format, no matter what PDF reader a person uses, customers can easily interpret your manual on any device.
Downloadable manuals are also more user-friendly and eco-conscious in the long run. On the other hand, paper manuals often get lost and damaged and eventually wind up in a landfill.
4. Downloadable Resources
Offer downloadable resources such as PDF e-books or whitepapers. Doing so adds authority to your website and engages with your audience. Plus, you can use these resources to convince website visitors to sign up for your email list. Email list campaigns can help with lead generation.
If the resource is better suited as an image (i.e., a single stock photo), you can use PDFSimpli to easily convert a PDF to JPG. You can add multiple JPGs to a ZIP file to compress each file. Make sure you explain how your customers can download and access each file.
5. Instructional Guides
Instructional guides are perfect for helping users learn more about a product or new features. While instructional guides are often mistaken for manuals, an instructional guide focuses on outlining the device's capacities, whereas a manual describes how to operate the device.
If you have a product that's easy to update without issuing a new one (i.e., an app or software), you should post a PDF of your new instructional guide on a separate page on your WordPress website. Check this article; we have provided a PDF for our audience to download.
6. Tutorials
Tutorials are perfect for showing step-by-step instructions to help users learn about a complex topic. It's easier for people to follow a tutorial if you're using pictures or videos. With the PDF format, you can embed links to instructional videos or insert high-quality distributive images.
Once again, PDF's biggest strength is its ability to retain its format. If you use PDF to create WordPress tutorials, you won't have to worry about a drop in quality or images loading out of order.
7. Case Studies
PDFs are also a great way to platform publications from your company. These often include testimonials from previous customers or case studies that showcase how your services can improve someone else's business. Both documents showcase your expertise and credibility.
Businesses need to maintain professionality, and PDFs can help them do this. Your case studies like traffic boost or speed score and reviews will look incredible on all devices and printed on printing paper.
8. Job Applications
If you're looking to hire people for your WordPress projects, you can use PDFs for job applications. This helps you cut down on paper applications and makes it easier to store them for future reference. It's also easy for applicants to fill out their forms, especially if you enable text boxes.
Remember that not everyone will have access to a PDF editor, so you should only use PDF documents if the software allows applicants to sign directly on the form. If they have to download the document to do this, they may opt out of the application process.
9. Newsletters
Newsletters can help you stay connected with current customers and attract new ones. They're also optimal for contacting customers with company news, promotions, events, product and service updates, and other company information. Newsletters work well in PDF file format.
Instead of writing a simple email, you can attach your newsletter as a PDF to load when your customers open the letter. You can also upload previous issues to your WordPress website.
10. Frequently Asked Questions (FAQs)
FAQ documents may be the best way to answer common questions quickly and easily. Linking to it in the footer or on a contact page is perfect for users looking for quick answers. You could even attach an FAQ document link at the end of an informative blog post.
If you run a podcast for your business, an FAQ PDF could shed more light on a complex topic or answer some unanswered questions because you were short on time.
Conclusion
These are some effective ways to use PDFs on your WordPress website. With the right tools and plugins, you can make PDFs an effective part of your website. Many plugins make it, so you don't have to wrestle with complicated coding languages or features.
PDFs are powerful, versatile documents that you can use to help market your website. You can make your website more user-friendly and offer potential extra information. Just think creatively and try to optimize your WordPress websites using PDFs to their fullest potential.