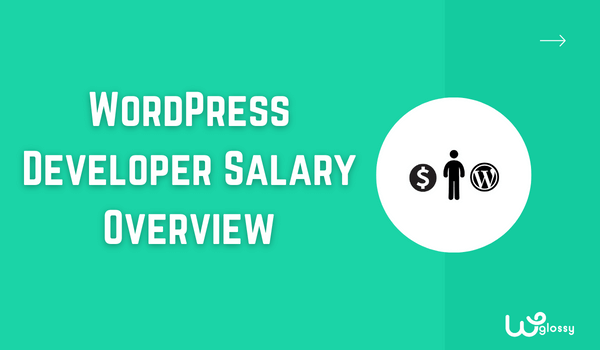 WordPress, a blogging CMS, exploded onto the information technology scene in 2003. It now powers 43% of all websites, giving it a massive 60.8% share of the content management system (CMS) market. If you want to become a WordPress developer, you're on the right track.
Surely you're familiar with a few businesses whose websites are powered by WordPress. The Walt Disney Company, Skype, Etsy, BBC America, Disney, and Yelp are just a few examples. BuiltWith estimates that there will be 30,462,105 WordPress sites online in 2022.
Many people have second thoughts about choosing WordPress. Why so? They fear their website will look identical to millions of others. Seeing the effects of the labor of experienced coders firsthand has led us to conclude that it entirely depends on their abilities.
While we discuss the WordPress developer salary, visit the link to read about WordPress's scope in detail. This article will discuss WordPress development, the skills necessary to be a WordPress developer, and the WordPress developer's hourly rate. Let's get started with the overview!
WordPress Developer Salaries: Overview
WordPress developers are highly sought-after for their expertise in WordPress. They handle developing and maintaining WordPress websites, plugins, and themes. So, how much does an average developer make? Before going ahead, let's look at what WordPress development is.
WordPress Development – What Is It And Why It Gets A Lot of Attention
Anyone who can build and modify WordPress websites is called a developer. Feature addition, aesthetic design, and plugin configuration are all examples. If you want a site that is both secure and scalable, hire a WordPress developer that is well-versed in the WordPress code standards.
It's not uncommon for designers to provide ongoing upkeep packages to ensure the site's safety and functionality. Some people may seek the services of a WordPress developer because they require assistance with their site but lack the knowledge or time to create it on their own.
WordPress developers know the nuts and bolts of keeping a website running efficiently. A novice developer can take hours to finish a task. A pro developer can do that task faster and more precisely. It's a big reason why people are constantly looking for WordPress programmers.
Types of WordPress Developers
There are three distinct kinds of WordPress developers, all in demand. As each developer does a separate task, they charge differently based on complexity. To estimate how much a WordPress developer costs, consider what type of developer would suit your project.
1. Front-End WordPress Developers
A front-end WordPress developer controls a site's visual style and functionality. They have the skills to build unique skins, add-ons, and functionality with HTML, CSS, and JavaScript. However, front-end developers have a comparatively lower salary than full-stack developers.
2. Back-End WordPress Developers
In the rear, the functioning of a WordPress site is squarely in the hands of the site's WordPress developer. They build unique skins, add-ons, and functionality with PHP. A skilled back-end developer can expect to earn a competitive salary that reflects their skills and experience.
3. Full-Stack WordPress Developers
A full-stack developer for WordPress handles a website's aesthetics and guts. They build unique layouts, add-ons or plugins, and functionality through coding in HTML, CSS, JavaScript, and PHP. WordPress plugin developers earn a high salary based on their experience level.
WordPress Developer Salary Range – Per Hour
A WordPress developer's salary range mainly depends on experience and working location. In each country and even at different companies, they get paid differently. The average WordPress charges around $32 per hour in the United States. Here's a quick summary:
Beginner WordPress developers charge around $10-$20 per hour.
Experienced WordPress developers charge about $25-$30 per hour.
WordPress Developer Salary Range – Per Year
Likewise, WordPress developers' salaries range widely per experience and location. Developers in big countries earn higher salaries than those in small towns. The average WordPress developer earns around $60,000 annually in the United States. Here's a quick summary:
Entry-level WordPress developers can earn about $30,000-$50,000 per year.
Experienced developers can make around $70,000-$90,000 or more annually.
To sum up, the WordPress web developer's salary is highly location-dependent. It's significantly higher in industrialized nations where demand for a competent developer exceeds supply. And it's lower in countries with a large pool of unemployed and underemployed developers.
Benefits of Being A WordPress Developer
Being a WordPress developer comes with numerous benefits. These include a high demand for their services, a flexible work schedule, and the ability to work on global projects. In this part, we'll explore these benefits and more, explaining why WordPress developers excel.
Ability To Work Remotely
One of the significant benefits of being a WordPress developer is that they can work virtually from anywhere. They don't necessarily need to work in a company or sit for hours in an office. They could work remotely or set up their own freelance business if desired.
In addition, working from home allows them to manage their schedule and enjoy greater flexibility. And yes, they can still earn a substantial income as a WordPress developer. So, becoming a WordPress developer allows one to work with brands from home.
No Degree Or Certification
Another great benefit to WordPress developers is that they don't need a degree or certification to become employed. They are typically hired based on their work portfolio and overall technical skills. So, formal education isn't always necessary to earn an income.
WordPress developers also have the opportunity to specialize and focus on specific aspects of developing any WordPress website. This allows them to hone their skills, increase their value, and even boost their salary potential. Wait, that's not the end of the story!
Can Be Their Boss
Finally, another great perk of being a WordPress developer is that they can be their boss. As mentioned, they don't need to work from within an office building. So, they can work freelance or set up their business. They can manage teams and projects.
This kind of flexibility allows WordPress developers to set their hours. They can choose their clients and do as much or as little work as they'd like. This means they don't have to burden themselves and they don't have to worry about their work.
Overall, WordPress developers have a lot of benefits working for them. They can work from any place in the world to have the potential to earn a six-figure salary. They are always in demand, and the opportunities are plentiful for those pursuing this career path.
Ways To Maximize Profit As A WordPress Developer
WordPress is the top choice for website development; WordPress developers have various options available to maximize their profit. While salaries vary based on skills, expertise, and location, there are some strategies WordPress developers can use to increase their earnings:
Leverage Additional Skill Sets And Offerings
WordPress developers may consider expanding their skill sets, expertise, and services to leverage higher-paying opportunities. WordPress is a wide platform, allowing WordPress developers to specialize in:
Designing different kinds of websites
Custom theme development
Addons or plugin development
Content Management Systems (CMS)
WordPress developers who offer diverse skill sets will have more employment opportunities. They can charge higher rates due to their expertise. For instance, a web developer with website optimization or On-Page SEO skills can charge extra for optimization.
Take Advantage of Freelance Opportunities
WordPress developers can benefit from the fast-growing market by offering contracting services to businesses. They can provide services to individual clients needing WordPress development solutions. This allows WordPress developers to name their rates based on experience.
Additionally, freelancing allows WordPress developers to work on projects on their flexible schedules. Many developers also find it lucrative to take on WordPress development projects from clients across the globe. Freelance platforms are the places they prefer to work.
Increase Their Overall Client Base
WordPress developers can increase their earning potential by increasing their client base. By increasing the client base, they can have multiple returning buyers and continue to work. They can pursue additional projects:
On different job boards and networking websites
Reach out to companies looking for developers
Create a website portfolio of their services.
This will allow WordPress developers to secure more jobs while increasing the rate they charge for development services. And having returning buyers is the best benefit they will relish. Besides, they can also transform into software engineer.
Charge More For Specialized Services
Specialized services make you unique in the competition, and you have more chances to earn a specific job. Many developers try to focus on a single service and gain expertise. By offering specialized services, they can charge more. These services include:
WordPress structure and security audits
So, with specialized services, WordPress developers can charge premium rates for their services. If you want to start your career, we recommend learning a single specialized skill and gaining expertise in it. This will help you stand out from the competition and make more clients.
Why Do Businesses Need WordPress Developers?
Companies widely use WordPress development to create their leading websites. This excellent CMS is widely used for its theme framework and abundant useful plugins. It offers a setting where they can try new ideas and execute improvements as technology advances.
WordPress designers and developers understand what it takes to create a website with a low bounce rate and maximize lead generation. They employ visual help and various plugins to keep users interested in your website. They are familiar with analytics tools to gauge site success.
Can You Make A Living Using WordPress Development?
You can indeed support yourself as a WordPress developer. Begin your career off on the right foot by applying for entry-level WordPress development positions. After establishing yourself professionally, you can apply for higher-paying positions in big companies.
If you are starting now, I recommend getting onto freelance marketplaces such as Fiverr and Upwork. To make a handful of money, you should start charging more as you gain experience. Once you have enough expertise, you can consider consulting or freelancing.
Conclusion – WordPress Developer Salary
As you can see, there is much to consider when determining a reasonable wage for WordPress developers. The price tag for employing a WordPress developer's hourly rate might change significantly. It's primarily based on the candidate's expertise and the project's scope.
If you want to earn a competitive salary as a WordPress developer, investing time in developing your skills is essential. Building a strong portfolio of projects that showcase your skills and creativity. It'll help you stand out from the competition for securing high-paying jobs.
Become a WordPress developer, and you will enter an exciting field of growth opportunities. With hard work and dedication, you can be well on your way to financial success and personal satisfaction. Stay honest, and you will continue to learn and earn.