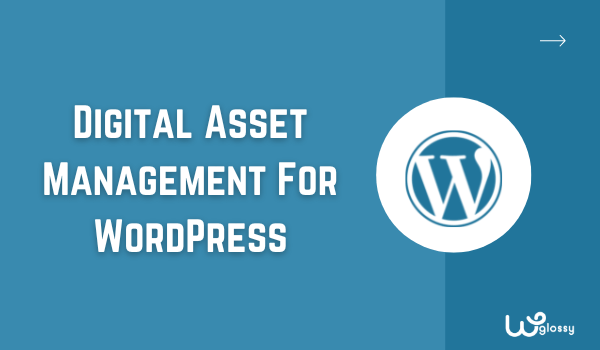 Are you running a WordPress website and looking for a solution to store and share your media files? Do you have issues with media loading on your website's posts and pages? If so, you need a WordPress Digital Asset Management (DAM) to get this job with perfection.
We all store our data and necessary files in storage options, like USB, hard drive, and cloud storage. This system can work best for big data; you don't need to organize to make it live for everyone. So, this traditional storage model won't work if you run a website on WordPress.
Thanks to advanced technology, one can now have a digital asset management (DAM) system. With DAM, you can store your files, categorize them, and access them whenever necessary. It allows website visitors to view all the media quickly and efficiently.
What Is Digital Asset Management (DAM)?
Digital Asset Management (DAM) is a centralized system for categorizing, storing, and sharing media on a WordPress website. You can think of DAM as a folder in your device with subfolders for quick excess. But no other person can access the media in a directory on your PC.
In contrast, as a WordPress media library, DAM lets users access all the media from anywhere. It's far better than the default media library in the WordPress menu. If you desire a better experience, this excellent tool for managing digital assets could be the best option.
5 Reasons To Have Digital Asset Management In WordPress
The advantages of WordPress Digital Asset Management (DAM) are numerous whether you run a small business or an enterprise. We'll discuss why you should get a DAM tool and what you can expect from it. So, let's move ahead with the benefits of DAM plugins:
1. Solution For All
The budget-friendly membership of DAM tools makes them a perfect solution for every user. Other cloud storage options cost you a lot, and their pricing plans increase over time. However, the prices of DAM plugins don't rise much, and you can get the best package.
2. Quick Access To Media
You need to add titles and descriptions manually for media in your WordPress library. However, DMA tools allow you to find and retrieve any specific photo or video as quickly as possible. So, you don't have to spend hours saving your digital assets or publishing new posts.
3. Enhances Productivity
If you are a company or enterprise, DMA can be a helpful tool for you and your team to manage projects. As DMA lets all your users access and use the files, it can enhance overall work productivity. Hence, even if your team works remotely, your company won't stop.
4. Gives Full Media Control
In DMA tools, metadata gives you enough information about your files, especially images. You come to know where they're used and have all the information. Along with tracking media, you get all the usage rights as well. You also have control of keeping or deleting particular media.
5. Improves Website SEO
Last but not least, metadata in your image can help improve the SEO of your website. It can help influence ranking positively and increase CTR (Click-Through-Rate). DMA tools let you embed metadata for images and increase the likelihood of ranking in image searches.
How To Implement WordPress Digital Asset Management?
WordPress Digital Asset Management (DAM) works well when you implement it properly. You can implement DAM for WordPress using tools such as plugins. So, we'll review a few best plugins below to let you know how it works. We'll discuss a few things, including:
What should you look for in a digital asset management tool?
What do these tools offer users for managing their assets?
How to integrate the tools with your WordPress?
You can decide on a particular plugin according to your needs and, thus, read carefully about each one. In the end, we'll tell you which tool is best for you to go with. Now, let's move to the plugins list and review a few for you.
1. Brandfolder – The Most Usable DAM Plugin
Brandfolder is not only on the top of our list but also the market's top DAM plugin. It's the best tool for marketers, startups, and big enterprises to better manage assets and maintain workflow. For getting their services, you can get one of the premium plans per your needs.
Unique Features
Upload, store, access, and share unlimited assets in all formats.
Gives permissions to both internal and external users for access.
Minimizes overall access time spent while looking for media.
Has Brand Intelligence feature to track all your digital assets.
Offers bulk editing features, like converting and customizing.
How To Integrate
Search for Brandfolder in the plugins section of your WordPress admin.
Install it, and once installed, activate it from the list of installed plugins.
Add a new Page/Post. Add a block by clicking on the Brandfolder icon.
Choose an asset from your Brandfolder by clicking Pick Asset.
For the first time, you need to put in your API key to access your assets.
Once your Brandfolder appears, you can customize your searches.
2. Phraseanet – The Best DAM Software & Plugin
Phraseanet, a DAM plugin for WordPress with a software version, is another excellent plugin. So, you can enjoy two software from this DAM solutions provider, and yes, they are reliable. To use this plugin, you must also install the software version.
Unique Features
Lets users store, find, and share digital assets quickly.
Gives more features than the standard WordPress Library.
Offers robust protection to your assets stored.
You can track all your assets using the plugin.
Allows you to export all of your reports in CSV format.
How To Integrate
Download and install Phraseanet DAM software.
Set up your Phraseanet account by signing in.
Go to the WordPress plugin control panel.
Activate the plugin from the list in WordPress.
3. Enhanced Media Library – The Simplest DAM Plugin
You can go for the Enhanced Media Library plugin if you need a solution to the mess in your WordPress Library. It allows you to upload disallowed file types and update galleries without spending much time. Let's get into the features you'll get from this plugin.
Unique Features
Allows you to build customized categories for your assets.
You can add configurable filters to manage assets quickly.
Enhances your experience with easy-to-edit and order features.
Set up all categories, titles, and captions all only one time.
Offers several features with easy integration into WordPress.
How To Integrate
Search for the Enhanced Media Library plugin in the panel.
Go to plugins installed in your WordPress and activate EML.
Adjust the media settings according to your preferences.
Digital Asset Management Best Practices
As WordPress Digital Asset Management (DAM) is the best tool to manage assets, you need to get the right one. For a person like you, we have compiled a quick guide of a few essential tips you must know. Let's get started without any ado.
Offering WordPress Integration
A DAM that you can integrate into WordPress allows you to manage all your assets from the WordPress dashboard. If a DAM tool is incompatible with WordPress or you can't integrate, avoid it. A WordPress-integrated DAM saves you lots of time managing your assets.
Can Automate Workflows
Always go for a DAM tool allowing you to automate workflows among your members or teams. You must get a plugin with built-in and customizable features to help you automate your manual tasks. With an automated DAM, your company's productivity can increase by many folds.
Managing Access To Assets
Sometimes, we use unapproved assets, creating trouble for ourselves and our websites. A DAM tool with features to manage approved assets can protect you from violations. It must offer controlled access to all your assets in your media library.
Formatting And Distribution Tools
One more feature your DAM plugin must have is built-in formatting and distribution tools. It's really time taking when you resize and reformat your assets in other programs. So, get a DAM tool where you can do this quickly and make them ready for use.
Conclusion – WordPress Digital Asset Management
Well! That was all about what assets are in WordPress and how you can implement one on your company website. Thanks to the flexible features offered by WordPress, it has made it easy for us to use DAM tools. Without DAM, managing assets in the media library will take hours.
As mentioned earlier, the default WordPress library does not offer enough features; you must get a DAM tool. With the right tool, you can keep your assets safe and manage them easily. It'll increase your company's workflow, improve work efficiency, and bring great results.
If you're looking for the ideal choice for WordPress Digital Asset Management, I recommend Brandfolder to take your management experience to the next level. It can help you manage and distribute your digital assets with ease. However, you should pick one according to your enterprise needs and budget.