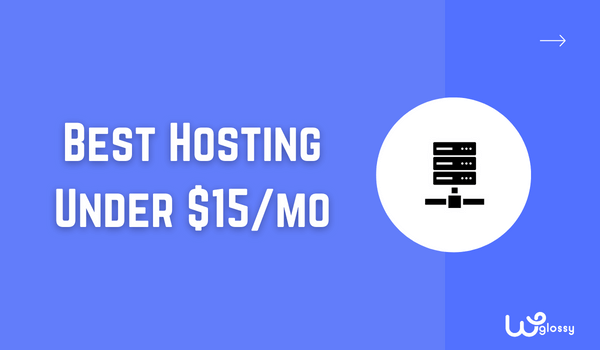 Are you looking for the best hosting under $15/mo to start your blogging journey or switch your current hosting plan? Do you think hosting under this budget is reliable and can work for your website? If so, this detailed guide is for you to find the right hosting.
Your online presence depends on your business website and hosting if you are a startup or new to blogging. But to get started, go for an affordable hosting plan and step into the ride. So, $15 per month won't be too much, and you'll get ideal hosting.
With the right hosting, you can rank on Google easily and reach a broad audience to get organic traffic. Hosting has a significant effect on ranking, and that's why you never rely on a cheap one for the success of your website. Spend a little more, and get the results.
Top 5 Hosting Under $15/mo For Unparalleled Performance
Most hosting you find in the range of $4 to $15 per month would work perfectly. But not every hosting at this budget can guarantee extreme performance. I have researched and used my years of experience to find some best hostings under $15/mo.
Let's get straight into the list of fast hostings to let you choose one right now:
1. Cloudways ($30 discount)
Overview
Cloudways is my favorite web hosting; I have used it for most of my websites. Once you switch to this hosting server, you'll see 2 times more performance. You'll find a boost in the overall performance of your website — speed, ranking, and traffic.
This hosting is worth its price thanks to more CPU and storage. Its plans get expensive when you scale, but you get more for what you pay. Registering for this cloud server service is easy – the sign-up process is simple. After migration, you'll love the outstanding results.
Best Features
Best for new users, easy to set up, and affordable
Faster page loads and 99% of guaranteed uptime
Offers one-on-one expert support available 24/7
Can handle a remarkably higher volume of traffic
Pricing plans are pretty reasonable for everyone
Can manage more sites without any staging issues
Built-in SSL certificate improves website security
Cloudways coupon code is available to claim $30 highest discount
2. A2 Hosting
Overview
A2 Hosting is another best hosting under $15/mo I love the most among the list of providers in the market. I like its speed and uptime the most and have not seen any complaints. You get a lot of features offered by premium hosting at a budget-friendly rate.
The server plans of this hosting are more user-focused; select the one that fits your needs. Go for the Startup package to start your journey as it's best. Are you are an established business? Pick Turbo Boost or Turbo Max, and you'll enjoy the fastest speed.
Best Features
Easy to use, set up, and manage from the first day
Fast speed, good ranking, and higher conversion rate
Shared plan is highly affordable for everyone
A friendly and skilled team is available 24/7 for help
Ultra-reliable server with 99.9% uptime guarantee
Provide free SSL and website builder in all packages
3. Templ.io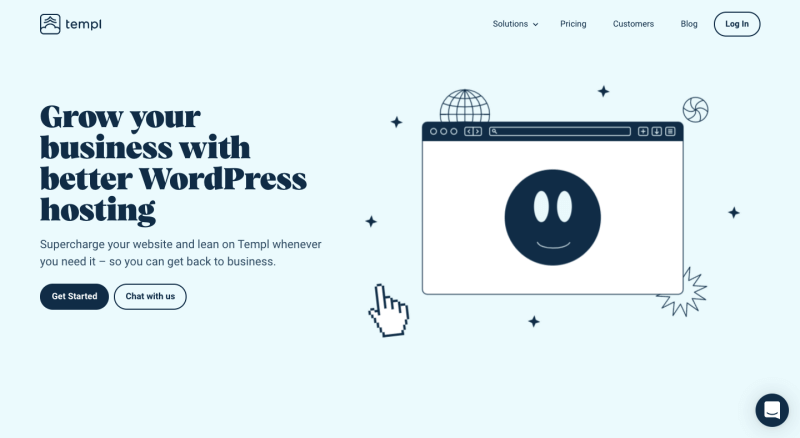 Overview
Templ.io is among some best managed WordPress hostings, combining Google CDN with Google Cloud hosting. You'll get speed and performance on this server, all at just $15 per month. If you need for some excellent features, Templ.io is an ideal choice for you!
Once you migrate to this managed hosting, Templ.io, they'll do the speed optimization for your site. Its cPanel is pretty simple —you'll easily manage the hosting if you have used cPanel before. With this hosting, you'll set up everything and enjoy the speed.
Best Features
Setup is a bit time-taking, but management is simple
Blazing-fast speed and powerful website performance
Guaranteed uptime of 100% on all browsers and devices
Can handle more users in real-time without any issues
You'll enjoy both the Google CDN and Google Cloud
Offer complete website optimization for better speed
4. GreenGeeks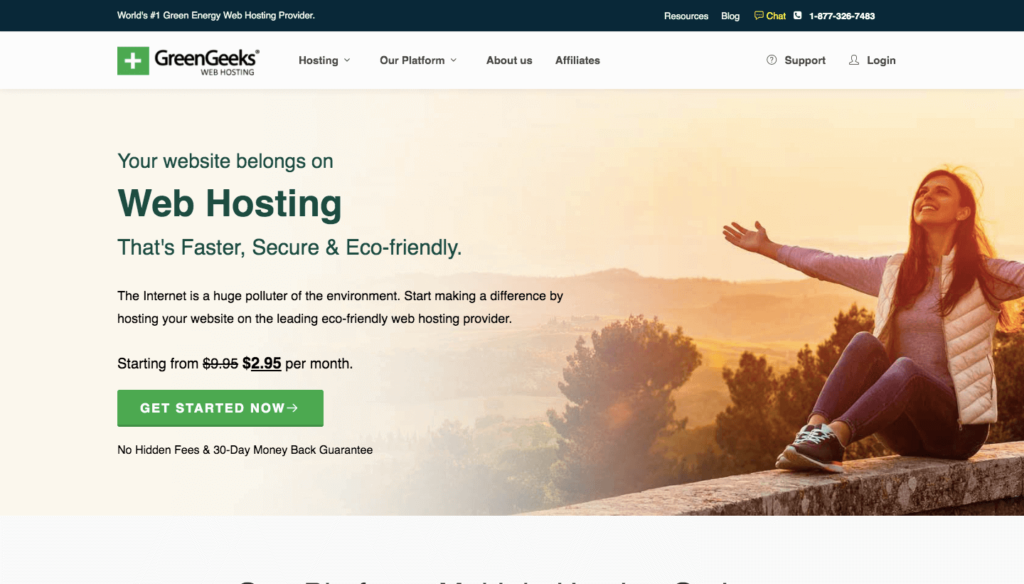 Overview
If you want feature-rich and convenient hosting, GreenGeeks should be your choice. You'll get impressive speeds, 24/7 expert support, and excellent features. This affordable hosting service is ideal for every beginner and small-to-medium website used by startups.
GreenGeeks is an eco-friendly hosting with the fastest speed and better optimization for your site performance. Its fastest SSD and LiteSpeed feature make this server load all pages quickly. You get a free CDN from Cloudflare, so your content always performs ideally.
Best Features
Pretty easy to set up with a ton of advanced features
Fast speed and quick page loading due to optimization
Comes with free CDN from Cloudflare for quick serving
Reliable uptime, 99.98% guaranteed on all web browsers
Great hosting plans are available at reasonable prices
cPanel supports the Softaculous installer to use more apps
5. Nexcess
Overview
Nexcess is another excellent managed hosting under $15/mo to help grow your business. Its fully managed WordPress and WooCommerce hosting plans lie under this budget. If you want to make money through your blog or eCommerce, Nexcess is the perfect choice.
You get intelligent plugin update tools on its WordPress plans, like performance monitoring. This plugin gives you insights into the results of any new plugin you install. You also get the feature of auto-scaling to handle a massive influx of traffic for 24 hours.
Best Features
The initial setup is simple, like the other hosting companies
Auto-scaling feature, manage extra traffic for 24 hours
Regular updates to keep plugins and themes updated
Server monitoring and 24/7 support from an expert team
Free SSL certificate and free daily content backups
Offer built-in Nexcess CDN for the fastest page loads
Hosting Under $15 – Frequently Asked Questions
How do I choose a host?
It's pretty simple to choose the right hosting for your WordPress website. First of all, I would say define your website needs and business goals. Check user reviews about the company to see its reliability and know its uptime. And yes, it should allow upgrades later.
What is the cheapest hosting?
A2 hosting is one of the cheapest hostings where you get good performance at an affordable price. Its plans are pretty excellent, with good packages everyone can get to start their journey. You should get this WordPress hosting if you are just starting your blog.
Which hosting is best for beginners?
Cloudways is the best hosting for beginners to start their blogging journey or company website. Its features are of premium level and offer excellent speed and performance. Cloudways performs better than Kinsta and other hosting services.
Which is the best hosting under $3 in India?
A2 Hosting is a fantastic hosting under $3 per month and is used widely in India. This green web hosting offers great plans with excellent features and 99.9% of guaranteed uptime. You can rely on them and start your website right now without worrying about its performance.
Is the cheapest hosting good?
Cheap doesn't mean low quality; it means low cost. So, the cheapest hosting is just a way to reduce the price for features you don't need much. You'll get shared hosting at a reasonable price, and there is little difference in performance compared to expensive hosting.
Conclusion – Best Hosting Under $15/mo
Perfect web hosting can do wonders for your website and business. If you're tight on budget, these hostings can deliver robust features and performance. You don't need to spend much money to put your site online, but you would have to pick carefully.
Getting the right hosting is the first step to bringing your business website to life. So, you are ready to build your WordPress website with my list of influential and well-known hosting providers. The hosting companies above are reliable; I have tested most of them myself.
I would recommend Cloudways as the best hosting under $15/mo whether you are starting a new site or switching from your current server service. This hosting company offers you excellent features starting at $12 per month. Finally, I would say go for a hosting service right for you.