Are you looking for the best Node.Js hosting service to get a faster response time for your web development project? You have reached the right place to know some of the top web hosting providers that support Node.Js open-source environment to execute Javascript.
Before getting into the list of Node.Js hosting servers, let me consolidate its benefits to feel that you are on the right track in buying the best hosting server for your business website to tweak its performance.
Why Node.JS Hosting?
Here are the best benefits of Node.js hosting that support your decision to purchase a reliable server for your web application development.
1-click Node.js support and instant ready to use
Easy to scale the resources as your customer base grows
Provides caching modules to reduce the code re-execution
Server can manage multiple requests with a low response time
Free application configuration support
Reduces page load and supports A/B testing
Offers cPanel graphical interface
Less hardware is required to handle the load
Free SSL and CDN integration
Now, let's have a quick look at the best-recommended Node.js hosting services through a tabular column.
3 Excellent Node.js Hosting For Faster Web Applications
| | | |
| --- | --- | --- |
| | | |
| | Finely Tuned, Blazing Fast, Cloud Linux based Affordable Node JS Hosting | |
| | Contains Node Js package manager to download & manage the modules | |
| | Easy Node Js Setup and Turbo servers for high-speed performance | |
Top 3 Node.Js Hosting Services For super Fast Performance
I have made this list based on how easy it is to deploy, handle and scale the Node.Js applications. Also, I picked the best Node.Js hosting services that offer excellent uptime, high security, and 24 x 7 tech support so that you can focus on your web development project with high productivity.
1. DomainRacer
DomainRacer is an independent and smart back-end solution for a wide range of environments and languages, including Node.js. It is the best option for easily scalable cloud-based best Node.js hosting platforms. That allows you to upgrade your plan and handle plenty amount of traffic. Here you get the guaranteed server uptime that positively could affect your online presence.
The main motto of DomainRacer to provide affordable node.js hosting services is to make the technical aspect easier for beginners as well as experienced developers. Well-balanced top-notch technologies and outstanding user-friendly 24/7 customer support is a top priority of them.
All low-cost node.js hosting services are thoroughly equipped with unlimited SSD and full administrative control panel access. So you have the freedom to install and run your applications on the server operating system. DomainRacer offers a free complimentary backup process with the opportunity to restore all valuable data
Worried about security? Don't be, DomainRacer enable highly advance security tools like Imunify360, Firewall, Magic Spam Protection, and more. To protect your site information data from harmful crises. They also take care of your search engine ranking and enhancing user experience. By furnishing hosting plans with a unique Free SEO Tool. That helps to make your website google ready.
Avail of extreme power, high performance, and state of the art security all at your fingertips with well customized cheap node.js solution at DomainRacer
Features
Auto-scaling of applications to run Node.js efficiently and cost-effectively.
Fully integrated and flexible platform to host your Node.js app.
Cutting-edge 21x fastest loading site performance with LiteSpeed technology.
Free let's encrypted SSL to secure connections from a web server to a browser.
Robust server-side processing with well-customized server infrastructure.
SEO friendly hosting environment for the better uplifting of people reach.
Worldwide IV tier multicoated server location (spread your business globally)
Standardized best-in-class security with high-tech control measures.
Compatible with any language framework make it developer-friendly.
Seamlessly easy integration of node.js setup with quick accessibility.
Satisfactory assistance for any runtime issues by dedicated experts.
Improves privacy and substantially performance HTTP/3 & QUIC protocol
2. Cloudways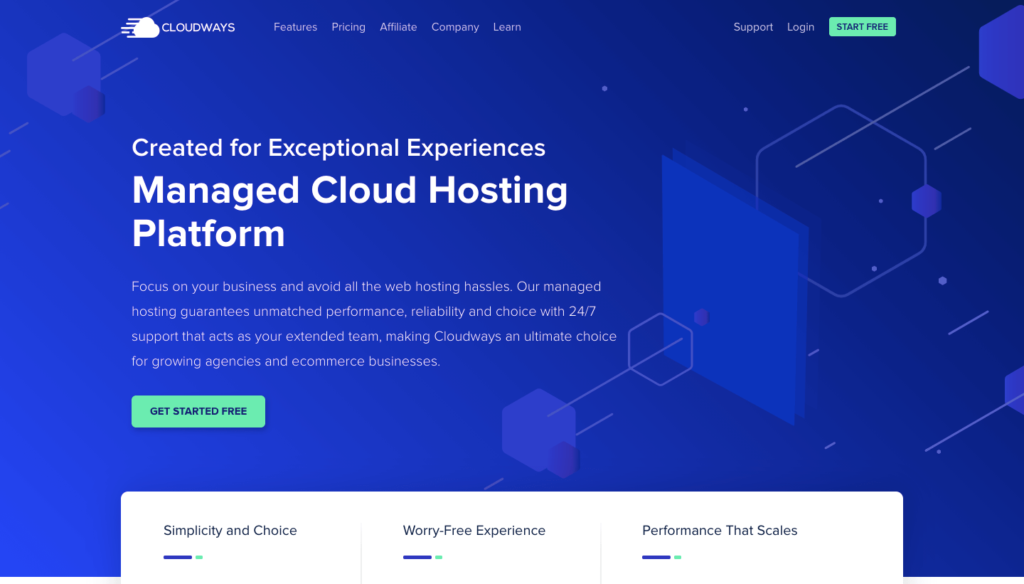 Cloudways is the best hosting that provides the Node.js feature in its hosting plan with Node.js Package Manager (NPM). This NPM is used to manage many js script modules for various web applications used in the web pages.
Cloudways uses tools like Bower and Grunt for various purposes like Node.js module management, its compilation, and running for frontend web applications. The Angular JS tool used MVC (Model View Controller) framework to construct your web applications with many JavaScript features.
This type of hosting can be beneficial in eCommerce websites and their functions like faster product display and payment processing. Its faster API access helps to achieve faster conversion in eCommerce websites build with Cloudways hosting.
Features
Cloudways hosting uses 50+ data centers for faster content delivery to their users.
The CDN used here have many nodes in its network, Node.js used for the data computation
It uses REST API for Codeigniter, YII framework with MVC architecture
It provides Application-level issues support like plugin error, server investigation
Proactive Application Monitoring support
Built-in advanced-cache servers like Memcache, Varnish, Nginx, and Redis for faster performance.
HTTP2 support between servers and clients
Auto healing in managed Cloud hosting delivers website availability without any crashes.
CloudwaysBot, Cloudways API for monitoring
Add-ons for migration, SMTP, application Upgrade, email Rackspace and DNS support.
Cloudways $30 highest discount is available
3. A2 Hosting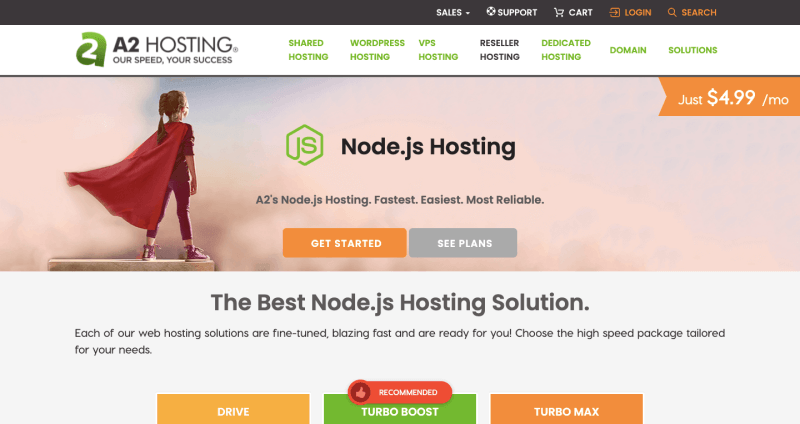 A2 hosting provides Node.js run time JavaScript environment for frontend web applications and their development. For example, we can create a web application in Node.js using Cpanel and a Command-line interface.
We can create a new web application using the Setup Node.js app icon in the software's section of the A2 hosting Cpanel. Creating a new apps folder in the domain root can create web application packages or HTML elements for the new application. Then run the application Via NPM (Node.js Package Manager) to install the app for usage.
It is also possible to use the command-line interface for new app installation and running. A2 Hosting uses Cloudflare CDN for faster performance if an application created with Node.js has much faster than other web applications.
The high Volume APIs and high content websites are easily accessed by the Node.js environment in its web hosting server. The data hosted on the SSD devices can be access by JavaScript packages in Node.js.
Features
24/7/365 Guru Crew Support for Node.js hosting
200% Faster execution of JavaScript web application
99.9% uptime commitment with reliable JavaScript websites
Completely risk-free and Money back guarantee
2x Faster on initial page load time to the users
Lite speed cache used in the server makes it 20x faster in SEO commitments.
SSD storage with free website migration
QUIC is used for faster network data access by UDP protocol instead of TCP/IP.
One-click applications for WooCommerce, Magento, Open cart, PrestaCart, AbanteShop, and PayPal merchants also available with faster performance.
4. Heroku Hosting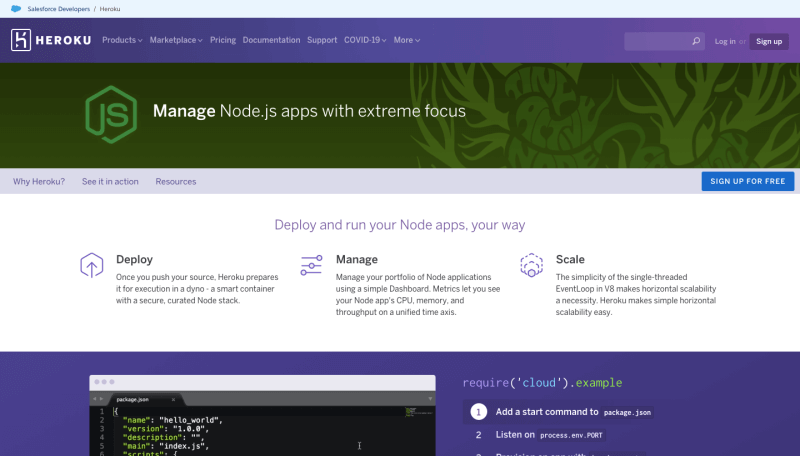 Heroku Node.js platform is mainly used in data-intensive web application developments like data computing and manipulation. The computing and manipulations of data are used in business analytics and tracking the customer and the product sales. So we can use Node.js and its application Business to business models where the data is computed mostly.
It uses Node.js to define the web application and list of packages needed to execute the faster access of data from the database to the web application by deploying the code and finally running the web application by its Dynos.
Heroku is a fully managed data service used in web applications like business analytics and resource tracking. It uses a single Threaded event-driven loop for execution web application so its asynchronous function can achieve faster performance with API.
This best Node.Js hosting offers three tools to manage data-intensive web app development: data delivery, storage, and data transfer. These functions are achieved by Heroku Postgres, Heroku Redis, and Apache Kafka. Heroku Node.js is the best data-intensive event-driven platform for business applications.
Features
Mainly focused on web application than data routing for faster access
First Class GitHub integration for data storage, Delivery, and transfer
It uses Binary deployment to roll back data retrieval during the breakage.
New Relic APM used for monitoring and troubleshooting the Dynos
Easily create apps and connect databases for access
Good Plate form for app development and scaling
5. Hostpapa Hosting
HostPapa uses the Node.js platform for server-side operations like real-time web applications and single-page web applications like Live Chat, Monitoring, Site audit, and Tracking. The Node.js hosting uses JavaScript to read dynamically and writes the data faster than the normal web hosting with PHP script.
It can be used on the client-side using a frontend interface like a mobile application by writing simple JavaScript packages to your server data. A managed Cpanel used for creating email accounts, installing web applications like WordPress, business analytics add, etc. It provides a maximum of 12 Core CPUs with 32GB RAM, 1TB SSD storage, and 8TB data transfer for hosting with a standardized solution to a faster website loading experience.
Hostpapa used for business that uses the number of tools for its business operations like web admins, SEO audit software and affiliate tracking software. The usage of this software needs high RAM capacity and a high-end CPU core for processing. In addition, this hosting type reduces website downtime.
Features
99.9% uptime guarantee
Root access with 2IP addresses
SSL encryption with High-level SSD storage
Softacolous with 400+ apps
30 days Money-back Guarantee
Faster response to real-time applications like mobile apps
Faster Single page application like SEO site audit.
6. Milesweb Hosting
Milesweb Hosting offers Node.js service for its cloud VPS hosting and its wide distribution of datacenters. So we can easily set up Node.js apps for its cloud hosting platform. Milesweb server uses packages manager and process manager for its Node.js operation with the help of NPM and Yarn.
The process manager has the level of operation from NPM, Forever, and Supervisor orPm2. All the web apps created using Node.js at any one level. All the code development changes and its update are automatically implemented in the application with the deployment manager. We can use SSH implementation for FTP, SFTP, and CLI to manage Node.js in miles web hosting.
Milesweb Node.js uses fast availability and scalability of the webpage using NGINX or HAProxy load balance and TCP for traffic load balance in its server. The other features are below.
Features
Latest Stack version delivery with Docker Container
Integrated monitoring system used for overload maintenance
SSL encryption and Proxy servers used for 100% availability
We can manage Node.Js apps with NPM and Process manager
12 core CPU with 24GB RAM, 2TB data transfer, and a dedicated IP
24×7 support system with professionals
Node.Js Hosting Q & A
1. Which Hosting Is Best For Node.Js?
Many hosting services have a 1-click Node.js installation option; however, I prefer either Cloudways or A2 Hosting for high-performance servers.
2. What Does The Cost Of Node.Js Hosting Include?
You don't need to pay anything extra for the Node.Js optimization. If you go with Cloudways, you may have to spend $10 per month, which is quite reasonable for getting premium hosting.
3. Which Is The Top Node.Js Hosting India?
Miles Web is the right choice to host Node.Js apps in India.
4. How Do I Host A Node Js Server For Free?
There are several free hosting providers of this type that exist in the market. But I would suggest you pick premium hosting for the lightning-fast performance.
Wrapping Up – Which Is The Best node JS Hosting?
If you deal with server-side web applications using JS instead of PHP or Python, getting exceptional Node.Js hosting is the ideal choice to deploy, run and scale your Node.js applications. It is one of the reliable hosting types that offers an excellent server response time.
Out of these 5 best Node.Js hosting services, I highly recommend Cloudways and A2 Hosting as they focus on providing the fastest server with low response time. Besides, they offer air-tight security, daily backups, excellent scaling, and great tech support for their users.