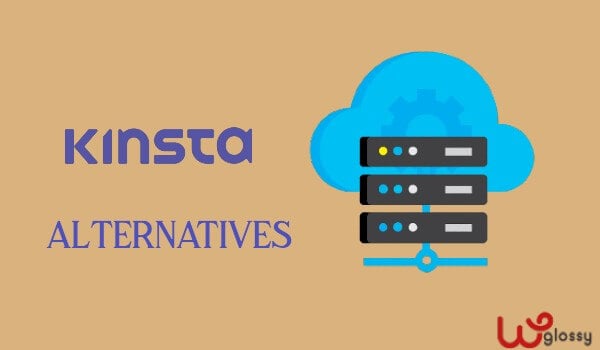 Looking for some of the best Kinsta alternatives? You have come to the perfect place to get a leading hosting for your website to perform well through the fast-loading pages and improved security.
Kinsta is known for its managed web hosting services and provides easy site deployment. However, there may be many reasons for you to choose a Kinsta alternative. Although it has a performance monitoring tool that safeguards your site, it might not fit your bill or meet your flexibility needs.
Well, you are not alone! Here is a detailed article listing possible downsides shared by their users and interesting and promising alternatives that you can try.
Downsides of Kinsta web hosting
Kinsta uses the Google V2 machine for speed performance in web hosting. But it has many downsides pushing us to find the ideal Kinsta alternatives.
Kinsta hosting provides limited WordPress installation in all of its plans. Agencies and enterprises need to choose higher pricing plans to manage multiple clients.
The monthly traffic levels are limited in Kinsta hosting. It is the biggest disadvantage of online stores and e-commerce website hosting. This is a major concern for sales promotion activities that might incur unlimited visits during peak sales.
The CDN add-on also has limited storage space. Hence, it can be a letdown if your organization needs large data storage spaces.
The email hosting is not available in Kinsta. So. we need third-party services for client management.
No telephonic support is available for a faster response for scaling the CDN, storage, and visits during traffic spikes.
The server resources, bandwidth, RAM-only storage space, CDN space, and the number of monthly visits are not visible to the users. This can impact the scaling of your business.
As a Kinsta user, you might have experienced one or more of these downsides. Worry not! I have a solution.
7 Top Kinsta Alternatives That Are Cheaper & Secure
The downsides of Kinsta might have let you in terms of reliability, scaling, and hosting needs. To meet your needs, we have handpicked a list of six best Kinsta alternatives that provide unlimited WordPress site hosting, free CDN, and multiple server storage around the globe.
Every handpicked alternative offers something superior to Kinsta in one way or another. Let's find out how every alternate can benefit your business.
1. Cloudways Hosting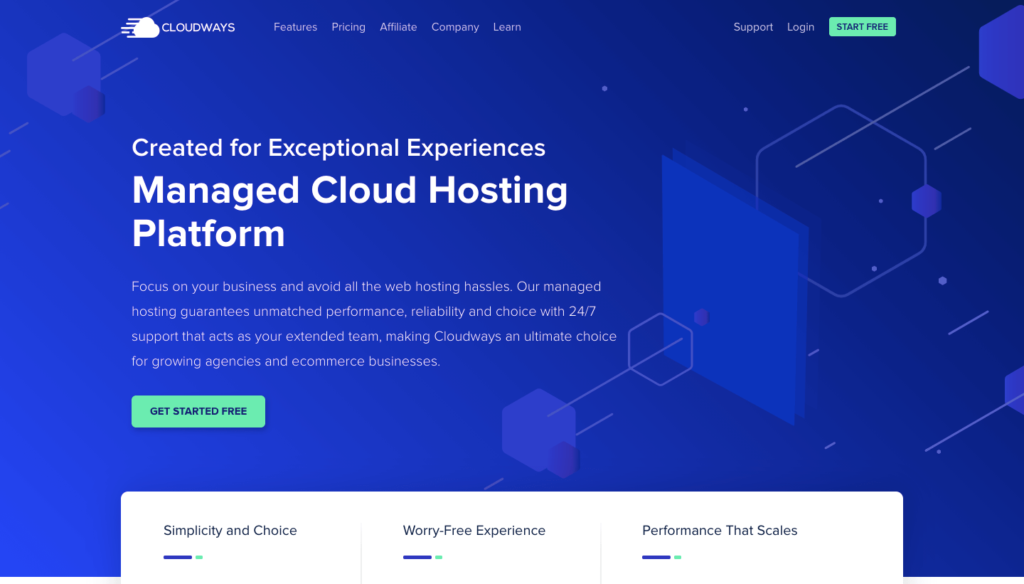 Cloudways is the best-managed cloud hosting that operates from 5 different servers around the globe with 60+ data centers. It offers full scalability of resources such as bandwidth, RAM, storage space, and CPU from its managed hosting control panel. The web applications and server resource usage are monitored with 15+ performance metrics.
Besides, Cloudways has hosting solutions for agencies, and e-commerce stores with many single-click web application installers. The free website migration with the staging area is stress-free without affecting the live performance of the website. It uses real-time Cloudways bot monitoring to avoid unauthorized entries and attacks.
Features of Cloudways Hosting
The server deployment is much easier with the Cloudways API. We can manage multiple websites and business applications in one place with easy updates and maintenance.
Cloudways uses the latest PHP version. Advanced caches are used for faster database access, server proxy, and page speed improvement activities.
Regular security patching with auto-healing of servers provides security against DDoS attacks.
Its DO server has two pricing variations, premium vs standard. Pick the suitable one according to your site needs.
Fast ticket response in two hours.
Cloudways senior engineers also provide application-level technical support.
A free trial option is available for all hosting plans without your credit card details. You can use the Cloudways Discount code to get $30 free credits.
Why Cloudways Is Better Than Kinsta Hosting?
In Cloudways, unlimited numbers of websites can be installed with one-click app installations for business applications. Cloudways uses innovative control that can manage multiple servers and many WordPress websites in one place without restricting monthly traffic. It uses the pay-as-you-go model for scaling the necessary resources. Check the detailed comparison of Cloudways Vs Kinsta and decide on the ideal hosting for your website.
Don't you think Cloudways is the top Kinsta alternative from this description? Not convinced? I have more solutions!
2. WP Bolt Hosting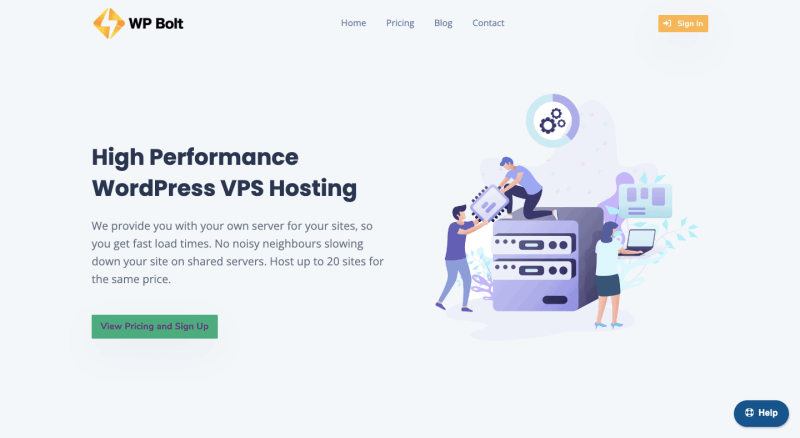 Next to Cloudways, I have a great hosting suggestion for Kinsta Alternative. It's WP Bolt! You should get this service if you require high-performance VPS hosting, preferably for your WordPress business site. Its fast and secure servers that receive managed updates impress me, so I'm using this hosting for one of my niche blogs.
Vultr powers this fastest WordPress hosting, so you don't need to worry about performance and security. Supporting the latest PHP version and offering CDN Addon are the notable features of WP Bolt hosting. Simply put, WP Bolt can tweak your site quality through which you can surpass your competitors.
Notable Features of WP Bolt Hosting
WP Bolt lets you install the latest version of WordPress in 1-click.
Its customer support is highly responsive! Experts are readily available to assist you 24/7.
Fastest servers that support PHP 8.1, MariaDB, HTTP/2, and Nginx?Apache stack.
You will get a free SSL certificate from Let's Encrypt.
It has four different pricing options. They are highly affordable and suitable for all sized businesses.
Data centers are located worldwide. It has 29 global centers, including India, Australia, and South Africa.
In the entry-level plan, you can host up to 20 sites. 2TB bandwidth available with 500 email accounts.
How WP Bolt Is Better Than Kinsta?
Kinsta has artificial limits on visitors. They have restrictions on the number of sites to be deployed. Moreover, it limits the PHP workers and does not offer more disk space like WP Bolt. Out of all, Kinsta is an expensive hosting and fails to provide email hosting in their package.
3. Templ Hosting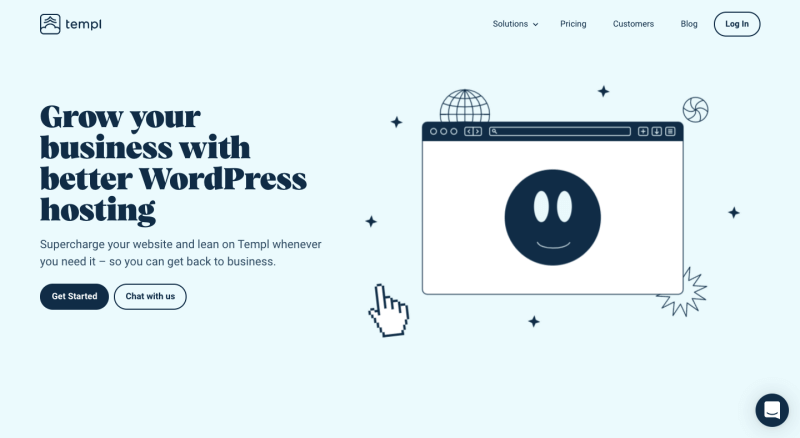 This new hosting player is a perfect Kinsta alternative, allowing unlimited monthly traffic and multiple WordPress installs. It also gives a hosting solution for managed WordPress, WooCommerce, and agency services with different application installations. This affordable hosting gives one-click staging for website migrations (done free of cost) with free SSL installation.
We can choose the data center with Google Cloud CDN for data storage. Nginx, server-based caches, and tailored cache settings provide maximum uptime. The uptime is monitored every three minutes with website speed optimization techniques. It contains extended premium support for WordPress updates, debugging, coding, rollback, and speed optimization.
Features of Templ Hosting
This cheap hosting uses the greatest managed hosting dashboard with easy migration. It is also possible to target locations to maximize the availability of the website. 
Single-click backup and app installation with auto-scaling of business features are present in the dashboard.
HTTP/3 transfer protocol, the latest PHP version, MariaDB, page speed module, and fast SSD storage are used for speed performance.
Brotli compression, Node.js support, and WebP image conversion with Google Cloud CDN storage guarantee maximum uptime.
Regular malware checks and vulnerability checks with SSH protection are accessible here.
All-time monitoring with premium support for speed optimization and WordPress development is available.
Why Is Templ Hosting Impressive?
This new hosting player allows unlimited website traffic with speed performance optimization support. The expert team is always ready for WordPress maintenance services such as updates, plugin debugging, and coding with rollback websites. The quality of support and unlimited traffic make Templ hosting one of the best Kinsta alternatives.
4. WPX Hosting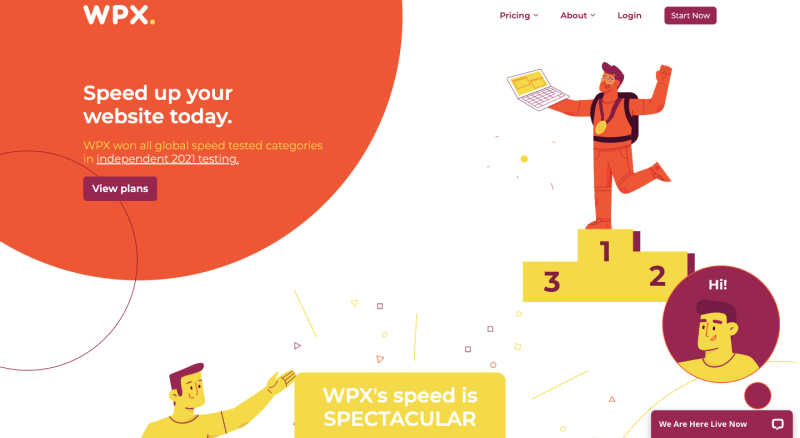 WPX hosting is the award-winning WordPress hosting service that offers faster website performance by three methods. The first one is that it uses high-speed custom CDN to deliver faster content to the user's request. The second one is SSD-based storage used in its server, which enables faster website data processing. Optimized machines and caches are used for maximum availability without downtime. 
This superfast WordPress hosting presents better 24/7/365 support. One-click WordPress install with free migration of websites from old hosting is also available with SSL encryption. It provides business, professional, and elite hosting plans with 30 30-day money-back guarantee. So much for one payment. Perhaps that's better than Kinsta. 
Features of WPX Hosting
High-speed free Custom XDN in more than 26 edge locations worldwide.
Data centers are located in North America, Europe, and Australia.
Latest PHP 8 version with unlimited MySQL and PHP access. 
It also has HTTP/2-enabled servers with SSD storage for faster data access.
The hosting service provider maintains a 99.5% uptime guarantee.
Advanced account security with the 2FA option is available. It also has a free malware scanning and removal system for DDoS protection.
Free website migration with manual and automated backup options is permitted in the staging area.
Unlimited email boxes for the domain with a 24 * 7 support team are feasible.
Why Should You Get WPX Hosting Instead Of Kinsta?
The speed optimization methods used in WPX WordPress hosting provide marvelous performance compared to Kinsta. It uses its own XDN (Free CDN) for content delivery with a Lite speed server and HTTP/2 enabled server for speed improvement. 
5. Hostwinds Hosting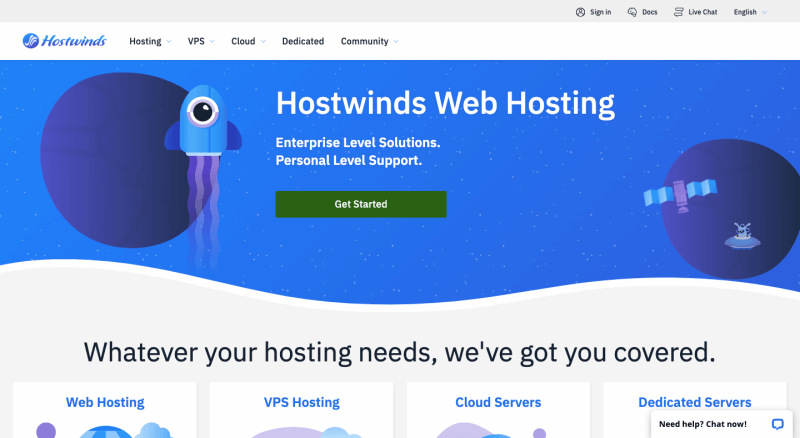 Hostwinds is one of the excellent Kinsta alternatives for its hosting excellence as it couples with reliability. It offers business, reseller, white-label, and shared hosting in Linux and Windows servers, VPS, and dedicated and cloud hosting services. Users can select the server from operating systems such as CentOS, Ubuntu, Debian, and Fedora.
The managed hosting services of Hostwinds provide an easy-to-use control panel. The 1-click installer for web applications is one feature that can simplify your job. Hostwinds gives full server management, including 24 * 7 * 365 support with a 99.99% uptime guarantee. It also provides additional support for OS updates, website migration, load balancers, and maintenance of your sites. The server resources are fully scalable in any plan.
Features of Hostwinds
The servers can be easily deployed using a managed control panel supported with enterprise firewall protection.
It contains complete real-time backup snapshots with flexible scalability options.
Hostwinds uses SSD drives with block storage and object storage options.
The load balancers are available in Hostwinds to avoid downtimes during high traffic conditions.
1Gbps ports are available for faster data transfer, improving website performance.
Free website transfer and 24/7 server monitoring are available in Hostwinds.
How Hostwinds Better Than Kinsta Hosting? 
Hostwinds comprises various hosting services such as VPS, cloud hosting, and dedicated server hosting for businesses, agencies, e-commerce websites, and enterprises. It comes up with object cloud storage and a load balancer for high traffic conditions that maintain 99.99% uptime.
6. Flywheel Hosting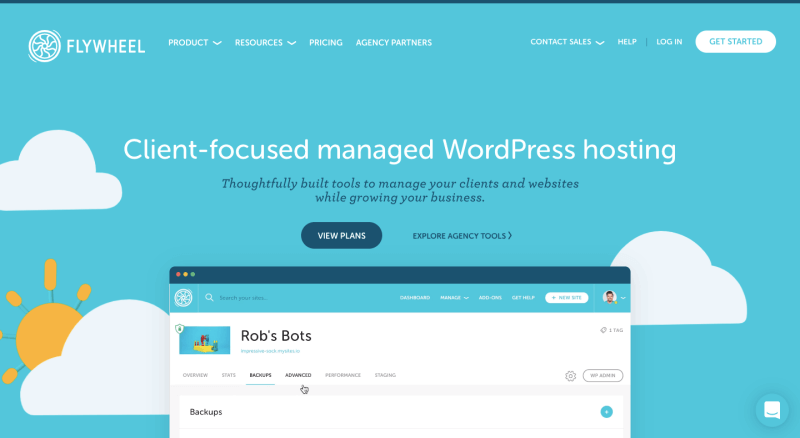 Flywheel hosting comes with built-in CDN and client management options. It offers a website creation option by staging and cloning features associated with web hosting services. The SSD storage and global availability of data centers are accessible in this fantastic hosting. Further, it encloses reliable hosting with high-security protection.
The servers are remotely accessed by SSH and SFTP access with automated backup protections as well. It also uses a single-click restore option. Flywheel gives a Genesis framework followed by 10 Studiopress themes for website development. It contains free migration with SSL protection. It has many workflow tools for client website management.
Features of Flywheel Hosting
Flywheel Hosting uses Global CDN with full-page caching. This method can also cache CSS, JavaScript, and HTML scripts in the CDN to respond faster to the user's request.
PHP's latest version and fly cache methods increase the uptime for the servers.
The third-party SSL, auto-healing of servers, and all-time server monitoring avoid DDoS attacks.
SSH gateway and SFTP protection are for server security and automated backup options.
24/7 chat, email ticketing, and phone support are present, along with a dedicated account manager.
What Are The Exceptional Features Of Flywheel Than Kinsta?
Flywheel hosting provides a Global CDN with flycache and these help in improving the maximum availability of websites even at high traffic conditions. Multiple client websites can be easily managed using G-suite options in Flywheel with a dedicated account manager. It will also provide performance insights on the dashboard.
7. Rocket.net Hosting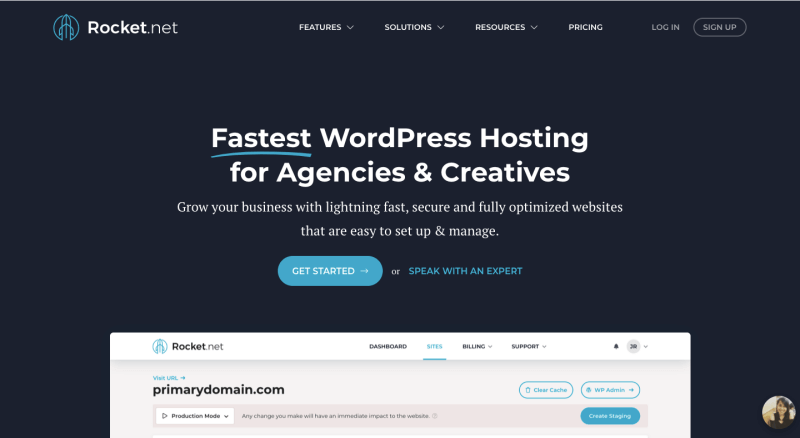 Rocket.net Hosting is an all-in-one WordPress option with built-in CDN and web access firewall protection. It has suitable hosting solutions for agencies, e-commerce, and small business websites with high-end security. It uses global Cloudflare CDN with full-page caching for faster performance. HTTP/2 and HTTP/3 protocols are used to process user requests faster. The Argo smart routing is used for faster data transfer in the networks.
The global website firewall blocks the malicious attack before it enters users' websites. The Immunity 360 local firewall protects WordPress sites and accounts from brute-force attacks. Real-time malware scanning and regular security patching provide extra security for our websites. The plans and pricing differ based on the number of monthly visits and WordPress installs.
Features of Rocket.net Hosting
This fastest WordPress hosting uses a simple dashboard with an all-in-one platform which is easier to build websites with a flexible hosting control panel. There is also an option for free website migration.
It is feasible to deploy WordPress in seconds, and migration is done with staging and free SSL encryption.
The global enterprise CDN is used for content delivery. It will automatically optimize the content and deliver it to 200+ locations worldwide.
Content optimization in CDN is done in many ways, such as full-page caching, brotli compression, Google font optimization, image optimization, and WebP conversion.
Its server is also available in 20+ global server locations.
24 X 7 X 365 firewall protections for SQL injection are present to protect your site from malicious file upload, comments spam, and brute force attacks.
It contains live chat, knowledge base tutorials, and expert email support.
Why Your Pick Should Be Rocket.net Hosting?
All the hosting plans are available at 1$ for the first month. The superfast hosting has a powerful control panel with built-in enterprise CDN and full-page caching. Its WAF firewall protection secures websites from malicious attacks. The control panel also grants performance insights to maximize the speed and security of sites.
Best Kinsta Alternatives – Conclusion
Managed hosting is a great solution for dedicated businesses and busy bloggers. It reduces your workload, lets you focus on site growth, and beat your competitors. However, choosing the right service is a hectic task as multiple choices with slight variations in the features and performance exist.
Kinsta is undoubtedly an exceptional hosting solution for all types of business websites. But it has some disadvantages that I have discussed earlier in this post. So, if you want to switch from Kinsta, my top recommendation is Cloudways hosting as a proud user. My second-best pick is WP Bolt Hosting. You will adore the exciting features and fast service.
Through this blog post, you have learned several Kinsta alternatives you can choose from. Next to Cloudways, my vote goes to Templ hosting since it is a cheaper alternative to Kinsta. You may also get other server services for better performance, advanced security, and premium support.
Other Hosting Alternatives
SiteGround Alternatives, WPEngine Alternatives
Bluehost Alternatives, Cloudways Alternatives