Are you running an eCommerce store online? Or planning to launch one?
Do you search for the best platforms to start or migrate your eCommerce site?
Your search ends here! If you are thinking to create a new eCommerce site or tweak your online store, nothing comes closer to WordPress.
Yes, WordPress is not just a blogging system; It is the #1 content management system (CMS) in the world.
Many e-commerce sites built on WordPress are rocking with a solid performance in selling their goods on the web. 
Some popular WordPress eCommerce Platforms that you would like to know are
halliefriedman.com
wormsigntshirts.co.uk
blue-melon.com
jhornig.com
If you still wonder why to use WordPress for e-commerce, let me help you with this article.
7 Reasons to Use WordPress for eCommerce Sites
In this post, you will discover few compelling reasons to use WordPress to launch your eCommerce store online. Are you ready? Let's find them out.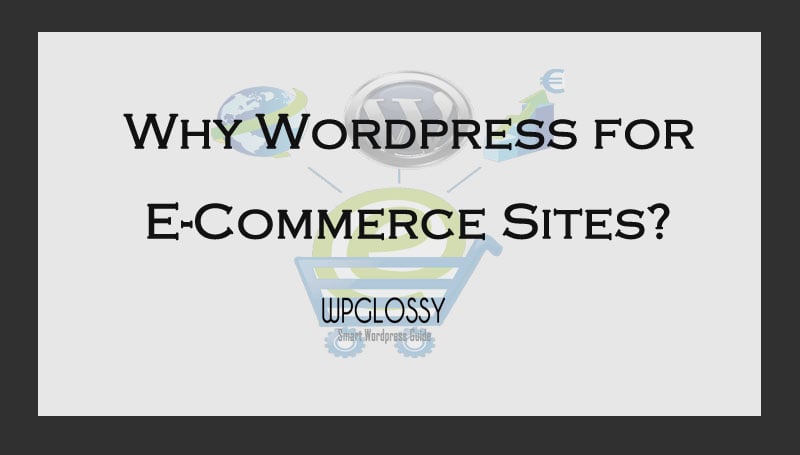 1. WordPress is an SEO Powerhouse
One of the top reasons most eCommerce site owners prefer WordPress over any other blogging platform is WordPress gives you improved SEO out of the box.
It is carefully coded and properly optimized by keeping search engine giants like Google in mind and hence I would say that it is an incredibly powerful SEO warehouse.
WordPress also gives you access to thousands of SEO tools which are mostly free. Whether you know it or not proper search engine optimization is all that you need to build a profitable eCommerce site from the scratch.
Having a well coded and properly optimized blogging platform such as WordPress can easily help you boost your overall SEO rankings and thereby increasing your overall eCommerce sites sales.
So if you are looking for the best search engine friendly content management system, you should use WordPress to start your eCommerce store online.
2. WordPress is Super Secured
Did you know that WordPress has a security team consisting 25+ WordPress experts whose job is ONLY to protect your sites from hackers?
We all know hackers can hack a site using various ways such as injecting malicious code, brute force, viruses, etc.
WordPress security team makes sure to keep the WordPress core files safe from all these attacks by frequently updating it or finding and quickly fixing the WordPress security bugs.
You may also get top-notch security plugins for WordPress to protect your site. 
3. Access to Incredible eCommerce Plugins
WordPress gives you access to thousands of highly useful plugins to manage your eCommerce sites.
If you're wondering what are some of the incredible eCommerce plugins that help you manage your eCommerce sites here are a few of them.
Easy digital downloads: This is one of the most popular WordPress plugins that helps you sell your digital products easily online. You can also see all your earnings and lots of data from the dashboard you get from this plugin.
WP eCommerce: Whether you want to sell physical products or digital products or membership sites, the wp eCommerce plugin helps you do all that. Due to these features, it has become one of the widely used eCommerce plugins online.
WooCommerce: It is one of the popular WordPress eCommerce plugins that not only allows you to sell your products online but also helps you quickly secure your content online.
I'll discuss more this later in the same post so that you will be able to understand why to choose WordPress for eCommerce. 
4. WordPress is Widely Used
Did you know that more than 24% of whole websites on the web are on WordPress? WordPress is the BIGGEST content management system used by millions of marketers and bloggers in the world.
Here are several reasons why WordPress works for eCommerce sites over other blogging platforms!
Flexibility: You can do pretty much anything with your WordPress design. If you are running on a tight budget, there are lots of affordable WordPress e-commerce themes available to design your e-stores.
Content management system: WordPress has the best content management system. Not only you can be easily able to create content from WP dashboard, but you can securely save it by having access to some of the content security plugins.
Shopping cart integration: Easy and secure shopping cart integration is a MUST for any eCommerce site. After all, your users need to trust your payment methods, and they should be easily able to place the order

from your sites.
This is where WordPress comes into play. They have lots of dedicated eCommerce tools which support hundreds of payment gateways that you can easily embed within your eCommerce sites.
5. WordPress Can Handle Any Amount of Visitors
If used the right hosting service for your WordPress site, it can handle any amount of website traffic. It doesn't matter whether you are getting thousands of visits every day or millions of search visitors every single month, it can bear it!
Just make sure to consider the hosting options like dedicated web hosting or VPS hosting and hosting services such as BlueHost, SiteGround, WPEngine and InMotion to run your WordPress sites smoothly even if you get massive traffic.
6. WordPress is Being Used By TOP brands
Did you know that 1/6th (One out of six) of all sites on the web right now use WordPress as their CMS (Content Management System)?
Here are few big names who are using WordPress to run their sites like BBC America, The New York Times, Fortune, TechCrunch, Sony Music, Time Inc., Bata, ESPN and a lot more!
So why not join the biggest brand names by using WordPress as the eCommerce website builder?
7. WordPress is Versatile for eCommerce sites
Did you know that 40% of the eCommerce WordPress site that use WooCommerce?
Over 13 million sites use WooCommerce. It's one of the widely used eCommerce solutions that gives you 100% control to sell anything from your eCommerce site.
WooCommerce is the best WordPress tool that you can use to sell anything from real products to digital products online.
Not only it's mobile friendly, but it also gives you dedicated support that you can avail if you need any help when a problem arises while managing your eCommerce sites.
Conclusion about why you should use WordPress to create eCommerce site
The #1 reason WordPress is so popular among eCommerce sites is its flexibility. It gives you access to SEO tools, eCommerce tools, shopping cart integrations, etc. to manage your eCommerce sites with the breeze.
In a nutshell, WordPress is an SEO powerhouse, user-centric, super secured and widely popular content management system in the world. You won't regret using WordPress online shop.
Even if you are not a web developer or a non-tech savvy, you can easily setup a WordPress e-commerce website with plugins and sell your products online.  
I assume that you have understood Why WordPress for eCommerce. So what do you think? Is WordPress good for e-commerce? Would you like to get started with WordPress eCommerce business? 
Or do you have any other recommendations to start WordPress shopping cart? Share your valuable thoughts in the comment section.