Do you want to know how to build an authority WordPress site that makes consistent income every month?
If yes, then you're in the right place!
Starting a WordPress website is so easy. Anyone can do it within 5 minutes!
But making consistent profits is definitely not an easy task.
Did you know that 81% of the blogs never make even $100?
There's a reason why most bloggers quit blogging within the first 3 months.
The reason is: They don't make even a penny!
I know how frustrating it would be if you don't get any results even after working hard in creating content, promoting it and networking with other bloggers.
But here's the thing: don't expect quick results!
If you're wondering about how to improve the authority of a WordPress blog/site in 2018 and beyond, here are 5 PROVEN tips for you.
Let's get into the details!
5 Ways To Improve The Authority Of A WordPress Blog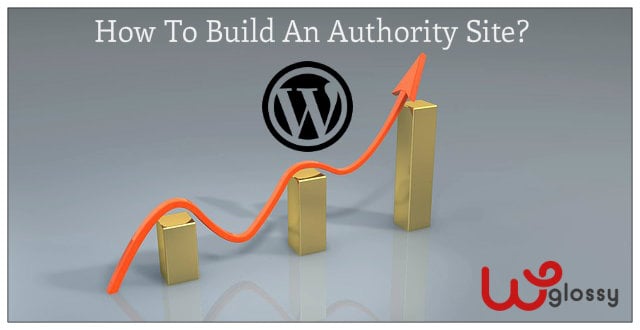 #1. Pick A Smaller Niche For Your WordPress Blog To Succeed
The key to improving the authority of a WordPress blog is to find a smaller niche.
There's no point in creating content on a broad topic. You simply can't compete with the authority sites.
For example, you can't build a high traffic profitable website around a broad topic like "passive income."
Why? The reason is simple.
You can't compete with an authority blog like Smart Passive Income run by Pat Flynn which mostly talks about passive income.
But you can certainly build a better WordPress blog if you pick a small niche like "passive income apps" where you can only talk about apps that generate passive income.
Are you getting the point?
Now my question to you is this: are you covering a broad topic or your WordPress blog is focusing on a smaller niche?
You can use tools like SEMrush or Ahrefs to easily come up with a ton of profitable smaller niche ideas to build a WordPress blog that actually makes money in the long run.
Just make sure the niche you select has some search volume and good enough to monetize.
If you're still wondering about how you can come up with profitable niche ideas, you can read this excellent post from Niche Hacks.
#2. Don't Ignore SEO
SEO (Search Engine Optimization) is the key to getting more traffic. Without getting organic traffic to your WordPress blog, it's impossible for you to make profits from it.
When it comes to traffic sources, search engine traffic is considered as the #1 traffic source. The reason is: people who come from search engines are more likely to buy stuff from you.
That being said, here are 3 most important things you need to implement if you want to boost your search rankings to your WordPress blog.
Keyword Research
The #1 reason most people don't get any traffic from search engines to their sites is this: they don't do any keyword research.
How can you attract more organic traffic without using the keyword phrases used by your target audience? Find out what your audience is looking for.
Here is a guide to doing the keyword research for SEO easily! 
Come up with a list of long-tail keyword ideas and pick a primary keyword with less search volume (preferably with less than 1000 monthly searches) to create content that naturally attracts more organic traffic.
You can use tools like Long Tail Pro Cloud, Ubersuggest, KWFinder and its alternatives for finding long-tail keywords in your industry.
On-Page Optimization
You won't get any organic traffic from search engines like Google without optimizing your blog posts or pages for the keywords you want to rank for.
Make sure to include your primary keyword in the title, meta description, image alt tags, URL and sprinkle multiple times within your content if you want to boost your search engine rankings.
Make sure also to use relevant keywords (LSI keywords) instead of stuffing the same keyword again and again if you want to attract traffic from highly relevant multiple keywords. You can use the free keyword research tools for finding relevant LSI keywords to optimize your content.
Quick Tip: For WordPress users, there's an incredible SEO plugin is available: WordPress SEO by Yoast. It's the most downloaded SEO plugin on the planet which is used by millions of WordPress users worldwide. It helps you easily optimize your blog posts for a primary keyword you want to rank for.
Attract Quality Backlinks
Building backlinks not only help with more search traffic, but you can also increase domain authority (DA, which is a metric determined by Moz from 1 to 100, 100 being the best) of your WordPress site.
How to improve the Domain Authority? I'll discuss later in the post, stay tuned till the bottom! 
Here are a few proven ways to build quality links to your site.
Write guest posts and submit them on relevant sites in your industry (try to guest post on sites with DA 30+).
Use the skyscraper technique – Find top performing content in your industry using tools like Buzzsumo or SEMrush, create 10x content around it, and promote it to the right people to create more buzz online.
Give a try to broken link building where you find broken links on other sites and ask the site owners to replace them with relevant links from your site. If they find your content really helpful, they'll be glad to link back to your content.
#3. In-Depth Content Is The King
Nearly 2 decades ago, Bill Gates said, "Content Is King," and so it has been even now.
But not just any content. Google is giving first-page search results to those websites with in-depth, engaging, and highly informative content.
Whether you want to increase the domain authority or overall authority of a WordPress site, you need to have great content in place.
Gone are the days where you can write a 500-word article and still get top rankings for a keyword. If you look at the average word count of the top 10 Google results, you'll be amazed at the results.
The average count for the first page results is over 2,000 words. The study conducted by serpIQ also showed that the average word count for a page in the first position is roughly 2,450 words.
The average count for pages in position 10 was a little over 2,000.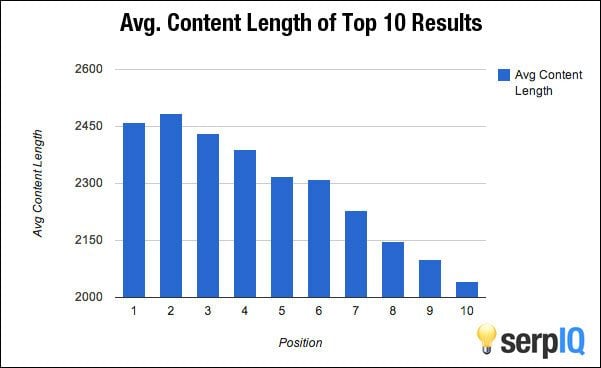 Brian Dean from Backlinko also conducted a similar experiment where he found that;
"Based on SERP data from SEMRush, we found that longer content tends to rank higher in Google's search results. The average Google first page result contains 1,890 words."
So what can you learn from it?
If you want to get first page rankings for a competitive keyword, make sure to create long-form content around it (typically with over 2000+ words).
Just make sure to include meat with useful information within your content instead of creating filler content just for the sake of writing 2000 words.
So how can you create in-depth content that's valuable for both people and search engines?
Try these tips, and you can create an extended form of content easily.
Research is everything. The more time you spend on researching your content, the better the content you can create. Most people don't spend time much time in  researching, and that's the major reason why they often end up writing 500-word blog posts. Spy on top 20 search results for the topic you want to cover, and you'll suddenly have a lot to write.
Outline the right way. Use a ton of subheads and before you start creating a long-form of content, divide your blog post topic into several chunks and make them into subheadings.
Fill the gap. Once you've analyzed the top 20 search results for the topic you're going to write, find out what's missing. Think from your target audience perspective so you can come up with a ton of questions you can answer within your content.
#4. Focus On Boosting Your Domain Authority
If you want to improve the authority of your WordPress site and get more eyeballs to make a consistent sales or income, then you have to focus on improving the Domain Authority (DA) of your website. 
It is nothing but a ranking metric (0 – 100) introduced by Moz. The higher the DA, the higher the search engine rankings would be. 
Moreover, the relevant businesses who would like to get mentioned on your site may look for this metric and approach you for the sponsored or guest post opportunities. They may have huge funds and ready to pay $$$. 
So, how to increase the DA score? – It's a million-dollar question! 
Let me tell you in detail!
As I said earlier, publishing the useful content, focussing on SEO, and earning the high-authority backlinks would boost the Domain Authority of your WordPress site. Along with these tasks, make sure to implement the following tactics.
Get social presence (Earn the social signals by adding the like-minded followers and audience) 
Design mobile-friendly site and install an SSL certificate (You may get responsive WP themes and utilize free SSL providers)
Not only improving the DA but it also better focussing on high DR and TF to build an authority WordPress site. 
What are DR and TF?
DR (Domain Rating) – DR is the metric calculated by the popular SEO tool, Ahrefs that displays the power of the backlinks of your site. Larger the numerical value is better because it shows the authority that you have built in your niche. 
TF (Trust Factor) – Have you ever heard the SEO tool named – Majestic? It is a great resource to check the backlinks, referring domains, and other details of a website. This tool helps you to measure how close you are connected to most trusted websites.  
#5. Come Up With 2 To 3 Monetization Strategies
If you want to build a profitable WordPress site, make sure to come up with several monetization strategies.
Most people fail to make profits because they depend mostly on a single income source such as Google AdSense, selling banner ads, affiliate marketing, and so on.
So don't make that mistake and don't put all your eggs in one basket. That being said, here are 3 solid monetization strategies you can use to make profits from your WordPress blog.
1. Become A Freelancer
The fastest way to make money from a WordPress blog is to offer freelancing services such as writing, designing, SEO service, and so on.
Start with building your portfolio. The best way to attract high paying clients to buy your freelancing services is to create a portfolio as it builds instant credibility.
You can write guest posts on other websites in your industry and put a link back to your freelance portfolio or services page.
You can also use various publication platforms like Medium, or Quora and start writing about questions that are relevant to your industry and whenever possible, link back to your WordPress blog.
If you're finding it hard to attract clients, you can use freelance platforms like Fiverr, UpWork, Freelancer, and Guru to start making money from freelancing.
2. Affiliate Marketing
The best part about affiliate marketing to monetize your WordPress site is you can make money even while sleeping. There are people like Pat Flynn who are making millions of dollars in affiliate commission every year.
You don't need to create products; you don't need to provide technical support or invest anything to make money by promoting affiliate products.
There is a wide range of affiliate marketing networks like CJ, ClickBank, PeerFly, Amazon Associates, and so on to promote affiliate products no matter what industry you are in.
3. Selling Your Products
Selling information products isn't easy especially when you're just getting started, but it gives you passive income sources to earn more money.
Just in case if you're wondering about what information products are, here are few of them;
Printables

PDF workbooks

Templates, checklists, and eBooks 
You must build an email list and educate your email subscribers about the products you want to sell. The only way to increase your product sales is to build trust and strong rapport with your audience.
Conclusion About Increasing The Authority Of A WordPress Blog In 2018
Build a profitable WordPress blog and increasing its authority is not rocket science. If you observe any successful site, you'll notice that they are flourishing because they're offering a ton of value to their audience.
If you can find a way to provide MASSIVE value to a specific group of people with similar interests (by focusing on a smaller niche), you can comfortably make an authority WordPress site which consistently makes profits.
I hope that I have delivered some essential information to make your WordPress site/blog more authoritative in the eyes of Google search engines and readers. Do you have any questions? Shoot them in the comments below.