I'm using the Long Tail Pro Platinum, the best keyword research tool since 2015; It's just an excellent tool and one of the excellent alternates to KWFinder.
So, through this post, I would like to reveal its fabulous features that admire me a lot.
Also, I'm gonna guide you how to perform keyword research for SEO using Long Tail Pro (LTP).
Let me talk about the keyword research first!
Did you know the #1 BIGGEST factor in getting more search engine traffic?
Hands down, keyword research is the key to increasing traffic and sales of any website.
If you're not doing keyword research, you are not getting any traffic or sales from Google. It's as simple as that.
90% of the bloggers struggle to increase their website traffic because they don't use specific keywords within their content.
They simply write whatever post ideas that come into their mind. That's not how SEO works.
If you are looking for PROVEN ways to boost your search traffic and website sales, start with doing proper keyword research.
If you are still unclear about its benefits, you may read my post What Is The Importance Of Doing Keyword Research!
But here comes the most important question: How to do keyword research?
Before digging into the details, I just want to tell you one thing: Focus on long tail keywords.
What are long tail keywords and how to find them?
Instead of defining them in technical words, I'll make it simple for you with the long tail keywords examples.
Watch Movies Free: short tail keyword
Watch Movies Free Online: medium tail keyword
Watch Movies Free Online Without Downloading: long tail keyword (with 6 phrases in it)
Did you get it? To put it simply, a long tail keyword usually consists of 4 or more keywords in it.
Top 4 Reasons To Use Long Tail Keywords
1. Long tail keywords are more comfortable to rank for.
2. They are more specific in general.
3. They can help you boost your traffic for several keywords.
4. They can also help you increase your website sales (as people who use SEO long tail keywords tend to buy more).
Now, if you are wondering how to find long tail keywords to increase your traffic and sales, I have a great recommendation for you. It's called Long Tail Pro.
In this honest Long Tail Pro review 2o18, you will discover few amazing benefits of using it to grow your search traffic using long tail keywords.
If you don't have the budget to buy this paid tool, you may have a look at the free long tail keyword research tools that could help you find the relevant search phrases for your content.
However, I strongly suggest you use this premium keyword research tool to skyrocket the SEO of your WordPress site!
Let's move on to the LTP features and how to do keyword research & analysis with it!
Long Tail Pro Review 2020: Is It the Best SEO Keyword Research Tool?
How to do keyword research for SEO is a million-dollar question!
Finding long tail keywords has NEVER been easier before
The #1 reason thousands of SEO experts, bloggers, and marketers use Long Tail Pro tool is that of its capability in finding the highly profitable SEO long tail keywords in any niche.
Let's have an in-depth look at this amazing keyword research software to grab the long tail rankable yet profitable keywords!
Long Tail Pro – Brief Introduction
Long Tail Pro is a brilliant tool to find out the best keywords that can rank high in Google search results. You can discover thousands of targeted keywords for your site to enhance its web presence.
This keyword finder tool was created by Spencer Haws who is an internet marketing specialist. He is keenly interested in making the niche websites and was struggling a lot in picking the right search terms through the other keyword analysis tools.
The main reason for founding this application is to avoid spending too much of time in getting the low competition keywords.
So, while doing the keyword research, you can save your precious time with this long tail keyword tool and able to find out the keywords that you could rank top in search engines.
Note: LTP fetches the data from the Google Adwords keyword planner and Moz.com. Therefore, you have to connect your Adwords and Moz account to it.
LTP Equipped with a TON of features
Here are the 4 amazing features of the Long Tail Pro keyword research tool.
1. Keyword Competitiveness
With the help of the score, Keyword Competitiveness (Average KC), you can determine the difficulty of ranking the keywords. The score of every keyword is calculated between 0 – 100.
0 to 10 – No competition
10 to 20 – Extreme low competition
20 to 30 – Low competition
30 to 40 – Moderate competition
40 to 50 – Somewhat high competition
50 to 60 – Huge competition
60 to 70 – Extreme high competition
70 to 100 – Not possible to get top rankings
If the Avg. KC of the keyword is very low (between 0 – 20), then it is more likely to get high rank for that particular keyword (Have it in mind that you should create an effective or better SEO optimized content to surpass your competitors).
2. Majestic Metrics
You can view the Majestic powered metrics like Trust Flow, Citation Flow, Site Age, Internal Links, Indexed URLs, Backlinks and much more and hence you could conclude whether it is possible to attain the over the top position in search results.
So, you can do an in-depth competitive analysis with the Majestic metrics for each keyword.
3. Real-time Filter
I'm sure that you will feel more comfortable while doing the keyword research for SEO with this long tail keyword tool. And the reason is, you can filter out the results as per your convenience and find out the exact cum profitable search terms for your content.
You can consolidate the keywords according to the CPC, local & global searches, the number of words (helpful in identifying the long tail keywords), Average KC, Google & Bing Title competition, and Domain availability.
4. Explore Results
Long Tail Pro gives you the "Export" feature to download the results like the list of keywords, top 10 Google results, and the keyword metrics information. Thus, you can use the data for your future reference.
How To Do Keyword Research For SEO Using Long Tail Pro?
Let's quickly talk about a tutorial on how to use Long Tail Pro for finding great keywords and boost the SEO of your site.
Make sure to get a copy of this long tail keyword finder before diving into the tutorial so you can find it easy to come up with better SEO long tail keywords for your own niche.
Step 1:
The #1 step is to create a project. Name it however you want and choose the country where your target audience are located.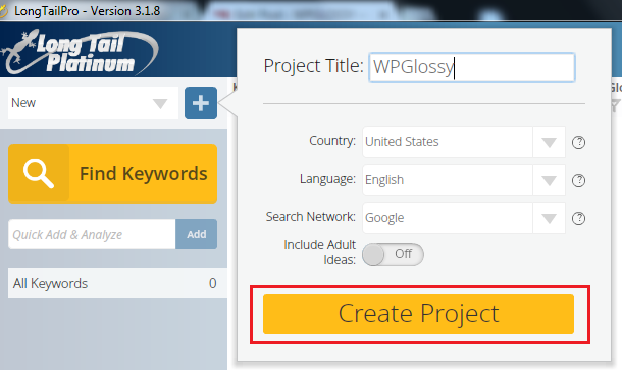 Step 2:
Once you're done with naming your project, click on "Find Keywords" on the left corner where you need to add "Seed keywords" (primary keywords such as "SEO Tips For Beginners," "best fitness equipment" etc.).
Then, you can directly click on the Generate keywords button at the end to get the long tail keyword ideas for your seed keywords.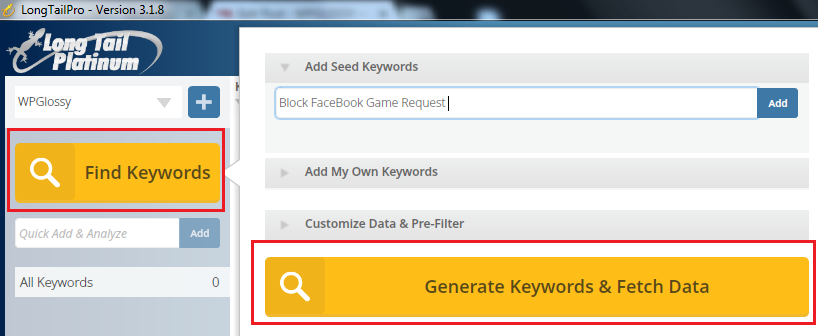 In this example, I'm using "Block FaceBook Game Request" as the seed keyword.
Quick tip: You can also use the local search volume section (I recommend you pick monthly volume between 500 to 1500 for best results).
Step 3:
Long Tail Pro tool will now show several long tail keywords related to your seed keyword. It will also show you Global searches, advertiser competition, etc. which can be helpful for you while picking targeted keywords.
Look at the below LTP result for my search phrase "Block FaceBook Game Request."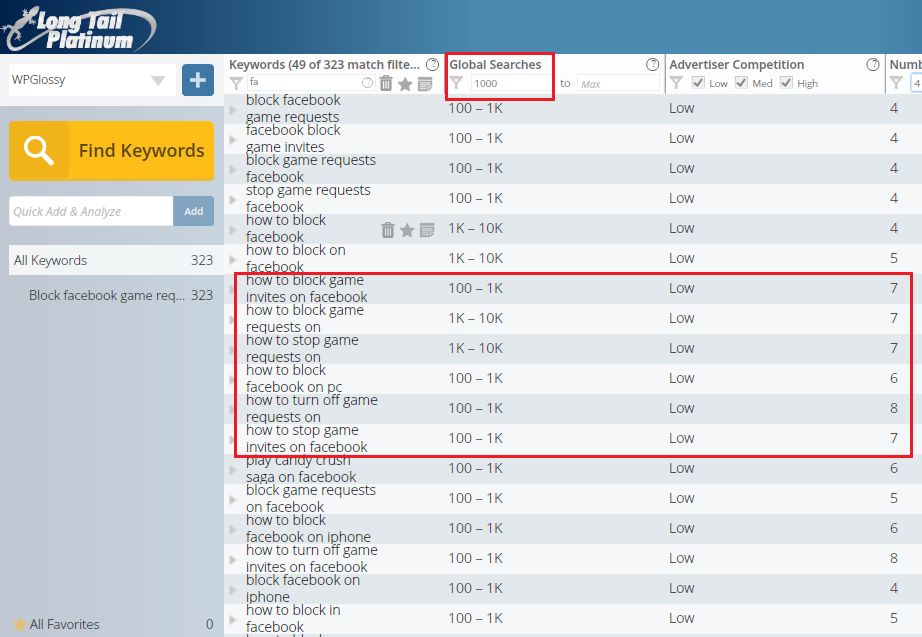 Did you see that?
Long Tail Pro suggested a lot of long-tail keywords related to the seed keyword along with the global monthly searches.
You may simply use the best ones with a good search volume and more number of words in your blog articles.
Step 4:
Here comes the crucial part of the game!
It's calculating the Avg. KC (Average Keyword Competitiveness) of the keywords so as to decide your primary keyword and secondary keywords.
Pro Tip
I usually choose 1 Main keyword, 2-3 secondary keywords, and 10 – 15 LSI keywords for a blog post.
Look at the video how LTP calculates the Avg KC of every keyword (I'm filtering out the keywords by keeping the global searches 10000 and number of words – 4)
Step 5:
Long Tail Pro is not only limited to finding SEO long tail keywords, but it's also helpful for COMPETITOR ANALYSIS.
That means you can use this tool to find all the details of your competitors for your targeted keywords. Have a look at the screenshot for better understanding.
In the above screenshot, you can see that for the seed keyword we're able to see all the competitor analysis details like trust flow, citation flow, top 10 search results for the keyword, domain details, backlinks count and site age.
All these details are enough for you to decide which keywords that you need to pick for less competition and more revenue.
So what are you waiting for? Grab the tool now and start finding highly profitable long tail keywords to boost your website's search engine traffic and sales.
Long Tail Pro Sign Up (39% OFF)
LTP Cloud Version
Long Tail Pro has introduced some new features to its Cloud version to get faster results. All the LTP platinum Desktop users can gain access to the cloud application which is more intuitive in discovering the low competition keywords.
Look at the clean interface of Long Tail Pro Cloud!
Best Features of Long Tail Pro Cloud
You would like to use this fantastic tool for doing keyword research for SEO for the following reasons!
# 50 times faster than the Desktop version
# Automatic KC calculation (No need to wait for a long time like in desktop version)
# As it is a web-based app, you can access your project anytime from anywhere
# It does not depends on Adwords and hence you could get exact search volume (Unlike 1K – 10K)
# Rank tracker for various keywords (It's now in Beta version)
# Personal domain analysis to track the strength of your domain
# Rank Value to access the earning ability of the keywords
However, the helpful features like Global search volume, Unlimited keywords, Google/Bing Title, and Domain availability aren't present in the cloud version of LTP.
Have a glance at the below video on how LTP cloud is estimating the Average KC of the keywords in seconds.
So, from the information provided by this long tail keyword generator, you can get the profitable keywords to include in your content. Don't wait anymore!
How Am I Getting Benefit From Long Tail Pro?
I bought this amazing keyword research tool through the grand Black Friday offer 2015. For the past two years, I'm using it effectively by finding out the rankable keywords for my blogs.
Right now, I handle 6 blogs (Mymagicfundas.com, WPGlossy.com, Litabi.com, Infobuzzy.com, Amazon niche blog and micro-niche blog for a good-paying hosting company)
I feel confident that I can drive search engine traffic to all my above sites with the help of LTP. I usually spend quality time to uncover the hundreds of low competitive keywords through AVG. KC value of each keyword.
I also perform competitor analysis which helps me a lot to rank better on search engines. Filtering out the exact keywords according to the specific search term, CPC and number of words is the exciting feature of Long Tail Pro that I mostly like 🙂
As the single license of LTP is letting me install this application on 3 different PCs, I have shared the access to my teammate and the writer to craft the SEO-friendly content.
Have a look at the organic keywords skyrocketing of this blog, WPGlossy.
How Have I Struggled Before Purchasing The Long Tail Pro?
Taking out the best keywords is one of the major headaches for bloggers and digital marketers. If you want to reach your target audience, then the keyword research is the only way to go!
Earlier, I have used the Google Keyword Planner, and it was a hectic time. You could take a handful of relevant search phrases over there but can't grab the profitable ones.
Of course, it is possible to calculate the keyword competitiveness manually. However, the manual process will eat up your precious time. I was struggling a lot and had some sleepless nights in doing research over the focus keyword.
Then, a pro blogger (Kulwant Nagi of Bloggingcage) recommended this convenient cum affordable keyword finder tool; I immediately purchased it for my projects.
What About The Pricing of LTP?
Long Tail Pro offers 3 different premium plans that have both monthly and annual pricing options.
Here's the screenshot of their pricing plans for LTP.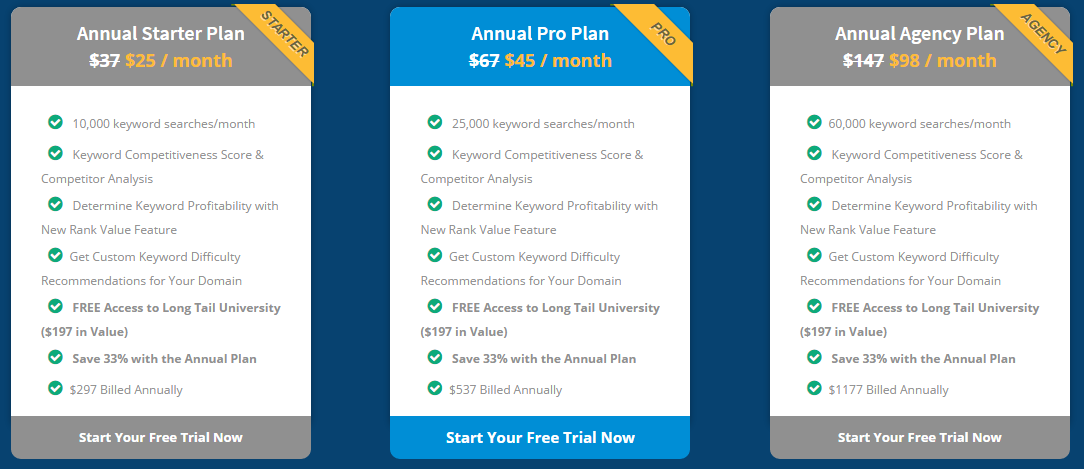 Pick any one of the best pricing plans that suit your SEO needs and let me know if you've any questions before buying it in the comment section.
You may also try the 7-days free trial choice of LTP to test its features!
What Happens After The LTP Purchase?
You will get access to the Long Tail Pro software (which is a desktop software) along with the key. You need to enter your account information in order to start using it.
This tool usually gives you more than 800 keywords using the data from Google's keyword planner tool.
BTW, once you have purchased the Long Tail Pro, you can install the software on up to 3 computers and use the LTP cloud version on the go 🙂
So it becomes handy for you and the users who are working on the same project without having to purchase another.
Long Tail Pro Support
I should have a word about the quality of the support in my long tail pro platinum review!
This SEO long tail keyword research tool has an amazing technical support team, and there is no doubt that they will react well to your difficulties.
If you get any issues, you have to raise the ticket with your technical problems, and you will get the email confirmation that you have initiated the request. And, you will get the prompt assistance as soon as possible.
I have contacted the LTP support for a few times, and they have assisted me well with enough details.
You may look at the response from Long Tail Support within a day when I asked them to activate the cloud version.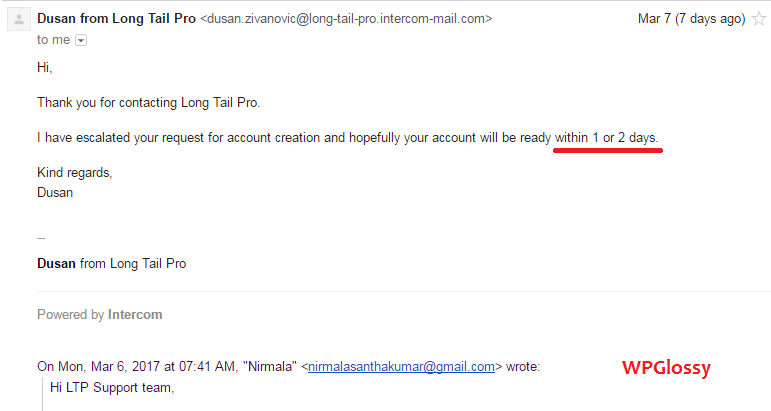 Long Tail Pro Exclusive Offer (39% OFF)
Final Verdict About SEO Keyword Research With Long Tail Pro
If you are struggling to boost your website traffic from search engines, then use long tail keywords in your content. There's no other alternative way!
I Recommend Long Tail Pro Platinum
The best tool available on the web right to find SEO long tail keywords is Long Tail Pro.
It's used by thousands of bloggers around the world including top marketers like Pat Flynn and Harsh Agarwal.
I have been using this excellent keyword research tool for the past 2 years, and it is helping a lot to improve the search engine rankings of all my blog posts.
So if you are looking for the best keyword research tool to increase your search traffic and sales by finding profitable long tail keywords, you should get Long Tail Pro. I highly recommend it!
I hope you have learned how to get long tail keywords using LTP. Now, you tell! What do you think about the Long Tail Pro review discussed here?
How do you do keyword research for SEO to enhance the performance of your WordPress site on search engines? Which tool do you have for Keyword analysis?
Leave your thoughts and experiences in the comment section. Also, look at the summary of my Long Tail Pro review!