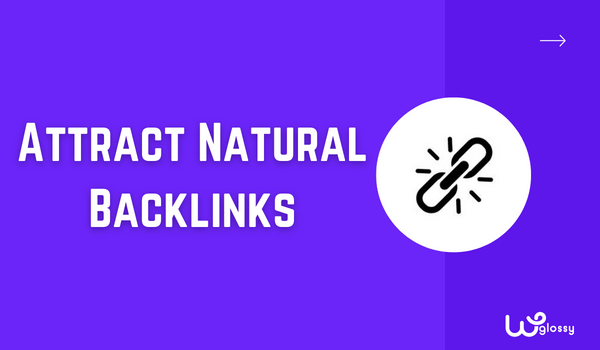 Would you like to know the secret to getting more links from other websites? It's not as hard as you might think! Several types of content tend to attract natural backlinks. In this blog post, we will discuss seven of them.
If you want to increase your website's visibility and improve your SEO, you need to start creating content that falls into one of these categories!
How To Write Blog Content To Get More Backlinks?
Following content types will let you execute the natural link-building strategy for your WordPress website.
1. Ego-Bait
Ego-bait is a great way to get backlinks because it's content that people are naturally inclined to share.
It consists in featuring or mentioning influencers in your niche, and it's an effective strategy to attract links from high-authority websites.
For example, you could create a list of the top experts in your field or write a roundup post featuring the best advice from different thought leaders.
Some ideas for ego-bait posts include:
Interviews
Round-Up Posts
Awards
Interviews
Interviews with experts can provide valuable insights into current trends in a particular field.
By asking open-ended questions and probing beneath the surface, it is possible to understand better how trends impact a particular area of work. This information can help develop strategies for dealing with emerging trends or news.
Interviews are an effective way to get natural backlinks because you feature famous people in your industry who are likely to mention the content on their sites or social media accounts. It is also an opportunity to build relationships with those influencers.
Round-up Posts
Round-up posts are a great way to compile all the best content on a specific topic into one easy-to-digest article. This post can benefit your readers, especially if you link to each article you include in your round-up.
Not only are round-up posts helpful for your readers, but they can also be effective for your blog's SEO. By including links to other articles in your round-up post, you're inviting people to link back to your website.
Awards
Awards are among the most effective ways to attract backlinks and boost your website's SEO. 
By creating and organizing awards, you can encourage other websites to link back to your site, which will help improve your site's visibility and search engine ranking. In addition, awards can help build brand awareness and relationships with other websites in your industry.
If you want to apply for an award, here are some marketing awards worth going for.
2. List Posts
Listicles (or list posts) are a kind of content that is very popular on the internet. They are typically lists of things in chronological order or in order of importance.
They are a great way to get information in a digestible format. People love lists because they are easy to read and usually contain helpful content.
If you are thinking about writing a listicle, there are a few things you should keep in mind. First, make sure that your list is interesting. People will quickly lose interest if it is just a bunch of random facts.
Second, try to be as concise as possible. No one wants to read a list that goes on for pages and pages. Third, use bullet points to make your list easier to read.
If you are in the SEO niche, some ideas for list posts could be:
Top 6 SEO Trends To Be Followed For Higher Website Ranking
The Best SEO Tips for Beginners
The Most Popular SEO Myths
SEO Tricks That Work Wonders
Remember, people will be more likely to link to your list post if it's comprehensive and informative.
Therefore, here are some additional tips for creating list posts:
Brainstorm Similar Items
Order Logically
Number the Items
Choose Great Titles
Brainstorm Similar Items
To write a comprehensive and informative list post, you need to brainstorm items that are similar or related to each other. It will help you come up with a logical order, and it will also make the writing process more manageable.
Some techniques you can use include:
Brainstorming with a friend or colleague
Looking for inspiration from other list posts online
Making a mind map
For example, if you want to write a list post about SEO, you could think about a list of SEO trends, SEO tips, or popular SEO myths.
Order Logically
Once you have had a good brainstorming session, it's time to start ordering your items logically. This is important because you want your readers to be able to follow your thoughts easily.
Some ways to order items logically include:
Sequential (e.g., time-based)
Alphabetical
Level of importance
For example, if you're writing a list post about SEO tips, you would want to start with the essential tips and then move on to more advanced tips.
Number the Items
Once you have your items ordered, it's time to start numbering them.
This is helpful because it will allow readers to scan your list and find the information they want quickly.
Choose Great Titles
Your title is one of the most critical aspects of your list post, so you want to ensure it's catchy and informative. A great title will help draw readers in and make them want to read your content.
So, make sure you choose a catchy title that accurately reflects the content of your post.
Remember to keep it short and sweet. And don't forget to use your target keywords, making your title exciting and unique.
3. Collection of Data
If you have a website that collects data, then you're in an excellent position to attract natural backlinks.
People always seek data to support their claims or support their arguments.
Some ideas for data-rich posts include:
The Most Popular SEO Keywords
The Average SEO Salary by State
SEO Job Openings by City
The Top SEO Companies in the World
If you can access unique or hard-to-find data, you'll be even more likely to get mentions from other websites.
People will be interested in your data and may want to link to your post to use your content for their research.
Here are some ideas for your next data collection post:
Surveys
Mobile Data Collection
Focus Groups
Records and Documents
Surveys
Conducting a survey is a great way to collect data that others will find helpful. You can either create your survey or use an existing one.
When conducting a survey, make sure you ask questions that are relevant to your industry.
Once you have your survey, you can promote it on social media, forums, and email marketing.
Mobile Data Collection
If you have a mobile app, then you can use it to collect data. This is especially useful if you have a location-based or app that collects user data.
There are many ways to collect mobile data, including GPS tracking, apps, and text messages.
You can also collect mobile data to gather data about your customers or target market. This is a great way to get insights into their needs and wants.
Focus Groups
Focus groups are another method to collect data. You can create your focus group or participate in an existing one, even on social media.
In a focus group, you bring together a group of people and ask them questions about a specific topic.
It can also be an effective way to get feedback about your product, service, or your target market's needs.
Records and Documents
If you have access to records or documents that other people would find useful, you can create a blog post highlighting this data. 
People will be interested in your content and may want to link to your post to use your data for their research.
4. Guides
Guides are another strategy to attract editorial links because they offer value. A guide is a piece of content that walks the reader through a process or teaches them how to do something.
Guides are usually comprehensive and can be long, but they're also very detailed and informative.
Some ideas for guides include:
The Ultimate Guide to SEO
SEO for Beginners: A Comprehensive Guide
The Advanced Guide to SEO
By creating a guide, you're providing value to the reader by teaching them how to do something. This is the kind of content that people will want to link to.
Plus, if you include plenty of screenshots, infographics, and other visuals, your guide will be even more engaging.
To get started, consider these tips:
Conduct Research
Understand Your Audience
Use Interesting Media
Provide Examples
Conduct Research
Conducting research is one of the most important aspects of creating a comprehensive guide. You'll need to make sure that your guide is thoroughly researched if you want it to be successful.
This means taking the time to understand the topic inside and out. You should be an expert on the subject before you even start writing.
If you're unfamiliar with the topic, take some time to learn about it before you begin creating your guide.
You can use research sources like Google, forums, books, and articles.
Understand Your Audience
You must also understand your audience before you start writing your guide. After all, you're creating this content for them.
You'll need to know your target audience and what they're looking for in a guide. This way, you can make sure that your guide meets their needs.
Use Interesting Media
Including engaging media in your guide is a good way to keep readers engaged. People are likelier to link to a visually appealing guide that is easy to read.
So, don't be afraid to use images, infographics, and videos to break up the text and make your guide more engaging.
Provide Examples
Finally, make sure that you provide examples. This will help readers understand the concepts you're trying to teach them.
If you can bring real-life examples to the table. It will give readers a concrete understanding of how they can apply what they've learned from your content.
Creating a comprehensive guide takes a lot of time and effort. But, if you do it right, it can be a magnet for backlinks.
5. Infographics
An infographic is a visual representation of data or information. It's fun to communicate complex information in a way that's easy for people to understand.
Plus, infographics are highly shareable, which means they have the potential to reach a large audience.
When creating an infographic, you must ensure it's high-quality and informative. The last thing you want is your infographic to be ignored or forgotten.
Some ideas for infographics include "The History of SEO" or "How SEO Works."
There are tons of places to create an infographic for free. For example:
Canva
Visme
Easel.ly
Infogram
Venngage
Once you sign up for any of these tools, you can start creating an infographic. It is usually easy and doesn't require any design skills. Choose a template, add your information, and share it with the world.
To make sure that your infographic stands out, consider these tips:
Use Eye-Catching Colors
Make It Easy to Understand
Include a Call-to-Action
Use Eye-Catching Colors
Your infographic should be visually appealing. After all, that's half the reason why people will share it.
Use bright colors and an attention-grabbing design to make your infographic more eye-catching.
Make It Easy to Understand
Your infographic should be easy to understand. Remember, you're trying to communicate complex information.
If your infographic is too confusing, people will be less likely to share it.
Use clear and concise text to ensure your infographic is easy to understand. And don't forget to include a legend to explain any symbols or abbreviations.
Include a Call-to-Action
Finally, don't forget to include a call to action. You want people to do something after they've read your infographic.
For example, you could include a link to your website or blog. Or, you could ask people to share your infographic on social media.
6. Free Tools
Free tools are a great way to get natural backlinks because they offer incredible value.
People are always looking for free stuff.
For example, if you are in the SEO industry, some ideas for free tools include:
Backlink checker
On-Page optimization
Keywords generator
Backlink Checker
A backlink checker is a tool that allows you to see all the backlinks that are pointing to your website. This is important because it lets you see which websites are linking to you and how strong those links are.
On-Page Optimization
On-page optimization is optimizing each web page to rank higher and get more organic traffic. You can create a free SEO tool that analyzes a URL and includes tips to optimize the content, title, meta tags, and other elements on a page.
Keywords Generator
A keywords generator is a tool that helps find keywords to use to improve SEO. This is important because it allows users to search for keywords that people are looking for and then optimize the content around them.
7. Webinars
Webinars are a powerful way to get natural backlinks because they offer much value. People love attending webinars because they're a quick and easy way to consume information. 
To create a successful webinar, keep in mind these tips:
Plan Ahead
Customize Your Branding
Do a Practice Run
Follow-Up
Plan Ahead
The first step to creating a successful webinar is to plan. You need to decide on the webinar's topic, format, and length. You also need to determine who your target audience is and what their needs are.
Customize Your Branding
Your branding should be consistent with your website's overall look and feel. This includes using the same colors, fonts, and logos.
Do a Practice Run
Before you launch your webinar, doing a practice run is important. This will help you ensure that everything works correctly and that the webinar quality is high.
Follow-Up
After the webinar, be sure to follow up with your attendees. Thank them for attending, and offer them a link to the recording or slides. You can also provide additional resources, such as ebooks or white papers.
Final Words To Attract Natural Backlinks
Getting quality backlinks is one of the most effective ways to improve your SEO. By creating the types of content listed in this post, you can attract natural backlinks from other websites.
I used to spend some quality time crafting content for my blogs. Now, you tell! Which type of content will you try first? Let me know in the comments below!
About the Author
Erik Emanuelli is an SEO and internet marketing enthusiast who has been blogging since 2010. Visit his website to learn more about search engine optimization.