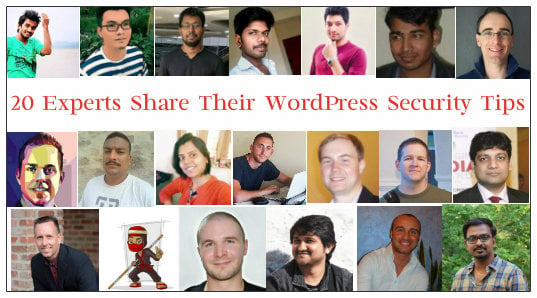 Hi WordPress Users,
I'm glad in inviting you to read this interesting expert round-up post that would offer some valuable tips to secure your WordPress blog! 
WordPress Security Vulnerabilities – More threatening phrase and make us feel unsecured as well! 
If you check the WordPress Attack Report of Last month (October 2017) provided by Wordfence, you will start thinking the ways to protect your WordPress blog/site.
Let's come to the matter! 
I have reached 20 prolific WordPress site founders and shot the question:
Suggest the best practices to stay safe from the WordPress Security Risks!
Which WordPress Security Plugin Are You Using On Your Blog/Site?
Before checking their valuable replies, let me share some helpful WordPress security strategies to keep the intruders at bay!
# Begin with the WordPress Login Security
# Purchase Premium Themes like Genesis & high-powered hosting 
# Use any of the best security plugins
# Follow the basic security rules
# Implement the advanced safety methods (If needed)
Now, have a look at the replies of 20 WordPress influentials to tighten the WordPress security
20 Active Bloggers Reveal Their WordPress Security Methods
Wrapping Up
Hackers can easily take control of your WordPress site!
Don't let your site down for any security reason. Execute the best strategies and keep your WordPress site safely.
I hope that I have done my best in gathering the useful strategies from the active bloggers & Site founders to keep your WordPress secure! 
Do you have anything to share? Are these WordPress security tips shared by the experts useful?
How do you protect your WP site? Leave your comments below so that it would help the WordPress users!