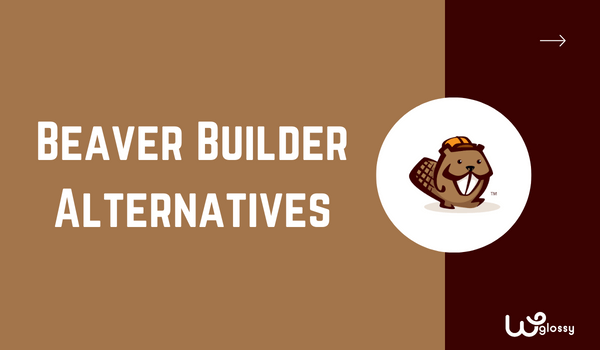 Are you searching for some of the best Beaver Builder Alternatives to buy an ideal page builder to make an attractive business website or blog? If yes, you have come to the right place to check some interesting design tools and get the right one!
Beaver Builder is undoubtedly a good tool, especially if you're not into using advanced features. However, it's not the best choice if you want to create cutting-edge designs with professional templates. 
I've used the Beaver builder for around two months and then moved to the Spectra builder again. It's mainly because of the limited features; if you're also facing the same issue, there's no need to worry about it. 
This article is your go-to solution; I'll explain why I don't use Beaver Builder and what its best alternatives are. With the information, you can make an informed decision about which page builder you should choose.
Why I Don't Use Beaver Builder? Is It Bad?
Let me clarify one crucial point: I don't think Beaver Builder is bad. It's just that this particular page builder wasn't suitable for my skill set, as I usually like to think out of the box to create appealing and responsive pages.
The decision to stop using Beaver Builder and switch back to Spectra Builder was driven by several key factors. One of the biggest reasons was that the Beaver had limited features, creating difficulties. Read the other reasons below in detail:
Beaver Builder has limited advanced design options.
Templates are also limited compared to other page builders.
Doesn't include a built-in form builder.
You need to use third-party add-ons (plugins) for extra features.
Beaver Themer compatibility is limited to specific themes.
You may experience difficulty saving the changes as the page freezes.
Beaver Theme Builder comes with an extra cost.
Top 8 Beaver Builder Alternatives For Attractive Site Design
Here are the top eight Beaver Builder alternatives. The first one is my favorite: Spectra, an incredibly responsive page builder with amazing features. Below, look at my other favorite alternatives and a detailed review. 
1. Spectra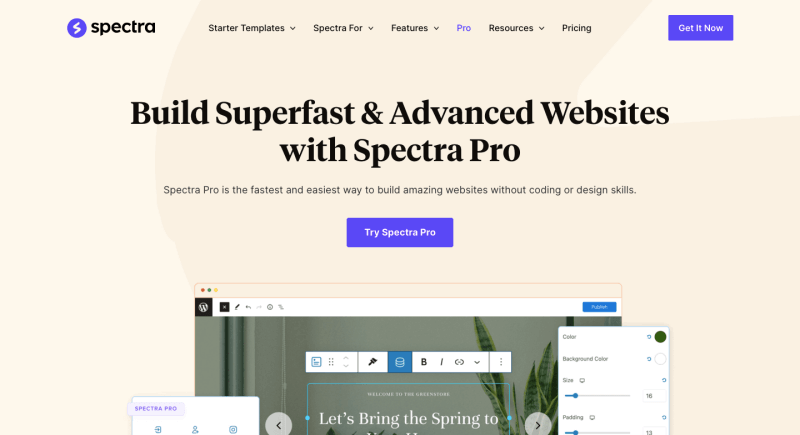 My first go-to choice as a Beaver alternative is the Spectra. Brainstorm Force, the developer of popular themes like Astra, develops it. What I like most is that it's not only paid but also has a free version (with limited features).
If you're thinking limited features are only a few, rest assured! You'll be able to easily access headings, images, icons, post grid, forms, gallery, call to action, maps, post timelines, post carousel, buttons, and much more.
However, you must buy the premium plan for advanced features like Animation Effects, Popup Builder, and Slider Pro. Spectra features pre-built page templates, wireframes (simple black-and-white design pages), and blocks with a schema that make the work far easier.
Best Features of Spectra
Spectra offers free and premium plans, making them accessible to all users.
Spectra provides pre-built page templates and wireframes to simplify your design work.
Easily switch between desktop, tablet, and mobile views.
How-to, FAQ, and Review blocks provide full schema support for SEO visibility.
Save time with 50 block presets for quickly achieving professional designs.
Easily maintain design consistency by copying and pasting block styles.
If you are an expert, Toolset integration lets you create custom fields and post types, enriching your website's functionality.
2. Divi (10% Discount)
The next is the Divi Builder plugin from Elegant Themes. One of my favorite features of Divi is the rich template library of about 2000+ layouts, which is far better than any other page builder. Besides that, Divi also provides 200+ modules like Call To Action, Forms, Testimonials, etc.
While using this excellent builder, you'll not face any issues as it's super responsive with a drag-and-drop builder. You may also try live visual editing mode to see the changes made by you instantly on the page.
To provide excellent experience, they've also included a revision history. This shows you all the changes you've made and allows you to restore the previous version. Besides, the annual subscription is more affordable than Elementor or Spectra. 
Smart Features of Divi Builder
Access a vast collection of over 2000+ layouts and 200+ modules.
Instantly see the impact of your changes with live visual editing mode.
Allow to restore previous versions for a worry-free editing experience.
Customize everything! You may add Custom fonts.
Add YouTube Background and Google Maps to this professional theme.
Enjoy fine control over design elements with CSS codes.
Create visually appealing WooCommerce-compatible store pages.
Allowing you to revert to any previous version effortlessly.
Official Divi Discount 10% is available to save your money.
3. Elementor
My second recommendation is the Elementor. It's one of the most highly-rated page builders in the SEO blogging community worldwide. Thanks to this plugin, you can control how the website's front end will look. Check my detailed comparison of Elementor Vs Beaver Builder.
The best part about the Elementor is it's super easy to use. The interface is designed to keep beginners in mind. Most customization can be done with live drag & drop features, making the page creation process simple.
The library of Elementor is huge, with 150+ free and 300+ pro templates and 90+ content elements. Apart from everything, your website pages will automatically adapt to various screen sizes, ensuring full responsiveness.
Great Features of Elementor
Free version has many features, making it the perfect package for newbies.
Craft unique page layouts and designs effortlessly without any coding skills.
Customize your website's look for desktop, tablet, and mobile views independently.
Explore a vast library of over 150 free, 300+ pro templates, and 90+ content elements.
Modify essential theme components like the header, footer, and single post template.
Your pages can automatically adapt to different mobile screen sizes.
Best Elementor Add-ons and WooCommerce themes are available.
4. Themify
Themify is a popular page builder plugin with 8000+ active installations on WordPress. The main reason behind its popularity is it's completely free, with no need for any subscription. However, if you want to use 25 pro-add-ons, you need to purchase it one time.
Despite being free, it offers premium features like its competitors. You'll get a drag-and-drop builder, styling panel, animation effects, and layout settings to allow you to design a website page without coding knowledge.
It has two main functions: front-end and back-end editing mode. Both enable page customization, but the front-end mode is often favored for its simplicity and ease of use compared to the back-end alternative.
Excellent Features of Themify
Themify offers a completely free page builder, making it accessible to all.
While free, it also provides the option to purchase 25 pro-add-ons.
Create stunning web pages effortlessly with a user-friendly drag-and-drop interface.
Enjoy customization options like custom styling, background colors, borders, etc.
Design and visualize your pages in real time using the front-end editing mode.
Ensure your website looks great on all screen sizes with responsive styling features.
Access over 60 pre-designed builder layouts and 60+ animation effects.
Customize your design further with the ability to add custom CSS.
5. Thrive Architect
The fifth Beaver alternative is the Thrive Architect page builder. It's an easy-to-use tool to design website pages without touching a line of code. With this tool, you don't have to consider theme compatibility, as it seamlessly works with almost all themes.
It has a decent library of pre-built page templates, about 250+ in different categories. You only have to pick one according to your requirements. After selecting the template, Thrive Architect gives you full control over the customization process.
With a drag drop builder, you may change the layout and add different elements to your page. On the downside, the main issue is it's a paid plugin, and you must purchase its license according to how many websites you want to use.  
Fantastic Features of Thrive Architect
Design web pages without any coding skills using a full drag-and-drop editor.
Access a collection of 250+ pre-built page templates across different categories.
Enjoy complete control over layout and element customization.
Create versatile and responsive column layouts to suit your design needs.
Seamlessly integrate text and images to enhance your content.
Customize fonts to maintain consistent branding and aesthetics.
Thrive Architect smoothly integrates with virtually all WordPress themes.
Allow text editing within your designs with an intuitive inline editing feature.
6. Bricks Builder
If you want an affordable page builder for a lifetime by paying just one time, the Bricks Builder is for you. It's an excellent design tool with lots of customization options and 50+ elements from the header to the footer of the website. 
The builder has different modes, light and dark to set per your preferences. Coming to its features, you can customize the website pages easily. There's also a pin-element option that allows you to pin your favorite element on the page. 
Another noticeable function is that it lets you create your elements with CSS HTML code and incorporate them into the web page. Plus, SEO optimization settings like meta description titles are available in the page settings, increasing visibility and ranking chances.
Amazing Features of Bricks Builder
Pay once for a lifetime of page building, making it a cost-effective choice.
Enjoy a wealth of customization options with 50+ elements.
Pin your favorite elements for quick access during the design process.
Optimize website pages for SEO with permalinks, meta descriptions, etc.
Gain an X-ray view of all blocks on your page and easily edit or rearrange them.
Toggle between builder and preview modes to instantly see how your page looks.
Build your elements with PHP, HTML, and CSS.
7. WP Bakery
The next Beaver builder alternative is the WP Bakery plugin. With WP Bakery, crafting web pages becomes a breeze as you drag and drop elements such as text, images, search bars, simple blocks, buttons, and more.
You have the freedom to decide whether you'd like to start from scratch or take advantage of pre-designed templates. Once you've made your choice, the next decision is between the front-end and back-end editors.
For those seeking advanced features, WP Bakery offers the Advanced Grid Builder, a valuable tool for creating intricate layouts. However, please note that this feature is not included in the standard package and must be purchased separately.
Exceptional Features of WP Bakery 
Access a free library of pre-designed templates and elements.
Enhance functionality with grid design options.
Support for third-party extensions and plugins.
Ensure your site looks great on all devices with responsive design settings.
Offers both back-end and front-end editors for flexibility in page creation.
It works seamlessly with most WordPress themes, making it versatile.
Tailor elements, fonts, colors, and layouts to your preferences.
Supports custom CSS for advanced styling.
8. Visual Composer
The last Beaver Builder alternative is the Visual Composer, an easy-to-use source with a beginner-friendly interface. It's not famous like Divi, Spectra, or Elementor, but trust me, it's one of the amazing page builders in an affordable price range.  
Visual Composer comes with drag & drop builder 300+ content elements that allow you to create pages according to your ideas. 200+ pre-built templates are also available for those who don't want to start work from scratch. 
You can add free stock images, edit a specific part of your theme page like the header or footer, or add a popup builder. These features will be available with premium support to assist you with any questions or issues you may encounter while using Visual Composer.
Stunning Features of Visual Composer
Visual Composer offers an intuitive and user-friendly interface.
Create web pages effortlessly with the drag-drop builder.
Access a library of over 300 content elements and 200+ templates.
Enhance your Visual Composer experience with advanced add-ons.
Access stock images and GIFs from GIPHY directly.
Easily customize your WooCommerce website pages.
Fine-tune your site's looks, width, and behavior for various devices.
My Two Favorite Beaver Builder Alternatives
My two favorite Beaver Builder alternatives are Spectra and the Divi Page Builder. Both offer a user-friendly interface and allow us to create professional-looking website landing pages in a short amount of time.
However, Spectra has earned my preference due to its impressive features. Its extensive library of pre-designed templates and blocks provides an excellent starting point for various web projects. Besides, it doesn't have any complicated settings!
Another compelling aspect of Spectra Builder is its budget-friendly pricing structure. The free page builder version is also available here. Out of all, I adore its lightweight coding with high security, which never affects our site speed.
Wrapping Up
I've suggested all the best Beaver Builder alternatives above. Now, it's time for you to be picky to choose the best page builder according to your needs. Although you've read the review, I suggest you compare the prices and features of different builders.
Pick two or three of the best tools from this article and compare which builder offers the most features at the best price. Then, make an informed decision; this way, you will be happy spending your money on a new tool.