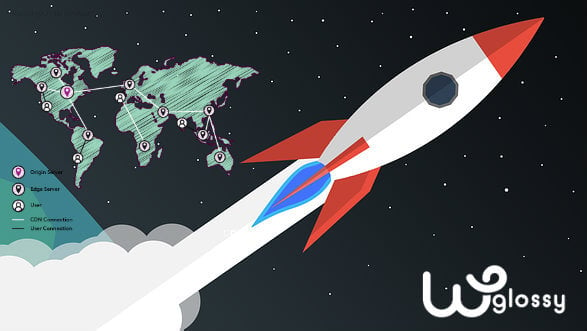 So, you want to get the best CDN for WordPress to make your site load super fast, right? 
You have made the right decision as you have found the perfect way to speed up your WordPress site!
In the current scenario, website speed optimization is considered as one of the most important factors for ranking your websites or blogs.
Yes! Google prefers highly optimized websites to provide a better user experience for the readers. 
Not only the search engines but internet users also like the fast loading sites as they are not willing to wait longer for the page to get loaded. 
Let's come to the point now! 
Why CDN For WordPress? 
As you know that WordPress when combined with heavy plugins and themes, it will get high usage of resources.
CDN can help to minimize the load on the server and hence maintaining the speed of your website without affecting the user experience.
CDN or Content Delivery Network is a system of geographically distributed servers that deliver your site content to your visitors according to their geographical location. It improves the server response time as well. 
Even if you're using WordPress Speed Plugins for your site, CDN can help you with extra optimization for your website so that it loads under a second. 
Not only the speed boost but the CDN has also other benefits like 
Secure servers and protect your site from DDOS attacks
Downtime possibility is very less even during the high traffic
Improves the search engine ranking and crawl rate
Saves your hosting bandwidth and cut down the overage charges
User engagement can be monitored through the analytics 
And Much More! 
Check my great piece of content about CDN where I have mentioned its working basics and benefits in detail. 
Now, here comes a million-dollar question, What is the best CDN for WordPress site?
I have taken an excellent opportunity to reveal a few top content delivery networks for WordPress websites that can be used to skyrocket the performance of your business site or blog. 
Top 8 WordPress CDN Providers To Improve The Speed Performance
A best WordPress CDN service can make sure that your readers are admiring the faster page loading speed and here is the useful list of top providers that would help you get the ideal one! 
1. CloudFlare (Free/Paid)
CloudFlare is synonymous with CDN, and the reason is their free service. It has also come with Paid plans for more advanced features. If you're a newbie blogger or newly launched business website, I would like to recommend this free CDN for WordPress. 
CloudFlare has 165 data centers around the globe. Its key features are
DDoS Protection
Shared SSL
Audit log and Apps access
Web Application Firewall (Pro feature)
Image and Mobile optimizations (Pro feature)
2. CloudwaysCDN (Paid)
CloudwaysCDN is one of the most affordable yet efficient CDN Service starts at just $1 for 25GB per application. Yes, they have partnered with Stackpath and offer easy CDN activation for the users in just a few clicks. 
I'm using CloudwaysCDN service for all of my blogs, and hence I have seen a drastic performance boost in the site loading speed. 
Following are the excellent features of CloudwaysCDN
Top-notch global response time
Https support 
great affordability
Several On-demand features (reach customer support)
3. StackPath (Formerly – MaxCDN) (Paid/Trial)
Just like Cloudflare, MaxCDN is yet another popular CDN Provider. MaxCDN services are now integrated into the StackPath platform. They provide some plans for the webmasters as per their requirement starting with as low as $10 per month.
If you are looking for the best CDN for WordPress that has groundbreaking features, excellent performance and simple to use, then StackpathCDN is the idle choice. It can be easily integrated with WordPress caching plugins such as W3 Total Cache, and WP Fastest Cache without any hassle.
The exciting features of StackPathCDN are
Advanced security (DDoS, WAF & Origin Shield)
Excellent protection for your content
Full API for dynamic control and real-time optimization
Industry-leading Cache depth
Segmented downloads & Instant updates
IPv6 and HTTP/2 for the latest browsers
The first month Free and you may cancel at any time
4. PageCDN (Paid)
PageCDN is one of the finest CDNs out there. Like many others, this CDN also provides both free and paid plans. While the free plan gives you access to basic features such as immutable cache for open-source libraries like Bootstrap, premium plans get you a lot of powerful content optimizations.
PageCDN also offers Easy Fonts, which is an alternative to Google Fonts. However, these fonts load faster as they're more cachable than Google Fonts. This can help in improving your page loading speed.
Yet another powerful feature that PageCDN offers is that of host consolidation. Other CDNs tend to create different subdomains for each origin. On the other hand, PageCDN combines all of the content and then serves it all through one host called pagecdn.io. This helps it deliver all this content faster.
The pricing is so affordable that it starts at only $9 per month for up to 3 websites. At this affordable cost, PageCDN gives you access to great features like:
Easy HTTP cache optimization with an option for immutable caching
HTTP/2 Server Push to speed up the website even further
Automatic DNS optimization
Host consolidation through a single host
Accelerated content delivery through PageCDN's worldwide network
Powerful compression with up to 27% better compression
Cloud-based CSS and JS minification, image optimization, resizing, and conversion
Amazing Edge and Browser cache hit ratio
Option to switch to public CDN
Third-party cache reuse to help load website fast if some resources are cached by other websites
Automatic cache sharing with other websites through open-source libraries
WordPress Plugin – Easy Speedup
5. KeyCDN (Paid)
KeyCDN is not only popular among WordPress users but also among the community webmasters due to its efficiency with forum scripts such as vBulletin, Xenforo, IPB, etc.
This fastest CDN for WordPress has been built for the future and ensures that your audience is getting the blazing fast site. It is compatible with the popular WordPress Caching plugins, and you can start in a few minutes. 
Some of the notable qualities of KeyCDN are
User-friendly dashboard and real-time reports
Complete account control through API
Origin Shield & instant Purge
Custom Robots.txt
Global network uses IP anycast
Dynamic features like HTTP/2, Brotli, TLS 1.3
6. BunnyCDN (Cheapest CDN – Paid)
BunnyCDN offers extreme performance, and hence you can deliver your site content to the readers at a lightning-fast speed. You can take the entire delivery control and enable the 1-click SSL. 
The Control panel of BunnyCDN is simple, but the security features are exceptional to protect your online content. As the servers are powered by SSD technology, it can be reached in less than 30 ms. 
You don't need to worry about the scaling features and video delivery with the BunnyCDN network. Just speed up your website to boost your SEO rankings and maximize the conversions or Ad revenue. 
Some of the exciting features of BunnyCDN are
34 global data centers powered by Tier 1 network partners
Cheapest CDN ($0.003/GB)
Block IPs and entire countries
HTTP/2 & Brotli Ready
Origin Shield and Hotlink protection
14-day Free trial (No Credit Card required)
7. Incapsula (Free/Paid)
If you are looking for a Free CDN with basic security features to give a performance boost to your website, then you may rely on IncapulaCDN. However, you will not be getting the SSL feature as it is supported only in the paid plans. 
Due to the robustness, IncapsulaCDN is being trusted by millions of websites around the world. It has excellent Cache-control, and Cache Purge features to decrease the page load time. 
A few of the notable features of IncapsulaCDn Free plan are
Global CDN
Bot protection & management
Site traffic monitor 
IPv6 Support
Community and self-service help center
8. Amazon CloudFront CDN (Free/Paid)
The Amazon CloudFront CDN is a hugely scaled network that has 160 PoPs around the globe to provide superior performance for your end-users. It is a highly-secured CDN as well that boasts in-built protections like AWS Shield standard and SSL at no additional cost.
Moreover, it offers a multi-tier Cache by default to improve the latency and hence your viewers will get a faster and reliable experience when they land on your site. The CloudFront CDN has both free and paid plans. 
Amazing features of Amazon CloudFront Are
Great security and deep integration
Allows you to set up several origins to enable redundancy
Network layer optimization for optimal performance
Cost effective pricing plans
How To Select The Best CDN Provider For WordPress In 2023?
Since there are so many CDNs in the market, it might be difficult for you to go with the right one for your WordPress site. However, it entirely depends on your requirement and your budget.
Before selecting the top CDN Provider, consider the points below:

Global CDN – If you have readers all around the world, then you should pick the provider that has a network of worldwide data centers for your global audience. 
Reliability – Go with the CDN service that has a large network to serve your visitors around the globe. The more servers the service has, the more reliable and quick content you can deliver for your site readers. 
SSL Certificate Support – As you know, Google has recommended every site owner to go with SSL as it's the future, it's important to note that the CDN Provider you are selecting supports SSL Certificates.
Easy To Work – You should pick a CDN that has a simple installation procedure through the Cache plugin. 
Flexibility – Is the Free trial available? Is there a refund policy? Are the plans are scalable? Look for these flexible features so that you can stay relaxed. 
Improve browser experience – Make sure to opt for the CDN that supports HTTP/2 and instant Purging to improve the browsing experience for modern browsers. 
DDoS Protection – If you're running a dynamic website with good traffic, DDoS Protection is a must. It would be better to prepare for the attacks from the competitors.
Scripts And Image Optimization – A good CDN Provider should provide Image Optimization services to prevent the rendering of high-resolution images and to save your bandwidth.
Server Availablity – Check the CDN has the data center near the region from where you drive most of the traffic to your site. 
Customer Support – The setting up of the CDN may involve some technical tasks and hence it would be better to get the service that provides knowledge customer support. If you're stuck somewhere or have messed up your site, they are the ones who would come to the rescue. So, buy the CDN that has in-house tech support and available 24 x 7 through Chat or Email. 
Affordable – You are already paying your hosting fee! So, get the CDN with reasonable pricing so that it will be fit your pocket.
Why Prefer Paid CDN Over Free CDN?
Although I have recommended CloudFlare Free Version for beginners, I still believe that once your website is running well and you are getting good traffic, it is better to switch over to Paid CDN Provider.
The reasons are:
#1. Paid CDN Plans come with better Customer Support. Hence you don't have to wait for delayed responses in case of emergency.
#2. NOTHING IS UNLIMITED! Even though some Free CDN providers claim they are coming with Unlimited Bandwidth, they still have some fair usage capping. However, with Paid CDN Plans, everything is clear, and you get what you pay for.
#3. Paid CDN Providers will always provide you with the best features without any restrictions. Be it Image Compression Quality, Website Security, or Firewall protection, Paid CDN Providers will still have an edge over the Free CDN Providers.
#4. Free CDN Plans are generally for small websites and can't handle the massive traffic. Paid CDN Provides better server and resource management to avoid any downtime even in case of traffic bombarding.
#5. Some free CDN Providers like Cloudflare doesn't support CustomSSL which might be a concern if you're using a Custom SSL Certificate for your site.
#6. Paid CDN doesn't have upload size and caching size restrictions. However, this may vary according to the plans you opt for.
Which Types Of WordPress Sites Must Use The CDN?
You might wonder with the question
"Should I set up CDN for a small business website?"
To be honest, for a CDN to be effective, you need to have a decent amount of traffic. Yes! If your site is not getting the regular visits, then your content would not be Cached and may lead to the worst performance that you get before integrating the CDN. 
Just check if you fall any one of the below categories and get the proper CDN service! 
A Business website or blog with a good amount of daily traffic across the world
A website that has a lot of media files like videos, images or podcasts
An e-commerce site that would get traffic hike during the special season or offer
A site that uses a lot of resources through Advertisements, forms, popups, live chat, etc. 
Your targeted traffic is growing at a constant rate
Conclusion
If you are a blogger, internet marketer, or any online business, then you might have known that the "Content Is The King." However, if you don't have the ultra-fast loading site, then the king would be dethroned. 
Don't let your content efforts go in vain!
Enterprises are making a considerable investment to offer the best fast user experience to boost their sales or conversions. Hence, the CDN market is rapidly growing and becoming essential for all business websites. 
I assume that you too own an emerging business website in WordPress and hence you are here to improve its loading speed performance. If you are unable to make your site load fast, then you may consider getting any of the WordPress speed optimization services.
Glad I could help you in buying the best CDN for WordPress by making a list of reliable providers. I hope you will keep the things in mind that I have been mentioned in this article while purchasing the right content delivery network service. 
Now, you tell!
Which CDN service would you like to get for your WordPress site? Free CDN or Premium CDN? Share your viewpoint in the comment section. 
If you ask my advice, I would like to recommend CloudwaysCDN as it can give a significant speed performance boost for your WordPress website.