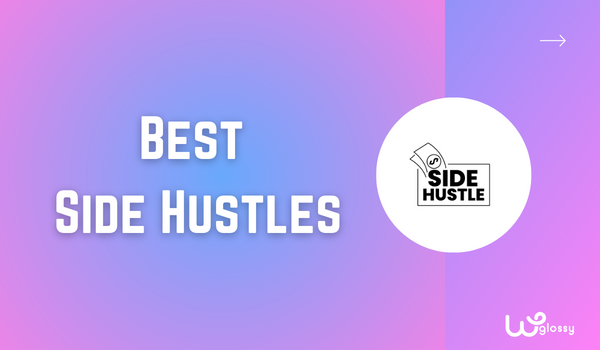 Do you feel your current job is insufficient to meet your daily needs? With the rising inflation and human needs, most people are searching for the best side hustles to make income in their spare time. Though people can find such jobs, most are unaware of the high-paying jobs.
A side hustle that can help you earn is the best way to tackle such a situation. You can start a side hustle with a computer and a stable internet connection. You can do whatever you prefer, from freelancing to starting your own business.
However, most people don't know about the perfect side hustle that can give them a start to making extra money. In this article, I will discuss some best side hustles to make money in 2023. Find the one that suits you the most and starts working today.
What Is Side Hustle?
The word "side hustle" means earning from home. It is like your second job, which you can do by staying home. However, the difference is that in a side hustle, you are self-employed. In other words, we can say that you are your boss.
Nowadays, most people prefer side hustles over regular jobs due to the various benefits that side hustles offer. For example, the side hustle does not require you to go to the office, saving you time, money, and effort. Similarly, you can work from wherever you want.
How To Find The Perfect Side Hustle?
Most people hesitate while starting a side hustle. According to a study, fear of failure is the main reason behind this hesitation. People think that side hustles are hard to start, and one may end up empty-handed.
However, if you start your side hustle after doing your homework thoroughly, I am sure you will succeed. Finding the perfect side hustle is the first task of this homework. So, here are a few tips on how to find the perfect side hustle that works for you.
Your Interest
The most important thing determining your side hustle's success is your interest or passion for that work. List your hobbies and preferences and see what side hustle most resembles them.
Your Schedule
Next comes your schedule. You are probably doing one job, and the side hustle never means you will quit your regular job for it. So go with the one that matches your daily schedule. Don'tDon't get into work that might overstress you, as your health is more crucial.
Income Potential
Lastly, how much can you earn with your side hustle? Some side hustle jobs can help you earn hundreds of dollars in days, while others might take more time. So, filter your selected hustles and find the one that gives you maximum financial viability.
10 Best Side Hustles To Earn Income At Home
It's better to do thorough research before starting any side hustle. However, for ease and convenience, here are the 10 best side hustles you should consider while looking to work from home. Remember that these are the most successful side hustles in the market.
1. Affiliate Marketing
Affiliate marketing side hustles are among the most profitable for those interested in the marketing industry. It is about promoting other sellers' products and getting a commission in return for every sale you make.
However, to start affiliate marketing, you need a platform and an audience to whom you can recommend the products. Affiliate marketers make their audience either on social media platforms or by creating a website and recommending the products to the visitors.
When building a website or blog to promote affiliate products, consider using WordPress CMS as it is the best platform to manage your content. Moreover, it has the potential to rank your articles on top of Google search results.
It is a 6 figure side hustle where influencers earn thousands of dollars weekly. Online stores and companies like Amazon, Shopify, Flipkart, etc., offer the best affiliate programs. Join these programs and start earning now.
2. Start YouTube Channel
Have you got some skills that may entertain people? If yes, starting a YouTube channel could be your best side hustle. According to a statistics report, over two billion people are using youtube, with a daily watch time of over 250 million hours!
Showing your talent on YouTube can help you earn thousands of dollars. However, most people wonder how you earn money by making youtube videos. You can earn money from Youtube videos through ads, affiliate marketing, and promoting brands.
With the intervention of AI, nowadays, people without skills are also earning from YouTube. Such people write a video script using an AI tool like ChatGPT. Once the script is written, they can create a video using other AI tools.
3. Freelancing
Regarding side hustles for college students, freelancing is the most common and one of the best options. You can master any freelance skill and make a passive income besides your regular job. The best part here is that you set your rate and work time.
To start freelancing, you first need to master a skill. Content writing, Graphics designing, Web development, and video editing are some most in-demand freelance skills. Now you can offer your services on any freelance platform, such as Fiverr or Upwork.
Though freelancing can be a great part-time side hustle, it can be frustrating. You have to compete with other freelancers who are already out there offering their services. Moreover, you also have to focus on increasing your skill set to offer more services.
4. Digital Marketing
Most people know little about digital marketing, but it is among the most high-paying side hustles. Besides being the most in demand in the market, digital marketing is also tricky and requires years of experience. Are you feeling energetic enough to dive in?
You might have seen billboards while traveling, often representing some brand or product. Digital marketing is an advanced version of that advertisement technique. In the digital marketing side hustle, you digitally advertise or promote a brand.
However, unlike affiliate marketing, you are not required to sell a product here. You must ensure the message reaches the right people at the right time. One of the best forms of digital marketing is SEO, which involves optimizing sites to help them rank higher.
5. Teach Online
Teaching is one of the most respectable and renowned professions throughout the world. Starting online teaching as a side hustle is also an excellent option. However, you might need a minimum of a bachelor's degree to teach a particular subject.
You can teach online from home once you have the degree and certification. You can start your teaching academy or join a renowned teaching agency. Most teaching agencies allow you to set your rate and teaching hours.
If you are an introverted person who does not feel quite confident while interacting with the students, you can make course videos. Several websites, such as Udemy, Fiverr, Preply, etc., allow you to sell your course on their platform.
6. Virtual Assistance
Virtual assistants are getting common nowadays. You need some basic skills to start this side hustle of virtual assistance. Unlike freelancing, it does not require professional skills. However, the more skills you have, the more chances you get of being hired.
A virtual assistant is an online assistant who offers technical and administrative assistance. Busy people such as company owners and managers do not have time for small tasks such as making schedules, answering texts, etc. As a virtual assistant, you have to do such tasks.
There are many freelance platforms, such as Fiverr and Upwork, where you can offer your virtual assistant services. However, you should continuously improve your skill set as a virtual assistant. The more skills you have, the better you get paid by the client.
7. Photography
Are you good at capturing photos? It is a unique skill that only a few people have. However, you can also master this skill by taking online courses from expert photographers. Photography is among the creative side hustles that require creativity besides experience.
The best thing about photography is that you can start it with a little investment. I have seen my friends capturing exceptional photos with their phone cameras. So, you can start this side hustle even if you don't have a high-quality camera.
Moreover, you can also adopt it as a full-time profession if you ever feel so. Professional photographers are earning six digits with just a camera in their hand. So, what are you waiting for? Grab your camera and start practicing photography.
8. Podcasting
Podcasting is the latest side hustle in the market that the most confident ones are targeting. The reason is that podcasts seem like a waste of time and effort. However, starting a podcast is a good choice if you can wait for the results.
Before starting a podcast, remember that it is not a good option if you want to earn money instantly. However, if you want to go for a long run, get your gear ready. Podcasting can help you earn thousands of dollars if you follow the right strategy.
In addition, starting a podcast might require some investment initially. You'll have to manage several things, such as microphones, set-up, editing experts, managers, etc. However, once your podcast becomes a brand, you can earn money.
9. Open An Online Store
Opening an online store is just like starting a business. You can open an eCommerce store on platforms like Shopify and start selling any product. However, it requires a detailed study of establishing a store and what products to choose from.
Most expert entrepreneurs are offering online courses for starting an online store. Such courses will guide you step-by-step on how to do e-commerce business. You'll learn how to generate a passive income for your needs and start your journey.
The best thing about opening a store is that you need little or no investment. You can select a free e-commerce platform and establish your store there. If you don't have a product to sell, reach out to the dealers and make a deal more profitable for you.
10. Cybersecurity
As everything nowadays is going digital, people's privacy is often compromised. If you are a cybersecurity graduate, you can use it to help people protect their data. The cybersecurity side hustle is a 6 figure side hustle for anyone who is an expert in this field.
Large companies are hiring full-time cybersecurity experts who can ensure the safety of their data. Such companies include banks, stores, industries, and other companies in the market, and they are willing to pay high amounts for their privacy.
To start a cybersecurity side hustle to make money, you must be a cybersecurity expert. These might include programming, network security, cryptography, risk management, and problem-solving skills.
Wrapping Up The Best Side Hustles To Earn At Home
After the Covid pandemic, most people prefer stay-at-home jobs to make money from the best side hustles. In this digital era, hundreds of options are available to generate a passive income. However, the ones I discussed are more in-demand and profitable than other side hustles.
Remember, these digital careers are not meant only for a small period. I have seen people starting side hustles and leaving their regular jobs after making a consistent income. However, you must select the right side hustle that suits your personality.