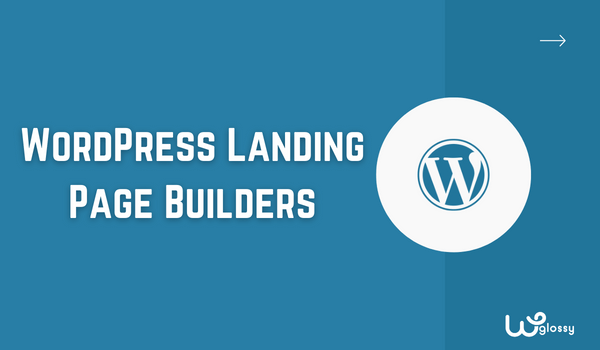 Are you a blogger or business owner looking for the best WordPress landing page builders? Do you want a quick way to design your website's landing page? If so, you've landed at the right place, and I'll review some best WordPress builders or plugins.
WordPress landing page plugins make your website designing process easy and quick. You don't need to have much knowledge of coding and stuff. You have to design your website theme using the builder. You'll have to pick the right plugin to avoid issues.
You can create a good-looking and fully functional landing page with the perfect tool. And yes, it's now possible with free and paid WordPress landing page builders. To make your landing page design seamless, keep reading this article until the end.
Benefits Of Using WordPress Landing Page Builder
Although a page builder's benefit is saving you time and making website creation easy, it's far beyond. I won't discuss how to create a WordPress landing page, but only the pros of having a plugin. So, here's why you need the best builders for website design. 
Save You Lots of Time
Page builders are basically WordPress landing page templates to edit according to your needs. It's easy to use these templates with built-in drag-and-drop tools for customizing all the pages on your website. This saves you a lot of time than creating from scratch.
Simple To Set Up
As landing page builders are ready-made templates, you can quickly set up your website. You don't need to hire any expert developer as you won't require writing codes. Using the built-in features of the builder, make the landing page to establish your branding.
Enhance Website Traffic
You might have heard about SEO-friendly landing pages, am I right? It's SEO content and clear website codes to help you rank. Any broken code can cause your website to go down. Page builders have clear codes allowing you to rank and get traffic.
Boost Lead And Sales
WordPress landing page builders can prove helpful in boosting leads and generating sales through the best user experience. If you create an explicit, responsive, and fast website, you'll easily rank on Google. As a result, you'll get traffic and convert them with an engaging and practical design.
Reviews of 8 Amazing WordPress Landing Page Builders
Well, you know how a WordPress landing page builder can help you create a perfect page. If you want to get the best output with less effort, you need the right builder. I've spent some hours and found a few WordPress plugins to get now! Let's get on the list.
1. Divi Page Builder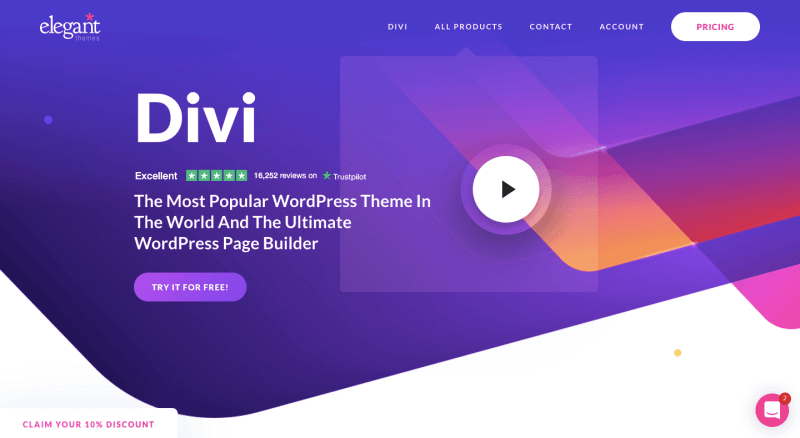 Overview
Divi is one of the most famous and widely used WordPress page builders. Divi makes it easy to design your business website and sell your products or services. A well-known company, Elegant Themes, owns this page plugin, and you can rely on it.
By getting this builder, you'll get access to hundreds of ready-to-use templates and numerous drag-and-drop elements. It's more than just a simple WordPress landing page theme. It is possible to create stunning websites with ease and high efficiency.
Best Features
Pretty simple to use for a non-techy person
Visual Editor makes page customization easy
Creating a contact form is a cakewalk
Build a highly responsive and speedy website
Supports more than 20 landing page builders
It is easy to remove the sidebar and add shortcodes
Drag-and-drop shows you real-time changes
Offers a full 30-day money-back guarantee
Official Divi Discount (10%) is available
2. Spectra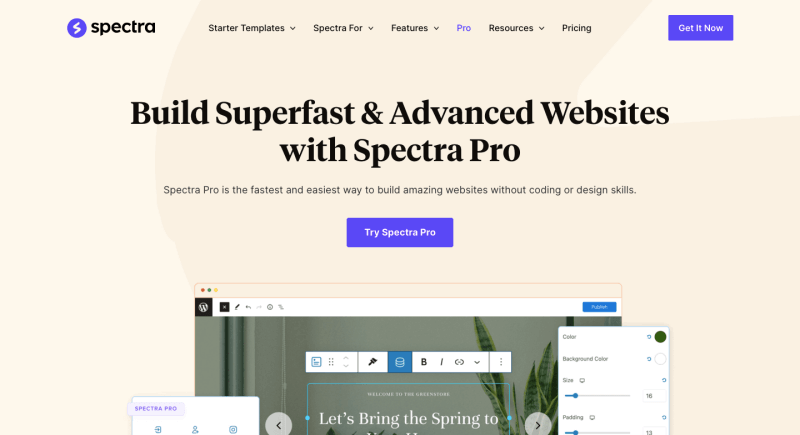 Are you hunting for an exceptional landing page builder for WordPress that has been made with clean coding for super fast loading? You should know about Spectra from the Brainstorm Force team that created the best WordPress theme, Astra. It has premium templates with powerful features.
What elements do you require in the landing page for massive conversions? Slider, User Registration & Login, Animations, Instagram Blocks, and Popup Builder for high user engagement? All these features are available in this amazing landing page builder.
Features
No Coding knowledge is required to build the landing page
Visual builder with full design control
Flexbox container layout mechanism
More than 25+ design blocks with advanced functionalities
Built with React JS framework, no jQuery for faster loading
3. OptimizePress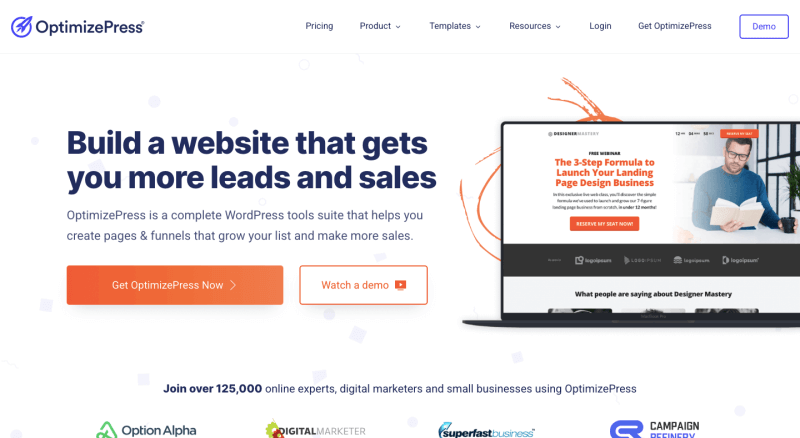 Overview
OptimizePress is an excellent landing page builder, allowing you to create highly converting pages quickly. You get access to OptimizeBuilder to use all the plugins. Using its custom-built templates, you may create optimized and fastest-loading pages.
If you want to improve your website ranking and increase conversion rates, OptimizePress could be your choice. All their templates are mobile responsive and work perfectly on mobile devices. You need to install this plugin and set it up with your theme.
Best Features
Ready-made templates save you time
Build custom designs with drag-and-drop 
OptimizeBuilder to get access to all tools
Create optimized pages easily and quickly
Offers you mobile responsive templates
Allows users to create ultra-fast websites
4. Elementor Pro
Overview
Elementor is the second most famous and widely used page builder after Divi. It's the market's best tool for WordPress landing page designs and offers over a hundred appealing templates. You won't need any coding knowledge to build one to your taste.
If you have a large workflow and want to integrate other tools, Elementor Pro is the best option. You can build highly optimized, unlimited pages and manage them in one place. By connecting with an analytics tool, try tactics to know what works for you.
Best Features
Ready templates speed up website creation
Offers hundreds of templates to choose from
Offers optimal page speed and performance
Connect with analytics and optimization tools
Quickly add custom forms to the landing pages
Improves your overall conversion rates and ROI
Integrate your other marketing and CRM tools
5. SeedProd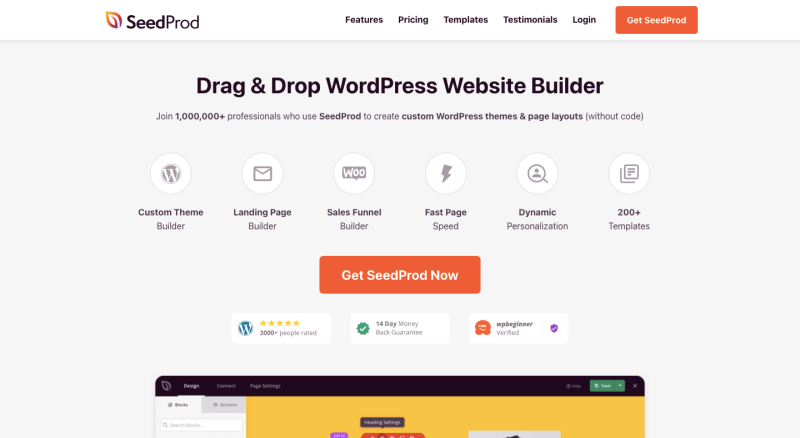 Overview
SeedProd is an excellent drag-and-drop WordPress landing page builder to grow your business and increase ROI. This plugin offers a live visual editing feature and shows results while editing. So, you get all the features of high-tier landing page builders.
The basic plan has 50 pro templates; I think they are enough for a starter site. If you have multiple websites, go for advanced plans, and you'll get over 150 templates. For me, this plugin is incredible, and it's just $39.50 (50% Off) per year.
Best Features
Includes all the essential tools required
Offers Drag and drop builder in all plans
Create a full website in Pro and Elite plans
Choose among 50 to 150+ pro templates
Allows integration of other basic tools
Full money-back guarantee in 14-days
6. Visual Composer
Overview
Visual Compose is one of the premium landing page builders offering over 200 templates. You may choose from its premium plans to create superb WordPress websites quickly. It's ideal for beginners and experts, thanks to its pre-designed templates.
This page builder lets users enjoy almost the same features in free and premium options. So, it fulfills your need for a free WordPress landing page builder. But I recommend their paid plans as you can create a complete website using all the features.
Best Features
An easy-to-use drag-and-drop editor interface
Frontend and inline editor makes editing easy
Has a built-in analysis tool for getting insights
Offers numerous elements for the page's design
Professional, blocks, and dynamic templates
Fully responsive templates for all devices
Free and low-cost paid plans are available
7. PluginOps
Overview
For creating pro-level landing pages tailored to increase your conversions, PluginOps is the best option. It has a built-in drag-and-drop builder to design effective landing pages from scratch. You get the features of a premium WordPress landing page creator.
PluginOps has pre-designed landing page templates that can be customized easily and quickly. All the design templates look great and perform well on all devices. All the plans give you access to more than 120 templates and integrated A/B testing and analytics.
Best Features
Built-in drag-and-drop tool for quick editing
120+ pre-designed pages to save you time
All templates are fully mobile-responsive
Offers integrated A/B testing and analytics
Creates landing pages with the best results
Starting at just $39 with premium features
8. Thrive Architect
Overview
Thrive Architect is among the best landing page builders for small and big businesses. It's one of the fastest visual page builders in the market to create engaging websites. This plugin saves you time making pages and allows you to focus on your business.
What else; this plugin has over 250 templates to pick one for your websites. Its drag-and-drop builder supports a click-to-edit feature allowing you to customize pages in no time. Using Thrive Architect, creating sales pages is easy, generating more leads.
Best Features
Instant drag-and-drop makes editing quick
Pre-designed template designs are excellent
Pre-built conversion elements for growth
Thrive Architect toolbox for making designs
Text and images are pretty much stylish.
Starting at $97 per year with multiple pros
Conclusion
So, you came to know some of the best WordPress landing page builders to create winning landing pages. You need to get the right landing page creator to stand out from the competition. It'll help to increase your conversion rates and ROI by many folds.
Before starting the actual process, look at some WordPress landing page examples. It'll help you create better pages than your competitors and convert users to get sales. You can also check the websites of your direct rivals and pick a template to edit.
Ultimately, I'm sharing my recommendations: Divi and Elementor Pro. I've used these landing page builders for my website and my clients. They have versatile templates to pick from and are SEO-optimized. You'll enjoy the final results after making pages.