GreenGeeks Vs GoDaddy – Let's do the complete comparison through this post and I hope it would help the site owners to buy the best suitable hosting for their business sites or blogs.
Both hosting companies have prominent names in the affordable hosting category. They provide extremely affordable and provide world-class service to their customers.
But the question is: Which one would be the best choice for you?
To help you with that, I'll be comparing GreenGeeks hosting with GoDaddy in this post and find out the winner between them.
I've used both hosting services for my niche sites and it's going to be a power-packed article with my personal experience.
So without wasting any further time let's dive in.
But before diving into an in-depth comparison between GreenGeeks vs GoDaddy, here's a quick comparison table for you to get a better understanding of both these hostings.
| | | |
| --- | --- | --- |
| | | |
| | | |
| | | |
| | | |
| | | |
| | | |
| | | |
| | | |
| | | |
| | | |
| | | |
| 1-Click WordPress Install | | |
| | | |
| | | |
| | | |
| | | |
Why GreenGeeks?
GreenGeeks is a perfect choice for you because for the following reasons:
1. Fast website servers – The #1 reason to choose GreenGeeks is their blazing fast speed. They use SSD servers, Built-in CDN (Content delivery network), LSCache caching system, Optimized LiteSpeed web servers, MariaDB database servers which makes their servers super fast.
2. It's insanely affordable – If you have a small business or just started out as a beginner then this green web hosting service is the perfect choice for you because their hosting plans are very affordable. The basic plan of GreenGeeks costs only $2.95/mo that is way cheaper than GoDaddy and other hostings.
3. World's leading green hosting provider – It is the world's #1 Green energy hosting provider. Most of the hosting companies don't really care about pollution and they keep polluting our environment. But GreenGeeks purchases 3 times the power they consume as renewable energy to keep our environment clean.
4. Top-class security features – GreenGeeks provides many amazing features like Real-time security scanning, Automatic app updates, Spam protection, and automated nightly backup that will help you to keep your website secure from any threats.
5. Friendly and helpful support – GreenGeeks has very friendly and helpful support staff. They provide 24/7 technical support over phone calls, live chat, and email tickets. I have been assisted well by the experts when I was looking for their help.
Why GoDaddy?
GoDaddy is a very popular name in the domain and hosting space but honestly saying they lack way behind GreenGeeks in terms of features and overall service.
Still, to give you a fair chance of understanding both hosting companies here are a few reasons to choose GoDaddy.
1. Popular brand – The #1 reason to buy GoDaddy over GreenGeeks is its popularity. I know it's a baseless reason but honestly saying I haven't any solid reason to buy GoDaddy besides its popularity.
2. Good for WordPress sites – GoDaddy has many features for WordPress sites like a 1-click installer. If you want to start a WordPress site (Or have one) then GoDaddy could be a good choice for you. Although all of these features are available on GreenGeeks also.
GreenGeeks Vs GoDaddy – Face-off
Let's begin the war, GreenGeeks Vs GoDaddy in a detailed manner, so that you could pick the suitable one of your choice.
1. Speed
Speed is the #1 factor to look at before choosing any hosting for your website. These days if you have a slow loading website then it will not only hurt your SEO but it will hurt your user experience as well.
And the biggest reason behind slow loading websites is "Web hosting".
If your web hosting servers are not strong enough then it doesn't matter what optimizations you do, your website speed is never going to improve.
Here's why I always recommend using web hosting that provides fast hosting servers. Now let's compare GreenGeeks and GoDaddy and see who has the fastest web hosting servers.
GreenGeeks
Even though GreenGeeks is an affordable hosting provider still you'll feel like your website is hosted on premium hosting servers. Because the speed you'll get on this cheap hosting is just fantastic.
GreenGeeks uses the latest technologies like:
Scalable computing resources.
HTTP/2 & PHP 7.
Optimized Litespeed web servers and MariaDB database servers.
Inbuilt cache system
SSD-based RAID-10 Storage Arrays
which makes their servers super fast and reliable for any website.
Other than that, they also offer free CDN service with their hosting plans that most of the affordable hosting providers do not provide.
To put things simply, I've run a speed test of my niche blog (Which is hosted on GreenGeeks).
And look at the result.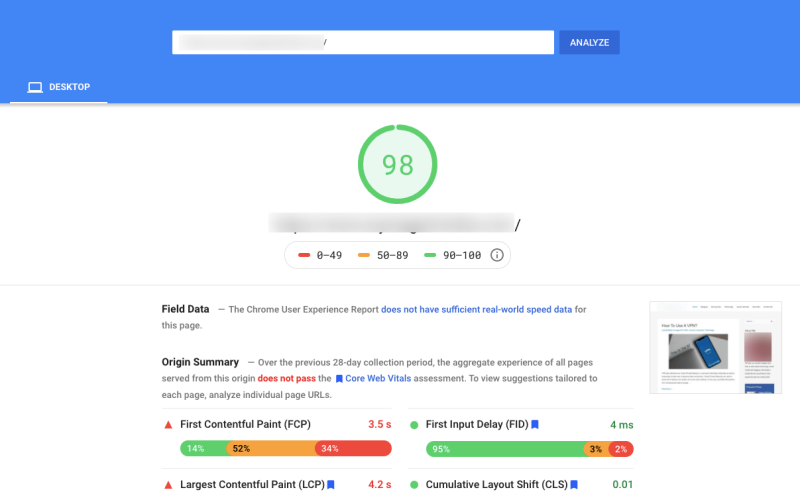 Have a look the Google page speed score is 98 and it's loading under 1.1s which is quite impressive for a budget-friendly hosting provider.
GoDaddy
GoDaddy on the other hand doesn't provide that much amount of features for fast servers like GreenGeeks.
That's why I decided to run a test of GoDaddy hosting and see how much time does it takes to load. And here is the result.
Honestly saying they have a decent speed but GreenGeeks has way faster servers than GoDaddy.
Winner – GreenGeeks
Verdict – GreenGeeks has way faster servers and uses the latest technologies than GoDaddy. So it's very clear that GreenGeeks wins this battle.
2. Performance (Uptime)
The second most crucial factor that you have to look for before choosing any web hosting is the performance or uptime.
Because if your website goes down you'll not only lose your audience but you'll also leave a huge money on the table. Here's why you have to pay very close to this aspect.
For this comparison, I've monitored the uptime of both of these hostings for over a 1 month period. And the results were quite amazing.
Let's have a look!
GreenGeeks
GreenGeeks claims to provide 99.9% uptime. But is it really true?
To find out the answer, I've monitored the uptime of my niche site (Hosted on GreenGeeks) for one month. And here is the shocking result.
In the last one time, my niche website hasn't faced a single downtime and the uptime was a total of 100%.

Honestly saying I wasn't expecting this result from a budget-friendly hosting provider but they crossed my expectations. Even premium web-hosting providers fail to provide this kind of uptime.
Overall, I'm really happy with their performance.
GoDaddy
Like GreenGeeks, I have also monitored the uptime of a website (hosted on GoDaddy) and the results were almost neutral.
Here is the result of GoDaddy's uptime performance for the last month.
See the below screenshot, in the last one month it faced a downtime of a huge 22 minutes and the overall uptime was 99.9%.
This result wasn't too bad and wasn't good as well.
Because most of the budget-friendly hosting providers have downtime issues. However, compared to GreenGeeks, GoDaddy lacks behind in terms of performance.
Winner – GreenGeeks
Verdict – GreenGeeks provided 100% uptime in the last 30 days whereas GoDaddy provided with only 99.92%. So it's clear that GreenGeeks has way better performance than GoDaddy.
3. CDN
The content delivery network is known as "CDN" is a network of servers spread globally that helps to deliver your content to any part of the world faster.
It's a very useful tool if your website is getting traffic from all over the world. But the sad part is CDN services are very costly. You have to pay $30/mo – $100/mo for using any basic CDN service.
However, these days a plethora of hosting companies started providing free or inbuilt CDN with their hosting packages.
GreenGeeks
I've mentioned that several hosting companies started providing CDN services with their packages. But most of them are premium hosting companies.
Very few budget-friendly hosting companies actually provide free CDN with their plans. And luckily GreenGeeks offers you a CDN boost.
You'll get an in-built Cloudflare CDN with every GreenGeeks hosting plans for completely free.
GoDaddy
On the other side, GoDaddy offers a CDN boost only for its WordPress hosting plan.
Even though GoDaddy charges double the price of GreenGeeks still they do not provide any free CDN for the shared and business hosting plans which is quite disappointing.
Winner – GreenGeeks
Verdict – GreenGeeks is a clear winner on this part as well because GoDaddy doesn't provide any free CDN even after charging double the money of GreenGeeks hosting.
4. Which one is ideal for WordPress sites?
WordPress is the most popular and most used CMS (Content management system) in the world. Over 35% of the whole internet is powered by WordPress which is really huge.
This blog that you're reading right now is also using WordPress.
If you're also a WordPress user like me or want to build your site on WordPress then this section is specifically for you. And, when you don't want to build your site on WordPress then you can skip this part.
GreenGeeks
GreenGeeks is the ultimate choice for any WordPress user. They have some amazing features for WordPress which makes it even more WordPress friendly.
Among all WordPress features, one feature that I really like about GreenGeeks is their 1-click WordPress installer.
You can install your WordPress site on GreenGeeks in just one click using this feature which is really great and time-saving.
GoDaddy
GoDaddy is also an ideal choice for WordPress users.
They have a good amount of features for WordPress users and a One-click WordPress installer as well. Overall, if you have a WordPress site then you can definitely give it a try.
Winner – Both
Verdict – GreenGeeks and GoDaddy both have almost similar kinds of features for WordPress. So both of them are almost equal in the aspect.
5. Security
We never know what's going to happen with our website tomorrow. It can be hacked or the servers could be crashed as well.
Therefore, always make sure that your website is fully secure. But a website's security mainly depends on its web hosting.
Yes, you can also do some security optimizations on your own but majorly it depends on the hosting.
Here's why now I'm going to compare the security features of GreenGeeks and GoDaddy and find out which is best among them.
GreenGeeks
GreenGeeks hosting has taken extra care of their security. They have a hell of a lot of security features that keeps their servers secure from any vulnerability.
They use container-based technology, hosting account isolation, pro-active server monitoring, real-time security scanning, and automatic app updates.to keep their servers secure.
They also provide a Free SSL certificate and free daily automatic backup features with their plans.
GoDaddy
You won't get many security features with GoDaddy (Especially while buying the basic plan).
They do provide free SSL and automatic backup but it's with the premium plan only. Basic plans don't have these features.
That means, when you buy their basic plans, then you need to pay extra money for these features wheres GreenGeeks is giving them for free.
Winner – GreenGeeks
Verdict – With GreenGeeks you'll get many security features like an SSL certificate, automated backup, 24/7 security scanning, and more for free. But with GoDaddy, you should pay extra money for these features when you go with their basic plans.
6. Customer Support
Besides speed, performance, and security one thing which is equally important is customer support.
Just look at any popular hosting today, you'll see most of them became popular not because of their service but because of the great customer support. So it's quite clear that customer support plays a vital role in choosing web hosting.
GreenGeeks
GreenGeeks has the best customer support in the affordable hosting category. Their support staffs are friendly, have good behavior and they will solve your issue in just minutes.
I've personally used their support system twice and I would say they are very responsive and fast. You can contact GreenGeeks support using live chat, email, and phone calls.
GoDaddy
GoDaddy also has an excellent support system.
They have 24/7/365 live chat support, phone support over different languages, email support, and a huge knowledge base. Their response rate is also pretty amazing and very fast as well.
Winner – Both
Verdict – Both of these hosting has a really amazing and support system compared to other hosting providers. So it's quite hard to compare both of them on this aspect.
7. GreenGeeks vs GoDaddy – Pricing
Now here comes the most important part of this comparison. Pricing! Believe it or not, pricing is the biggest factor that persuades people to buy. For most of us, we want a hosting that provides good service at an affordable price.
GreenGeeks Vs GoDaddy both come in the affordable hosting category but who has the best pricing plans.
That's what we are going to find out now. I'll be comparing the pricing of both of these hostings and figure out which one is worth spending the money on.
GreenGeeks
GreenGeeks has three different web hosting plans.
Lite – $2.95/mo
Pro – $5.95/mo
Premium – $11.95/mo
Each plan has all the critical features besides a few advanced features that pro and premium plans have.
If you're starting out then you can go with the lite plan but if you have more than one website then you can go with their pro or premium plans.
Each of these plans is extremely affordable so you don't have to pay huge bills for your hosting.
GoDaddy
On the flip side, GoDaddy has four different web hosting plans.
Starter – $3.99/mo
Economy – $5.99/mo
Deluxe – $7.99/mo
Ultimate – $12.99/mo
Maximum – $19.99/mo
Each of these plans has huge differences in terms of features.
For example, if you buy the economy plan you won't get free SSL, free backup, and many other features. And you need to pay extra money for these features.
Winner – GreenGeeks
Verdict – Honestly saying I'm not quite happy with GoDaddy's pricing plans since it looks overpriced compared to GreenGeeks and they also don't provide as many features as GreenGeeks. So I would say investing in GreenGeeks is a better and more affordable option for your business site.
GreenGeeks Vs GoDaddy – Which Hosting You Should Choose?
After performing the in-depth comparison of GoDaddy Vs GreenGeeks, I came to the conclusion that GreenGeeks is by far the best option compared with GoDaddy.
GoDaddy is a big name in the domain space but they have to make a lot of improvements to their hosting services.
GreenGeeks is not only an affordable choice but they provide leading-edge service as well. And hence, you can easily tweak the online presence of your business site or blog.
So if you're looking for a hosting that provides world-class service at an affordable price then GreenGeeks is the best option!
Other GreenGeeks Hosting Comparisons