My longest Blogging journey of 10 years is awesome, and I have learned so many working strategies by keeping on doing the experiments and analyzing the results. 
I often come across a question among the emerging bloggers – How to edit blog posts for improved SEO!
And on Quora, I have seen so many queries about updating the old blog content like
How does editing the blog post boosts its Google ranking?
Does updating the old article affect SEO?
What would happen when I modify my earlier post contents? 
Well, I have taken a nice opportunity to discuss this matter in this blog post! 
Why Edit Your Former Piece of Content? 
Blogging is all about sharing information. Hence, the sole purpose of blogging is to create evergreen posts to ensure that the readers are finding some value even in your old posts.
This isn't often the case though as old posts get outdated with time if you don't update them with fresh updates or insights.
Moreover, Google loves fresh content, and it got stronger after the Freshness algorithm change in 2011.
Editing and republishing old content with updated information not only improves user experience, but it can also help you boost your SERPs (search engine ranking positions).
Yes, you can edit old posts for better SEO and improve your organic traffic to a high level if you follow some basic rules! 
Benefits of Updating Old Content
If you are blogging for a while, then the chances are that you have more than 100 posts on your blog. A lot of them would be outdated with the insufficient latest information. 
And few of those may be lost its search engine ranking positions by the latest contribution of your competitors.  
Yes! Google is looking for the most recent information to serve the search phrases as it values user experience more than anything; chances are that your old posts get outranked eventually.
Hence, it is essential to update and edit your old posts for better user experience and SEO.
Now, let's have a detailed look, here are some of the benefits of updating past blog posts. 
#1. Boosts Click-Through Rate
Despite ranking at the top of the search rankings, your website or blog URL doesn't get enough clicks for reasons like outdated content, and older publish date, etc.
You can boost the CTR for your top listings on Google and other search engines by changing the publish date as well as changing the title of the post.
For example, let's say you have a post titled "Best Digital Marketing Tips in 2016" ranking for keywords like digital marketing tips or best digital marketing tips.
The chances are high that most users will ignore your listing even if it's in the top 5 and prefer the latest posts ranking below your listing because you didn't change the year 2016 to the current one!
You can tweak the title of such posts and update the content with the latest or fresh data and republish the post to attract a better click-through rate.
#2. Improves Readability
Just pick any of your first ten blog posts and read them now. You will be surprised to find a load of grammar mistakes and spelling typos on your earlier posts.
Most of us aren't alert or critical of our blog posts in the initial days as our primary goal is to set up and post articles as many as possible.
The excitement of launching a blog is too high that we often ignore proofreading the blog posts and publish it right after writing the article.
Updating old blog posts can also help you proofread and check on as well as correct any grammatical or spelling errors. You will also find your writing style in the initial days to be very mediocre.
However, this time, though, you can rewrite the posts with better formatting to enhance readability, and yes it would offer a great experience for your readers. 
#3. Removes Dead Links
If you are someone who likes to cite references from other blogs or resources on your blog articles, then updating old blog posts can come in handy to you.
For a blog post published a couple of years ago may have dead links or resources that are either outdated or don't exist anymore.
While editing old blog posts, you can get rid of broken links to improve user experience on your blog post and earn some Google love as well. 
I would not recommend you install the Broken Link Checker Plugin because it is heavy and may affect the site speed performance.
Instead, you may use the Google Chrome extension – CheckMylinks to find out the links on your site that are not live. 
#4. Enhances Topical Authority
Considering that you have written the older articles some time back, you may or may not have targeted all the significant keywords. Most importantly, keywords change according to trends, and user intent plays a larger role in Google rankings.
While updating old blog posts, you can perform fresh keyword research and analyze the top-ranked posts for all the targeted keywords and update your old blog posts with better keywords and content.
You can add more sections and add more relevant images to improve the user experience and readability of your blog post. I'll tell you how to take the keywords that would help you get top Google rankings in the following section. 
Besides, updating old blog posts will also help you achieve improved accuracy on the older posts as well as increase the tally of fresh and evergreen posts.
Now, let's see how to work with your outdated content and skyrocket your SEO! 
How To Edit Old WordPress Articles For Better SEO? 
Google likes the enhanced content, but simply updating your old posts won't boost SERPs of your blog. You must be smart and wise while editing past blog posts and add SEO factors to improve search engine rankings.
Step 1: Identify Articles To Edit
You can't update 100s of older blog posts at one go. You must follow a smarter approach and identify the posts to be updated.
The main goal is to choose the older posts that are already ranking for some lucrative keywords as these posts have better chances at improved rankings.
To revamp the SEO on your old blog content, you may make use of the best SERP trackers. 
Check the SERPs of the oldest blog content for the targeted keyword and choose the ones that rank on the 2nd or 3rd page of Gooogle.
For example, If I will edit this post (shown below) with better keywords and content, then it is more likely for me to drive more search engine traffic to it! 
Step 2: Research of New Keywords
Once you have identified the old posts that require an update, you can do new keyword research. Remember, you will already have the best keywords. Hence, the new keyword research should target long-tail keywords and relevant search phrases. 
Besides identifying the long-tail keywords around your main keyword, you must also determine the content format or user intent these keywords serve.
You can do that by reviewing the top rankings for these keywords and check what they are doing. You can review the top 10 competitive pages for these keywords and reformat and edit old posts accordingly as these pages are already dominating.
To identify the old blog articles, you may also use Google Search Console to find the top pages generating most organic traffic as well as shortlist the top search queries dominated by your blog.
You may look for the search terms ranking on the 2nd to the 4th page with more impressions as I have shown below!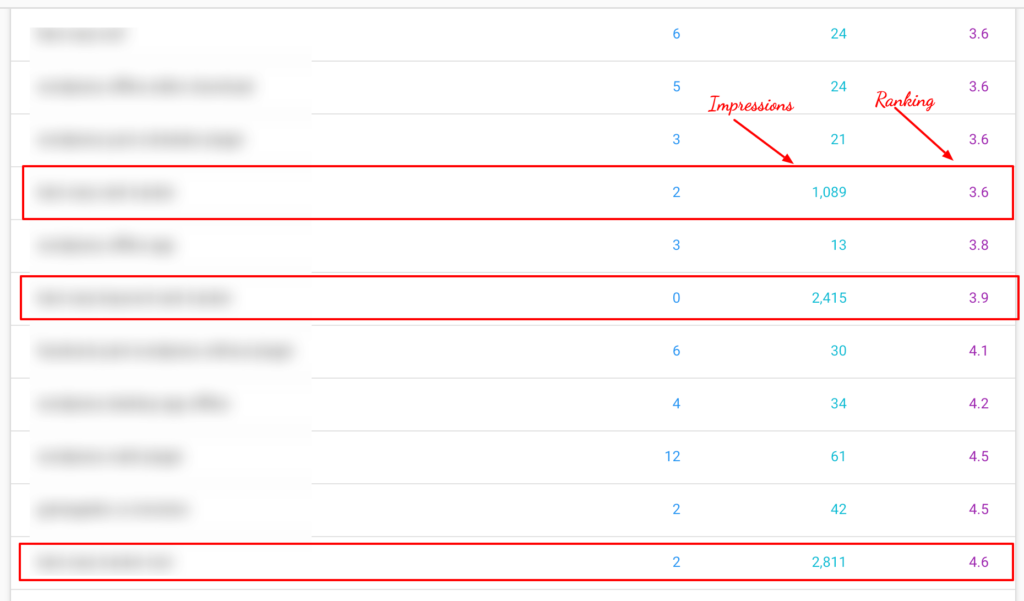 You can take these keywords and create a list of best old posts to update and drive targeted traffic from Google search. 
Keyword research is an essential task, and try to use the best tools like KWFinder and its alternatives; grab the profitable keywords and place them naturally in your content. 
Step 3: Reformat & Add Sub-sections 
Readability and user experience are the key to ensure that Google maintains your rankings.
The goal of every blog post is to help the reader with relevant information that they look for. Once you have the keywords and user intent clear, you can reformat your blog post entirely.
If you look at blogs dominating the Google search, you will find that the blogs emphasize a lot of user experience and readability.
Add sub-sections within your post to help the user understand and grab the information quickly. The idea is to make the reader scroll through the article without getting tired or bored.
Keep the sentences short and straightforward. Use bulleted points or lists, so the readers get the information loud and clear without reading into the posts too much.
Step 4: Fix Grammar Errors & Broken Links
The basic idea of updating articles is to improve reader experience. Well, the visitors wouldn't appreciate too many typos or grammatical errors in your post.
Well-written content will not only serve the purpose of the article but also enhances your credibility in the digital world. 
You should also get rid of any broken links on your post and update the links with better resources or internal links to boost the user experience.
Step 5: Add Images & Internal Links
An image speaks more than 1000 words. Having relevant images on your blog post engages your audience to an exceptional level, especially if you are writing tutorials or guides.
You should also update the alt tags of existing images with freshly researched keywords. Alt tags must be added to the new pictures as well.
You should also update the anchor texts on existing internal links or add new and relevant internal links with better anchor texts.
You can quickly boost the organic traffic and rankings of your newer blog posts by linking them smartly on these old updated blog posts.
Step 6: Update Title & Intro
You may have a great introduction to your old blog post, but there are chances that they are old-fashioned and senseless. 
You can either change the intro completely or add an "Update" remark on top of the post to tell the user that the blog contains current information and the remark will also serve the purpose of the new introduction.
Whether a reader reads through the entire article or not depends a lot on the first paragraph, your intro must be relevant-to-date and must serve the user intent to convince the reader to continue reading the article
Besides the intro, you should also tweak the title of the post or change the title completely. The title of the post will also feature on your Google listing unless you have a different SEO title.
The blog title should be on point with targeted keywords and creative enough to gain the attraction of the searchers.
Step 7: Display Last Update Date
Updating content on old posts isn't enough if you don't change the publish date. Well, Google will know that you have updated the blog post with fresh content, but that's not the case with your readers. 
They must also know that the article was published some time ago and updated later with new information. Otherwise, they will ignore the post looking at the publish date in SERPs.
You can always change the publish date and republish the old post on a recent date. Otherwise, you may install the WordPress plugin like WP Last Modified Info to show the modified date. 
However, the best option is to add a timestamp that displays the "Last Updated" time and date. It will allow keeping the credibility intact without minimizing your efforts on the new articles on your blog.
If you are using the GeneratePress WordPress theme, then here is the guide to show the last updated date to boost your SEO performance.
Step 8: Drive Traffic From Social Media
After editing your old content with better content, images, and links, share it on social media platforms like Facebook, Twitter, LinkedIn, Pinterest, StumbleUpon, and Reddit.
If you have decent followers, then you will get some social signals that would add some authority to the post. 
What could you do if you don't have a high number of social media followers? Don't Worry! Just take part in the active Facebook groups and make use of their Promotion feature. 
My blogging friend Santanu has created a FB group to help the bloggers and digital marketers by sharing the experience & solving their troubles, and he allows you to share your blog post for promotion every Saturday.
Hundreds of passionate guys participate over there, and hence you may make use of such groups to earn some social signals & shares to your modified blog posts. 
Step 9: Check Comments
Your old content may have meaningless and spam comments from the black-haters and its time to get rid of them. Just remove the comments that don't make any sense and make sure to reply to the ones that add value to your blog post. 
When replying to the old comments, you may use the relevant keywords as they would boost the topical authority and may help your edited content get better SERPs. 
Step 10: Build Backlinks
Once you have followed all the above steps, try to get some authority backlinks for the articles that you have altered for better performance.
I'm yet to write a detailed link building guide for my readers, so at this time, I would suggest you go with the White-hat methods like Guest posting and outreach methods to stay authoritative to the eyes of Google and other search engines. 
Closing Thoughts For Editing The Old Content
Building the WordPress site needs a lot of efforts, and driving the targeted search traffic for every blog post requires some consistent work.  
If you not touching the content that you have crafted in your earlier phase, then it is bad for SEO and spoils your brand image as well.
Giving a new life to your old content will help you get more readers than writing and publishing the new blog posts. Just identify the best content to edit and optimize them for improved page views. 
Follow the steps I have listed and let me know how it goes for you? If you need any help in dusting off your outdated content, then reach me anytime, I would like to help you get a more focussed audience through the search queries.