I would like to appreciate you as you are keenly interested to buy the premium WordPress theme for your website.
You might think why Genesis Theme Framework is best for WordPress blogs and websites.
What the heck does it have?
Wait a minute! I'll explain all its valor through this Genesis theme review post.
I'm delighted to tell that I'm a great fan of Genesis Framework!
Yes, I bought the license in the year 2015 and using the Genesis child themes for my niche blogs.
I'm completely satisfied with its performance & features and hence I have decided to write its entrie details about this fastest framework for WordPress.
Before getting into the Genesis framework review, let me have a word about the importance of having a great site design.
Why Have a Stunning Design For Your WordPress Site?
It is true that the design of the site decides its success.
Things have changed a lot!
Google and the other leading search engines expect an appealing look from every website to approve the organic traffic, and yes, it is to offer the best results for the people who are searching the accurate information on the web.
Your business website should have a good template that has clean code and excellent responsiveness to get the brand awareness for your product or service.
If the design elements and readability are good with smooth navigation, then no one would skip your well-crafted content.
So, don't make any compromise in getting the premium theme for your WordPress site.
Let's come to the main point!
As there exist a lot of paid WordPress themes in the market, you might get confused in choosing the best one!
Or you may be in the dilemma whether to buy Genesis themes or not!
Moreover, if you are a dedicated blogger or an online publisher, you specifically look for the WordPress theme that supports SEO, Am I correct?
I have an ideal solution for your requirement, and it is nothing but the Genesis Themes for WordPress.
Let's start with the basic details, and then I'll explain its impressive features!
What is Genesis Framework?
In general, a theme framework is a foundation for the theme where you can design further to get a unique theme. Thesis, Gantry, Cerebro are few of the popular WordPress theme frameworks exist in the marketplace.
However, Genesis is the popular WordPress theme framework developed by StudioPress, a company founded by Brian Gardner in the year 2009 and later joined with the Copyblogger Media, the software company.
The core functionality exists in this framework, and it serves a foundation to create several customized child themes according to the requirements of the WordPress users.
In simple words, if WordPress is the engine of your bike, then the Genesis Framework is the body case that can give a distinctive structure to your bike as per your wish.
Genesis Framework acts as a parent theme where all the functionalities subsist that you never edit and your design alterations in the child theme will be protected from the future theme updates.
I.e., Parent theme gets the updates, and you can do the customization in the child theme!
I hope that you understand that it is more likely to customize your WordPress site with Genesis Framework according to your needs/preferences.
[bctt tweet="Like other WordPress themes, Genesis theme is not just a template!" username="wpglossy1″]
It is a framework that can give a professional look to your WordPress blog/website.
It has a growing number of users as it has the fast loading themes with amazing features that can offer your site visitors a pleasurable experience with the responsive design.
My Top 1 Reason To Choose The Genesis WordPress Themes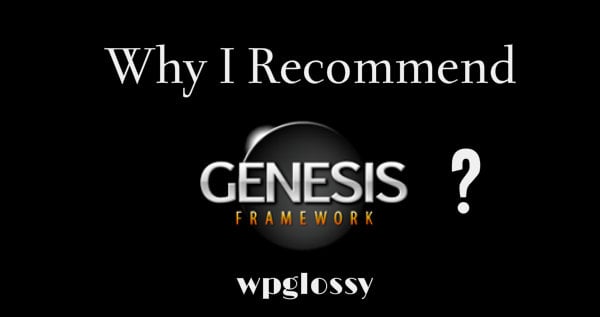 There is no doubt that the WordPress is a comfortable CMS that helps the businesses to tweak their online presence.
When it is combined with the Genesis framework, you will get a plethora of impressive search engines results which in turn would let you get the huge return on investment.
Do you know even the premium WordPress themes can hurt your SEO if they were poorly coded?
But you don't need to worry about the SEO with Genesis because the StudioPress has hired the best SEO expert, Greg Boser to make sure that the Genesis is a search engine friendly framework.
So, the main reason that I use the Genesis themes is to reap the benefits of its robust inbuilt SEO features.
Genesis SEO Features
1. Contains accurate & secure coding that make your site blazing fast loading in milliseconds.
2. Offers easy navigation for the best user experience and hence reduces the bounce rate.
3. Built on responsive HTML5 designs and 100% well-matched for the mobile device browsers.
4. Supports Schema.org codes to help the search engines categorize your content. You may use the Google Structured data testing tool to check the code Markup for improved search presentation.
I have tested the SmartPassive Genesis theme in this tool and got the below results!
5. Have the option to add the detailed SEO settings for Homepage (Site Title, Home Meta Description, and Meta Keywords) Robots Meta (Noindex the tags, categories, date, etc.), Pages, Posts, Tags, Categories and Author Archives.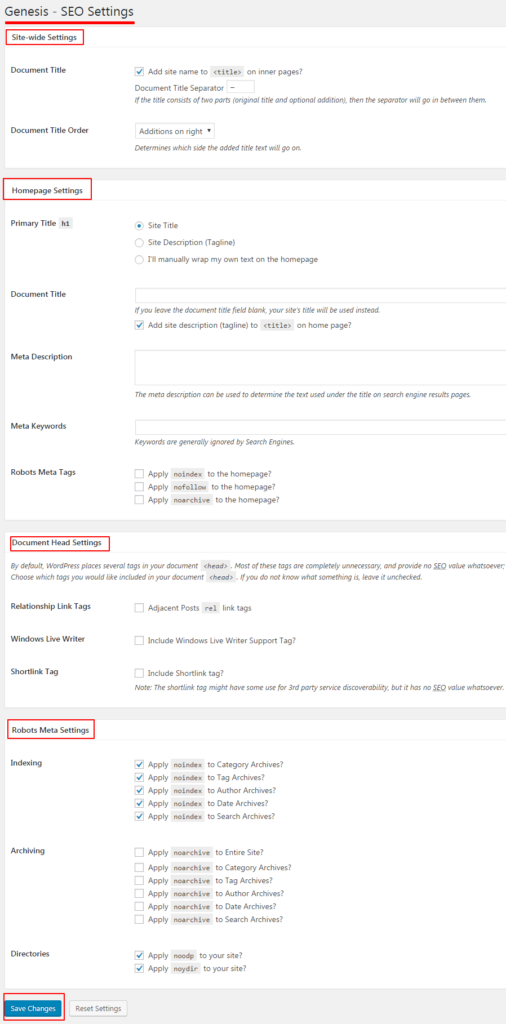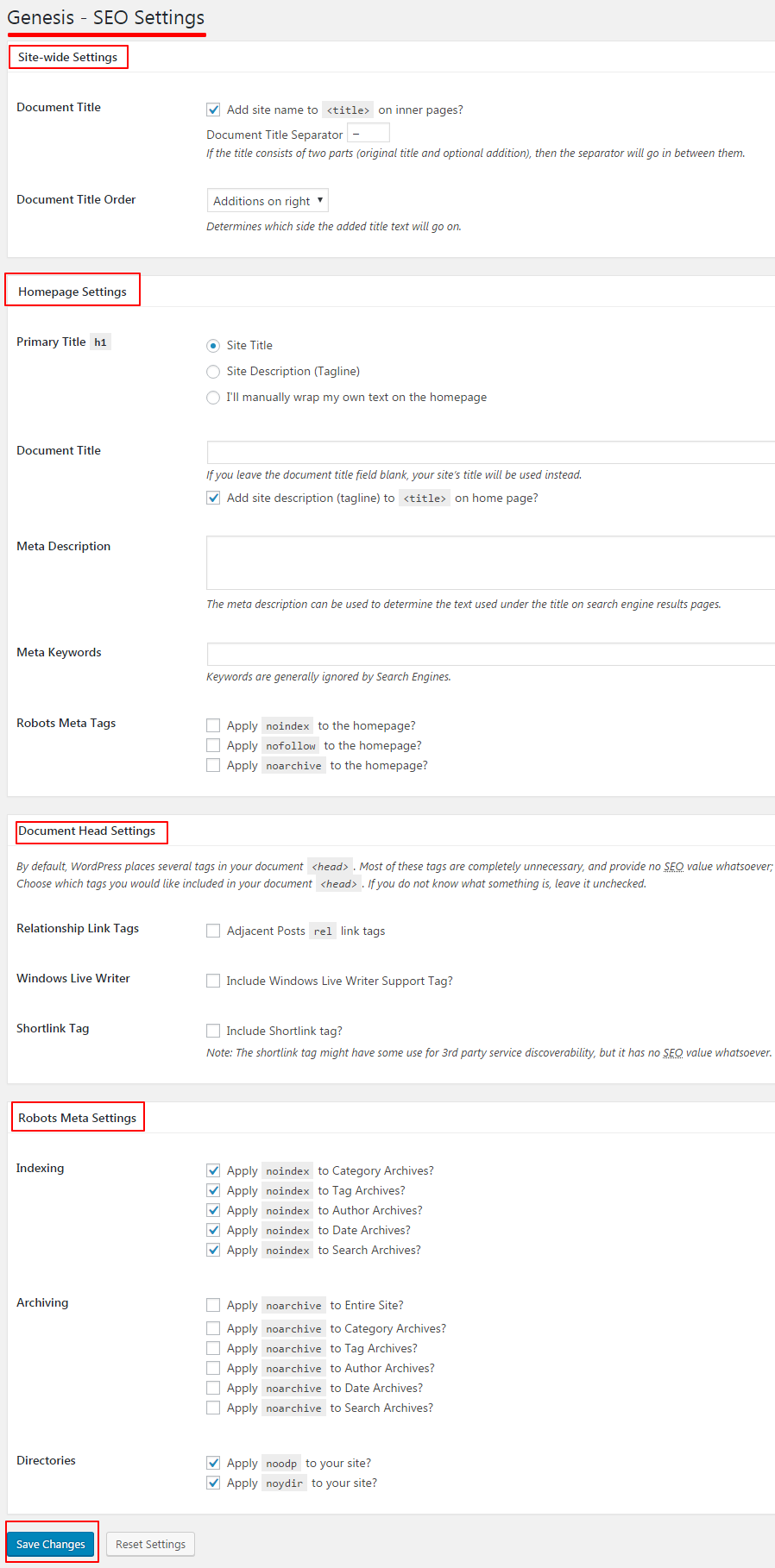 6. Other WordPress SEO plugins like All-in-one SEO and SEO by Yoast are compatible (If you're not satisfied with the SEO theme settings of Genesis, you may use other SEO WordPress plugins)
So, what is the major advantage of these SEO qualities of Genesis theme?
Since you have the up-to-date and optimized theme codes, you can perform well in the SERPs (Search engine results page) and beat your competitors by having an SEO friendly, fast loading business site.
Are you satisfied with the Genesis SEO qualities?
Buy Genesis Framework ($59.95)
Not only the SEO, but the Genesis themes also have the impressive features listed below!
Other Amazing Qualities of Genesis Theme Framework
Exciting features of Genesis Framework that make it stand out from other theme frameworks are
1. Solid Security
WordPress has its part in making a priority of security. However, it is vulnerable to the hacking attacks that would spoil your reputation.
In Genesis Framework, the senior security expert, Mark Jaquith has been brought into the game to bring the reliable security to its core by following the best practices of WordPress security.
Advantage – You will adore the high-tech airtight security features and prevent the activities of hackers through the security holes.
2. Frequent Updates
StudioPress gives updates for the Genesis framework on a regular basis to stay compatible with the current version of WordPress.
You need to click the button to get the updates. You may also enable the Auto-update feature provided in the theme settings.

Advantage – As you often get the updates, you will not get any design mismatch or security bugs issues.
3. Attractive Pre-Made Child Themes
Genesis offers a dozen of big professional pre-made child themes built with the new code standard HTM5. All these Genesis themes have responsive turnkey designs and ensure cross-browser compatibility.
StudioPress is also consistently making the new beautiful themes to extend your theme choosing option.
If you don't want to play with the coding part of the theme, just download any of the handy designs in few seconds and customize Genesis theme with minimum effort.
Advantage – If you are a busy digital entrepreneur, you can use the ready-made Genesis child themes without the need of modifying the codes.
4. Dedicated Plugins
Genesis developers are masterminds who showed their excellence in designing the useful plugins that would help the Genesis theme designers to create the new child themes with an exceptional look.
Plugins like Genesis Simple Edits, Genesis Simple Hooks, and SEO Data Transporter are some of the most powerful extensions to extend the functionalities of your WordPress site.
It also supports several third-party WordPress plugins like Genesis design Palette Pro and Genesis Connect For Woocommerce to enhance your theme functions without touching the coding part.
For more details about Genesis plugins, visit the blog post of Sitepoint.
Advantage – You don't need to be a code-savvy guy to do the Genesis theme customization.
5. Unlimited Usage
When you buy the Genesis framework for $59.95 (one-time payment), you will get the developer license to use the Framework on as many websites you want, and they will get the automatic updates as well.
Affordability is one of the primary reasons for recommending the Genesis Framework for your WordPress site.
Yes! You have to get the Framework for $60 and a Genesis child theme around $40, and you may use this robust theme structure for unlimited sites.
Advantage – Just a one-time investment to use this best theme framework for WordPress on multiple sites or blogs.
6. Excellent Support
The Genesis framework has a great community of developers and users who are much helpful in solving your technical issues. You may connect with them through their Facebook group and get assistance to build the site of your choice.
Moreover, you can get the extensive customer support and detailed setup instructions & demo content for every child theme. You can also make use of the StudioPress support forums and ample guides to do almost everything with the Genesis Framework.
Advantage – To make your site unique and better, you can get a lot of design tips & tricks from the community and forum members.
7. Boost Sales/Leads
With this secure WordPress Framework, it is more likely to incorporate the dynamic functionality of your site through the optimized widgets. It also supports the comment service and auto-sized featured images for the better reader engagement.
Advantage – As you are making the readers to stay longer, you will be able to get more sales or conversions which would let your business move to the next level.
Get Genesis License From StudioPress
Not only me!
Even the industry experts and pro bloggers like Matt Mullenweg (Founder of WordPress), Darren Rowse (Founder of Pro Blogger), Chris Bogan (CEO of Owner Media Group), and Pat Flynn (Founder of Smartpassiveincome) have endorsed the Genesis Framework for its solid foundation, design, appearance and SEO functionality.
I hope that you have understood the power of using the Genesis child themes for your WordPress site.
Now, you should visit the Official Site of StudioPress to buy Genesis Framework license. I strongly suggest you not to go with the untrusted sites that offer the Genesis themes download for free.
If you want to purchase the excellent Genesis design, check some of the best Genesis themes and third-party Genesis themes (Non-StudioPress themes) for your WP site.
Building A Site With Genesis Child Theme
Once you have purchased the Genesis Framework and the child theme (You may use the free sample theme of Genesis), you may have a look at their complete installation tutorials for the theme setup.
From the StudioPress dashboard, you can download the Genesis Framework and the theme that you have bought. Now, you should upload them to your WordPress site.
You might think How to install the Genesis framework on WordPress and wonder that it would be rocket science!
No!
Installing this best Framework for WordPress is as simple as you install other themes through the WordPress Admin
Go to WordPress Dashboard > Appearance > Themes > Add New > Upload Theme
First Upload the Genesis Framework and then the Genesis child theme that you have bought and activated it.
You have the option to import the demo content. Also, you customize the design through the options given below!
I'm sure that you will enjoy the extensive customizing options for Genesis to build a tailored site that would let you get a massive web exposure.
Genesis Framework Alternatives
If you still didn't convince with my words, you may consider getting the fastest loading themes from MyThemeShop which is the best alternative for Genesis Framework.
I'm a paid member of MTS and shared my detailed experience about MyThemeShop themes.
I've also compared the Mythemeshop and Genesis Themes so that you can buy the best and suitable one for your WordPress site.
Moreover, I have listed some other Genesis themes alternatives to make your WordPress site a stunning one!
Wrapping It Up
[bctt tweet="Genesis is more than a usual WordPress theme!" username="wpglossy1″]
If you have the WordPress website for your business and you want to take it to the next level, then you should get the best Genesis theme for it.
I was using the typical WordPress themes for my blogs, and when I hunted to learn about the customized blog design with inbuilt SEO and security features, I found Genesis Framework from StudioPress.
I have had few concerns in the initial phase and thus reached their forum to get the job done within few hours.
I recommend the Genesis Framework from StudioPress to build a professional WordPress website that loads super fast and rank well in search engines.
I'm sure that you'll admire its splendid features that I have listed in this post, precisely its SEO qualities.
So, would you like to give a shot for Genesis framework child themes? Which premium theme are you using on your WordPress blog? Share you priceless views and experiences in the comment section.