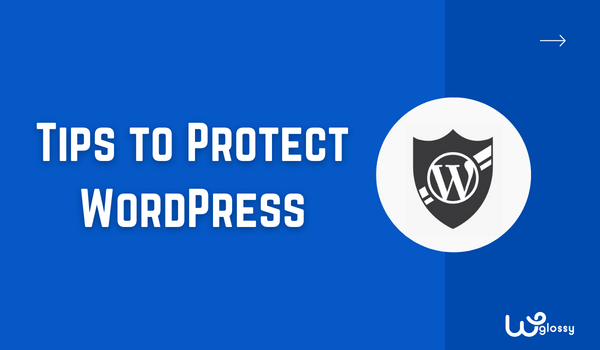 Are you starting a new website on WordPress? Do you know about security vulnerabilities and how to protect WordPress? Do you want to secure your website against cyber attacks from day one of your launch? If so, this guide on protecting the WordPress website is for you!
Almost every website can get attacked by hackers anytime from anywhere. Cyber attacks can steal your and your visitor's data, crash your website and remove it from search engines. This is possible only when there are some vulnerabilities in your website. 
Your WordPress website thus needs protection to keep your business or brand safe and sustain its reputation. Finding issues on your website is complex, and you must perform some crucial fixes. Before going through the steps, let's discuss the importance of website protection.
Why Should You Protect Your WordPress Website?
WordPress has loopholes and backdoors, making it more vulnerable to third-party codes. So, it's essential to focus on WordPress security to maintain its value and integrity. You can expect the following and many other benefits if your website is entirely safe and secure.
Reduce Risks For Your Visitors
If you run a blog or an eCommerce store, you should take the security of your website seriously. Any visitor who wants to read on your website or buy something can get attacked by potential hackers. So, a secure website reduces these risks of stealing your and your visitor's data.
Enhance SEO, Boost Ranking
Google loves its users more than your website and the information you provide. If your website is not secure for visitors, Google can penalize it. And hence, you can lose your SERPs ranking and traffic. A well-secured website can improve SEO and boost ranking to the top.
Improve Website Performance
The performance of your website can play a significant role in its success, and it also depends on its security. If your website is secure, hackers can't use its servers for unethical purposes and do better. Vulnerabilities may cause your website to load slowly, resulting in no traffic.
How Can You Secure Your WordPress site? 9 Best Methods
Keeping your website safe from vulnerabilities is easy; recovering them from damages is tough. And what makes this issue more troublesome is you don't know if there is some issue on the back end. You'll have to take the necessary measures to ensure safety. Try these methods:
1. Go For The Right Web Hosting
Your website hosting significantly impacts the security of your website and keeps it protected against theft. Good web hostings have protected servers, and you won't need to worry about anything. They have a specific security structure keeping them safe from malicious attacks.
I recommend using managed hosting instead of shared hosting. Why so? A shared hosting plan is vulnerable to attacks through any of the websites on the server. However, you get a more secure website on managed hosting. Look at these factors when choosing a hosting:
Must support regular software updates
Has a reliable automatic backup system
Support CDN and DDoS attack Mitigation
Use Firewall to monitor and control traffic
Offers SSL certificates and 24/7 support
Run a daily malware scan on their servers
2. Use WordPress Security Tools
Once you set up your web hosting and get on the admin panel, it's time to install a WordPress security plugin. You may also get a custom solution for improved security from a WordPress development agency like WP Masters and know about any vulnerability to take action on time. 
The security plugins will monitor the integrity of your website files. It'll scan all the files for malware and monitor failed login attempts. If any such issue is present, you'll instantly get an alert on your email. I recommend Wordfence as it's an active plugin and sends quick alerts. 
3. Backup Your WordPress Site
Your website and all its assets are essential; hence, you need regular updates. If a potent malware attacks your website and there's a chance of losing data, backups save you. So, it could be the best remedy against vulnerabilities and avoid stealing your website data.
The best practice to keep backups of your website is using the automatic backup feature offered by your hosting. You can schedule daily or weekly backups — I recommend weekly. You can also use plugins for backup, but again you should use the default tool from your hosting provider.
4. Daily Scan Your WordPress Site
You'll have to run a full security scan to identify malware before it harms your website. For this purpose, you can use plugins or scanners to find vulnerabilities in your website. Some free and paid plugins can also remove and fix the errors if there are any. 
Why do I recommend a daily scan? So, checking your website is necessary, as viruses can enter anytime. If you can't do it daily, use an auto-scanner such as WSP to inform you timely. You can scan all your files, other plugins, and themes using a Free WordPress Malware Scanner.  
5. Use Web Application Firewall
Web Application Firewall (WAF), or just Firewall, protects your website from getting malicious traffic. For this reason, this practice of website protection is the most crucial as malware can't reach your website. You can expect this security only if you use a DNS-level firewall.
You can use any best malware scanner, as most have a website firewall by default. Some plugins, such as Wordfence, have firewalls but are not so strong. They filter out most of the bad traffic to your website. Use a scanner with a built-in firewall to get the best results.
6. Keep Plugins, Themes Updated
Plugins and themes installed on your website are the most susceptible site to vulnerabilities. It's because they are in the form of codes and these errors occur in codes. Hackers can upload files (unsecured), and it becomes difficult to find the wrong codes or files in the directory.
The best option in such a case is to set auto-updates for your plugins and regularly check theme updates. Besides security, it'll also add new features to use in your blogs or pages of your site. But remember one thing, you need to check and test some updates before implementing.
7. Switch Your Website To HTTPS
You might have noticed when you register a new domain and hosting; your default URL is HTTP. It means your website is missing security protocol, i.e., SSL. If you get SSL from your hosting provider, install it as soon as possible. If your hosting doesn't offer SSL, you can buy one.
Once you install it, your website will switch to HTTPS. SSL certificates keep data encrypted when transferred from your website to the user's browser. It creates a secure experience for users on your website. So, HTTPS makes your website a safe and secure place for visitors.  
8. Use Two-Factor Authentication
Strong passwords keep your website safe from anyone entering your website. But they can't prevent unauthorized access, and you need two-factor authentication for it. This practice acts as an extra layer of security, and no one can enter your website even if they have the password.
You can use the most common plugins for enabling two-factor authentication, such as WP 2FA, Authy, etc. I recommend using Wordfence as its free version also has this feature. As for each plugin, the activation method is different, I won't explain the process in this blog. 
9. Put A Limit On Login Attempts
Sometimes, we forget our passwords and attempt multiple times to check which password is the right one. This might be fine for you, but it makes your website vulnerable to attacks. So, hackers can try as many passwords as they want until they access your website.
You can limit the number of login attempts and block the user after a few failed tries. For this, I recommend using a plugin if you don't use WAF (Web Application Firewall). You'll just have to install the plugin, activate it, and customize it to set the limit for failed login attempts.
Conclusion
Well! That's all about protecting your website against thefts and security vulnerabilities. I hope you would have learned all these methods to implement on your website. You can use any of the above methods or multiple of them to maintain security at different levels.
WordPress security is important to keep your blog, eCommerce store, or business website safe. If you don't use proper security measures, hackers can steal your and your customer's data from your website. As a result, you can lose your credibility and face financial loss.
Users visiting your blog or website without SSL protection (one method) will leave. It'll lead to insecurity of your website assets and can badly affect your ranking on Google. So, as a closing note, I would say, "implement every single method to keep your website protected."