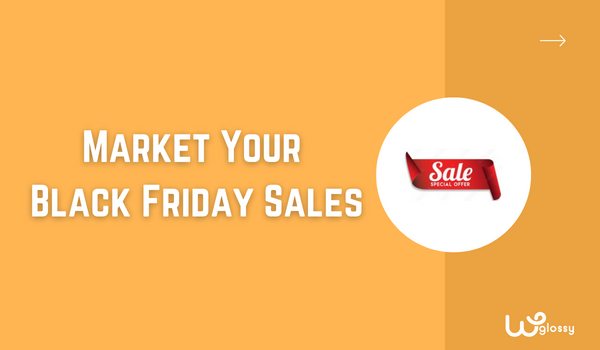 The height of the holiday sales falls during Black Friday, so every company will seek to maximize revenues and hold specials then. In fact, during the first two or three weeks of November, retailers generate approximately a quarter of their annual occurs. Well, you can harness the power of this season as well! How to market Black Friday sales?
Black Friday campaigns are a particular advertising effort focusing on shoppers in your locale — seeking deals on occasion. A successful Black Friday sales promotion will incorporate organic, social media, paid, influencer marketing, television, and outdoor advertising. If done right, your brand's Black Friday promotion might generate up to 25% of your annual income.
12 ideas for localized Black Friday promotions that will entice customers to buy
How can you design the perfect Black Friday marketing strategy that won't fail? The best motivational Black Friday promotional concepts will be revealed for you to use this year.
Each of these is quite effective when employed by small firms in their communities, and we are confident that you will also gain a lot. Black Friday offers will be sought after by approximately 50% of all customers, so you must learn how to pique their interest effectively.
Okay, let's get started right now!
1. Make a sneak preview
Withholding some information can occasionally pique people's interests. If you run a retail site, you can preview some of the top items that will go on sale. If you own a SaaS business, you can use a teaser film or a GIF to highlight the critical features of your products.
Have Black Friday in your mind at all times, and ensure to describe the specifics of the offer while emphasizing your substantial discount.
Tips for promoting your sneak preview:
Publish it in your newsletter.
Share a mass email with it.
It should be included as a hyperlink in your email's sign.
Put it out there on social networks.
Upload a video to YouTube.
Put pop-up windows on your site.
Publish advertising for searching and display.
Make a radio and podcast advertisement.
Create fliers and let people know about the sale.
If your organization is large, make media and billboard advertisements.
Teasers take advantage of the fundamental truth that human beings are curious naturally – to drive prospective sales, generate traffic, and draw in the audience. Using sneak peeks generates anticipation that draws potential customers. Every customer wants to know that they're getting what they paid for.
In addition to providing your clients a preview of what is to come, if your teaser is this good, you also assure them your products will turn out to be similarly significant. A happy client experience results from this, increasing the referrals you receive. Make the most of your social networks by posting various sneak peeks. The more diverse your teasers, the more content you'll have, and content brings in traffic.
2. Use posters to showcase events in your community
If you have ever pondered why posters seal many deals, it's because they are compelling, inventive, and among the most appreciated ways to communicate. Even while they can't convince people to buy on their own, posters can be a very effective tool. 
Posters give your online and offline marketing effort the boost it needs to succeed in raising awareness. When it's Black Friday, they provide several benefits you must be aware of and incorporate into your media mix.
They offer ongoing exposure and instantly leave an impact on potential customers. Your posters should get significant responses if positioned in critical areas in your neighborhood. Images intriguing and engaging are more likely to catch the sense of sight. 
Therefore, graphic design becomes an essential component of your promotional campaign if you decide to make your own poster. But if you do not have graphic designers, you can use automated and appealing design templates for your Black Friday posters. 
You may share your most recent discounts, deals, and promotions. While keeping your competitive edge in branding, you will save time and work by using simple-to-customize templates.
3. Introduce a new item
People adore new and exciting things. Because of this, you ought to make the most of the unique chance you'll get during Black Friday to advertise a brand-new item, which will exclusively be offered on that date.
This might advance your brand's Black Friday advertising. Even though a prior client just made a single purchase from you, they can become intrigued enough by your new offering to make a purchase.
There are primarily two approaches to introducing a new item. It can be added a couple of days before the important event. This can increase sales before Black Friday itself. To include the merchandise on Black Friday counts as your second option.
Additionally, a countdown clock can add to the excitement. You might determine that this item will be accessible only during Black Friday. It instills a feeling of urgency that prompts movement.
4. Turn the computerized wheel
Your store's Black Friday marketing can be made game-like. A common technique is to turn a digital wheel. Your current and prospective customers will visit your website more often to win gifts, deals, and coupons, thanks to this small addition to your website. 
This marketing plan focuses more on creating an interactive experience than it does on giving fantastic rewards. It inadvertently improves user experiences for your site and business.
Here is an excellent example of a virtual spin the wheel with an editable template. You can even share the link on your social media, newsletters, and website. 
5. Provide an early-bird VIP deal
The proverbial "early bird gets the worm" — or, in this instance, the deal. Email notifications about your most recent product lines will be on sale on Black Friday. 
To render it even more effective, you may create the feeling of scarcity by using words and terms like "exclusive" and "nearly sold out" in your VIP early-bird deal tagline. According to research, people enjoy taking chances whenever there's an added layer of scarcity.
6. Make an advertising video for the countdown
Making a promotional clip with a countdown is an additional cool idea you can implement. This video should showcase every item you'll be selling, but one week beforehand.
This might create additional excitement, resulting in people queuing on Black Friday to make purchases. Share your excellent promotional videos on your Facebook page as soon as you finish them.
7. Write a post about your "Black Friday Special"
"Black Friday Special" carousels are a great Facebook feature. It'd display your highlighted goods on offer during the shopping season. Utilize the scarcity strategy to get customers to prepare their purchases for Black Friday. It is one of the fantastic ways to market Black Friday sales.
8. Work with an influencer on TikTok
If you haven't noticed, the younger generation, particularly Gen Z, are now obsessed with TikTok. TikTok influencers frequently receive millions of hits for their video clips, so it is a route you should certainly consider taking.
Look for TikTok influencers who will work with your brand's Black Friday marketing and collaborate with your team. Arrange the promotion so that users must scroll up to access it.
9. Run a unique sale each hour
You could reap the benefits of a thrilling, quick-paced strategy that involves running a fresh sale each hour when your online store has a larger fan base.
Black Friday deals can begin at 12:00 and last 24 hours. Your sales could potentially soar as a result, specifically if a few of your products won't even be accessible before a specific period.
10. Provide a complimentary item with each purchase
Who doesn't enjoy free things? People are much more likely to purchase your products during Black Friday when you offer a free present for every purchase. Giving away anything with a value of under $2 is a frequent small business strategy.
Include a link to your complimentary offer on the main website of your shop to help promote it. This makes it as visible as possible. You can set an ordering threshold so recipients must spend $100 or more to receive the reward. Assuming your margins are tight, you may perhaps offer a free goodie with every order.
11. Provide a 'Buy One, Get One 50% Off' deal
'Buy one, get one 50% off is yet another effective Black Friday sales tactic. In essence, this is attempting to sell to get consumers to order more than they had originally planned.
A version of this could be to offer it all at 50% off during the morning hours of Black Friday, followed by a buy one, get one 50% off sale in the evening.
12. Provide pick-up/drop-off for purchases made on Black Friday
As per Adobe, retailers who provided curbside options during the 2020 Black Friday sales experienced 31 percent greater conversions for web traffic. 
Providing curbside pickup serves as a terrific method to boost your sales as well as satisfy all shopping tastes, especially as more consumers become interested in online purchasing this year.
Additionally, curbside is a common choice that will encourage users to come to your establishment. This is applicable to the clever shopper seeking to explore as many establishments as feasible on Black Friday.
If you choose to provide curbside service, ensure to employ a curbside team, establish a curbside collection location, and factor the related expenses into your yearly budget. 
Conclusion
Every business should use the opportunity presented by Black Friday, which occurs annually. In reality, it's possible that Black Friday or the weekend surrounding it will account for the lion's share of your yearly revenue.
With our top-inspired promotional campaigns at your disposal, you can increase your sales further by building buzz in your community and giving your customers incentives. Do you agree with my thoughts about market Black Friday sales?