It is an honest Cloudways review 2023 after using the hosting service for the past six years on this blog – www.wpglossy.com and not written with a promotional attitude.
Every passionate blogger wants to improve the performance of their blog by fulfilling the requirements of the visitors & search engines and making leads or conversions. Even I also wish the same!
We used InMotion hosting to host this blog earlier, and the server service was not bad!
But why have we shifted to Cloudways hosting?
WordPress managed cloud hosting is a recent trend!
Fast & reliable
Offers scalable resources
Pricing plans are affordable
Improved security & backup
Hence, we wanted to give a shot to DigitalOcean, the cheap and best Cloud hosting platform, to perform better than before.
However,
I'm not familiar with the server administration

There is no control panel option to manage the database and email

I need to use the 3-rd party tool like "ServerPilot" to set up the server on the DO droplet
I was overwhelmed with the technical aspects of cloud hosting and decided to give up my wish to move our blogs to the cloud hosting platform.
At the right time, I heard many positive talks about the managed WordPress cloud hosting, Cloudways, in the Blogosphere.
We liked the "Managed Hosting" concept with the cloud feature as the hosting company takes care of all the technicalities like Configuration, Optimization, and Upgrades.
We were keenly interested in moving our blog to Cloudways hosting, and yes, we have done the migration process on our own in an hour!
It happened in July 2017!
Until now, we have been delighted with the features and performance of this fastest WordPress cloud hosting.
Thus, I took an excellent opportunity to write a detailed Cloudways review to help website owners looking to buy a highly reliable managed cloud hosting service at an affordable cost.
Let's get into my in-depth viewpoint about Cloudways hosting!
Cloudways – A Short Intro
Four techies founded Cloudways web hosting in 2011, and they started to play well in 2014 by introducing new features. It is a feature-rich cloud hosting service that is quick to create, easy to manage, and made to scale.
This Managed WordPress cloud hosting is globally available in 50+ data centers; thus, you can choose the nearest one for your target audience. Hundreds of web giants have already fallen in LOVE with their flawless service; therefore, they stand on top in the heavily crowded server industry.
When writing this Cloudways review 2023, the company manages over 50 thousand active cloud servers, and millions of sites & apps are running smoothly. Their main aim is to provide a feature-rich user experience, and they are delivering what they have promised to do.
Cloudways Review 2023 – Amazing Features Make It A Top-Grade Managed Cloud Hosting
1. Easy To Use
We don't want to mess up with the technical glitches of the server. The Cloudways web host service perfectly fits our requirements and lets us focuses on the blogs' improvement.
Yup! It is convenient and straightforward to use.
The beginning with Cloudways is no Rocket science.
Just look at the image below, and you will come to know how easy to get started with Cloudways hosting.
The project creating process may take 5-10 minutes to finish, and the service will be activated without complications!
Even a non-tech-savvy person can do the server settings and Cloudways WordPress migration without trouble. You may watch the video below to understand how to make your site live with Cloudways.
2. Cloudways Dashboard
Once the server is launched, you can see the Cloudways management screen.
The Cloudways platform differs from the traditional cPanel of shared hosting, but you will surely like it. The interface is precise and user-friendly to set up the project in minutes.
The dashboard is well-organized and contains easy-to-understand preferences, as shown in the below images.
The server is the VPS machine where you can
Get access to the SFTP & SSH

Monitor the CPU, Disk, Memory, and Bandwidth

Manage the services like Varnish, Memcached, MySQL/MariaDB, PHP FPM, and NGINX server.

Whitelist the IP

Increase the server size through vertical scaling

Take backups and setup outgoing mail service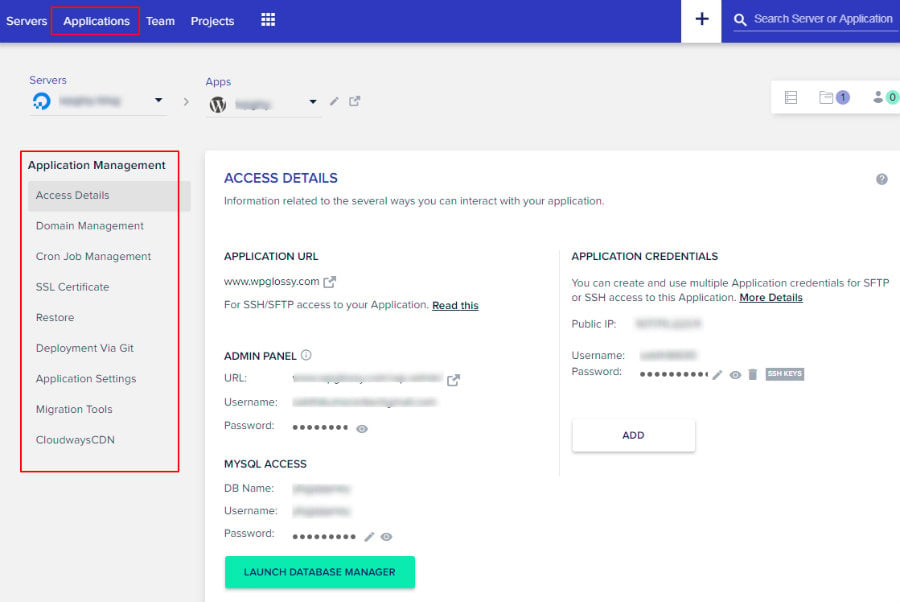 Like server management, you can handle the "Applications" area for
Domain management

and create subdomains

Cron Job Management for automated tasks

Free SSL certificate

Restore your site from Backup

PHP settings
And can access many more useful tools to manage your website!
3. Fully Scalable & Manageable
When your site grows in terms of traffic, you can extend the server resources (CPU, RAM & Storage) in just a few clicks, and that too without changing the configuration of the server.
We have chosen 1GB RAM, 25GB SSD Disk, 1TB Transfer & 1 core processor for our blogs.
Not only scalable, but Cloudways is also fully manageable, giving you complete control to handle your server and applications. You can
Control several server parameters and deploy the applications

Add or remove the URLs and Cookies through the Varnish cache settings

Change the webroot of an app in a few clicks to make the server files from a new location

You don't need to run the complex commands as you can do everything through the intuitive platform but still, control the WordPress websites via the commands of WP-CLI (pre-installed)

Disable the access of any application from over the web and SFTP/SSH
4. Cloudways Speed
Getting the guaranteed fast performance in Cloudways hosting is fantastic stuff that is indeed needed for our blogs' growth. 70% of our WordPress Speed Optimization task has been taken care of by this cloud hosting server, and we are happy about it.
How is Cloudways excellent in delivering ultra-fast performance?
Well, they have
SSD-based & PHP 7 ready servers for superior performance

Inbuilt advanced caches like Varnish, Memcached, Redis & NGINX

Pre-configured PHP-FPM to improve loading times

HTTP/2 supported server to boost the communication speed between the web server and clients
In this unbiased Cloudways hosting review 2023, I would like to share the loading speed score of our blog by using GTMETRIX Tool.
5. Cloudways SSL
Installing the SSL certificate for a website is not an option anymore! I hope you know the recent Google announcement that SSL is a must for websites.
Most WordPress hosting providers charge a fee to fix the SSL certificate to the sites. It is not the case with Cloudways managed WordPress hosting.
You will get 1-click Free SSL through their built-in Let's Encrypt SSL provider. There is an auto-renewal option to extend the SSL expiry after 90 days. Moreover, there is an option to get a custom SSL certificate.
6. Cloudways CDN
I would recommend CDN usage for WordPress business websites and dedicated bloggers for quick content delivery to your loyal visitors and grab the opportunity of getting them CONVERTED.
Cloudways is CDN-integrated; you can set it up in a few clicks. Being a partnership with CloudFlare (Top content delivery network), Cloudways CDN is helping users reach a global audience through fast-loading sites.
No matter where your server and the data center are located, your web pages can load in seconds to please the readers and Google search engine.
But, one thing! You should understand that premium features cannot be offered at zero cost.
Yes! Cloudways CDN is a paid Add-on; you must pay $4.99 for less than 5 domains, and the price decreases for more domains. I would say it is more affordable as you are getting the World class CDN service at a lower price.
We recently integrated CloudwaysCDN into our blog WPGlossy through the W3 Total Cache Plugin. After enabling this feature, we can see the speed boost in the loading time of our blog, and hence, worth the money you spend.
Its impressive features are
Edge Page Caching For WordPress
Argo Smart Routing
DDoS Protection
Global Rate Limiting
Wildcard SSL Support
Mirage Image Optimization
7. Cloudways Security
The security of Cloudways WordPress is top-notch through the dedicated Firewall and regular security patching.
There is no need to worry about

malicious traffic and intruders, as platform-level firewalls protect the cloud servers.
They perform regular OS patches and firmware upgrades on the server to avoid vulnerabilities.
Two-factor authentication for extra safety, IP Whitelisting for project collaboration, and Auto-healing servers during the server crash are the notable features of CloudWays security.
As I discussed earlier, Cloudways SSL enhances the safety of your site with a trusted certificate.
Your server will be monitored 24 X 7 in real-time to prevent hacking attempts. Also,

Automated backups are available, and it is more likely to get a backup on demand.
8. Cloudways Support
In my unbiased Cloudways review, I should have a word about Cloudways support which is just excellent with a team of Cloud professionals.
Technical assistance is available 24 x 7 through live chat and the ticketing system. They are high-level engineering experts with immense knowledge and are good at troubleshooting bugs.
You may also reach the customer success team through the active Cloudways community, where they are helping the users by sharing their skills and experience.
Out-of-all, they have in-depth tutorials and videos for almost everything. These how-to guides are consolidated under different categories smartly for easy understanding.
Cloudways + WordPress
I don't know about other CMS. However, Cloudways WordPress is a perfect server combination optimized for secure and superior performance.
As it has the best infrastructure, it is more likely to get the fastest WordPress hosting on the managed cloud platform.
With the help of the user-friendly platform, real-time monitoring, and managed security, they keep the WordPress hosting headaches at bay 🙂
This top-notch managed hosting is globally available with enhanced qualities; hence, it has been trusted by several WordPress experts.
Our Experience With Cloudways WordPress Hosting
1. Site Migration
Cloudways has the WordPress Migrator Plugin for self-migration. We have used the same and shifted our blogs to Cloudways hosting. It is simple to use as it partnered with BlogVault to complete the job.
We have just followed the Cloudways site migration tutorial and moved our files within an hour; no technical steps were involved, and no downtime issue as well.
2. 100 % Uptime
As I said earlier, we have been using Cloudways managed hosting for the past three years, and we didn't experience any server down issues even during the traffic spike at times.
Our blogs maintain 100% uptime, and it helps us to get exponential monetization growth.
3. Excellent Server Response Time
The server response time is one of the critical factors determining your website's performance, and it should be less than 200ms to offer a fast-loading site for your readers.
It's a great privilege to talk about the server response time of our blog in this Cloudways hosting review; Just excellent!
Have a look at the following images!
When our blog has been checked for the speed score in Google PageSpeed Insights, it is NOT suggesting to us reduce the server's response time because of the advanced cache and other speedy qualities of Cloudways.
Check whether you are getting the suggestion to reduce the response time of your blog from Google PageSpeed Insights.
4. Improves SEO Rankings
Boosting SEO performance is our primary intention; yes, it's going well with the quick-loading site.
5. Kind Support
We like the kind assistance of Cloudways support, and they are always available. We had a problem with the Credit card, but they have extended the due date to pay the invoice and allowed us to use the service.
Also, I have taken part in the community forum for some help, and they have responded immediately with the perfect solution.
6. Easily reachable
I communicated with one of the business development executives of Cloudways, Mr. Mustafa Mohsin and asked
How is Cloudways different from other managed cloud hosting services?
Cloudways is one of the leading providers of Managed Cloud Hosting services.
It's Managed Platform comes packed with more than 150+ features, 24 x 7 x 365 support, 50+ data center locations from top cloud infrastructure providers, and 10+ Web Applications, including WordPress, Woo-Commerce, Magento, Drupal, and PHP Stack, all on 1-click install.
Below are the few points that make Cloudways different from others.
Complete Managed Hosting On All Plans

1 Click Multiple Applications Multiple server Choices

Multiple PHP Versions (PHP versions 5.6, 7.x)

Staging Environment (unlimited)

Dedicated Cloud servers

Server level firewall

Team Collaboration

Pricing Model: Pay-As-You-Go (Hourly Billing)

Free SSL On All Plans

SSD-Based Hosting

1 click CDN setup

1 click website cloning

Automated Backup (Hourly)

Free WordPress Cache Plugin "Breeze"

Free Managed Migration

1 Click Server & Application Cloning

Git Support

Notifications (CloudwaysBot)

API Support

Woo-Commerce support with advance caches (Varnish)
Cloudways Reviews On Twitter
How are users talking about Cloudways on Twitter? Let's have a look at a few Cloudways reviews!
So, do you also want excellent WordPress hosting on a Cloud server for high fidelity?
I have Cloudways Promo Code for you!
Grab the Cloudways discount now by applying the Coupon Code – WPGLOSSY
Cloudways Reviews On Trustpilot
When updating my Cloudways review 2023, the trust score of Cloudways in Trustpilot is 4.4 – Excellent.
More than 150 customers have left fantastic feedback about Cloudways.
What Don't I Like In Cloudways?
The two things that are unpleasant to us are
No domain registration

Paid Email account ($1/mailbox/month) and paid backup (It costs $0.033 per GB)
What Could Be Improved In Cloudways?
Email hosting is a paid add-on. They should consider offering this feature for free.

Affordable pricing plans for beginners.
FAQ About Cloudways
If you have any queries, clear them in my comprehensive Cloudways review!
1. What is the difference between DigitalOcean and Cloudways?
In DigitalOcean, you get a server and need to configure it. With Cloudways, you get a DigitalOcean server, and quickly you can deploy, manage and monitor the server and application that is ideally configured with just a click from the platform.
2. Does Cloudways offer a money-back policy?
NO! The company offers only a free trial for three days.
3. Is Cloudways a better hosting for eCommerce sites?
Yes! CloudWays is recommended for online stores. It is one of the best eCommerce hosting providers to build successful web stores.
4. How many sites can be hosted on the same server?
If you choose a 1GB server, hosting 2-3 blogs with total traffic of 50K monthly is possible.
5. Do they offer free site migration?
Yes! The support team offers free migration for one website. However, a site migration can be done through the Migration plugin.
6. Can I use Cloudflare CDN on Cloudways?
Yes! You can create a Cloudflare account and set up the Nameserver at Domain Provider. Also, you don't need to configure anything to work with the Breeze WordPress Cache plugin.
7. Which Cache plugin should I use?
Cloudways has a cache configuration at the server level. But still, you may use the WordPress cache plugin Breeze which is easy to configure and gets regular updates.
8. What is CloudwaysBot?
The CloudwaysBot is smart assistance that helps you optimize the server and applications. It sends server notifications and application alerts through artificial intelligence (AI). You will get real-time performance insights through this nifty tool.
9. Why is root access to the server denied?
Since Cloudways is a managed cloud hosting platform, you may break the core tools or services to their platform if they give you root access to install the new software or change the system configuration. So, you don't have root access.
10. How Is the performance of the Cloudways Vultr High-Frequency server?
It's awesome! We have recently moved this blog to a high-frequency Vultr server through Cloudways. It helps us to score higher in Core web vitals assessments. Look at the below image to check our speed performance and CWV scores.
11. Is it possible to create SFTP access in Cloudways?
Yes, it is a simple procedure to get SFTP server login access in Cloudways.
12. Which cloud hosting server should you buy here?
We are using DigitalOcean and Vultr servers in Cloudways. We have tested the speed, performance, and other features to write a detailed comparison of Cloudways DO Vs Vultr to help you get an ideal server.
Update – Vultr and Linode servers are available only for the existing users of Cloudways.
13. How to make staging sites in Cloudways?
Creating a dedicated space for testing the features is a simple task here. Check the detailed post on how to create a staging site in Cloudways.
14. When do I pay for the hosting service?
Cloudways offer monthly payment plans. You must pay for the services you used the previous month. You will be paying only for the resources you use.
15. Is the Cloudways affiliate program legit?
Yes! It is a legit program that pays promptly. I have written a detailed Cloudways Affiliate Program Review explaining the different payment structures and how we make monthly passive income.
[/su_note]
Cloudways Pricing (Promo Code – WPGLOSSY)
Get started FREE with Cloudways hosting. You will get a Maximum $30 Discount by using Cloudways Promo Code – WPGLOSSY
It supports 3 Cloud hosting platforms like DigitalOcean, Amazon, and Google Cloud. You may choose the hosting plan of your choice.
I have chosen the DigitalOcean Cloud server and its different pricing plans.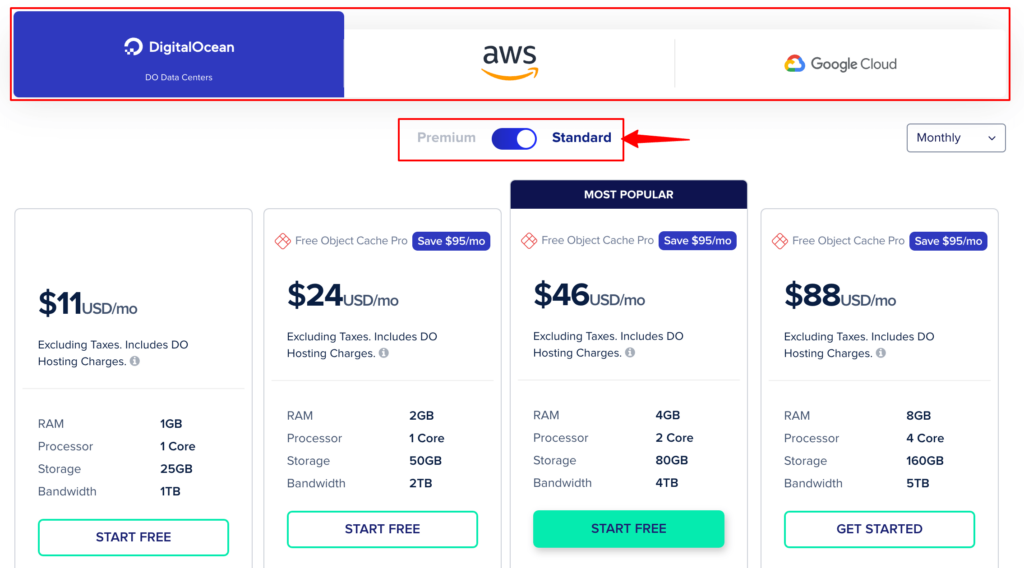 Cloudways hosting offers premium & standard plans and supports the PayPal payment option!
Grab the $30 discount now through the Cloudways Coupon Code – WPGLOSSY
Cloudways Competitors
Let's compare Cloudways hosting with its competitors!
Cloudways Vs. WPEngine
As you know that WPEngine is an expensive managed hosting for WordPress. It has a set of prohibited plugins, and the support priority is for premium customers.
Cloudways has affordable plans compared to WPEngine and has no partiality among the customers. Look at the detailed comparison of Cloudways Vs WPEngine and recognize which service is better and more affordable.
Cloudways Vs. Serverpilot
I'm keenly interested in comparing the server pilot through this Cloudways hosting review 2023.
If you want Free SSL, 24 x 7 live chat support, and 1-click customization managed security & migration of all plans, then you should go with CloudWays because these features are absent in Serverpilot.
Cloudways Vs. Siteground
Even though SiteGround hosting is cheap compared to Cloudways, it has limited resources, and you can't host multiple plans on the "Startup" plan.
Moreover, the site migration process is hectic in SiteGround hosting, whereas Cloudways offers simple file transfer techniques.
Look at the in-depth comparison of Cloudways Vs SiteGround and understand who is the real winner!
Cloudways vs. InMotion
Pro features are missing in the InMotion hosting, which is the main reason for shifting our blog to Cloudways hosting. Security features must be improved and offer users a staging environment.
So, when the InMotion hosting is compared with the Cloudways managed hosting, the latter service is superior. 
If you still look for more in-depth details, check the detailed comparison of Cloudways with well-known Cloud hosting providers and pick the best one according to your needs.
Cloudways Vs Kinsta
Both managed hosting providers offer incredible service, but few differences exist. I have compared Cloudways vs Kinsta in-depth and concluded.
Other Cloudways Comparisons
Cloudways Updates
As a proud user of Cloudways for the past six years, I would like to add the recent updates to my Cloudways review.
You should know about Cloudways partnerships for the customers' well-being. Yes, their main focus is to offer a supercharge site performance through which you can pass the core web vital assessments, eliminate malicious traffic and get HTTP3 support.
Hence, Cloudways has partnered with Cloudflare CDN to reduce your site loading time, latency, and bandwidth costs. Through this CDN partnership, you will get Brotli compression and image optimization for an improved user experience.
Wrapping up My Cloudways Review 2023
If you want to give full attention to business growth without getting into server-related hassles, then Cloudways hosting is the ideal choice.
It is the best-managed hosting for WordPress that lets you get a stress-free hosting experience and tweak your site's performance. You can easily extend the media upload size through its easy setting.
In my eight years of blogging, I have used hosting services like HostGator, InMotion, KnownHost, ASO, and BlueHost, this cloud web hosting gives a satisfactory feel.
I would blindly recommend Cloudways Managed Cloud Hosting for WordPress users because of its flexibility, reliability, and support facility.
So, what is your opinion about this fastest WordPress hosting after reading my Cloudways review 2023? Which hosting service are you using? Would you like to move your site to a fully managed cloud platform at a reasonable cost?
Share your priceless viewpoint in the comment section. Also, let me know if you hesitate to use the Cloudways cPanel as you might think it is difficult.